Comparing London's Hop On Hop Off Open Top Sightseeing Buses
Author: Bob Handford
This a broad discussion of the Hop on, Hop Off Sightseeing buses so popular in London.
What everybody agrees on is that Hop on, Hop Off Sightseeing buses are an excellent introductory orientation for the first time visitor to London.. However Hop on, Hop Off Sightseeing buses are not meant to be a replacement for London\'s excellent public transport.
London is a 24×7 city and the Hoho buses run basically 9 a.m. to 6 p.m.. I would suggest you only need 1 initial day of using the HoHo buses to get a feel of London, use the guides on the buses to bounce of ideas then use public transport to get around for the rest of your trip.
The Three Major Hop on, Hop Off Operators
The three main operators of hop on. hop off sightseeing buses in London are:
a) Original London Tour
b) Big Bus
c) Golden Tours Panorama
Original London Tour and the Big Bus are the established operators and arguably are near mirror images of each other in term of the product being offered. Anecdotally they seem to have around equal market share.
Golden Tours are the new kids on the block trying to get traction in the market. However they have now been going 3 years and look to be a permanent fixture. Their product offering has gradually expanded to be almost as comprehensive as Big Bus and OLT – but not quite.
What Are The Differences Between the 3 Operators?
All three services offer essentially  the same product in very similar vehicles.
London is quite spread out and all services have more than one service route to cover the attractions.
Each operator has two routes that largely duplicate one another covering the West End and along the river to the Tower of London, this is where the biggest customer demand is and all the most popular attractions are.
To the west of this core area are the Kensington museums, Harrods, Kensington Place and the hotel districts around Gloucester Road. For the purposes of this article we'll treat this area as also part of the core area.
All three services main routes cover this core sightseeing area with very little variation between each operator.
Main Attractions Not Covered by HoHo Service
Notable attractions for not being visited by any HoHo bus are the London Zoo, Camden Lock Market and the Imperial War Museum.
Hotel Districts Not Covered by HoHo Service
The only major hotel district in the centre of London not covered by HoHo buses is Earls Court – but you can walk to Gloucester Road in 10 minutes where all 3 operators operate .
For those in the Bayswater, Lancaster Gate and Paddington areas Big Bus has a main route stopping while the other two have hotel connector services.
Commentary And Audio Guides
In Bob\'s opinion if you are fluent in English its well worth opting for the guided routes. Guides differ a lot and its pot luck on the individual guide you get but most are very informative, good fun and a big plus.
All three operators have a main route with an English speaking live guide.
Audio guides are available on all services, but languages supported varies between operator
OLT : French, Spanish, Italian, Portuguese, Russian, German, Japanese & Kids' Channel
Big Bus : French, German, Italian, Spanish, Portuguese, Brazilian Portuguese, Polish, Arabic, Hindi, Japanese, Mandarin and Russian
Golden Tours: : French, Spanish, Italian, Russian, German, Japanese
Frequencies
All three services start up main sightseeing services around 8:30 a.m. to 9 a.m. and start winding down about 5 p.m.
Frequencies vary by season but in the peak summer season with Big Bus and OLT you'll be very unlucky to wait 10 minutes.
Golden Tours are less frequent, but still very acceptable frequencies
Price Comparison - Which Is Cheapest?
Broadly Big Bus and Original London Tour go head to head on price with only small differences. At any one time either can be cheapest. They both offer a very similar service with only subtle differences.
Both Big Bus and OLT  offer a 24 hour ticket, Big Bus also offers a  48 hour ticket that gives a free night tour as a bonus. During the off-peak months both regularly have "extra day free promotions" and in 2015 Big Bus have been changing their offerings quite regularly.
Golden Tours broadly mirror the big 2 and have much improved the scope of their offering since starting up. You can still make the argument that Golden Tours are not quite on par with Big Bus and OLT but there is now little in it.
Golden Tours are the softest on price and also offer 24,48 or 72 hour tickets.

Note: Big Bus, OLT and Golden Tours tickets all use ticketing measured in 24 hour blocks, whether it be 24,48 or 72 durations.
So, if you start using a 48 hour ticket (the time you step on the first bus or get your ticket validated) on a Monday at 2 p.m. the tickets expire at 2 p.m. on the Wednesday.
Normally if one operator changes their price or implements a promotion the other two react within hours.
Winter 48 Hours For The Price Of 24 Hours Promotion
In the winter months all operators traditionally offer a free days promotion.
In 2015/2016 Original London Tours are offering a 48 hours for the price of 24 hours free upgrade plus extending the river cruise validity further down river to Greenwich.
Big Bus are giving an extra 24 hours free on both 24 and 48 hour tickets.
This offer applies to all tours taken by the end of February for both operators.
Promotional Codes
Whilst there are from time to time the odd promotional code available for small discounts, this is not North America.
The best price is normally gained by the use of the winter promotion above, the advance on-line tickets as detailed in the paragraph below and if you are visiting one of the major attractions getting a sightseeing bus and attraction package, (see section below)
The Cheapest Prices Are In Advance On-Line
You can buy tickets on the day but the cheapest prices are on-line, direct from each operators web-site.
Important! Big Differences Between Ticketing Conditions On Lowest Prices
It is tempting to choose between tours purely on lowest price, this can be a significant mistake.
The cheapest tickets are purchased on-line direct from the respective web sites of each company. You pay using a credit/debit card and a confirmation/voucher is e-mailed to you immediately.
However, on-line tickets do have  different booking conditions between the companies, so do factor these differences into your purchasing decision.
Original London Tour Discounted On-Line Tickets
The good news is that vouchers can be redeemed at any time within six months of purchase – there are no restrictions, the best company with regards flexibility.
The OLT flexibility is particularly useful if the first day in London it rains or you overseleep. The flexibility allows you to delay the start by a few hours or indeed by a day.
Both Big Bus and Golden Tours you have to stipulate the first day you want to travel when you purchase. Big Bus, Golden Tours and OLT have tickets in blocks of 24 hours so if you are late starting at say 2 p.m. your ticket lasts the full duration until 2 p.m. in 1,2 or 3 days time.
OLT, Big Bus and Golden Tours you simply validate your e-ticket when boarding the first bus anywhere on the network, your time using the ticket starts from this point.
Big Bus Discounted On-Line Tickets
The cheapest tickets require you to stipulate the exact date you want to start using the ticket. So if it rains…
Big Bus have tickets for 24 or 48 hours.
Golden Tours Discounted On-Line Tickets
Golden Tours have the same advantages and disadvantages as Big Bus with regards ticketing conditions.
The only real difference is that Golden Tours tickets are for 24,48 or 72 hours while Big Bus have tickets for 24 or 48 hours only, though with Big Bus you get a free night tour on the 48 hour ticket..
Big Bus - Now Included In The London Pass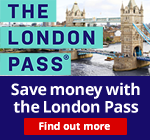 The London Pass is a flat rate sightseeing pass to many (but not all) of London's main sightseeing attractions. You can buy a London Pass for 1,2,3,6 or 10 day durations.
The London Pass gives you entry into over 60 London tourist attractions and a river cruise on the River Thames.
The London Pass also now includes use of the Golden Tours Hop On Hop Off bus for the first day only of you using the London Pass, whatever the duration of the London Pass.
The London Pass Discussed Including Current Discount Codes Available
Save Money - Buy Attraction Tickets & Bus Tour In One Package
If one of London's major sights like the Tower of London, St Paul's Cathedral, London Eye etc are on your must see list when in London, you can get an additional discount by purchasing attraction tickets plus sightseeing tour in one package in advance from the Original London Tour.
The beauty of this promotion is that you don't have to use the attraction tickets on the days you are using the hop-on, hop-off sightseeing bus

Free River Cruises and Walking Tours
Both Big Bus and OLT use the same river cruise company, City Cruises. In Bob\'s opinion City Cruises are better received than Thames Clipper used by Golden Tours.
The Thames Cruise should be a highlight of your day, I would recommend you take advantage of the facility. The cruise itself lasts about 30/40 minutes.
Big Bus and OLT both offer three walking tours. A royalty/changing of the guard walk, a pop music/media walk and a Jack The Ripper/ Gruesome walk. Bob has only joined the OLT walks and was pleasantly surprised by the quality of the guiding offered. They will each take 75-90 minutes of your day though.
Golden Tours just has at the moment a daily royalty walk and a not daily Beatles themed walk.
You have to take the river cruises and walks on the same days as your bus tour ticket. You cannot take them another day.
Summary
In summary Big Bus and OLT are very, very similar with little to choose between them. You might identify one of the minor differences as being significant to your individual needs.
Golden Tours has grown and offer a near identical product to the big two. Lower frequencies, less walking tours and in Bob's opinion not so good a river cruise as OLT/Big Bus means its not quite on parity yet.
However Golden Tours is softest on price.
Questions and Discussion
If you have any questions or have anything you wish to add please use the discussion facility below.
I\'ll normally get back to you within 24 hours.