Park Inn Hotel Heathrow Airport
Rooms From £73 Per Night (Cheapest Rooms Weekends & Holidays)
The Park Inn Hotel Heathrow is on the northern perimeter road (Bath Road) of Heathrow Airport. The Park Inn Heathrow is physically one of the closest hotels to Terminals 1 and 3, situated beside the airports main entrance to the central area of the airport.
The Park Inn Heathrow is a very, very large 895 bedroom full service luxury hotel used extensively by airlines for their crews (in a separate part of the hotel with their own entrance).
Unlike many hotels at Heathrow there is some alternatives to the hotels own restaurant in the immediate vicinity, including a small supermarket, pubs, a pizza/pasta restaurant and a McDonalds.
Park Inn Hotel Heathrow Airport Details
Number of Rooms :895
Rooms Available : Single, Double/Twin Rooms & Family rooms for four.
Park Inn Hotel Heathrow Airport Room Facilities :
Rooms at Park Inn all feature a flat-screen TV with pay movies, private bathroom, and a refrigerator. There are tea/coffee facilities for guests, along with a work desk and hairdryer.
Internet - WiFi is available in all areas and is free of charge.
Room Service - The hotel offers a 24-hour room service.
Park Inn Hotel Heathrow Airport Public Facilities :
The hotel has a fully-equipped gym with weight and cardiovascular machines, an indoor, heated swimming pool, sauna and jacuzzi. The leisure centre is open from 6.30am to 8pm weekdays and 8am to 8pm on weekends.
Heathrow Airport

Transfers To/From London

Airport to Airport Transfers

Cruise Port Transfers

Transfers To The Rest Of The UK

Airport Hotels

Day Rooms & Lounges

Heathrow Hotel Transport

Heathrow Hotel Districts

Long Term Car Parking

Layovers & Sightseeing
Heathrow Airport
London Transfers
Airport To Airport
Cruise Transfers
Transfers Rest Of UK
Heathrow Hotels
Hotel Transport
Hotel Districts
Car Parking
Layovers & Sightseeing
The hotel's main restaurant is the trendy Bravo! Bravo! During the day, the modern bar shows sports events on big-screen TVs, before laying on a full carvery buffet, with an Asian influence, in the evening. As the night rolls on, the food is cleared away and Bravo! Bravo! becomes a nightclub.
The bar also hosts the hotel's breakfast each morning. For lighter options, the hotel's deli bar, Pulse, offers tea and coffee, snacks and light meals.
Car Parking - Last advised as £12 per night for residents.
Long term parking packages are available at extremely attractive rates.
Park Inn Hotel Transfers To/From Passenger Terminals:
There are 4 passenger terminals at Heathrow numbered 1,3,4 and 5. The hotels at Heathrow are not allowed to run their own airport shuttle vehicles between the airport and the hotels.
Hoppa Buses - are regulated by the airport authority and run on fixed routes, each serving 2 or 3 Heathrow airport hotels. Hotels have one bus for Terminals 1 & 3, another for Terminals 4 & 5.

Free Local Buses To Passenger Terminals
If you have light luggage you can catch a number of public buses from in front of the hotel which are free to airport passenger terminals. Routes 105,111,285 or 140 public buses go from the Central Bus Station between Terminals 1 and 3 to a bus stop just after the hotel. Ring the bell as soon as you pass the bus stop at the first hotel along, the Holiday Inn on your left.
Bus 423 runs between the Park Inn Heathrow and Terminal 5 about every 20-30 minutes and is also free.
Bus 555 runs to Terminal 4 but is one of the less frequent buses at Heathrow operating every 30-45 minutes, hourly on Sundays.
More Details of public bus alternatives to Hoppa Bus Heathrow
---
Park Inn Hotel Heathrow Prices & Reservations
Advance Purchase Rates Lowest Cost Room Rate
GUARANTEED - YOU'LL NEVER PAY LESS
If you can find the same product cheaper within 24 hours of confirming your booking, it's yours for FREE* (conditions apply)
The hotel under comparison must be the same in every respect - for example at the same hotel for the same dates and with the same cancellation terms.
Alternative Flexible Room Rate
No Deposit, Pay At Hotel, Cancel Without Penalty
Both flexible and cheaper advanced purchase rates made are normally available at the Park Inn Hotel Heathrow Airport.
Flexible rates allow cancellations up to 4 p.m. on the date of arrival without penalty but may vary on certain rates, so check. With flexible rates there is no deposit, you pay at the hotel.
Vicinity Around Park Inn Hotel Heathrow Airport:
Unlike some Heathrow hotels it is easy to 'escape' the hotel. Beside the hotel is Sovereign Food & Wine, a small convenience store which includes fruit, confectionery and wine.
There is also a cash machine inside. Next door to it an Italian pizza/pasta restaurant.
Opposite the Park Inn's front entrance is The Three Magpies Pub, which does food including steaks. About 200m along the Bath Road, east is a McDonalds in front of the Radisson Edwardian hotel.
Very frequent public buses pass the door going to neighbouring towns.
A detailed guide to the Bath Road locality around the Park Inn Heathrow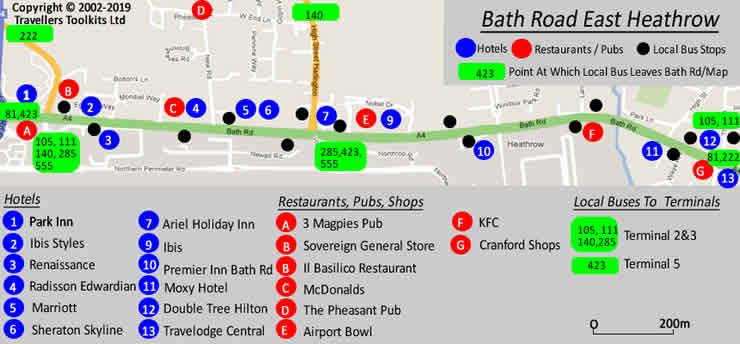 ---
Indicative Heathrow Hotel Room Rates


Sampled prices at Heathrow for early June 2013

Hotels Walkable To Passenger Terminals (Note: No Hotels Within Walking Distance Of Terminals 1 & 3)

Hotel & Link To Detail Page

Mid-week

Week-End

£115

£90

£213

£114

Heathrow Airport Budget / 3 Star Hotels

Hotel & Link To Detail Page

Mid-week

Week-End

Heathrow Lodge ~+#

£34

£34

£42

£34

£39

£35

£39

£36

£40

£39

£41

£41

£49

£49

£71

£49

£85

£49

£79

£53

£79

£55

£79

£55

£70

£70

£76

£80

Heathrow Airport 4 & 5 Star Full Service Hotels

Hotel & Link To Detail Page

Mid-week

Week-End

£58

£50

£105

£50

£98

£53

£92

£62

£92

£62

£113

£67

£93

£69

£125

£72

£111

£73

£159

£75

£115

£77

£179

£79

£157

£82

£159

£85

£127

£89

£100

£100

£115

£115

~ Single Rooms + Triple Rooms # Quad Rooms
---
---