Radisson Blu Edwardian Hotel Heathrow Airport London
Rooms From £82 Per Night (Cheapest Rooms Weekends & Holidays)
The Radisson Edwardian Heathrow is a five star hotel, and one of the physically closest hotels to Heathrow's central terminals, Terminals 1 and 3.
The Radisson Edwardian Heathrow is situated on the northern perimeter road (Bath Road) of Heathrow the main hotel strip at Heathrow.
The Radisson Edwardian Heathrow is in a good location. Unlike many hotels at Heathrow its easy to walk out the front door and sample local pubs and restaurants in the immediate vicinity, there is even a bowling alley, not 10 minutes walk away. A McDonalds is right in front of the hotel.
Public buses pass the front door to the airport and neighbouring towns. These can also be used for transfers to the passenger terminals. Unlike the Hoppa Buses that are the dedicated shuttles between the hotel and passenger terminals, the local buses into the airport are free.
Radisson Blu Edwardian Hotel Heathrow Details
Number of Rooms : 459
Rooms Available : Single, Double/Twin Rooms & Family rooms for four.
Radisson Blu Edwardian Hotel Heathrow Room Facilities :
Standard Rooms have mini bar, in room safe, iron and trouser press, tea and coffee making facilities, modem connection, air conditioning and complimentary wireless Internet access. All our rooms have over 80 TV channels including movies.
Heathrow Airport

Transfers To/From London

Airport to Airport Transfers

Cruise Port Transfers

Transfers To The Rest Of The UK

Airport Hotels

Day Rooms & Lounges

Heathrow Hotel Transport

Heathrow Hotel Districts

Long Term Car Parking

Layovers & Sightseeing
Heathrow Airport
London Transfers
Airport To Airport
Cruise Transfers
Transfers Rest Of UK
Heathrow Hotels
Hotel Transport
Hotel Districts
Car Parking
Layovers & Sightseeing
Deluxe Rooms are more spacious, with a king size bed or two single beds. Within each deluxe room you will also find a seating area and bathrobes. Enjoy more space and much more besides.
Suites are beautifully decorated with separate seating area.
Internet - Complimentary wireless Internet access. Complimentary web printing service available throughout the hotel
Room Service - Room service is available 24 hours a day.
Radisson Blu Edwardian Hotel Public Facilities :
The hotel has a free gym, steam room, sauna and a solarium (charge).
A jeweller's, beauty salon, newsagent's, restaurant, bar, lounge, drawing room, laundry and a dry cleaner's.
Radisson Blu Edwardian Heathrow hotel has two bars and restaurants to suit different occasions.
Car Parking - Last advised as £14 per night for residents.
Long term parking packages are available at extremely attractive rates.
Radisson Blu Edwardian Hotel Transfers To/From Passenger Terminals:
There are 4 passenger terminals at Heathrow numbered 1,3,4 and 5. The hotels at Heathrow are not allowed to run their own airport shuttle vehicles between the airport and the hotels.
Hoppa Buses - are regulated by the airport authority and run on fixed routes, each serving 2 or 3 Heathrow airport hotels. Hotels have one bus for Terminals 1 & 3, another for Terminals 4 & 5.

Free Local Buses To Passenger Terminals
If you have light luggage you can catch a number of public buses from in front of the hotel which are free to airport passenger terminals. Routes 105,111,285 or 140 public buses go from the Central Bus Station between Terminals 1 and 3 to a bus stop just before the hotel. Buses are much more frequent than the alternative Hotel Hoppa buses and unlike the Hoppa Buses run a 24x7 service.
Bus 423 runs between the Marriott Heathrow and Terminal 5 about every 20-30 minutes and is also free.
Bus 555 runs to Terminal 4 but is one of the less frequent buses at Heathrow operating every 30-45 minutes, hourly on Sundays.
More Details of public bus alternatives to Hoppa Bus Heathrow.
---
Radisson Blu Edwardian Hotel Prices & Reservations
Advance Purchase Rates Lowest Cost Room Rate
GUARANTEED - YOU'LL NEVER PAY LESS
If you can find the same product cheaper within 24 hours of confirming your booking, it's yours for FREE* (conditions apply)
The hotel under comparison must be the same in every respect - for example at the same hotel for the same dates and with the same cancellation terms.
Alternative Flexible, Deluxe and Suite Room Rate
No Deposit, Pay At Hotel, Cancel Without Penalty
Both flexible and cheaper advanced purchase rates made are normally available at the Radisson Blu Edwardian Hotel Heathrow Airport.
Flexible rates allow cancellations up to 4 p.m. on the date of arrival without penalty but may vary on certain rates, so check. With flexible rates there is no deposit, you pay at the hotel.
Vicinity Around Radisson Blu Edwardian Hotel Heathrow Airport:
The Radisson Edwardian Hotel Heathrow is on the main hotel strip at Heathrow offering you a lot of flexibility to 'escape' the hotel if you have no transport of your own.
There is quite a good selection of pubs and restaurants within easy walking distance offering much lower prices than the hotel. There is a large choice of local buses that can take you to local towns, even perhaps some sightseeing at Windsor or Hampton Court.
A detailed guide to the Bath Road locality around the Radisson Edwardian Hotel Heathrow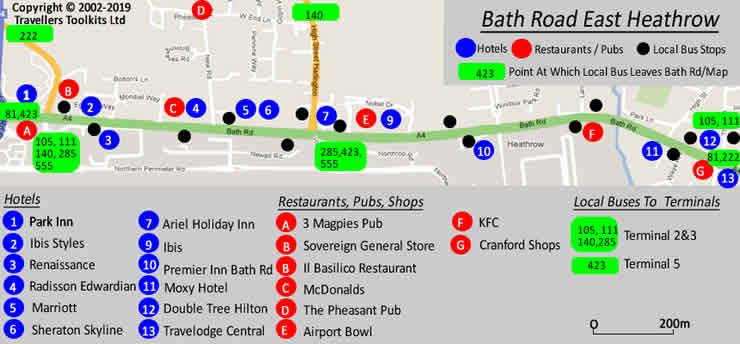 ---
Indicative Heathrow Hotel Room Rates


Sampled prices at Heathrow for early June 2013

Hotels Walkable To Passenger Terminals (Note: No Hotels Within Walking Distance Of Terminals 1 & 3)

Hotel & Link To Detail Page

Mid-week

Week-End

£115

£90

£213

£114

Heathrow Airport Budget / 3 Star Hotels

Hotel & Link To Detail Page

Mid-week

Week-End

Heathrow Lodge ~+#

£34

£34

£42

£34

£39

£35

£39

£36

£40

£39

£41

£41

£49

£49

£71

£49

£85

£49

£79

£53

£79

£55

£79

£55

£70

£70

£76

£80

Heathrow Airport 4 & 5 Star Full Service Hotels

Hotel & Link To Detail Page

Mid-week

Week-End

£58

£50

£105

£50

£98

£53

£92

£62

£92

£62

£113

£67

£93

£69

£125

£72

£111

£73

£159

£75

£115

£77

£179

£79

£157

£82

£159

£85

£127

£89

£100

£100

£115

£115

~ Single Rooms + Triple Rooms # Quad Rooms
---
---