Stonehenge & Bath Day Tour £58
Including Entrance To Stonehenge & Roman Baths With Full Afternoon in Bath
Anderson Tour Bus At Stonehenge
Stonehenge & Bath Tour Included Highlights:
- Fast track entrance to Stonehenge included
- Entrance into the Roman Baths at Bath
- Guided tour of Bath with an Anderson Tours guide
- Free time in Bath
- Luxury air conditioned motor coach and services of a professional guide
Days Of Operation & Duration:
Runs daily year round.
Tour picks up in London between 7:30 and 9:00 a.m. returning to London around 7 p.m.
Tour Itinerary:
The Stonehenge and Bath day tour is a great way to see two world class attractions at leisure in one day from London.
The morning is spent visiting iconic Stonehenge, then you spend the afternoon at Georgian Bath. Admission is included into Stonehenge and the Roman Baths at Bath. A brief walking tour of Bath is also provided.
Morning Pick-Up Points In Central London
The tour bus winds its way around most Central London hotel districts picking up from strategic points. The timetable is:
London Bridge (7.30am) , Kings Cross (7.55am), Baker Street (8.10am), Victoria (8.25am), Earls Court (9.00am)
Detailed directions are provided on your confirmation
Tours From London

Tours From London

Tours Visiting

London Hop On Sightseeing Buses

London Tours
Tours From London
Tours Visiting
London Tours
Stonehenge
A professional guide is aboard the coach the entire day and will provide commentary and guiding throughout.
First we visit the ancient World Heritage site of Stonehenge (entrance included). The Journey takes approximately 2 hours (Depending on traffic). You will have approximately 45 minutes - 1 hour to explore the area (your tour manager will advise you what time to be back at the coach)
Included in the Entrance are audio guides which are available in a variety of languages provided by the Stonehenge site, which give you more information on the history.
Stonehenge, one of the wonders of the world is an ancient stone circle that has drawn visitors from all over the world for over 5000 years! What we see today are the substantial remnants of the last in a sequence of such monuments erected between circa 3000BC and 1600BC.
There has always been intense debate over what purpose Stonehenge actually served. Certainly, it was the focal point in a landscape filled with prehistoric ceremonial structures. At the end of your visit you may have developed your view on what Stonehenge is and what it was used for?
Bath
We depart Stonehenge and start our scenic journey of about one hour to Bath. On arrival in Bath we will commence an Anderson Tours guided sightseeing tour of this beautiful city.
After the tour, the coach will drop you in the city centre where the Tour Manager will walk the group into the Roman Baths (entrance included)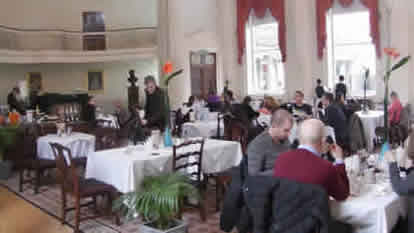 Afternoon Tea At Bath Pump Rooms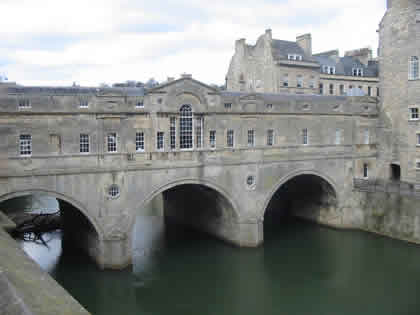 Pulteney Bridge Bath
Around Britain's only hot spring, the Romans built a magnificent temple and bathing complex that still flows with natural hot water. See the water's source and walk where Romans walked on the ancient stone pavements. The extensive ruins and treasures from the spring are beautifully preserved and presented using the best of modern interpretation.
From this point on, you will have free time to explore the city & grab some lunch (lunch is not included). All in all you will have close to 3 hours in Bath.
Bath Abbey is next door to the Roman Baths, as is the modern spa Baths and Pulteney Bridge (looking like it should be in Venice) overlooking the river Avon cascading over the weir.
Then there is the Jane Austen Centre and the elegant Assembly Rooms built in 1771.
Bath is a regional shopping centre and university town, you can shop, explore and take afternoon tea in the Pump Rooms while listening to the live classical music. With so much to see and do you will be glad that you have so much free time.
Everything is very close together and within 10 minutes walk of each other. Most of the city is pedestrianised and good signposting make it easy to find your way.
The coach leaves Bath at 3:30 p.m. before the rush hour traffic begins, we head back to London at a sensible time. Coming back into London, traffic is very unpredictable. The estimated time of arrival is 7:00 p.m.
Prices & Tour Reservations
Prices displayed on the banner link are the current prices for this tour.
Major credit and debit cards are accepted. You will be emailed a confirmation with a booking reference after reservation. The booking reference and the name of the person ordering is all that you need to quote when joining the tour, there are no paper tickets.
On the tour detail page from the link below, there is a calendar control at the top right of the page, which depicts which dates still have availability. By selecting your required date you start the reservation process.
---
Most Popular Tours From London 2013


With Adult Fares Stated & Links To Tour Detail Pages
Visiting Stonehenge and/or Bath and/or Windsor
Stonehenge & Bath (without admission to Roman Baths) - £45
Stonehenge & Bath (with admission to Roman Baths) - £55
Windsor, Bath, Lacock & Stonehenge (Max 35 people) - £89
Stonehenge Summer Solstice 2013 June 20/21
Stonehenge Special Access Tours
Visiting Cotswolds and/or Oxford and/or Stratford and/or Warwick
Visiting Canterbury, Leeds Castle & Dover
Small Group Tours (Maximum 16 people)
2 & 3 Day Weekend Breaks Plus Day Trips To Paris
Day Trip To Paris - from £149
3 Day Paris - from £229
3 Day Edinburgh & Scotland - £219
3 Day Amsterdam - from £229
---