Salisbury, Stonehenge & Bath Day Tour
Guided Day Tour From London On A Luxury Tour Coach With Hotel Pick-Ups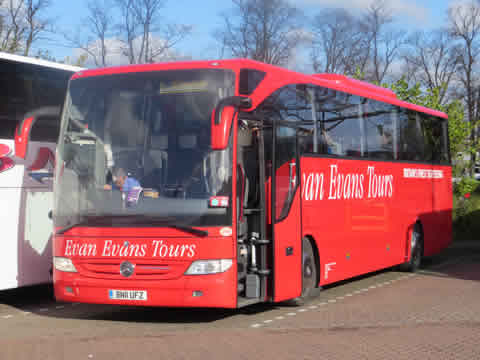 Evan Evans Tour Coach
Salisbury, Stonehenge & Bath Tour Included Highlights:
- Free hotel pick-up service from main hotel districts in Central London
- Entrance to Salisbury Cathedral included, see the Magna Carta
- Entrance to Stonehenge included
- A panoramic tour of Georgian Bath
- Entrance to the Roman Baths included
- Luxury air conditioned motor coach and services of a professional guide
Days Of Operation & Duration:
Runs daily all year round.
Tour leaves London around 8:45 a.m. after hotel pick-ups returning to London around 7:00 p.m.
Tour Itinerary:
The Salisbury, Stonehenge and Bath day tour visits three very different attractions to the west of London offering a varied and fascinating long but rewarding day.
The morning is spent visiting Salisbury Cathedral and Stonehenge, very close together before travelling onto Bath in the afternoon.
Courtesy transfer from your hotel
There is a free hotel collection from strategically placed hotels in all of the main central London hotel districts. Separate coaches each cover a main Central London hotel district and transport you to Victoria Coach Station where you join the tour bus for your day tour. The hotel pick-ups are performed between around 7:30 a.m and 8:15 a.m. A full list of the hotels on the pick-up service are on the booking page linked from the banner at the foot of this page. If your hotel is not on the list there will probably be one very close by. If you require assistance on establishing your best pick-up point use the 'Contact Us' link at the top of the page.
If you wish you can join the tour at Victoria Coach Station, which is about 600 yards from Victoria Underground and Train Station.
Tours From London

Tours From London

Tours Visiting

London Hop On Sightseeing Buses

London Tours
Tours From London
Tours Visiting
London Tours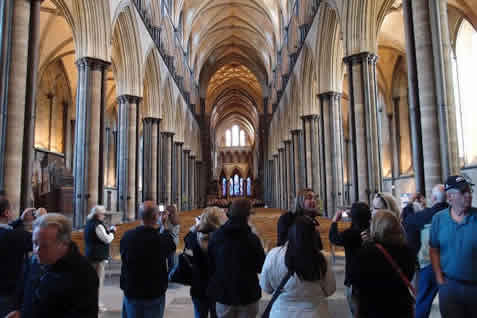 Salisbury Cathedral
Salisbury Cathedral
A professional guide is aboard the luxury air-conditioned touring bus the entire day and will provide commentary and guiding throughout. Salisbury, the first stop on the tour is a 2 hour journey west of London. During that time you would have heard about Salisbury its history and other practical information about the day ahead from your guide.
The beautiful Salisbury Cathedral is an international symbol of Christianity and a world class heritage attraction. The spire is the tallest in England, 123 meters (404 feet).
Once inside you'll be impressed by the Cathedral's graceful, elegant proportions. We visit The Chapter House home to one of only 4 surviving copies of The Magna Carta and see the oldest working clock in Europe, dating back to 1386.
Salisbury Cathedral - More About
Stonehenge
Stonehenge is less than 30 minutes drive from Salisbury and the guide will have their job cut out to bring you up to speed understanding a little about Stonehenge. It has so many interesting and mysterious facets.
5,000 years ago the huge 40 tonne stones were dragged from over 280 miles away in Wales. Who built it and why remains a mystery today. Some say that it was built as a religious temple, or an astronomical clock. Stonehenge continues to enthrall the imagination and captivate the heart of every visitor.
We will spend just under an hour here at Stonehenge, plenty of time to take in Stonehenge and visit the gift shop or grab a coffee.
Bath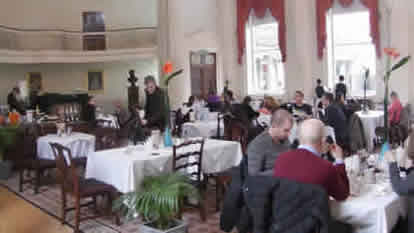 Afternoon Tea At Bath Pump Rooms
Its now well into the afternoon and we push onto Bath, a scenic one hour journey from Stonehenge.
This beautiful Georgian city justly deserves its status as a World Heritage Site, with its delightful terraces, elegant crescents and stunning architecture, on our panoramic tour of the city we will show you the crescents, Pulteney Bridge modelled on the Ponte Vecchio in Florence and Bath Abbey.
Then into the single most popular attraction in Bath, the Roman Baths built over 2,000 years and still in perfect working order. Entrance is included in the tour.
Its late afternoon when we leave Bath for the long journey back to London, the estimated time of arrival back in London is around 7 p.m.
Prices & Tour Reservations
Prices displayed on the banner link below are the current prices of this tour.
Major credit and debit cards are accepted. You will be emailed a confirmation with a booking reference after reservation.
From the detail page linked from the banner below you can view the complete list of hotel pick-up points. If you are still unclear of the best pick-up point for you, use the 'Contact Us' menu option at the top of this page. From this page just hit the "Book This Tour" button for an instant reservation.

---
Most Popular Tours From London 2013


With Adult Fares Stated & Links To Tour Detail Pages
Visiting Stonehenge and/or Bath and/or Windsor
Stonehenge & Bath (without admission to Roman Baths) - £45
Stonehenge & Bath (with admission to Roman Baths) - £55
Windsor, Bath, Lacock & Stonehenge (Max 35 people) - £89
Stonehenge Summer Solstice 2013 June 20/21
Stonehenge Special Access Tours
Visiting Cotswolds and/or Oxford and/or Stratford and/or Warwick
Visiting Canterbury, Leeds Castle & Dover
Small Group Tours (Maximum 16 people)
2 & 3 Day Weekend Breaks Plus Day Trips To Paris
Day Trip To Paris - from £149
3 Day Paris - from £229
3 Day Edinburgh & Scotland - £219
3 Day Amsterdam - from £229
---