Visiting Central London From Heathrow Airport On A Stopover
Logistics of Spending A Few Hours In London On Your Heathrow Airport Stopover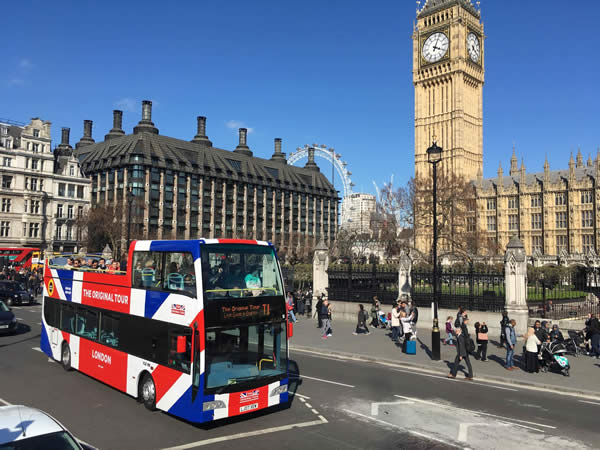 Open Top Sightseeing Bus London
No Tour Bus Visits Heathrow
There are no sightseeing tours that pick up from Heathrow or its hotels that will take you sightseeing into London. If you want a tour of London then you will need to take public transport into the centre of London and join the tour there.
Heathrow Airport
Stopover
Windsor - An Alternative To London As A Stopover, Closer & More Convenient
If your priority is to just find something more pleasurable than killing time between flights in an airport terminal, Windsor is a great alternative to London, it is very close to Heathrow. Public buses run from Terminal 5 frequently stopping outside Windsor Castle, but there is much more to Windsor and Eton than the castle.
If you have luggage we have a solution that takes care of that too.
Windsor Stopover Solution For Heathrow Airport - More Details
Heathrow - Central London Public Transport Options
If you have luggage there are left luggage offices in all of Heathrow's passenger terminals and also at the major train stations including Paddington and Victoria in London as well as Victoria Coach Station. Apart from Victoria Coach Station they are all run by the same company at the same prices.
In order of public transport cost: (cheapest to most expensive).
London Underground Train. For most people this is going to be by far the cheapest transport option. Underground trains leave Heathrow about every 5 minutes throughout the day.
National Express Coach runs the UK's main national inter city bus network. In their way into and out of London these coaches stop at Heathrow. For a fare only slightly more than the Underground you get a luxury coach with bathroom between Heathrow and Victoria Coach Station in London.
Heathrow Airport

Transfers To/From London

Airport to Airport Transfers

Cruise Port Transfers

Transfers To The Rest Of The UK

Airport Hotels

Day Rooms & Lounges

Heathrow Hotel Transport

Heathrow Hotel Districts

Long Term Car Parking

Layovers & Sightseeing
Heathrow Airport
London Transfers
Airport To Airport
Cruise Transfers
Transfers Rest Of UK
Heathrow Hotels
Hotel Transport
Hotel Districts
Car Parking
Layovers & Sightseeing
Heathrow Connect Train . A full size 'overground' dedicated airport train that shuttles between Heathrow and London's Paddington Station. Despite being a stopping train it still makes its destination, Paddington in Central London in 25 minutes, about half the time of the Underground.
Heathrow Express Train is the Rolls Royce option. The train runs like the Heathrow Connect train to London's Paddington station but non-stop taking just 15 minutes. The Heathrow Express runs every 15 minutes.
Private Transfers from small cars up to large coaches are available to charter. For families with luggage this can make good economic sense and for larger groups door to door transport at a compelling price per person can be a no brainer.
London - Heathrow Comparison of Public Transport


Service

Standard Adult Fare*

One-Way

Return

£5.70

£11.40

£3-£5~

£6-£10~

£6.00†

£11.00†

£9.90

£19.80

£21.00

£34.00

£20.26

£40.52

* Standard adult ticket. Other promotional fares may appear from time to time.

† On-line only fare with variable pricing. £1 Booking Fee.

~ Off Peak/Peak fares
London's Main Open Top Hop On, Hop Off Sightseeing Tours
(Discounted On-Line Advance Purchase)

Tour

On-Line Ticket Price Adult (Child)

Walking Tours

24 hrs

48 hrs

£26*
(£12.00)

Changing of Guard Walk,
Rock N Roll Walk,
Jack The Ripper Walk

£24*
(£12)

£30*
(£15)

Royal London Walk,
Harry Potter Film Locations,
Ghosts by Gaslight

* CHEAPEST ON-LINE TICKETING CONDITIONS

Original London Tour - Valid any date 6 months from purchase date

Big Bus - Valid only on fixed date stipulated when purchased
Semi Independent & Guided Tours Of London - Great For Groups Big and Small
We can customise a day to remember reflecting your personal interests.
We love working with our customers to understand their interests and timescale's and provide a customised itinerary that fits your schedule and pocket. So fill in the enquiry form below with as much detail as you can.
If you just want transport we can do that too. We'll transport you into London, perhaps do a one hour orientation tour and drop you off at a place of your choosing. At an agreed time and place we'll then come and pick you up again. If you have luggage we'll take care of that too.
If you know exactly what you want, all the better.
---
---