Sightseeing Tours From London Heathrow Airport
Central London, Stonehenge, Windsor, Bath, Oxford, Cotswolds ...
First The Bad News...
OK, lets get this out of the way first. There are no scheduled regular sightseeing tours that pick up from Heathrow or its hotels that you can buy tickets for. The many tours that originate in Central London also do not pick up from Heathrow.
The good news is that this shouldn't stop you doing world class sightseeing, whether you have a few hours or a day.
Public transport links to Central London are good, as are public transport links to places like Windsor, Oxford and Bath.
We also have a wide array of flexible private sightseeing opportunities that may well be a pleasant surprise in terms of cost, especially if you have a small group.
If You Have Just A Few Hours - Windsor
Windsor is just a few miles west of Heathrow Airport, you may well look down into Windsor Castle moments before your flight lands at Heathrow.
Windsor has the 'must see' Windsor Castle, the Queen's 'home', but there is truly something for everyone.
Visiting Windsor From Heathrow - More Details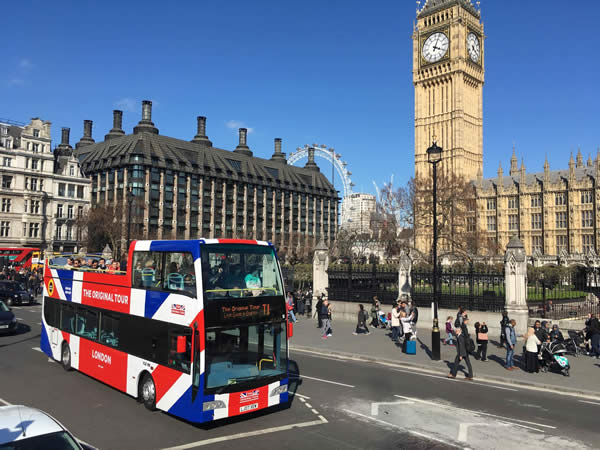 Original London Tour Hop On Hop Off Sightseeing Bus
Sightseeing In Central London
Staying in a Heathrow hotel is fine for perhaps a days excursion, but will become very tedious as a base for several days sightseeing in London. The hotel rates may look attractive at first glance but once you've factored in traveling costs and time you are best advised to stay in Central London itself.
If you are staying at a Heathrow hotel overnight and want to visit London its best to get a hotel close to an Underground Station.
Remember if you use the Hoppa Buses to get to Heathrow stations it will cost £8 return for each adult and take about an extra hour out of your day.
In this respect the best hotels are the expensive Hilton Heathrow and Sofitel Heathrow at Terminal 4 and Terminal 5 respectively. The Jurys Inn is by Hatton Cross Underground Station and is more economical.
For most first time visitors a very good tactic is to get off at Piccadilly Circus and use the very popular London hop on, hop off sightseeing buses that cover all the main sights in London and provide an unbeatable orientation experience.
Visiting Central London From Heathrow - More Details
Stonehenge From Heathrow
Frustratingly, though Stonehenge is only about 75 minutes by vehicle from Stonehenge there is no easy public transport link and no tours that pick up at Heathrow.
It is possible to visit by public transport, but this means a quite complex journey. It is possible to visit by tour bus, but only by going into Central London for a half day tour from Stonehenge.
For time poor visitors the most satisfactory way is to charter a car or for groups, buses with a knowledgeable driver/guide. For even quite small groups this can be a very cost effective way of visiting Stonehenge.
You will need around 4 hours for a good visit to Stonehenge from Heathrow.
Visiting Stonehenge From Heathrow - More Details
Sightseeing Outside London - Bath, Stonehenge, Oxford, Stratford ...
As stated previously there are no classic sightseeing coach tours that pick up from Heathrow or its hotels. If you want to go on one of these tours you need to board in Central London. As most of the tours depart from London by 08:30 and do not return until early evening this makes a very long day.
Details of Day Tours From Central London
From Heathrow you can also cover much independently. there are frequent coaches going to Oxford and Winchester, a local bus service to nearby Windsor and rail and coach services to Bath.
Private Sightseeing Tours With Experienced Driver Guides From Heathrow
We are an experienced operator of small group sightseeing tours using experienced driver / guides. Our vehicles are small enough to go down the country lanes and visit places the big coaches cannot go. For larger groups we can put on full size coaches with dedicated guides.
As well as doing classic tours we love going off the beaten track and customising a day to remember reflecting your personal interests. Where its a classic English Tea in a typical English village, mystic tours, themed tours like on the Magna Carta or Jane Austen or just an old fashioned pub crawl.
Free Tour Planning Service
You can see from the above map the crude distances in time from Heathrow, so you can begin to get an outline of what's achievable. We love working with our customers to understand their interests and timescale's and provide a customised itinerary that fits your schedule and pocket. So fill in the enquiry form below with as much detail as you can.
If you know exactly what you want, all the better.
We can do one-way tour transfers, but do let us know the luggage you will need carrying.
Pricing Toolkit For Stopover Visit To Windsor Or Stonehenge (Price Per Vehicle)
Number of People
1 To 3 People
4 To 7 People
4 To 8 People
9 To 12 People
13 To 16 People
Max Number Cases
3
5
16
16
20
Vehicle
E Class Mercedes
Mercedes Van
Mini-Bus
Small Bus
Large Bus
Airport Components
Meet & Greet In Airport
£10
£10
£10
£10
£10

Windsor Components

Luggage Storage Per Vehicle
£20
£20
£20
£20
£20
Heathrow - Windsor (15 mins)
£30
£50
£55
£75
£95
London Hotel - Windsor
£65
£95
£120/£145
£150/£190
£170/£200
London Hotel - Heathrow
£60
£90
£120/£145
£150/£190
£170/£200
Gatwick - Windsor (60 mins)
£90
£120
£150
£190
£220

Stonehenge Components

Heathrow - Stonehenge (75 mins)
£75
£100
£135
£160
£190
Gatwick - Stonehenge (105 mins)
£100
£130
£170
£200
£230
Windsor - Stonehenge (75 mins)
£75
£100
£135
£160
£190

For groups of more than 16 people please send full details of your requirements on the enquiry form below for a personal quotation

Prices above are for vehicle, driver and include taxes. They do not include any admission charges at attractions

For guiding please ask for a quote.

Stonehenge prices inclide one hour at Stonehenge. At Windsor you have unlimited time for the same fee.
---
Private Enquiry Form
Enter your ideas on what you want to visit. We will by return provide you with a written quotation and draft itinerary.
---