Heathrow Late Flight Solution Off Southampton Cruise Ships
Spend your time productively in Windsor instead of killing time in a Heathrow Airport terminal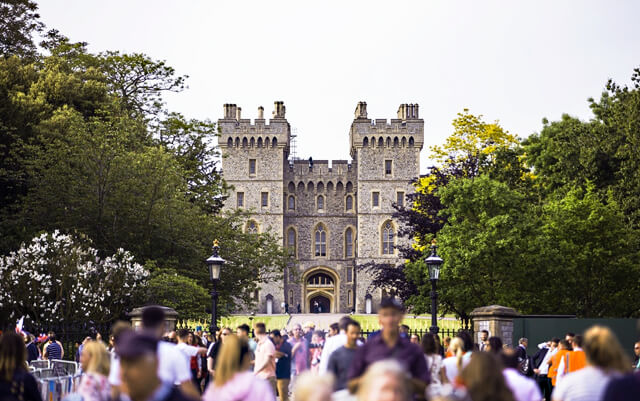 Windsor Castle
Most cruise ships at Southampton are fully disembarked by around 9 a.m., so with a transfer to Heathrow you can expect to be in the passenger terminal at 11 a.m.
Great for a lunch time departure but not if your flight is not until late afternoon or evening, killing time in an airport terminal is not most peoples idea of fun.
The proposal here is that rather than spend your time in the airport terminal you relax in Windsor, just 15 minutes drive from Heathrow.
The key to making this affordable is that you pay a nominal luggage storage charge, a flat fee no matter how long you stay in Windsor leaving you free to enjoy Windsor and Eton without waiting charges being clocked up. We can offer this service as the vehicles are based near Windsor, so the driver will not be waiting around.
Private Transfers Southampton - Windsor Heathrow Airport
We have a range of vehicles for all group sizes from a couple to large tour groups.
You'll be met as you exit the customs and baggage reclaim and soon be on your way to Windsor. You should arrive between 90 and 120 minutes later. You leave the luggage in the vehicle with the driver.
You stipulate what time you want to be picked up and start the second journey to Heathrow Airport, only about 15 minutes away. In the meantime you can enjoy any of the facets of Windsor and Eton.
Southampton
For Cruise & Ferry Passengers

Cruise Ship Bus Shuttle

Transport to/From London

Transfer Options Southampton From:

Transfer Tours To Southampton

Transfer Tours To London & Airports

The City of Southampton
Southampton
Cruise Ship Bus
Transport
To/From London
Transfers
Compared:
Transfer Tours
To London
Southampton
Store Your Luggage In Windsor For A Small Flat Fee
While you are in Windsor your luggage will be stored. We can offer this service as the vehicle is based in the Windsor area. You do not have to pay for the vehicle and driver's time while you are in Windsor because they won't be hanging around in a car park killing time.
Late Flight Solution Pricing
We provide a personal quotation for each customer. For yours just use the enquiry form at the bottom of this page.
The price will be made of three components, the journey between Southampton and Windsor, the journey between Windsor and Heathrow (or Gatwick) airport and a small charge for storage of your luggage. You can accurately work out the cost using the able below.
Southampton Late Flight Solution Toolkit


Work out your own indicative cost before getting a quotation

Vehicle

Capacity

To/From Windsor

Passengers

Large Cases

Southampton

Heathrow

Gatwick

Mercedes E Class

4

3

£110

£30

£90

Mercedes Van

5

5

£145

£50

£120

8 seat bus

8

20

£220

£55

£150

12 seat bus

12

20

£275

£75

£190

16 seat bus

16

20

£325

£95

£220

Large Coaches

up to 50

up to 70

p.o.a

p.o.a

p.o.a

Luggage Storage Per Vehicle

£20

£20

£20

Example 1

2 people with 3 cases with a flight from Heathrow at 10:00 p.m

Car - Southampton to Windsor £110

Luggage Storage £20

Depart Windsor 7:00 p.m. to Heathrow 7:15 p.m. £30

Total cost £150

Example 2

10 people with 15 cases with a flight from Heathrow at 4:00 p.m

Bus - Southampton to Windsor £275

Luggage Storage £20

Depart Windsor to Heathrow 1:30 p.m. £75

Total cost £370
Saloon Cars / Sedans / MPV - For Up To 5 Passengers
Mercedes Saloon/ Sedan cars or Van size vehicles will take up to 5 full size adults and their luggage.
With passengers off cruise ships its amount of luggage rather than number of passengers that often determines the size of the vehicle required. With regards the vans the prices above are for the smaller luggage van, a larger van may be necessary carrying approximately a 10% surcharge.
All driver waiting time and airport parking included in airport pick-ups - No extra charges if your flight is delayed!
Baby seats or child booster seats supplied on request and are of course free of charge.
At cruise terminals the driver will be waiting for you as you exit the customs and luggage retrieval channel to escort you to the waiting vehicle.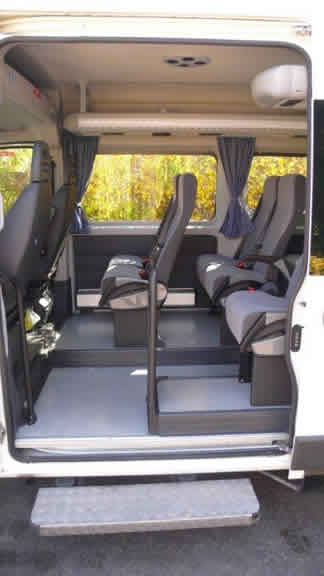 Air-conditioned & Roomy Small Buses
Small Buses - 8 To 16 Seats With Room For Lots Of Luggage
Air conditioned roomy small buses with 8, 12 or 16 seats and lots of luggage room for small groups. These buses are proper purpose built buses, not cramped converted vans.
These small buses are small enough to get in the car parks at airports, big enough to qualify to use the special bus lanes in Central London.
The buses can also carry outsize items, commonly wheelchairs, electric scooters, bicycles and surfboards.
Drivers meet and greet at airports, hotels and ports just like the cars.
Full Size Touring Coaches For Large Groups
If you have a large group then that is not a problem either
The largest coaches are 50 seat coaches but we also have access to vehicles half that size.
With large groups on cruises the capacity issue is not normally passenger numbers but luggage. The average cruise party will have filled a 50 seat coaches luggage hold with the luggage from about 32 cruise passengers, but no party is average. The point being that estimating the amount of luggage you will be bringing is just as important as knowing how many people in your group.
With large groups just as small groups multi-drop and pick-ups from hotels is routine and if you require sightseeing we can arrange a guide whether it be an orientation tour of London or a niche interest of the group.
Putting Your Own Groups Together
We do not put groups together for the purpose of vehicle sharing.
A lot of people use the Roll Call feature on the Cruise Critic web site to put their own group together, again we do many of these each year.
The key point with these charters is that the price is a flat rate for the vehicle, not per person. If somebody pulls out at the last moment the group are still liable for the full cost of the charter.
---
A Transfer Tour As An Alternative
We run a range of fully guided tour transfers between Southampton and Heathrow Airport in luxury touring coaches.
There are three tour options each arriving at different times during the afternoon at Heathrow.
Click through on the links below for full details.
Southampton Cruise Ship Coaches 2013


Boarding & Drop Offs at Central London Hotels & Heathrow Airport


To Southampton Via:

Indicative Times

Price*

Southampton

Heathrow

London Hotels

Stonehenge

£49

13:00

09:00-09:30

07:00-08:15

To London Via:


Stonehenge

£55

8:30

11:45-12:30

13:00-13:45

Salisbury, Stonehenge, Windsor

£59

8:30

16:00-16:30

17:00-18:00

Stonehenge, Bath, Windsor

£69

8:30

17:30-18:00

18:30-19:15

* Prices do not include admissions to attractions. Current adult prices are:
Stonehenge £8, Roman Baths at Bath £12.75, Windsor Castle £17.75, Salisbury Cathedral £5
(concessions available)

Links To Tour Detail Pages




London via Salisbury, Stonehenge, Windsor
---
---