Dover UK Cruise & Ferry Transfers To/From Central London
Details of Independent Travel Between Dover and Central London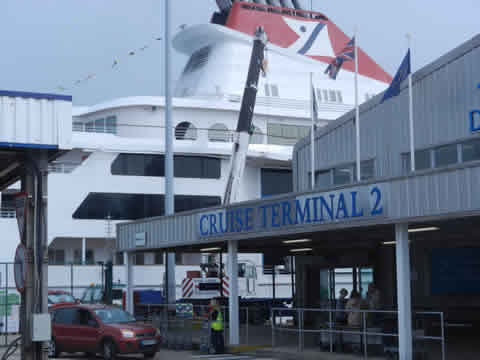 Dover Cruise Terminal 2
Its about 75 miles (120 kms) between Dover and the centre of London.
Between Dover and Central London there is a wide choice of transport, both public transport and private hire, though note there are no direct shared van shuttle style services available between London and Dover, though there is a cruise bus that is a shared service with hotel drops and pick-ups.
If you do not want to take the expensive transport offered by the cruise line, these are your options:
National Express Coaches
The cheapest option by scheduled public transport are coach services by National Express.
The National Express Coaches are much slower and much cheaper than the train services. They are modern air-conditioned buses with washrooms.
Dover
For Cruise & Ferry Passengers

Cruise Ship Bus Shuttle

Transport to/From London

Transfer Options Dover From:

Transfer Tours To London & Airports

The Town of Dover
Dover
Cruise Ship Bus
Transport
To/From London
Transfers Options
Compared:
Transfer Tours
To London
Dover
Unlike the trains there are true e-tickets available on-line. Significant for people on cruises is the luggage allowance, 2 cases neither of which should weigh more than 20kg (44lbs) before steep surcharges kick in.
The other critical aspect is that you may well spend more on getting between the cruise ship and bus stops at Dover and between your hotel and London Victoria than on the journey between Southampton and London. In London the bus terminates at Victoria Coach Station, quite a way from many of the hotel districts, this is the only stop, there are not stops at hotels or other locations.
In Dover the bus terminates in Dover Town Centre after visiting Dover Ferry Terminal. The only option to get between either of these and the cruise ship is a 10 minute taxi ride.
National Express To/From Dover - More Details

Dover Cruise Shuttle Bus - London Hotels & Heathrow To/From Dover
Not public transport, but a useful option offering prices approaching public transport with the convenience of door to door transfers between your cruise terminal at Dover and your hotel in Central London or Heathrow Airport.
In the London to Dover direction the bus picks up from hotels in all of the major hotel districts of Central London. The bus then goes onto Heathrow Airport where it will pick-up from a selection of Heathrow Airport hotels (but not passenger terminals) before going onto Dover with an optional stop at Dover Castle.
In the opposite direction the service takes the form of guided day tour. After leaving the cruise terminal at Dover the tour visits Canterbury and Leeds Castle before performing hotel drops in Central London late afternoon before going onto Heathrow Airport.
The vehicles used are normally full size 50 seat luxury air conditioned touring buses like that pictured.
London - Dover Cruise Shuttle Bus - More Details

Train Services Between Dover & London
The fastest way to travel between Dover and London is by train. Rail is often faster than hiring a private car into or out of Central London. Train services are faster and more frequent than the alternative bus public transport between Central London and Dover, but normally much more expensive.
There are three main train lines between London and Dover.
The two services to Charing Cross and Victoria follow the same track for most of the way to London and are similarly priced and take similar lengths of time to complete the railway journey.
The London St Pancras to Dover service is much faster as the trains utilise the high speed tracks built for the Eurostar express trains between England and France.
You pay a small premium for this relative speed on the ticket. However, if you just miss one of these fast trains from Dover, you lose all that time advantage waiting for the next one.
Full Details Of Rail Services Between Dover and London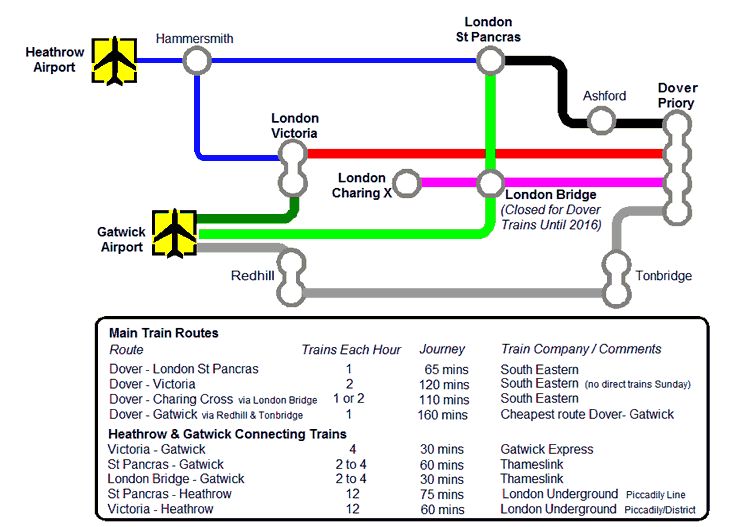 Transfers Between Cruise Terminals & London Buses & Trains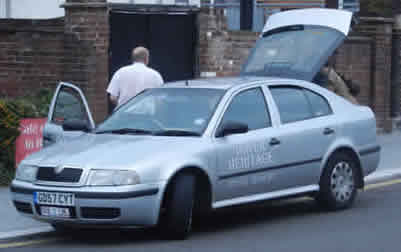 Typical Dover Taxi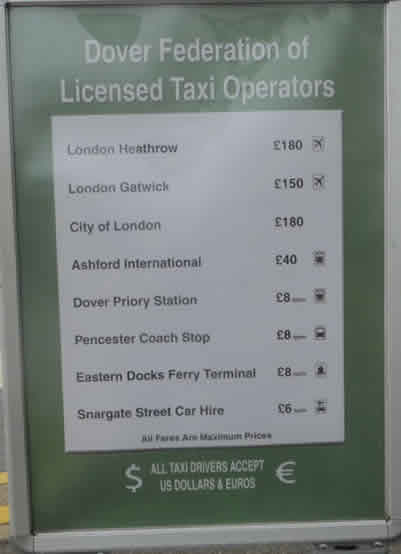 Dover Taxi Rates Posted At
Dover Cruise Terminal May 2013
No shuttle buses are provided between the cruise and the train station or London bus stops at Dover. You therefore need to get a taxi between the cruise terminal and the train station/bus stop. The fare should be around £8.
Taxi cabs at Dover come in a wide range of sizes and shapes, the image tight is fairly typical. If you have two cases per person and more than 2 people you may end up with multiple taxi cabs.
Its just a 5 minute drive between the cruise terminals at Dover to/from the railway and bus stations and ferry terminal.
The cruise terminals are far too far to walk with luggage from the train stations.
All fares within Dover should be on a meter. Indicative fares to and from the cruise terminal are shown on the image.
For longer journeys outside Dover never leap into a taxi without agreeing the price before hand.
Although drivers may offer to accept your Euro or Dollar currency it will almost certainly be at a very, very poor exchange rate. Only do so as a last resort.
The taxi rank at the cruise terminal is well marshalled. Porters from the ship will normally take your luggage as far as the taxi rank immediately outside the front doors of the cruise terminal.
It is customary to leave a small tip with cab drivers, (assuming they provide a good service).
Shuttle Bus Between Station & Ferry Terminal
A shuttle bus plies between Dover Priory Station and Dover Ferry Terminal between 7 a.m. and 9 p.m. The bus is not complementary.
Note: The ferry terminal is further from the cruise terminals than the train station.
Private Transfer Options Between Dover and London
Of course private cars and larger vehicles are available. You select what time you want to depart. Vehicles all the way from saloon/sedan cars to large coaches are available. Note, with cruise transfers, more often than not it is the amount of luggage that determines the size of vehicle required, not the number of passengers.
With a clear road, London to Dover is about 2 hours but London's roads are congested. Its quite important you budget adequate contingency time . If the motorway is congested or there is an accident, alternative routes are much, much slower. Nearly all cruise ships have assisted disembarkation between about 7 a.m. and 08:30 a.m. During weekdays, transfers into London have a high probability of road congestion delays at the tail end of the morning commuter traffic in London.
Private Cars and Vans To/From Dover - More Details
Small Family Group or Large Group - A Private Transfer or Tour May Be The Solution
If you have a group from family size to large groups, chartering your own vehicle with driver with or without professional guide can make a lot of sense.
Its a true door to door service picking you up from your hotel at a time you want and a customised itinerary going exactly where you want to go at a pace that suits your group.
Vehicles can be anything from an MPV with driver guide to a full size 50 seat air conditioned luxury touring coach with professional guide. If you just want a driver with no guiding that's fine and will work out cheaper too.
The guides and vehicles from the 8 seat vehicles up are professional full time tour specialists, not transport services that offer tours as a part time activity.
As a crude guide a full day tour (normally about 8 to 11 hours) in an MPV is about £400-£450, a 16 seat luxury touring bus like that pictured is £500-£750 and a full size 50 seat touring bus like the blue bus pictured on the banner at the bottom of the page about £600-£900. The indicative prices are without admissions, most of which we can obtain group rates.
Trips can be one-way and for the buses can be multi-day. If you are interested, just send us an e-mail from the "Contact Us" menu choice at the top of the page.
---

---