London Transfers For Groups
Buses Accommodating from 5 to 55 For Charter With Optional Guiding If Required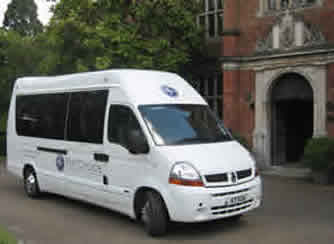 Typical 16 Seat Charter Bus
If you have a group of people as small as 5 or 6 people or as large as a tour operator we can put together a customised solution to your needs at a sensible cost.
The most common requirement is for straight airport and cruise transfers plus day tours and tour/transfers with guiding/commentary.
Families and Small Groups Between 6 and 16 People
For the most common airport and cruise transfers we have a transparent menu of tariffs on this web site so you can see how good value our pricing is. You can even order your transfer online in an instant, securely.
Similarly for day tours we have flat charter rates for a small bus with an experienced driver/guide. Again you will find links below.
Vehicles are in a wide range of capacities, including 8, 10, 12 and 16 seats. Some are configured to take lots of luggage, like for cruises, others are luxury touring buses for our popular guided tours.
Large Groups
For larger groups we do not have a price menu as requirements are so diverse that we have to make individual proposlas. We specialise in student groups and providing a 'white label' tour service for tour companies.
Free Planning Service
If you require baby or booster seats just ask
Its in our interests to provide the right solution for your needs.
We know London and England very well of course so why not take advantage of our knowledge , even if its querying realistic transfer times.
We have tours going out on a daily basis throughout the year so we can offer candid advice. We also have regular 2 and 3 day tours to Scotland and Paris.
There is an enquiry form at the bottom of this page.
Outsize Luggage, Wheelchairs. Electric Scooters, Bicycles ...
One of the advantages of having large luggage holds on the buses is that we can take outsize items. Electric wheelchairs, mobility scooters, surfboards and bicycles are some of the common requests we get each year.
Airport To Airport Transfers
London is a major hub airport with a sizable proportion of travelers just passing through.
British Airways split their operations between Heathrow and Gatwick and a lot of people fly long haul into Heathrow and switch to one of the budget low cost airlines flying from Gatwick, Stansted and Luton.
Cruise Transfers To/From Southampton, Dover and Harwich
Cruise transfers are a specialty. With our large luggage holds our vehicles can handle whatever luggage you are bringing onboard.
From Southampton we put on a lot of interesting Southampton tour transfers including places like Stonehenge and Windsor.
Tours From/To London
We provide a full tour service on all sizes of vehicles.
Some of our most popular itineraries are laid out on the link below - but every private tour is customised to the needs of the group.
---
Private Transfer Quotation / Enquiry Form
---