Norwegian.no Flights From Gatwick
Flights To Norway and Denmark
Norwegian operate a full programme of daily low cost flights between London Gatwick and Scandinavian cities. A further network of routes within Scandinavia enable most destinations with airports available with a change of flights.
Norwegian Destinations From Gatwick
Oslo, Bergen, Stavanger, Tromso, Copenhagen, Aalborg, Alesund, Helsinki
Last Check-In : 45 mins before flight
Free Baggage Allowance: None, all hold baggage charged.
Cabin Baggage Allowance: Maximum weight is 10 kg. Maximum dimensions are 55x40x23cm
Optional Extras : Seat allocation, meals, credit cards fee, excess baggage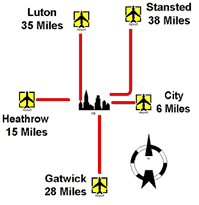 Gatwick Airport
Gatwick Airport London is around 30 miles south from Central London.
Gatwick Airport has two passenger terminals called North and South. There is a free and frequent link between them. The train station, the most popular way of getting into London is in the South Terminal.
The terminals have all the banks, ATM's, restaurants and shopping facilities you would expect of a major international airport.
There is Wifi and Internet but it is not complementary.
Luggage trolleys also are not complementary, passengers will need a £1, €1 or US 25-cent coin, which is refunded when the trolley is returned.
There is a left luggage facility operated by the Excess Baggage Company. Look up their web site for current rates and opening times.
Central London From Gatwick Airport
There is wide range of rail and bus transport options for passengers using London Gatwick Airport. Rail options predominate though.
The roads between Gatwick and Central London are not motorway/freeway standard but wind through suburbia with traffic lights making for a tedious stop, start journey. Do yourself a favour, take the train if you are going into Central London.
Rail is at least twice as fast as transfers by road vehicle into Central London. There is a choice of three train services into Central London plus a couple of scheduled bus services.
Overview Of Gatwick - Central London Transfers
With Links To Detail Pages
Public Transport
One Way
Return
Travel
Time
Promotional Tickets
Gatwick Express
£17.75*
£31.05*
30 mins
4 for 2, and 5 for price of 3 tickets
First Capital Trains
£10.00#
£19.00#
45 mins
Cheaper fares available London Bridge
Southern Trains
£14.40#
£28.80#
40 mins
Advance online tickets £5.00-£10.00
National Express Bus
£8.00
£14.00
90 mins
Advance online fares from £6.50
easyBus
From £2 each way*
70 mins
£10 each way buying ticket on day.
* 10% online discount fare # Standard travel anytime fare
| | |
| --- | --- |
| | |
---
Gatwick Hotels
Indicative Pricing
* prices sampled for mid March 2013
Double/twin room 2 people inc taxes
Typical Double Rate *
Hotel Transfer
Car Parking Deals
Comments
Midweek
Weekend

On Airport Hotels - Hotels you can walk to hotel from Gatwick passenger terminals

£46

£46

Walk Into
North Terminal

Yes

Only budget hotel
walkable from terminals

£73

£64

Walk or
Bus £3.00

Yes

In the South Terminal
Complex

£131

£78

Linked South Terminal

Yes

Walkway South Terminal
and Gatwick Rail Station

£119

£90

Linked North Terminal

Yes

Linked to South Terminal by Mono rail link

Off Airport Hotels - Hotels with own transport facility to/ from Gatwick passenger terminals

£29

£29

Courtesy Bus
£3.20 Person

Yes

Southern perimeter of airport, local bus link


£30

£30

Courtesy Bus
£3.20 Person

Yes

2 Star chain hotel
1 Mile south of airport

Travelodge Gatwick Central +#
£34
£34
Courtesy Bus
£3.20 Person
No
Edge of Horley
1 Mile south of airport
Holiday Inn Gatwick Worth
£48
£38
Courtesy Bus
£4.50 Person
Yes

Modern budget hotel on outskirts of Crawley

Premier Inn Manor Royal ~+#

£62

£38

Courtesy Bus
£3.20 Person
Yes
On business park
in North Crawley

£69

£39

Courtesy Bus
£3.20 Person

No

Free overnight parking
Local bus Gatwick

£60

£45

Courtesy Bus
£5.00 Return

Yes

Very quiet location
in the countryside

£67

£47

Taxi £6.00
Max 4 persons

Yes

Edge of Horley
Walkable to shops

£48

£48

Courtesy Bus
£3.00 Person

Yes

Free WiFi
Close to terminals

£84

£48

Courtesy Bus
£3.50 Person

Yes

In Crawley Town Centre close to railway station

£49

£49

Courtesy Bus
£5.00 return

Yes

2 Star
On edge of Horley Village

£50

£50

Courtesy Bus

Yes

Mystery 4 star hotel
allocated on booking

£51

£51

Courtesy Bus
£4.25 Person

Yes

Rural location
9 hole golf course

£64

£51

Walk or
Bus £3.00

No

Possible to walk
to North Terminal

£52

£52

Courtesy Bus
£4.25 Person

Yes

Family Rooms For 4
Good leisure facilities

£76

£55

Courtesy Bus
£3.20 Person

Yes

Outskirts Crawley,
near large Tesco

£84

£56

Courtesy Bus
£3.00 Person

Yes

Cheapest rates
21 days+ in advance

Gatwick Europa ~+#

£72

£61

Courtesy Bus
£5.00 return

Yes

Cheaper Europa Lodge
in grounds of hotel

£96

£64

Courtesy Bus
£3.20 Person

Yes

Cheapest rates
21 days+ in advance

Off Airport Bed & Breakfast style accommodation with own transfer facility to/ from Gatwick

£35

£35

Taxi transfer

£6 per room

Yes

Taxi Transfer
24 hours

£42

£42

Shuttle £5
or local bus

No

Airport Shuttle
09:00 - 23:00

Gatwick Belmont ~+#
£49
£49
Shuttle
or local bus
No
Shuttle £5 per room
09:00 - 21:00
Acorn Lodge ~+
£59
£59

Shuttle £2 person return

Yes
24-hour transfers
Breakfast included
Corner House ~+#
£63
£63
Shuttle
or local bus
No
24-hour transfers
£5 per room
Castle Lodge Guest House ~+#
£64
£64
Free shuttle
or local bus
No
Free 24-hour transfers
Breakfast included
Glenalmond Guest House ~
£70
£70
Free shuttle
or local bus
No
Free airport shuttle
Breakfast included
Rosemead Guest House ~#
£75
£70
Free shuttle
or local bus
No
Free airport shuttle
to airport only
Gatwick House ~#
£75
£75
Free shuttle
or local bus
No
Free airport shuttle
Breakfast included

Off Airport Hotels with local public bus and train direct to Gatwick passenger terminals

Ramada Crawley ~+#
£65
£49
Bus, train
or taxi (£8.50)
Yes
In the heart of
Crawley town centre
Holiday Inn Express Crawley +#
£72
£63
Bus, train
or taxi
Yes
Free overnight parking
Breakfast included
~ Single Rooms + Triple Rooms # Quad Rooms