Southampton Coach & Rail Stations
A Cruise Passengers Guide using public transport between Southampton cruise ships and London and beyond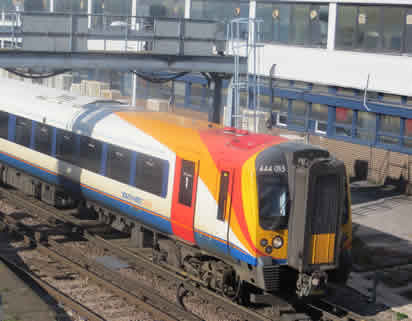 London Train At Southampton
For cruise passengers travelling to and from their ship in Southampton by public transport they will arrive at either the city centre rail station or the National Express coach station. Both are within a few hundred yards of each other. The coach is the cheapest option, but much slower than the trains that are also much more frequent.
A key aspect to remember at Southampton is that there are four cruise terminals strung along about two miles of the waterfront at Southampton. We have a Southampton map at the foot of this page that depicts the relative position of each cruise terminal to the bus and rail stations.
Southampton Central Station & Southampton By Train
There are several rail stations in Southampton. The station appropriate for the cruise passengers is Southampton Central, the main city centre station.
The station is fairly basic with just a ticket office and basic refreshment facilities and toilets. There is no left luggage facility. Southampton Central is fully accessible to wheelchair users.
At the moment there are no true etickets on UK railways and the cheapest fares are normally advance purchase where available. Inside the entrance to Southampton train station is a machine where you can pick up tickets ordered for and paid for in advance on-line or you can have them sent to your home address.
Taxi cabs are freely available outside the main entrance to the station.
Southampton By Train - Full Details
Southampton Coach Station & Southampton By Bus
The National Express coach station is very close to the rail station. Its a small, but modern coach station with limited seating areas and basic facilities.
This bus station is dedicated to National Express, other local buses do not come here.
Southampton
For Cruise & Ferry Passengers

Cruise Ship Bus Shuttle

Transport to/From London

Transfer Options Southampton From:

Transfer Tours To Southampton

Transfer Tours To London & Airports

The City of Southampton
Southampton
Cruise Ship Bus
Transport
To/From London
Transfers
Compared:
Transfer Tours
To London
Southampton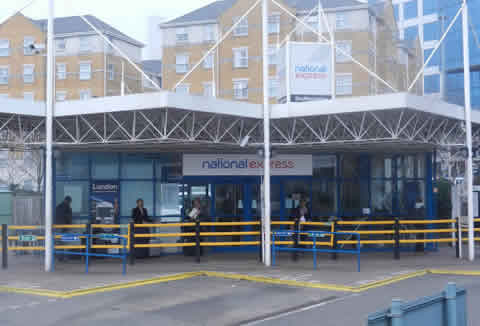 Southampton Coach Station
There are three National Express routes to and from Southampton that provide direct services between London Victoria, Heathrow and Gatwick Airports. Unlike the railways, National Express have true e-tickets - the moment you make your reservation your e-tickets are e-mailed to you. You can pay using major credit cards.
There is a small taxi rank outside and inside the small terminal is a snack bar, toilets and ticket office.
Close to the bus station about 400m away are the Novotel, Ibis Budget and Ibis hotels that can easily be walked to with luggage. The Premier Inn West Quay hotel is also within walking distance with luggage.
A regional shopping mall is also on your doorstep and the train station about 300m away.
Southampton By Bus - Full Details
Transfers Between Cruise Terminals & Southampton Coach Station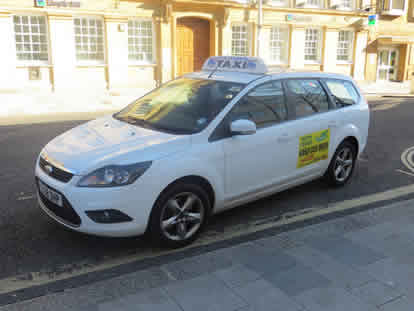 Typical Southampton Taxi Cab
No shuttle buses are provided between the cruise and bus station at Southampton.
You therefore need to get a taxi between the cruise terminals and the bus station. The fare should be between £6 and £10.
The picture right shows a typical Southampton taxi (they are all white). If there are 3 or 4 of you with 2 cases each plus hand luggage you may need more than one taxi.
In the morning if there are 3 or 4 cruise ships unloading simultaneously (quite common) there may be queues for the taxi's. The taxi ranks are very well marshalled though.
A few hardy soles walk between the coach station and the City Cruise Terminal, with luggage this will take about 15 minutes. Its too far with luggage to walk to other cruise terminals from the coach station.
The position of Southampton coach station relative to each cruise terminal and the main hotels are marked on our Southampton map.
Southampton Cruise Shuttle Bus - London Hotels & Heathrow To/From Southampton
Not public transport, but a useful option offering prices approaching public transport with the convenience of door to door transfers between your cruise terminal at Southampton and your hotel in Central London or Heathrow Airport.
In the London to Southampton direction the bus picks up from hotels in all of the major hotel districts of Central London. The bus then goes onto Heathrow Airport where it will pick-up from a selection of Heathrow Airport hotels (but not passenger terminals) before going onto Southampton via Stonehenge arriving around 1 p.m.
There is the added bonus that the coach stops for one hour in either direction at Stonehenge, plenty of time to visit this world famous monument if you wish.
In the opposite direction there are two services.
One service goes direct from the cruise ship to Heathrow, then onto London. The other is a full day tour transfer with guide visiting Salisbury, Stonehenge and Windsor Castle.
The vehicles used are normally full size 50 seat luxury air conditioned touring buses like that pictured.
London - Southampton Cruise Shuttle Bus - More Details
---
---

---