Coaches Between London And Southampton
National Express Bus Services Between Southampton & London Including Heathrow Airport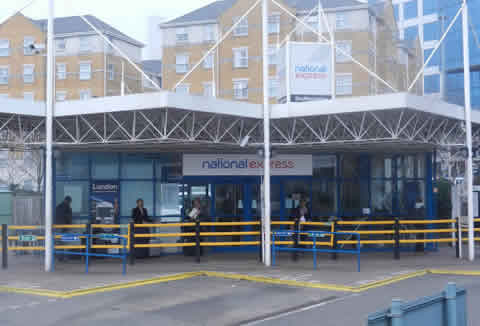 Southampton Coach Station
National Express Coaches To/From Southampton
National Express operate separate coach services from Southampton to Central London (Victoria), Heathrow Airport and Gatwick Airport. These are not van shuttle services, (there are none at Southampton) with hotel drops and pick-ups. Vehicles are large 50 seat air conditioned buses with washrooms.
National Express Coaches are slower but cheaper than the alternative scheduled public transport, the Southampton train services.
National Express are the largest scheduled long distance bus operator in Europe and operate the only truly national network in England carrying over 18 million people a year. They are a large public limited transport company with operations globally.
Key points about using National Express buses between London and Southampton are:
The bus station at Southampton is by the train station. You will need a taxi between the bus station and your cruise terminal.

Coaches are full size and all have toilet and washroom facilities

Your ticket guarantees you a seat, but does not reserve any particular place, so you can sit on any vacant seat when you board the coach.

There are no senior's fares. These were withdrawn in 2012.

The luggage allowance may well be significantly less than on your flight. Check the luggage section below.

On busy cruise days from Southampton when up to 4 ships may disembark at the same time, the buses may be sold out well in advance. Extra buses are not put on when a schedule is sold out

Tickets are for a specific journey, miss the departure and you lose the ticket. The notable exception is for departures at airports including Heathrow. Here can you use your ticket on later schedules if your flight is late and you miss the bus as a result. This is subject to seat availability on the following bus.
Southampton
For Cruise & Ferry Passengers

Cruise Ship Bus Shuttle

Transport to/From London

Transfer Options Southampton From:

Transfer Tours To Southampton

Transfer Tours To London & Airports

The City of Southampton
Southampton
Cruise Ship Bus
Transport
To/From London
Transfers
Compared:
Transfer Tours
To London
Southampton
National Express Routes Between Southampton and London
The direct buses between Southampton and Central London run along the direct motorway between the two cities with just a couple of stops at regional cities along the way. On a good day the trip will take about 2 hours 30 minutes, about 40 minutes longer than a private car.
The terminus in London is Victoria Coach Station about 600 yards from Victoria Rail and Underground Stations. We have a dedicated Victoria Coach Station page.
The National Express route to and from Heathrow takes around 2 hours. However the passenger terminals at Heathrow are miles apart so it takes 15-25 minutes to go around the terminals. The bus terminates at the main bus and coach station at Heathrow. If you are using Terminals 1,2 or 3 you need to walk from these terminals to the coach station. Its well signposted and the route is underground along moving walkways from ramps within the passenger terminals. Buses stop in front of the terminal at Terminals 4 and 5.
From Southampton to Heathrow and London there are routinely traffic congestion delays on the Heathrow / London approaches of about 20-30 minutes up until about 11 a.m. on work days.
From Southampton to Gatwick the bus takes a completely different route along the south coast of England, much less prone to serious traffic congestion taking just under 3 hours. There are two passenger terminals at Gatwick, North and South, the bus visits both.
National Express Luggage Policy
Luggage allowance is often a lot less than flight baggage allowances if you are travelling to/from North America. Luggage entitlement is limited to two cases per person in the hold, neither of which should weigh more than 20kg (44lbs). In the cabin you can take a small item of luggage like a handbag or laptop that you can put under a seat or keep on your lap.
Drivers do not weigh the luggage and typically are quite flexible, but don't count on it and don't abuse the allowance.
National Express have introduced an excess luggage policy with charges and if you have outsize items or unusual items you really need to check out the detail of the luggage policy. If you go over the allowance and the luggage hold is full you may be asked to get the next bus (typically 2 hours later), even if you have paid the luggage penalty.
If you are concerned about the security of your luggage in the hold it is rather good.
Light weight manual wheelchairs and foldable pushchairs are taken subject to them being capable of being stowed in the luggage hold of the coach. Manual wheelchairs more than 20kg in weight and pushchairs not foldable are not taken. Powered wheelchairs are only taken by prior arrangement.
You may take your bicycle on your National Express journey, as long as it is designed to fold in half by means of a special link in the main frame and is carried in an appropriate padded bag or hard case, suitable for the purpose.
National Express Bus Timetables, Fares & Ticketing
Unlike the railways, National Express have true e-tickets - the moment you make your reservation your e-tickets are e-mailed to you. You can pay using major credit cards.
With a ticket you have a reserved seat on the bus schedule of your choice, no individual seat selection can be made. At airports only, if your flight is delayed you can travel on a later schedule subject to seat availability. At Heathrow and Gatwick it normally takes about 45 to 75 minutes to get through customs and baggage reclaim. At city termini like Southampton and London if you miss your schedule you lose your ticket.
You can also buy tickets on the day from the bus station ticket offices, subject to seat availability. Those who have pre-booked have reserved seats and priority. Especially in the Southampton to London direction buses are often sold out from about 8:30 a.m. to midday if cruise ships are in port. National Express do not put on extra capacity once a schedule is sold out.
Important: When you use the National Express journey planner (banner link below) do not select Southampton Cruise Terminal as a destination, no bus goes to any of the 4 cruise terminals at Southampton. Select Southampton Coach Station. Similarly at Heathrow do not select Heathrow Terminal 1,2 or Terminal 3, again no Southampton bus visits either passenger terminal, select Heathrow Airport London (for T1, T2and T3).

Transfers Between Cruise Terminals & Southampton Coach Station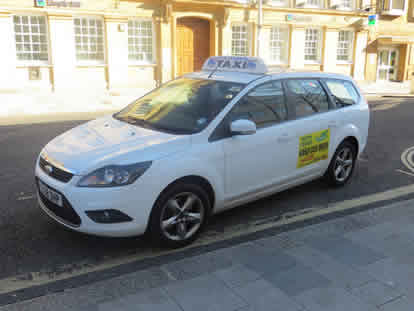 Typical Southampton Taxi Cab
No shuttle buses are provided between the cruise and bus station at Southampton.
You therefore need to get a taxi between the cruise terminals and the bus station. The fare should be between £6 and £10.
The picture right shows a typical Southampton taxi (they are all white). If there are 3 or 4 of you with 2 cases each plus hand luggage you may need more than one taxi.
In the morning if there are 3 or 4 cruise ships unloading simultaneously (quite common) there may be queues for the taxi's. The taxi ranks are very well marshalled though.
A few hardy soles walk between the coach station and the City Cruise Terminal, with luggage this will take about 15 minutes. Its too far with luggage to walk to other cruise terminals from the coach station.
The position of Southampton coach station relative to each cruise terminal and the main hotels are marked on our Southampton map.
Southampton Cruise Shuttle Bus - London Hotels & Heathrow To/From Southampton
Not public transport, but a useful option offering prices approaching public transport with the convenience of door to door transfers between your cruise terminal at Southampton and your hotel in Central London or Heathrow Airport.
In the London to Southampton direction the bus picks up from hotels in all of the major hotel districts of Central London. The bus then goes onto Heathrow Airport where it will pick-up from a selection of Heathrow Airport hotels (but not passenger terminals) before going onto Southampton via Stonehenge arriving around 1 p.m.
There is the added bonus that the coach stops for one hour in either direction at Stonehenge, plenty of time to visit this world famous monument if you wish.
In the opposite direction there are two services.
One service goes direct from the cruise ship to Heathrow, then onto London. The other is a full day tour transfer with guide visiting Salisbury, Stonehenge and Windsor Castle.
The vehicles used are normally full size 50 seat luxury air conditioned touring buses like that pictured.
London - Southampton Cruise Shuttle Bus - More Details
Train - Much Faster But more Expensive Than National Express Bus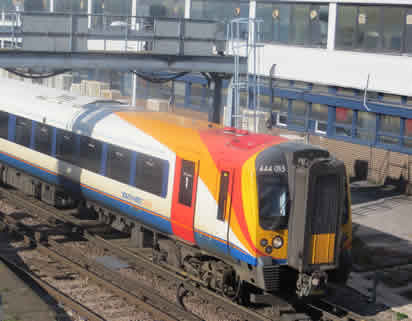 London Train At Southampton
Southampton is around 80 miles (128 kms) from the centre of London. On a good day with a clear road, a vehicle will make it in under 2 hours and a coach much longer.
On the other hand the trains between London Waterloo and Southampton take between 80 and 100 minutes.
There are also direct trains to Gatwick Airport (not on a Sunday) but no train to Heathrow Airport where the National Express coaches have a monopoly.
The train station is very near Southampton Coach Station, so just like the National Express coaches you need a taxi between train station and cruise terminals. The terminus in London for the train is London Waterloo on the south side of the River Thames.
Southampton by Train - More Details
---

---