Train From London To Southampton Cruise Terminals
Fastest Transport Between Southampton And Central London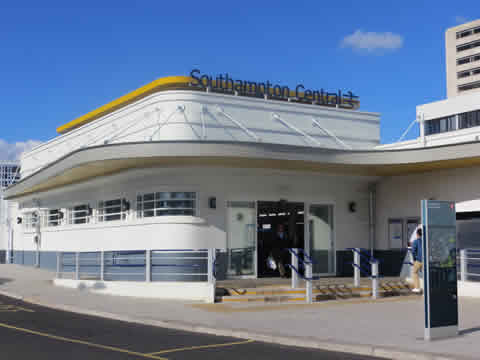 Southampton Train Station
Southampton is around 80 miles (128 kms) from the centre of London. On a good day with a clear road, a vehicle will make it in under 2 hours.
On the other hand the trains between London Waterloo and Southampton take between 80 and 100 minutes. The tedious part is getting from your London hotel to Waterloo and between Southampton train station and whichever one of Southampton's four cruise terminals you are using.
There are no direct train services between Southampton and Heathrow Airport, the direct transfer here by scheduled public transport are the Southampton National Express coaches. Gatwick Airport has direct rail services from Southampton, but not on Sundays.
Key Points Of Travelling By Train To/From Southampton
On the train services to Southampton there are no seat reservations. Your ticket just buys you the right to travel. There is no assistance with luggage. You board the train with your luggage, find an empty seat and stow away your luggage as best you can.

At Southampton the train station is not next to any cruise terminal. There are 4 cruise terminals at Southampton requiring a short taxi ride. The position of Southampton train station relative to each cruise terminal and the main hotels are marked on our Southampton map.

There are no specific senior's fares

Travel by train between Southampton and Heathrow Airport although possible is not a real solution for most as the National Express coaches are direct and cheaper than the train which requires a connection at a railway station at the edge of London to an airport shuttle bus.
Train Routes Between Southampton and London
Southampton
For Cruise & Ferry Passengers

Cruise Ship Bus Shuttle

Transport to/From London

Transfer Options Southampton From:

Transfer Tours To Southampton

Transfer Tours To London & Airports

The City of Southampton
Southampton
Cruise Ship Bus
Transport
To/From London
Transfers
Compared:
Transfer Tours
To London
Southampton
The main trains between Southampton and London terminate at London's Waterloo Station. These are the most frequent and the fastest way of getting to the centre of London, but not London's major airports.
London Waterloo is a long way from many hotels in the centre of London. If you have a hotel around the Bayswater, Paddington and Marble Arch hotel districts you may prefer a more exotic route departing from London's Paddington Station and changing trains at Reading to avoid the trek across town from London Waterloo.
There are direct trains also between Southampton and Gatwick that go a very different route along the south coast of England then up to London (Victoria Station) via Gatwick Airport. On Sundays these direct trains do not operate so you need a change of train, probably at Clapham Junction where the Gatwick Airport to London trains intersect with the Southampton to Waterloo trains.
Travel by train between Southampton and Heathrow Airport although possible is not a real solution as most as the National Express coaches are direct and cheaper than the train which requires a connection at a railway station, Woking, located at the edge of London where an airport shuttle bus operates. If for some reason you must go by train then you get the London Waterloo train to Woking where you get a special Heathrow RailAir bus
Purchasing Train Tickets
On the trains to and from Southampton there are no reserved seats and no help is given with your luggage. You just board the train and find a seat that suits you on a first come first served basis and store your luggage as best you can.
Ticketing on UK railways is very complex. On the Southampton run the cheapest tickets are normally off peak tickets .
If you are lucky you may get an advance purchase promotional ticket.
The three types of tickets are broadly :
Advance Purchase: Buy in advance, sold in limited numbers and subject to availability. These tickets will have restrictions specified when purchasing.

Off Peak: Buy any time, travel off-peak. The definition of off peak can vary from ticket to ticket. These tickets may require you to travel at specific times of day, days of the week or on a specific route. Where there is more than one Off-Peak fare for a journey, the cheaper fare with more restrictions will be called Super Off-Peak.

Anytime: Buy any time, travel any time. (the standard ticket). Anytime fares are fully flexible tickets, with no time restrictions on when you can travel.
At train stations there are manned ticket offices and also ticket machines. All major credit cards are taken as well as cash (British pounds only).
For fares and timetables use 'The Trainline' web site where you can also order tickets for delivery to your home address.
Megatrain / Megabus For Cheap Train Tickets
One worthwhile option to look into if you are travelling between London Waterloo and Southampton is the Megatrain web site, an on-line only source of bargain advance purchase train tickets.
The Megatrain/Megabus web site is run by the parent company of the train company that runs the trains between London Waterloo and Southampton. If they know a train is going to run half empty they use this site to make available clearance price tickets. You travel in the same trains as if you bought a standard ticket but you have to ride on a specific schedule. The price is volatile, basically if the computer calculates there is going to be a lot of empty seats the prices go down, if there is a run on a particular schedule the prices will go up. There is a fixed allocation of tickets for each train, when the allocation has been sold that's it, only the full price tickets are then available. Only a small subset of the schedules are made available through Megatrain, those schedules off peak. However, this can be just the times you want for a cruise, so its worth checking availability.

Transfers Between Cruise Terminals & Southampton Train Station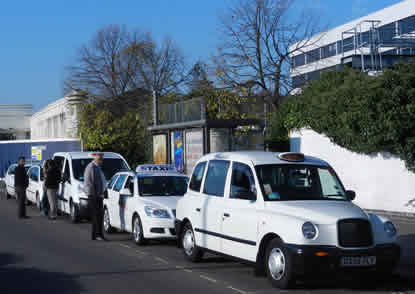 Southampton Train Station Taxi Rank
No shuttle buses are provided between the cruise and train station at Southampton.
You therefore need to get a taxi between the cruise terminals. The fare should be between £6 and £10.
The picture right shows the Southampton train station taxi rank and the typical wide variety of vehicles used as Southampton taxis (they are white). If there are 3 or 4 of you with 2 cases each plus hand luggage you may need more than one taxi.
In the morning if there are 3 or 4 cruise ships unloading simultaneously (quite common) there may be queues for the taxi's. The taxi ranks are very well marshalled though.
A few hardy soles walk between the train station and the City Cruise Terminal, with luggage this will take about 15 minutes. Its too far with luggage to walk to other cruise terminals from the train station.
The position of Southampton train station relative to each cruise terminal and the main hotels are marked on our Southampton map.
National Express Coaches - Cheaper But Slower Than the Train
The main alternative to train by scheduled public transport are coach services by National Express. There are separate services between Southampton and Central London, Heathrow Airport and Gatwick Airport.
The National Express Coaches are much slower and much cheaper than the train services. They are modern air-conditioned buses with washrooms.
Unlike the trains there are true e-tickets on-line. Significant for people on cruises is the luggage allowance, 2 cases neither of which should weigh more than 20kg (44lbs) before steep surcharges kick in.
The bus station at Southampton is by the train station so you still need the local taxi cabs to and from the cruise terminals. In London the bus terminates at Victoria Coach Station, this is the only stop, there are not stops at hotels or other locations.
National Express To/From Southampton - More Details
Southampton Cruise Shuttle Bus - London Hotels & Heathrow To/From Southampton
Not public transport, but a useful option offering prices approaching public transport with the convenience of door to door transfers between your cruise terminal at Southampton and your hotel in Central London or Heathrow Airport.
In the London to Southampton direction the bus picks up from hotels in all of the major hotel districts of Central London. The bus then goes onto Heathrow Airport where it will pick-up from a selection of Heathrow Airport hotels (but not passenger terminals) before going onto Southampton via Stonehenge arriving around 1 p.m.
There is the added bonus that the coach stops for one hour in either direction at Stonehenge, plenty of time to visit this world famous monument if you wish.
In the opposite direction there are two services.
One service goes direct from the cruise ship to Heathrow, then onto London. The other is a full day tour transfer with guide visiting Salisbury, Stonehenge and Windsor Castle.
The vehicles used are normally full size 50 seat luxury air conditioned touring buses like that pictured.
London - Southampton Cruise Shuttle Bus - More Details
---

---