Fast Track Skip The Line Admission Tickets
Skip The long queues at Madame Tussauds, Tower Of London, London Eye etc
London Dungeon Queue
One of the tedious aspects of modern tourism today is queuing and waiting.
London is no different and its main attractions which every first time visitor has on their list can have very long queues, especially during the peak summer period.
You will not encounter queues at free to enter museums and art galleries like the British Museum, National Gallery and Tate Modern. The headline acts that are infamous for queues include the London Eye, Madame Tussauds, Tower of London, London Dungeon and Windsor Castle.
At all of these attractions you can buy fast track admission tickets in advance which means you either just walk straight past the lines for the ticket desks on the day saving you lots of time and boredom.
Skip the line tickets, priority tickets, fast track are all common terms used for this facility. The tickets are priced with a supplement above the standard admission ticket.
---
London Eye -
Skip The Line Tickets
The world's tallest observation wheel, The EDF Energy London Eye is an unforgettable experience that lets you see iconic London landmark and spectacular views of the capital of England from high above the River Thames.
The famous landmarks to be seen include Big Ben and the Houses of Parliament, St. Paul's Cathedral, Buckingham Palace and Westminster Abbey. Visit includes new interactive guides powered by Samsung Galaxy Tab and an entry to the London Eye 4D Experience, an inspiring journey of discovery that brings London to life through multi-sensory special effects.such as Tower Bridge, Big Ben and the Houses of Parliament.
Skip the Line: London Eye Tickets are the fastest way to the sky! Check in just 15 minutes before your flight and avoiding the majority of the queue with fast track priority access. The tickets are pre-paid, for fast, hassle-free entry and you can board any flight on your chosen day. Price includes standard ticket price plus fast-track fee.
---
Madame Tussauds
- Skip The Line Tickets
At Madame Tussauds London, you will come face-to-face with some of the world's most famous faces including Britney Spears, David Beckham and even the Queen!
Even better, by purchasing your ticket ahead of time you'll jump the queue. Don't waste time waiting in lines on vacation!
Madame Tussauds are the only wax attraction to get full celebrity endorsement, with involvement in the sitting, through the sculpting process and side-by-side unveils! The incredibly lifelike figures created by our world-renowned sculptors, use the same techniques as Madame Tussauds herself did 200 years ago.
You can hug, touch, kiss - get up close and personal with our celebrities, take photos with your favourites. No red ropes anymore!
Filled with 14 exciting, interactive zones and the Marvel Super Heroes 4D movie experience, Madame Tussauds London combines glitz and glamour with incredible history with over 300 wax figures.
---
Tower Of London
- Skip The Line Tickets
Founded by William the Conqueror in 1066, The Tower of London is one of the world's most famous fortresses. Nearly 1,000 years of royal history - there's so much to see at the Tower of London!
The skip the line entrance ticket includes viewing the White Tower and the fabulous Crown Jewels as well as a free Yeoman Warder 'Beefeater' tour. Booking your ticket ahead of time you'll jump the queue at no extra cost. Don't waste time waiting in lines.
The Crown Jewels at the Tower of London are a unique working collection of royal regalia and are still regularly used by the Queen in important national ceremonies. Yeoman Warder (popularly known at Beefeaters) are the ceremonial guards of the Tower of London. Join a free tour and be entertained by tales from the Tower.
---
St Paul's Cathedral
- Priority Access Tickets
Experience St Paul's Cathedral - London's architectural masterpiece and place of national celebration. Step inside and enjoy the cathedral's awe-inspiring interior, uncover fascinating stories about its history and climb the world-famous dome for spectacular views of London.
Designed by the famed architect Sir Christopher Wren, St Paul's Cathedral is an iconic landmark on London's skyline. Multimedia guides are available in 12 languages; weaving together contemporary photography and archive film footage for an unbeatable visitor experience.
The state funerals of Lord Nelson, Sir Winston Churchill and the Duke of Wellington took place in the Cathedral, as did the wedding of Prince Charles and Lady Diana Spencer.
---
Kensington Palace
- Skip The Line Tickets
The childhood residence of Queen Victoria and the beloved home of Princess Diana, Kensington Palace provides a fascinating insight into royal life past and present. Journey through newly landscaped gardens and refurbished displays learning about some of the greatest stories and characters in Britain's rich royal history.
By booking your ticket ahead of time, you'll get to jump the long entrance queues at no extra cost - don't waste time waiting in lines.
Kensington Palace has been a royal home for over 300 years, and parts of the palace still remain a private residence for members of the Royal Family today
Make your way through the spectacular King's and Queen's State Apartments, adorned with paintings from the Royal Collection, and stroll through the Kensington Palace Gardens at your leisure.
---
London Dungeon -
Skip The Line Tickets
Be the first in the queue to experience 2000 years of London's darkest and most gruesome history, vividly brought to life in a series of live shows, interactive special effects and 3 hair-raising rides. Exciting, scary and fun.
Delve into the ancient capital's bloody history at the London Dungeon. We know that when it comes to history - the horrible bits are the best. Experience live actors, dark history, thrilling rides and special effects… are you brave enough to face 90 minutes of London's goriest past?
All London Dungeon tickets sold are Priority Tickets. This means that when the Dungeon is at its busiest and the main queue could be up to 4 hours long - Priority customers receive entry to the attraction in 15 minutes.
---
The London Pass - The Sightseeing Pass For London With Skip The Line Tickets
The London Pass is a flat rate sightseeing pass to many (but not all) of London's main attractions. You can buy a London pass for 1,2,3 or 6 day durations.
It gives you entry into around 55 London tourist attractions. You have paid a set sum per person in advance and then you just show your card at the entrance or ticket office of any attraction included on the London Pass, they will swipe it through a card reader and you will be allowed entry, some attractions you will get fast track entry.
You can also opt to have a public transport pass included (very similar to a London Travelcard) as no transport is included.
You can have the London Pass shipped to your home address (for a shipping charge) or you can collect the tickets in London for which there is no charge. If you choose to collect your order in London you will need to print and bring with you the London Pass voucher which is emailed to you on completion of your online order. The collection point is off Trafalgar Square which is geographically the centre of London.
---
Classic Red London Bus Tour Plus Major Attraction Combo
Combine a tour of London on one of London's famous old routemaster buses then spend the afternoon at one of London's premier attractions, or indeed Stonehenge is an option.
The tour includes:
- Classic red London bus tour of London
- Cruise on the River Thames
- Changing of the Guard at Buckingham Palace
- Free hotel collection from over 170 hotels
You will see many of London's major attractions including Westminster Abbey - Big Ben - London Eye - St Paul's Cathedral - Tower of London - Thames Cruise - Changing of the Guard.
The tour is all brought to life by our expert guide.The tour is also available with audio headsets in 10 languages (French, German, English, Spanish, Portuguese, Italian, Japanese, Mandarin, Hindi and Korean.)
Full Day Open Top Sightseeing Bus Tour Of London
Plus Major Attraction Visit Packages
Tour
Adult
Senior
Child
Tour Detail Page
Bus Tour + Tower of London
£45.50
£42.50
£35.50
Bus Tour + London Eye
£49.00
£44.00
£39.00
Bus Tour + Stonehenge
£49.00
£46.00
£39.00
Bus Tour + Madame Tussauds
£52.00
£49.00
£42.00
---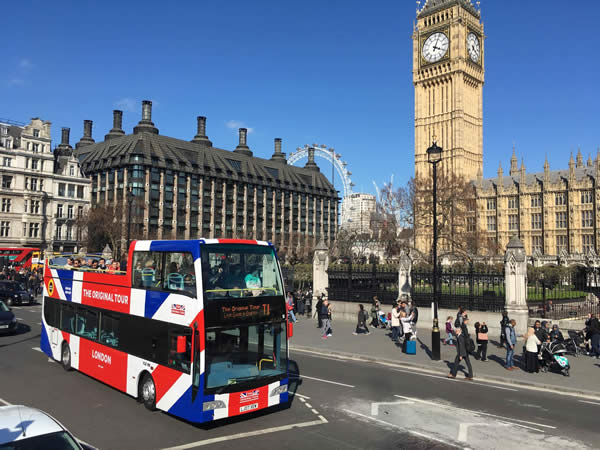 Original London Tour Bus
Hop On Hop Off Sightseeing Buses
An alternative to the classic guided coach tours are the HOHO (hop on, hop off) buses.
During your visit to London, one of the recurring sights are the hop on, hop off tour buses.
Especially in the summer months there seems to be one coming along every couple of minutes, each jam packed with visitors.
These buses offer comprehensive coverage covering nearly all the main sights in London.
In addition to the bus tour a river cruise and free walking tours are part of the deal.
Tickets last for 24 hour periods.
Original London Tour Hop On Hop Off Bus More Details
---
Alternative Tours Of London
Fully Guided One Day Tour Of London
A traditional tour with full size touring bus and professional guide with hotel pick-ups in the morning.
Tour Includes:
- Cream tea and scones at Harrods
- Be the first group to visit the Crown Jewels
- Private guided tour of the Tower of London with Yeoman Warder
- Panoramic drive seeing the icons of London
- See Changing of the Guard - subject to availability
- Panoramic drive seeing the icons of London
- Thames River Cruise -
- Pub lunch in Whitehall (food/drink not included)
- Visit St Paul's with professional guide and fast entry ticket
More Details - Fully Guided One Day Tour Of London
---
Harrods Vintage Bus Tour Of London
Take the Vintage tour of London on one of our 50 year old classic buses, that depart from the world famous department store every hour.
Among the sights are Buckingham Palace, Big Ben, The London Eye, Westminster Abbey, Downing Street, Trafalgar Square, Nelson's Column, Hyde Park, the Houses of Parliament, The Royal Albert Hall and more.
An included cruise is a great way to see some of London's hidden treasures including Shakespeare's Globe, the Golden Hinde Boat and Cleopatra's Needle, as well as the wonderful bridges that span the river. Have your camera's at the ready for the perfect photo of the London Eye.
You have the option of capping the tour Afternoon Tea or Lunch in Harrods after the tour.
More Details - Harrods Vintage Bus Tour Of London
---
Duck Tour Of London
On the London Duck tour, you'll tour London's sights on a road and river adventure aboard a yellow amphibious vehicle.
It's 75 minutes aboard a unique amphibious craft, first used in the D-Day landings in World War Two. You will pass famous London landmarks such as Buckingham Palace, Westminster Abbey, London Eye, Big Ben, the House of Parliament and Trafalgar Square.
You'll then make a dramatic launch into the Thames River (20 minutes) for the waterborne part of your tour.
Craft has a roof, you do not need any special clothing
More Details - Duck Tour Of London
Rock Legends Tour Of London
There's five decades of rock and pop history here waiting to be found! Teddy boys, Beatniks, Mods and Rockers, Hippies, Punks, Rastas, New Romantics, Heavy Metal freaks, Hip-Hoppers and Rappers, they've all grooved, rocked, tripped and been busted in Britain's capital and in their wake left a thousand stories!

You can see all the most important Beatles sites such as Paul and Ringo's houses, Apple HQ, EMI Studios, and many more. Have your photograph taken on the famed Abbey Road crossing.
Highlights include seeing where Jimi Hendrix lived and died, where Freddie Mercury and Queen hung out and Led Zeppelin's HQ. You will also see sites connected with The Rolling Stones, Eric Clapton and Cream, Pink Floyd, Bob Marley, The Clash, Coldplay, Oasis, Mama Cass, Georgie Fame, Elton John, Jimmy Page and the Yardbirds, Cliff Richards, The Sex Pistols, Bowie, The Faces, Bee Gees, The Who and many, many more! .
More Details - Rock Legends Tour Of London