Big Bus Open Top Bus Tour London
Open Top Hop On , Hop Off Double Deck London Sightseeing Bus
The Big Bus sightseeing bus service offer two main routes taking in the best sights in the capital. Your ticket is valid for 24 hours during which time you can hop on and hop off the frequent buses to your hearts content.
All Big Bus routes are included in the one ticket.
Buses run on the various routes from about 8:30 a.m. to around 5 or 6 p.m. at very frequent intervals.
Like its arch rival, The Original London Tour, Big Bus offers two main sightseeing routes that covering all the main sights in Central London augmented by a Green Link feeder service that shuttles out to the British Museum and Bloomsbury not on the main routes.
As well as the bus tours, free walks and river cruises on the River Thames are also included in the ticket. There is also a bonus card giving discounts at restaurants.
Tours Of
London
Open Top Bus
Other Tours
Key Points of Big Bus Tour
- Tickets valid for 24 hours
- Hop-on and hop-off service to the attractions
- FREE Thames River Cruise
- FREE Walking Tours!
- English live guides + Audio guides (English, French, German, Italian, Spanish, Portuguese, Mandarin, Russian)
Big Bus Tour Routes
The Big Bus Company offer two main routes (the red tour and blue tour) and a Green Link shuttle that allows you to get to the British Museum and Bloomsbury hotel area. You can switch from one to another as you please.
Sightseeing In London

Hop On Sightseeing Buses

London Tours

Sightseeing Categories

Most Popular Sights

Tickets & Deals

Tours Out Of London

Free Self Guided Walks

City Of London Walk
Hop On Hop Off Buses
London Tours
Sightseeing Categories
Most Popular Sights
Tickets & Deals
Tours Out Of London
Free Self Guided Walks
City Of London Walk
Your ticket is valid for 24 hours so you have the time to see as much as you wish.
You join the tour at any one of the many stops.
There are more than 50 locations where you can get off the bus to visit attractions or explore places of interest.
All tours on the Red Route are led by experienced guides; London enthusiasts who will talk you through the history of the city, giving you a personal and entertaining commentary about London and its highlights.
Red Tour Route
This is the flagship core sightseeing tour with a live English speaking commentary. The route visits all the main sights of Central London.
Tours operate regularly and frequently every 5 - 20 minutes depending on season.
Tours begin at 08.30 with the last buses departing at 18.00 hours during summer time and 16.30 hours in the winter.
Blue Tour Route
This is the supporting main sightseeing tour to the Red Tour. This tour goes further west than the blue tour visiting South Kensington Museums and Harrods in Knightsbridge as well as the hotel districts in Kensington, Bayswater and Paddington.
Timings are similar to the red route.
Green Link
This is a short shuttle service that links both the blue and red routes with the British Museum and Bloomsbury hotel district just to the north east of the main services.
Free River Cruise With City Cruises
Enjoy a complimentary river cruise included in your Big Bus ticket.
City Cruises is pleased to offer customers of Big Bus a FREE cruise on the River Thames. The river cruise includes live commentary and enables you to see London and its attractions from a different perspective. Tower Bridge, HMS Belfast, Shakespeare's Globe and the Tate Modern Art Gallery are just some of the famous highlights that line the riverside. City Cruises depart from Westminster (Big Ben), Waterloo (London Eye), Tower of London and Greenwich Piers.
The River Cruise departure times vary, but are approximately every 20 minutes in the Summer and every 30-40 minutes in the Winter.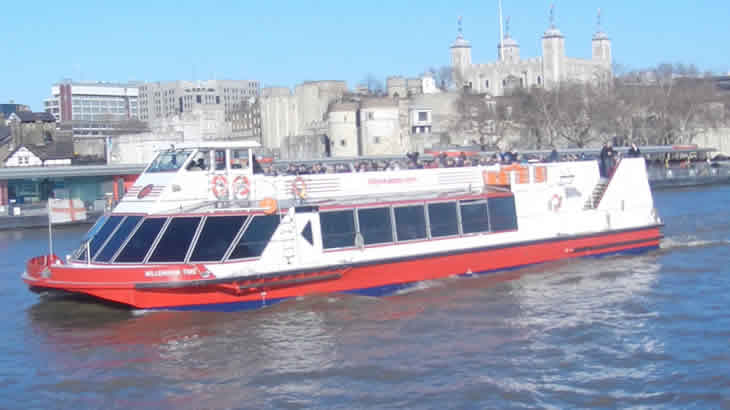 Free Walking Tours
Your Big Bus Sightseeing Tour of London includes 3 walking Tours, spaced 2 to 3 apart from each other.
The walks are led by a friendly Big Bus guide. You may join as many of the walks as you wish. These relaxed walking tours give you the opportunity to learn about a specific part of London history.
The Walking Tours last approximately 1.5 - 2 hours and leave from the Trafalgar Square;- Big Bus stop.
Changing of the Guard Walk
Explains the history of St James' Palace and Buckingham Palace and puts you in prime position for the Changing of the Guard Ceremony.
The Harry Potter Film Locations Walk
This walk reveals 7 London locations which have featured in the Harry Potter Films.
Ghosts by Gaslight Walk
Reveals London's darker history with tales of ghosts, murder and the troubled times that litter London's past.

London's Main Open Top Hop On, Hop Off Sightseeing Tours
(Discounted On-Line Advance Purchase)

Tour

On-Line Ticket Price Adult (Child)

Walking Tours

24 hrs

48 hrs

£26*
(£12.00)

Changing of Guard Walk,
Rock N Roll Walk,
Jack The Ripper Walk

£24*
(£12)

£30*
(£15)

Royal London Walk,
Harry Potter Film Locations,
Ghosts by Gaslight

* CHEAPEST ON-LINE TICKETING CONDITIONS

Original London Tour - Valid any date 6 months from purchase date

Big Bus - Valid only on fixed date stipulated when purchased
Save Money Combining Leading London Attractions & Hop On Hop Off Sightseeing Buses
The Original London Tour as its name implies is the original hop-on hop-off London sightseeing bus service.
The hop-on, hop off sightseeing buses are an excellent first day in London quickly getting you up to speed and orientated with the layout of London and your guide pointing out sights and destinations you might have not previously considered visiting.
But most visitors to London will have their own "must see" list of attractions.
So why not save some money and purchase your hop-on, hop off sightseeing bus tickets and your "must see" attractions as a package. You don't have to use the attraction tickets on the day you use the sightseeing bus either.
Madame Tussauds , The London Eye, London Dungeon, London Aquarium, St Paul's Cathedral, Kensington Palace, Tower of London and Ripleys are all available.

---
---
Copyright © 2002-2014
Travellers Toolkits Ltd All Rights Reserved