Shopping in Central London
An Introductory Guide To The Shopping Districts In London
Oxford Street Department Store
London is a world class shopping venue. For many, shopping is the sole reason to visit.
Oxford Street
In terms of numbers shopping, the mainstream shopping street is Oxford Street. The main shopping strip on Oxford Street is between Oxford Circus and Marble Arch Underground Stations where most of the the flagship stores of the UK multiples are found.
Selfridges is arguably the single biggest draw here.
Regent Street & Carnaby Street
West of Regent Street and south of Oxford Street is one of the most exclusive retail areas of London. Just off Regent Street at its southern end is Saville Row, famous for its tailor shops where amongst others Prince Charles frequents for his suits.
Off the eastern side of Regent Street, close to Libertys you will find Carnaby Street, one of the icons of the 'swinging sixties'. After a barren decade or two, Carnaby Street is thriving again and is particularly attractive to the young.
Saville Row & Bond Street
West of Regent Street and south of Oxford Street is one of the most exclusive retail areas of London. Just off Regent Street at its southern end is Saville Row, famous for its tailor shops where amongst others Prince Charles frequents for his suits.
Bond Street connects Oxford Street with Piccadilly, west of Regent Street too. The northern part is called New Bond Street, the southern half Old Bond Street.
All along are the most exclusive world famous luxury brands and fine art shops.
Among others in New Bond Street are Fenwick Department Store (63), Sotheby's Auctioneers (34/35), Cartier (175), Asprey's jewelers (169).
In Old Bond Street, shops include De Beers Jewelery (46), Gucci (37), Chanel (26) and Prada (17).
Piccadilly & Jermyn Street
Jermyn Street Tailor
Going west from Piccadilly Circus at the southern end of Regent Street is Piccadilly another exclusive area. Running parallel with Piccadilly on its southern side is Jermyn Street, the place to go for 'gentlemen's outfitters'.
Off Piccadilly there are several quaint old fashioned arcades, now full of small collectors and other upmarket specialty shops. Burlington Arcade was Britain's first arcade opened in 1819. It now contains a string of luxury gift outlets from jewellery and shoes through to antiques and silver.
Also along Piccadilly you will find Fortnum & Mason. Fortnum & Mason is London's most prestigious food store, founded in 1707. Suffice to say the store doesn't stock normal supermarket food and is full of delicacies, hampers etc. The store is a supplier to the Royal Family.
At the eastern end of Piccadilly you will find Piccadilly Circus, on which you will find Lilywhites. Lilywhites specialises in sporting goods of all kinds, even the most minority of minority sports is catered for. The shop has attracted the best sports people, celebrities and royalty for over 100 years.
Knightsbridge & Harrods
Perhaps the most famous store in London is Harrods. London's most famous and unique large store is not in the central area but a mile or so away in Kensington at Knightsbridge, next to the Underground Station of the same name.
Knightsbridge is a very exclusive area where some of London's most expensive hotels are situated. Besides Harrod's, Harvey Nichols is another store in Knightsbridge that is a major draw.
Covent Garden / Bloomsbury / China Town
Other districts apart from the above tend to have a specialty which they are known for.
To the east side of Piccadilly Circus from Piccadilly just off south of Shaftesbury Avenue is China Town which leads through to the Charing Cross Road, the heart of the book shops, both new and second hand.
Just off Charing Cross Road towards Covent Garden is the flagship store of Stanfords, the best travel and map shop in London.
At the northern end of the Charing Cross Road just before you get to Tottenham Court Road Underground is the short Denmark Street, heart of London's music industry. As well as musical shops and publishers you will find some recording studios.
Charing Cross Road becomes Tottenham Court Road as it goes north from Tottenham Court Road Underground. Tottenham Court Road is the district for electronics.
We have a separate page looking at London's main markets.
---
Oxford Street Department Store
Self Guided London Shopping Walk
Join us on our step by step self guided walking tour of London's shopping districts.
Besides the department stores of Oxford Street we visit the specialist shopping districts, Saville Row, China Town, Bond Street, Charing Cross Road .. before ending in Knightsbridge for Harrods and Harvey Nichols Department Stores.
Simple to follow instructions and street map and best of all its FREE!
---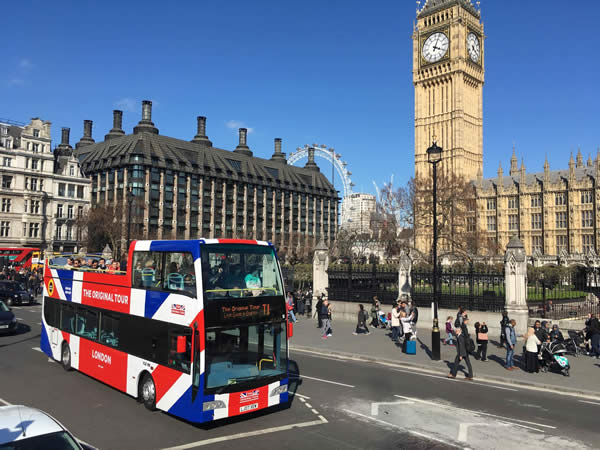 Original London Tour Bus
Hop On Hop Off Sightseeing Buses
An alternative to the classic guided coach tours are the HOHO (hop on, hop off) buses.
During your visit to London, one of the recurring sights are the hop on, hop off tour buses.
Especially in the summer months there seems to be one coming along every couple of minutes, each jam packed with visitors.
These buses offer comprehensive coverage covering nearly all the main sights in London.
In addition to the bus tour a river cruise and free walking tours are part of the deal.
Tickets last for 24 hour periods.
Original London Tour Hop On Hop Off Bus More Details