Top 10 Halloween in London haunts
Scares are guaranteed this Halloween in London
With history flowing through its veins, Halloween in London really is an amazing experience. There is so much to see and do in London that you can guarantee that virtually every London attraction will have some sort of Halloween event as part of their timetable.
We've taken a ghostly look round to find the best experiences in London this Halloween. Let's explore the attractions and events that can give you those all-important goose bumps.
1. Madam Tussauds 'Alien: Escape'

Madame Tussauds has created a perfect thrill for fright enthusiasts with its Alien: Escape experience. Just add the ticket to your entry price and you'll soon find yourself on board the Covenant ship and face to face with some very nasty aliens and desperately looking for the nearest exit. Scares guaranteed at one of the most popular destinations over Halloween in London.
2. London Dungeons 'Scream Fest'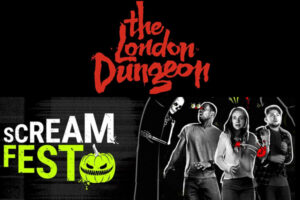 London Dungeons at any time of the year can be eye opening enough but throw Halloween into the mix and you have a setting guaranteed to raise your pulse. This year they have created Scream Fest which will test even the bravest of souls as you journey through London's perilous past. Avoid the escaped convict and take the two rides to oblivion. Drop Dead is a vertical free fall drop. To top it all off be plunged into complete darkness on the streets of Whitechapel to search for Jack the Ripper. Then experience the spine-tingling séance. They don't call themselves the home of Halloween for nothing. Tickets will sell out, especially over Halloween.
3. Ghost Hunting in London

If ghosts are your thing. Then Haunted Happenings or Fright Nights London will take you on a chilling London ghost hunt. They both offer events, walks and even overnight stays, all of which are sure to make your hairs stand on end this Halloween in London. Fright Nights London, has recently introduced psychic walks, the first of which will take place on Halloween night. A medium will be on hand to communicate with the spirits that haunt the dark corners of London.
4. Thorpe Park 'Fright Nights'

Continuing the ride theme, you can visit Thorpe Park and ride the ghost train. Woohoo, I hear you say. But this is no ordinary ghost train. Derren Brown, the expert at mind control/influence has created a ride that really will target every one of your senses and not in the nicest way. Thorpe Park goes all out at Halloween with their Fright Nights where you can experience some incredible scares at the resort. The Walking Dead, Blair Witch, Saw: Alive, Platform 15 and more. Nerve shredding fun.
5. Ghost Bus Tours in London

If you don't fancy walking into history then you can just take the bus. The Ghost Bus that is. The Ghost Bus Tours will thrill you on board and take you to some of the eeriest London sites there are. Although you'll enjoy having the seat, you won't be sitting that comfortably.
6. Walking tours in London

Halloween must be one of the best times to learn about London's gory history. And is there a better way to experience it than on a walking tour?
Jack the Ripper tours retrace the famous gas lit, fog filled footsteps of London's most notorious serial killer. These interactive tours feature 'Ripper-Vision' a hand held projector that literally transports you back to Victorian London by superimposing the old streets onto the new right before your eyes. These ghost and crime walks at Halloween in London will definitely have you on edge as you turn every corner.
7. London museums at night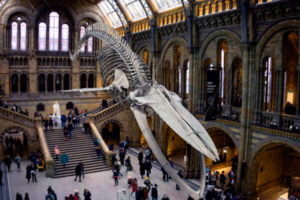 Hollywood was not blind to the fact that museums can become spooky places after dark and neither were the museums themselves. Most museums now host various after dark late nights. These events really come into their own at Halloween. With ancient exhibits, torchlight tours, quirky workshops and cavernous dark spaces you can be guaranteed to experience a little thrill and chill. Just don't get lost walking round. Check the Halloween spirit of all the London museums.
Taking this a step further the Natural History Museum has joined forces with The Luna Cinema and is hosting movie nights over Halloween. Under Hope the Blue Whale in the iconic Hintze Hall you can terrify yourself with Silence of the Lambs, The Blair Witch Project, The Shining and the not so terrifying Ghostbusters. Cinema experiences don't come much better.
Sunday 28 October 19.00 – Blair Witch Project (1999), Sunday 28 October  21.00 – Silence of the Lambs (1991),
Monday 29 October 19.00 – Ghostbusters (1984), Monday 29 October 21.30 – The Shining (1980)
8. The Tower of London

The Tower of London will be re-starting its twilight tours on selected Sundays in November-April. Here you can follow the Tower's iconic Yeoman Warders as they lead an atmospheric tour after hours to the famous Traitors' Gate, the scaffold site and the Bloody Tower. 1000 years of history is sure to throw up some ghostly apparitions and stories to suit the Halloween in London spirit.
9. Hampton Court Palace

Is there a more likely place to spot ghostly goings on than at one of the Royal Palaces? Hampton Court Palace will also be hosting special Halloween themed events. Soak up history with a little bias to the macabre. Ghost tours and family friendly ghost tours will be running throughout the winter months at Hampton Court and if you're feeling really brave they are hosting a 'Dusk 'till Dawn' spooky sleepover on 3 Nov in the King's State Apartment, taking you back to the height of witchcraft times.
10. London Zoo 'In with the spiders'

If you are looking for animal scares, then London Zoo is the place to visit with a special walk through exhibit called 'In with the spiders'. The name is enough to scare most people, but this exhibit is designed to help dispel the myths of spiders as foe not friend. We think it's likely that you'll be jumpy whatever, especially at Halloween. Coming face to face with some very large arachnids may not be for the feint hearted.
Experience Halloween in London and you'll see a whole host of major attractions come alive with the undead. There is plenty to see and enjoy for all ages so you definitely will not be a lost soul wondering what to do with yourself.
Please do share your experience of Halloween in London with us at London Toolkit in the comments section.  We'd love to hear from you.  If you've taken any pictures over Halloween just use the hashtag #londontoolkit in your social media feed for a chance to be featured.
Find out more…
London for kids and families
Free museums in London
Free art galleries in London
London's theatres
London's Royal Palaces
Shopping in London
London public transport explained
Where to stay in London