Megabus coach services to/from London
What to expect using Megabus Coach services within the UK & beyond
Megabus are the only serious national competitor to National Express, the UK's largest scheduled operator of long distance bus services. From London, the Megabus network reaches out to nearly all major cities in England, Wales and Scotland so on most popular routes you will have a choice of travelling with National Express or Megabus as well as the train. Megabus also offer an upgraded Megabus Gold service on some key routes with free refreshments, wi-fi and beds on overnight services.
In London, the Megabus terminus is Victoria Coach Station, London's only major coach station which it shares with its arch rival National Express.
Victoria
Hotels
About District
The big attraction of coach travel is the low price compared with the main rail alternative that is normally faster but more expensive. Promotional on-line prices can be astounding, it's often cheaper to take a coach to the other end of England than just getting to one of London's airports.
Megabus are owned by Stagecoach PLC and again like National Express are a well established quoted global corporate with extensive operations globally. Coaches are modern with air conditioning, toilets and are non-smoking. Wi-fi is gradually being added to the fleet but is standard on Megabus Gold services.
Victoria Coach Station
Victoria Coach Station is just a like a busy regional airport. Coaches leave every couple of minutes, there are airport style departure screens and departure gates where you board the coach.
There is a full list of facilities including a useful left luggage office.
Getting around

Public transport in London

London fares & payments

Deals aimed at visitors

Public transport to/from London

London airport transfers

Cruise port transfers

London tours

Guided tours out of London

Independent touring trom London
London Transport
Public transport
Fares & payment
To/from London
Train
Megabus
Europe trains
Airport transfer
Cruise port transfer
Tours in London
Touring from London
The dominant national operators at Victoria, National Express and Megabus have a stranglehold on services. The European scheduled bus operator Eurolines also has its terminus at London Victoria. The most busy European routes are relatively short distance routes to Paris, Dublin, Amsterdam and Brussels but you can go to the far side of Europe using Euroline services.
Victoria Coach Station is quite central, 5 minutes' walk from Buckingham Palace and Victoria Railway and London Underground Station. Victoria is also a major London hotel district with accommodation options for all sectors of the market.
Megabus luggage allowance
You can put one medium-sized suitcase - weighing up to 20kg (44 lbs) into the luggage hold- plus one small piece of hand luggage per person that must fit either on your lap or under the seat in front of you. Should you wish to carry extra baggage, you would be required to purchase an additional seat.
Drivers loading the baggage do not weigh bags and use their discretion. Note, the National Express luggage limit is two cases.
Things like bikes, snowboards and other outsize luggage are not carried. Pushchairs can be taken with you but must be folded up and put in the hold.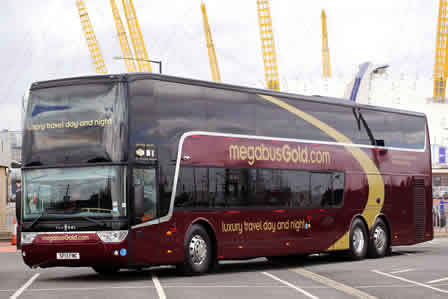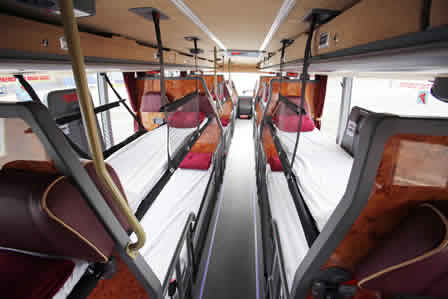 Megabus Gold Interior Beds
Megabus Gold
Megabus offer an upgraded service on the longest routes between Scotland and London and also London to Birmingham, Bristol, Cardiff and Plymouth.
The overnight services to Scotland feature beds offering a sleeping service.
All Megabus Gold services offer:
A 25kg luggage allowance

Steward service offering complementary drinks and snacks to your seat.

Sleeper service with bunk beds on some overnight services.

Leather seats, tables, free wi-fi and power sockets.
Megabus fare tips
The Megabus fares structure is very similar to low cost budget airlines. The broad concept is keeping fares low cost with minimal overheads but delivering a quality product for that money.
The broad principles are:
Although you can buy tickets from a few ticket desks, notably at Victoria Coach Station, nearly all tickets are sold through the web site. For a supplement you can book via phone. The service is ticketless just using reservation numbers.

The further you book in advance, the lower the cost of the ticket. As seats are sold on a bus the price goes up. This will mean that a lot of the time on a given route on the same day each departure may have differently priced tickets. Price volatility is much more than on National Express.

For a lot of services, ticket availability is only made 6-7 weeks ahead of the travel date. This is variable, but is consistently a much shorter time horizon than National Express which for most routes has availability going forward many months.

You can make amendments on-line up to 24 hours before departure. The alternative schedule you select may well be more expensive than at the time you originally made a reservation so you will need to pay the difference in price. You do not get the new schedule at the same price as your original reservation. There is also a small reservation fee for amending a booking.

If you miss the departure on your ticket you lose your ticket. You are expected to be at the bus stop 15 minutes prior to departure.

There are no concessionary fares except for journeys within Scotland. Children under 3 travel free, but are not guaranteed a seat.
When booking on-line you will get your e-ticket immediately by e-mail. The seats on the ticket are reserved so you are assured of a seat, but individual seat number reservations are not allowed.

---
---