Harwich Hotels
Three Benchmark Hotels In And Around Harwich
Harwich Premier Inn
Harwich Town is a small port town of only around 20,000 people. The modern port used by the ferries and cruise ships is 2 or 3 miles out of town where there is much more space.
On the other side of the river from Harwich is Felixstowe, one of the UK's main and largest container ports which dwarfs Harwich in terms of commercial traffic.
As a result there isn't a great amount of choice to be honest if you are looking for a hotel room in the area.
Here, we have benchmarked three very different hotels which will each appeal to different people.
So choose between a great value chain hotel of a good standard close to the cruise and ferry terminal, a historic small hotel in the old port and another small independent hotel in the beach resort of Harwich, Dovercourt.
Premier Inn Harwich - Modern, good quality chain hotel on the edge of town.
Pier Hotel - Small (14 bedroom) historic 19th century hotel in the heart of the old port area.
Harwich
For Cruise & Ferry Passengers

Public Transport to/From London

Private Cars, Vans & Buses

Transfer Options To Harwich From:

Harwich Town
Harwich
Public Transport To/From London
Private Cars, Vans & Buses
Transfer Options To Harwich From:
Harwich Town
Continental Hotel - Budget independent hotel in Harwich's beach resort, Dovercourt.
Premier Inn Harwich
The Premier Inn Harwich is by far the closest hotel to the cruise and ferry terminals.
The hotel is a modern purpose built chain hotel belonging to Premier Inn. Premier Inn has a reputation in the UK for great value for money mid-range hotels with some of the highest standards in the sector. A similar grade of hotel to Holiday Inn Express outlets found worldwide.
The Brewers Fayre restaurant within the hotel is a pub-restaurant which like the no-nonsense, honest value hotel offers great value English pub grub style food and drink.
The hotel is on the edge of town adjacent to a small retail retail park. Next door is Lidl, a discount supermarket and opposite is Morrison's supermarket, a full size supermarket with just about everything food-wise you can think off.
If you want somewhere comfortable at a great value price in a modern purpose built hotel close to the ferry/cruise terminal then this is your hotel in Harwich.
---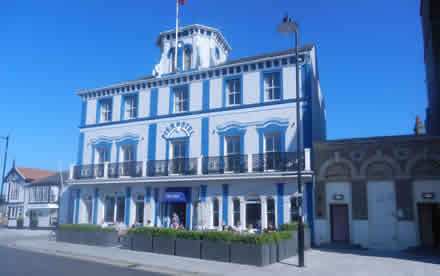 Harwich Pier Hotel
Pier Hotel Harwich
The Pier Hotel is located in two historic buildings that stand proudly on the quay side of old Harwich.
The hotel's main building, built in the 1850's, houses two celebrated seafood restaurants - The Ha' Penny on the ground floor and the Harbourside on the first floor - and seven second-floor bedrooms, most of which overlook the estuary.
All 14 bedrooms are carefully furnished with many individual touches and all have private bathrooms, satellite TV, mini bars, telephone, welcome tea and coffee tray and of course, free wi-fi,
If you want a memorable experience then the Pier Hotel is probably the option for you. Located in the Old Town right next to the old harbour there is much of interest and there is always something going on in the vicinity. Only possible downside is cost, probably at least double other options and its a 10 minute taxi ride from the new port at Harwich International a few miles down the road.
---
Harwich Dovercourt Beach
Hotel Continental DoverCourt
Mid-way between Harwich Old Town and Harwich International Port where the cruise and ferry is situated is Dovercourt, the beach resort for Harwich. Dovercourt has its own train station too between Harwich Town and Harwich International.
The Hotel Continental is a small independent 2 star hotel overlooking the sea and beaches, The hotel has free Wi-Fi and a restaurant.
Each en suite room at the Hotel Continental has a TV, radio, tea/coffee and Wi-Fi. There is also an apartment option, modern kitchen, an air-bath and French-style furniture.
There is a very nice 15 minute walk around the headland on a wide well made path into Harwich Old Town, so you can enjoy both the beaches and the atmospheric port.
---
---
---