Heathrow Airport Bus To Central London From Terminals 2 & 3
One Of The Cheapest Airport Transfer Options Between Heathrow Airport & Central London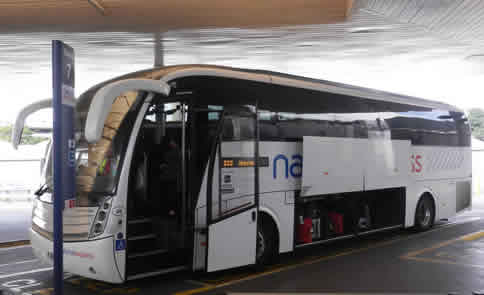 London Bus Waiting At Heathrow Coach Station
National Express Bus Between Heathrow & Central London
The Heathrow - Central London Airport Bus is performed by National Express with comfortable coaches complete with on board washrooms. Currently this is the only scheduled bus service between Heathrow and Central London.
There is just one route, the terminus in Central London being Victoria Coach Station. The buses go non-stop, though some buses have the option of getting off at Earls Court. There are no hotel pickups or drops.
The big attraction of using the National Express bus service between Heathrow and London is low cost. The only alternative that can compete on cost is the London Underground.
In terms of comfort there is no comparison between the National Express Bus and the London Underground. The National Express buses are modern air-conditioned vehicles with washrooms and reserved seats for everyone and a luggage hold with controlled secure storage.
But despite being one of the cheapest options and also one of the more comfortable to transfer between Heathrow and London the Heathrow-London bus hardly used when compared to other alternatives, including the Heathrow Express Train that is two or three times the price.
So why is this?
Heathrow Airport Bus - Key facts
Heathrow Airport

Transfers To/From London

Airport To Airport Transfers

Cruise Port Transfers

Transfers To The Rest Of The UK

Airport Hotels

Day Rooms & Lounges

Heathrow Hotel Transport

Heathrow Hotel Districts

Long Term Car Parking

Layovers & Sightseeing

Heathrow Airport
London Transfers
Airport To Airport
Cruise Transfers
Transfers Rest Of UK
Heathrow Hotels
Hotel Transport
Hotel Districts
Car Parking
Layovers & Sightseeing
The National Express buses do not pick-up or set down at the Heathrow passenger terminals (except for a handful each day that visit Terminal 5) on the London services.

Buses run from the Central Bus Station at Heathrow which is between Terminals 2 and 3. Terminals 4 and 5 are at the other side of the airport. (You can use the free Heathrow Express trains that run every 15 minutes to Heathrow Central Station underneath the bus station from Terminals 4 and 5).

Frequency is not as good as the London Underground or the Heathrow Express. The buses are not dedicated Heathrow - London buses but originate from all over England. Heathrow is the last drop/pick-up before London. As a result schedules are not evenly spaced apart. Very early in the morning and late at night frequencies can be one an hour, during the day 4 or 5 an hour on average.

The free luggage allowance is 2 cases for the hold of the bus. Neither case should weigh more than 20kg (44lbs). An item of hand luggage is allowed in the passenger cabin but only laptop/handbag size. There are steep excess luggage charges if you exceed these limits.

When you book you select a specific schedule and such are guaranteed a seat on that bus. Miss the bus and you lose your ticket. BUT at airports if your flight is late and you miss your bus as a result then you can board the next bus along subject to there being seats available for a small administration fee.

The London terminus is Victoria Coach Station. The coach station has all the facilities of a small airport including left luggage and ATM's. The coach station is about 600 yards from Victoria Underground and rail Stations. Victoria is a major hotel district and budget hotels surround the coach station.
What If My Flight Is Late?
When you purchase a ticket for a National Express service it is for a single stated departure time. You do not get an individual seat number, but you are guaranteed a seat.
It is recommended booking a service at least 90 minutes after the scheduled arrival time of your flight. So what happens if your flight is late and you miss that schedule on your ticket?
Customers who miss their flights due to their flight being delayed, or wish to travel on an earlier service due to their flight being early, can amend their ticket for travel on a later or earlier service, within 24 hours either side of the original travel time.
A small administration charge will apply for this facility.
This facility only applies at airports. In the reverse direction, when boarding at points that are not airports you are expected to make the schedule you have booked.
National Express Luggage Allowance
You can carry two medium-sized suitcases - weighing up to 20kg (44 lbs) each - plus one small piece of hand luggage per person. Drivers loading the baggage do not weigh bags. Customers will be permitted to pool their individual allowances if they are travelling in a group or as a family, but they must be travelling on the same ticket.
Over this allowance and steep excess luggage charges kick in. Passengers within the luggage allowance get boarded first, those with excess luggage only get boarded if there is sufficient space left in the luggage hold, even if they have purchased a ticket.
Terminals 4 and 5 At Heathrow
Only a handful of buses call into Terminal 4 and Terminal 5 each day on the other side of the airport from Terminals 2,3 and the Central Bus/Coach Station. You can use the Heathrow Express train free of charge from either terminal to Heathrow Central Station. The trains go every 15 minutes and take 5 minutes, its a 10 minute walk from the train platform deep underground to the coach station on the surface using lifts and moving walkways.

---
London - Heathrow Comparison of Public Transport 2015


Service

Standard Adult Fare*

One-Way

Return

£6.00

£12.00

£3.10-£5-10~

£6.20-£10.20~

£6.00†

£11.00†

£10.10

£20.20

£21.50#

£35.00#

£20.26

£40.52

* Standard adult ticket. Other promotional fares may appear from time to time.

† On-line only fare with variable pricing. £1 Booking Fee.

# Children under 16 free

~ Off Peak/Peak fares. Children under 11 free
---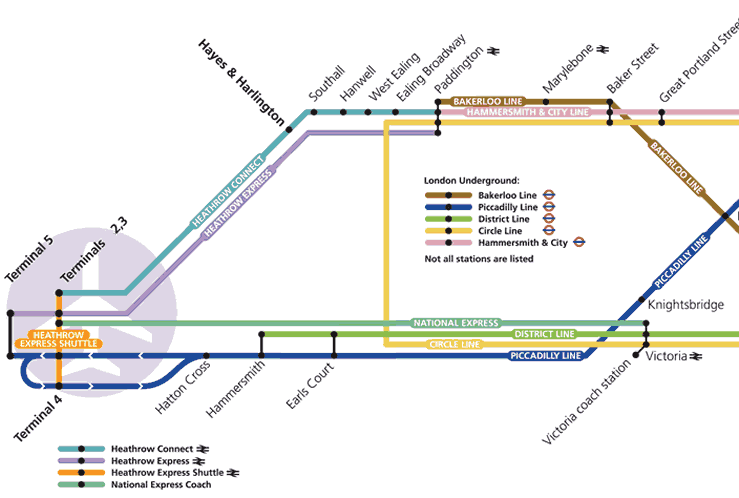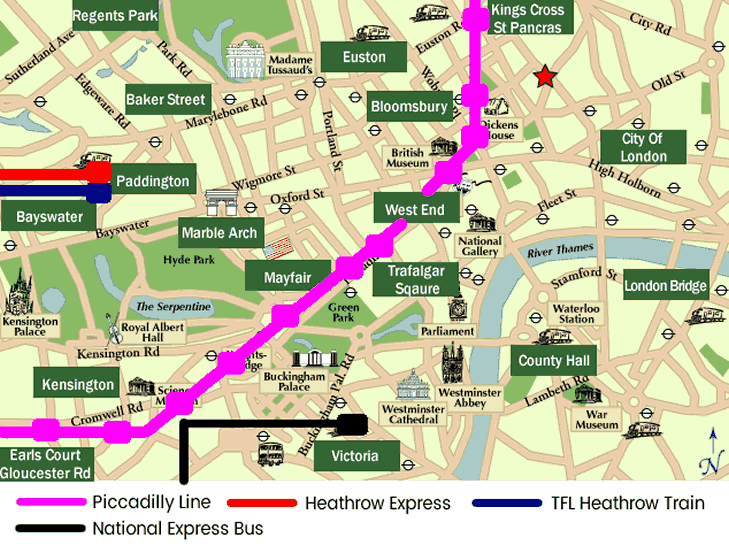 ---

---