Downton Abbey Christmas Ball at Highclere Castle
Highclere Castle VIP experience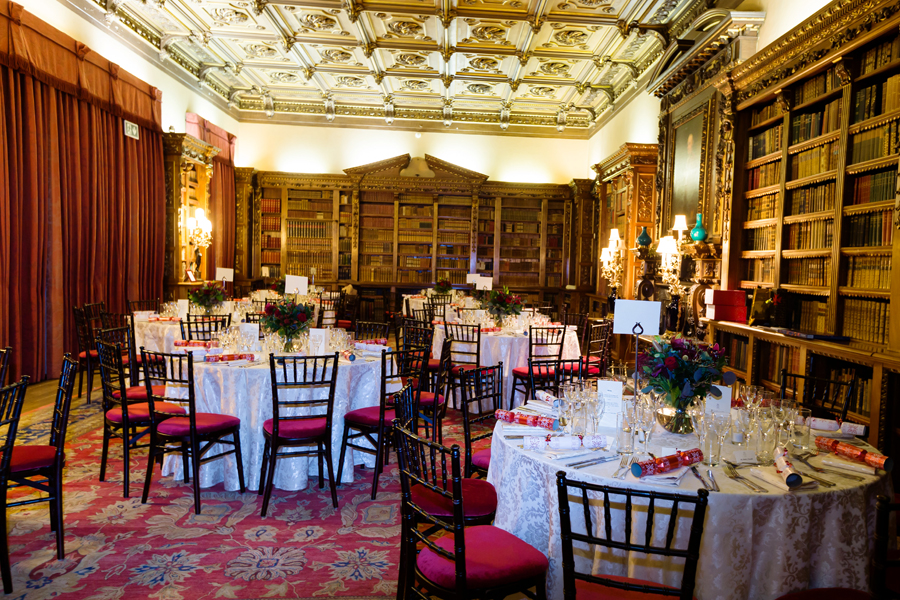 The Downton Abbey Christmas Ball is a one of a kind experience. Highclere Castle, a thoroughly English castle, is the host of this special event at Christmas. This stunning castle is steeped in both history and modern fame from the TV series and Downton Abbey film.
Driving up in the luxury coach to the ornate entrance gates gave a clue as to what was to come. The pathway was beautifully illuminated with Christmas trees and their twinkling lights leading up to Highclere Castle itself. The grand façade of the castle lit up in the rain was a very imposing sight as our coach parked and the guests made their way inside.
First impressions of the Castle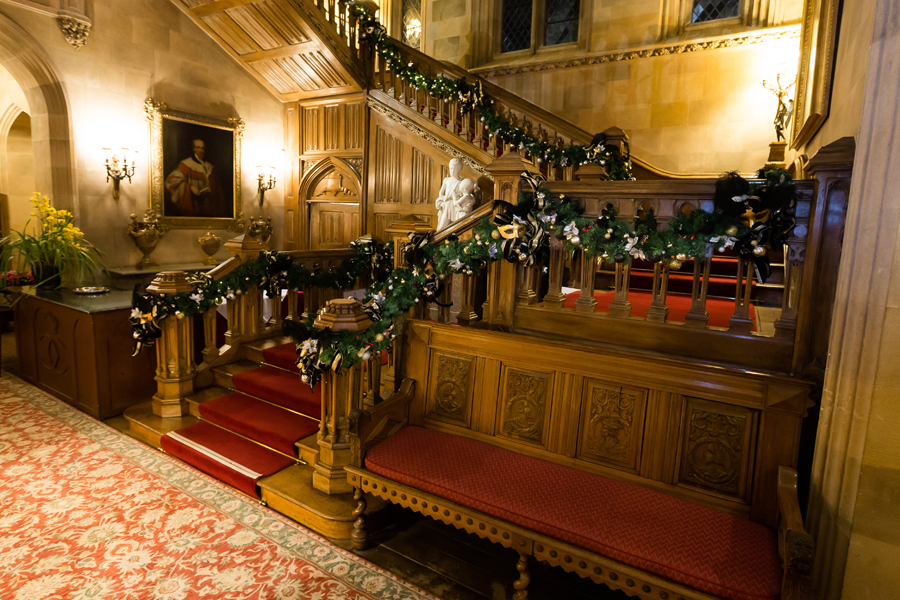 The castle looks so beautiful decorated for Christmas. It is therefore a shame that photographs are only allowed in the entrance doorway. In the rain and the dark this was proving quite difficult. However once inside you are greeted by the huge Christmas tree and a roaring fire and the grandeur of the place decorated for Christmas is simply stunning. An official photographer was on hand to take pictures so there is the opportunity to get some pictures of yourselves by the tree or fireplace, which is nice.
Champagne and canapes, the full VIP experience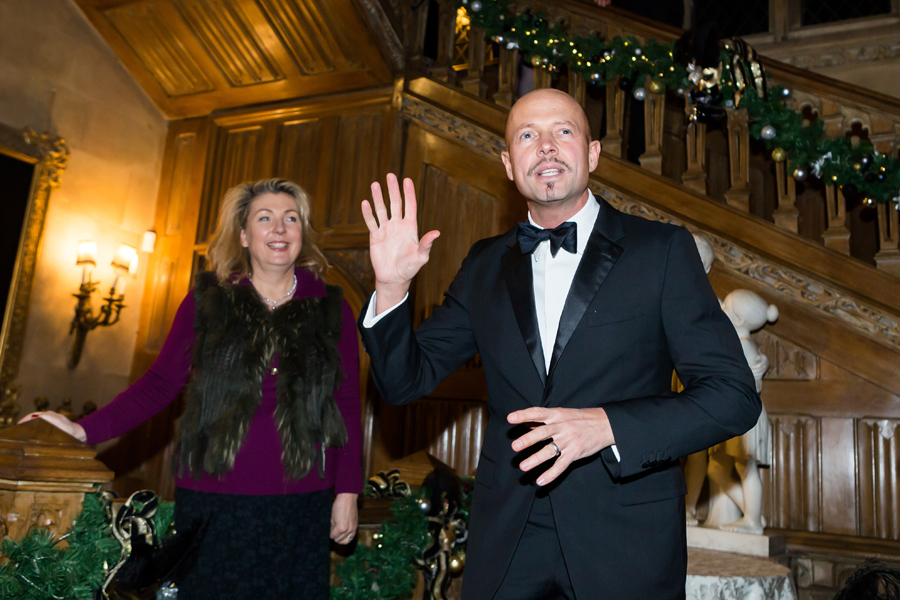 Inside, champagne and canapés awaited as did an introduction from the event organiser and Lady Carnarvon herself. She welcomed us to her home and gave a little snippet of its history to whet our appetite for exploration.
We then all explored the Castle. Each room had a knowledgeable guide who was happy to answer questions and show you around. It was easy to recognise the rooms used in the Downton Abbey series.
Explore the Egyptian exhibition
One of the highlights for me was discovering the Egyptian exhibition. Hidden away in the cellar of the Castle was an amazing collection of Egyptian artefacts. It was almost surreal to walk through a quintessentially English castle and find such a treasure trove of historical significance. Jewellery, furniture and even mummies were all here and proved a very popular attraction to all the guests.
The staircase was probably the most popular destination for most of the guests as it is pretty iconic. Once at the top you could get a lovely view down to the main entrance hall and fireplace from the gallery above. The Christmas tree situated here was the largest tree they have ever had at Highclere and did look spectacular.
Enjoy a traditional English Christmas meal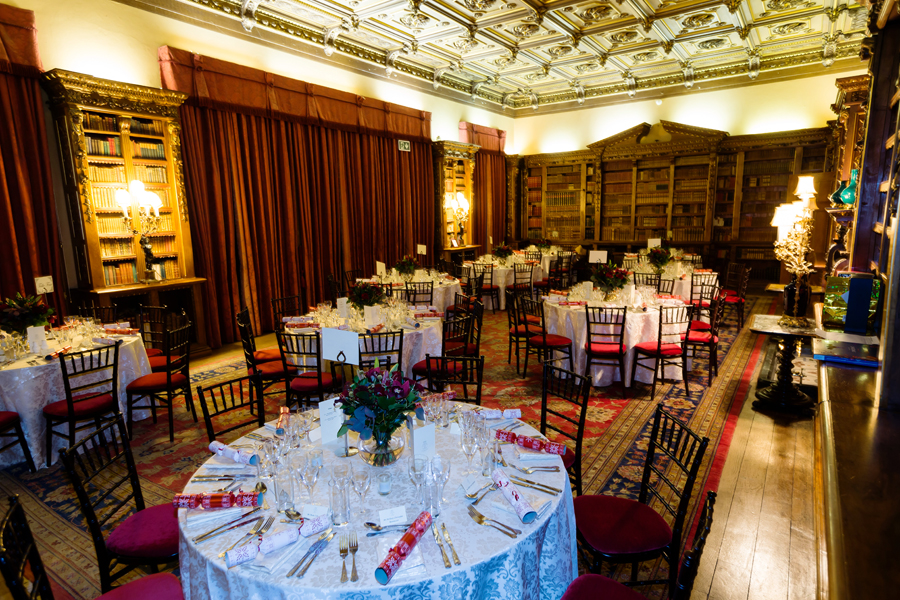 A gong rang and we all made our way to the dining room, a long and beautifully lit room which easily seated the over 100 guests. The tables were round, allowing everyone to get to know everyone else fairly easily and the wine flowed freely.
A classic English Christmas dinner of roast turkey with all the trimmings was served, followed by mince pies. Every table had crackers, a thoroughly British tradition of cardboard tubes wrapped in colourful paper that when pulled produce a bang, a hat, a joke and a gift.
Conversation flowed easily. One of the most interesting aspects of this Highclere Castle special event is meeting the range of people who had come to the Downton Abbey Christmas Ball. There was an eclectic mix of English, American, Australian, Canadian and French making for a lovely all-inclusive atmosphere.
Chance to win some lovely prizes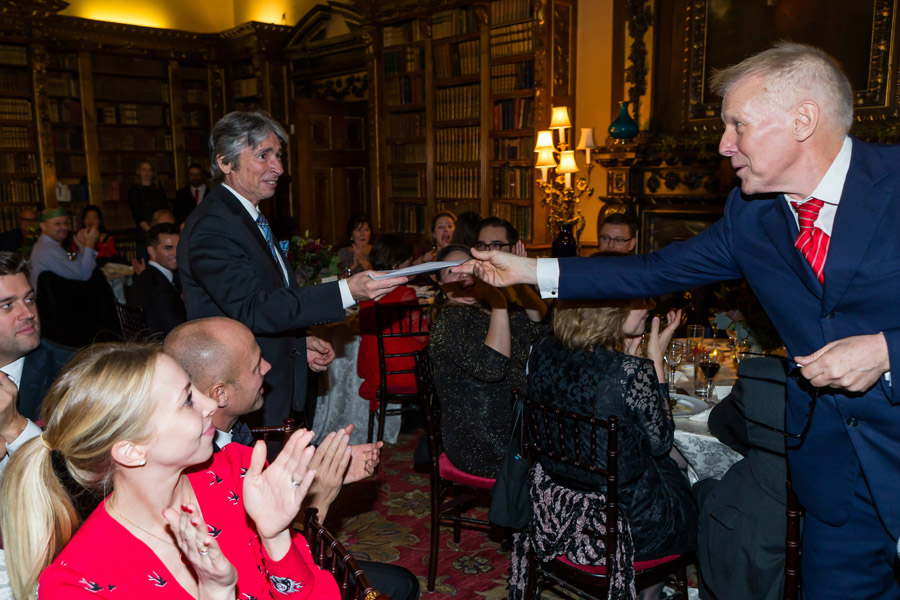 During the gap between courses a fun raffle took place, with some great humour and various prizes given away, including a free break in Paris. Sadly I did not win this one.
Christmas carols at Highclere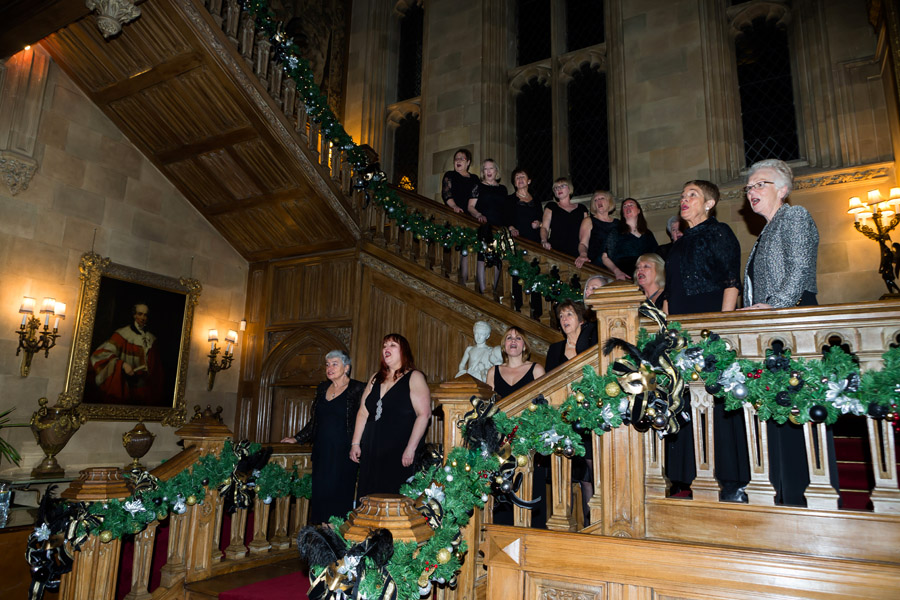 As the meal ended we moved out to the entrance hall once more, here a carol group awaited us on the stairs and sang us a couple of carols. They then invited everyone to join in and sing the last two.
After these few songs, the evening was at an end and the luxury coaches awaited to take us back to London.
Downton Abbey Christmas Ball – Conclusion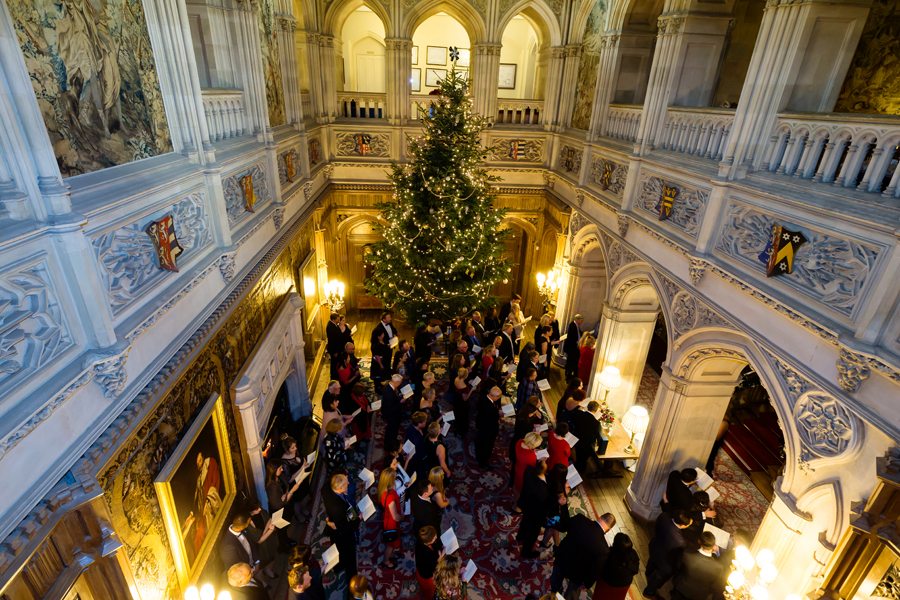 Highclere Castle is an incredible venue for a Christmas ball. Home of Downton Abbey and with so much history within its walls. It would take a real humbug not to be enamoured by the whole experience.
To celebrate Christmas in style you'll find the whole experience hard to beat. It is a real once in a lifetime event that no doubt you'll remember for a very long time.
Recommended for anyone interested in English history and of course a must for Downton Abbey fans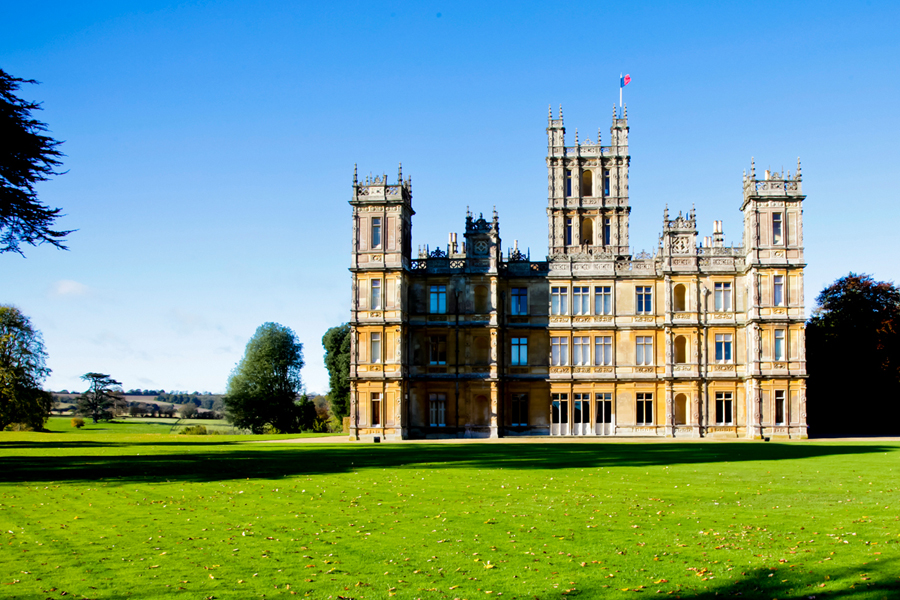 The Downton Abbey Christmas Ball is not quite a ball but is a very special event indeed. Highclere Castle is beautiful and when decorated for Christmas, it is impossible not to find yourself drawn completely into the Christmas spirit the moment you walk through the door.
Highclere Castle has a wealth of history and this evening gave me a little taster, making me look forward to going back and spending more time exploring and learning more. As it was dark, I could not see the grounds but imagine they are well worth the time visiting.
Hearing from Lady Carnarvon was a special moment and the realisation she was personally welcoming us into her home made the evening even more special.
If you are looking for that extra special night out at Christmas, doing something very few people are able to experience, then you will not go far wrong with the Downton Abbey Christmas Ball.
It is the perfect way to enter the Christmas spirit and an amazing evening out with old and new friends alike.
Visit Highclere Castle
If you'd like to learn all about visiting Highclere Castle anytime of the year, then check our Highclere Castle tours page for full information on a whole range of tours available to this iconic English castle.
The Downton Abbey Christmas Ball event is only advertised nearer the time, once dates have been agreed with Highclere Castle. Check our Highclere Castle pages or follow us on Facebook for updates on this special events date and prices for 2019.
Please do share your experience of London or your visit to Highclere Castle, home of Downton Abbey, with us at London Toolkit in the comments section. We'd love to hear from you.
Find out more…
Highclere Castle tours
Where to stay in London
London for kids and families
Best 10 free things to do in London
Free museums in London
Free art galleries in London
London's theatres
London's Royal Palaces
Shopping in London
London public transport explained