Disneyland Paris from London with kids
2 magical days at Disneyland Paris by Eurostar for a family of four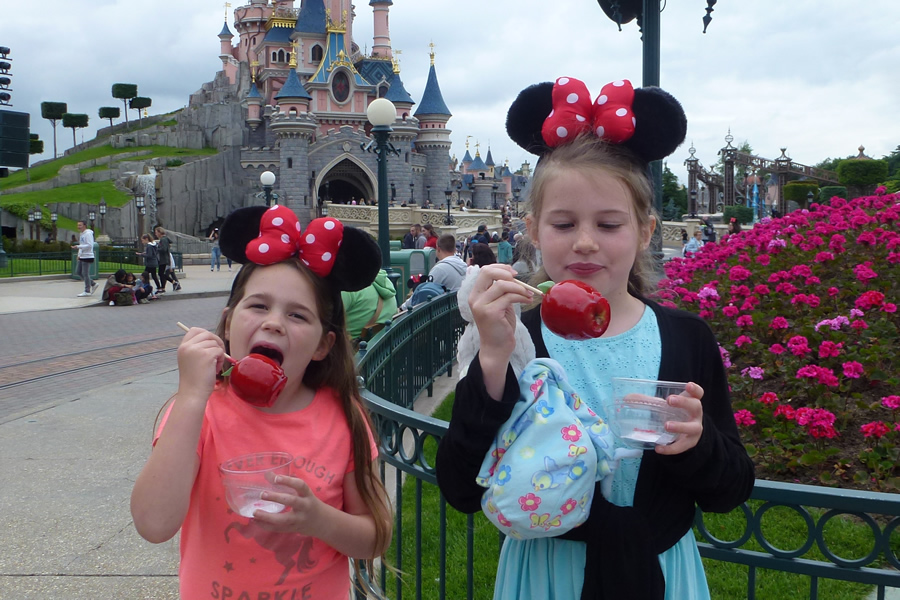 Disneyland Paris from London with our two children
Travelling to Disneyland Paris from London with kids was actually fairly straightforward and much more enjoyable than flying. We are your typical family of four, our two girls are eight and ten, and this is our account of our recent adventures at Disneyland Paris, from London, UK.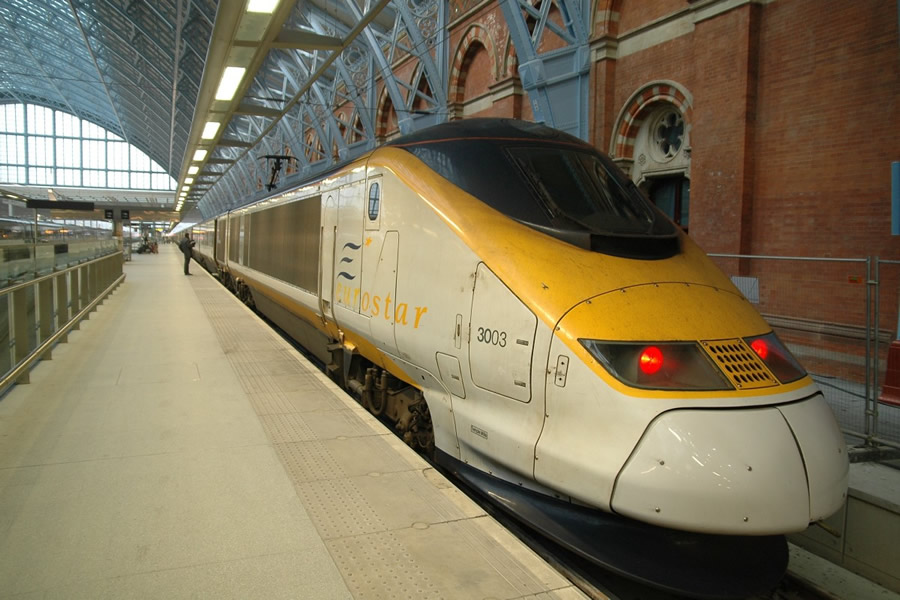 Eurostar from London to Paris
We took the most popular method of transport – Eurostar – to Paris for our 4-day family break. Four days is a good amount of time to see the two Disney Parks and a day in Paris city centre.
Best time to go to Disneyland Paris
We went in the May half term – which I would recommend as you beat some of the summertime rush, and many French schools aren't on a holiday; whilst UK schools too are variable. It was busy, but not unbearably busy. The weather was pleasant and a comfortable temperature.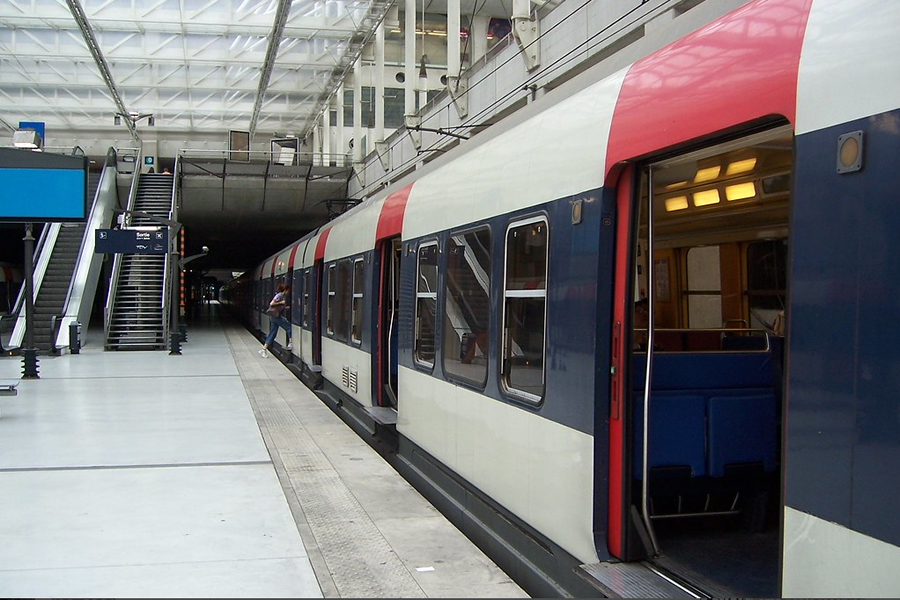 Find out more about London to Paris using Eurostar, coach or day trips
RER from Paris City Centre to Val d'Europe, Disneyland
Disneyland Paris from London with kids is, in my opinion, made so much easier with Eurostar. It is true that though the actual transfer bit on the train only takes 2 hours 15 minutes, in reality you will be travelling 'all day.' This was the case for us, anyway. We left around 9am to travel into London from Hampshire to make a midday train. With the time-zone difference of one hour we arrived in Paris at 3.15. By the time we had worked out the RER system it was probably near to 5pm. By the time we finally collapsed in our apartment it was nearer to 6pm. If you understand this, and allow time for it, your trip will follow much more smoothly.
Unless you are experienced Paris transport users it is best to get familiar with the system 'on paper' in advance as much as you can.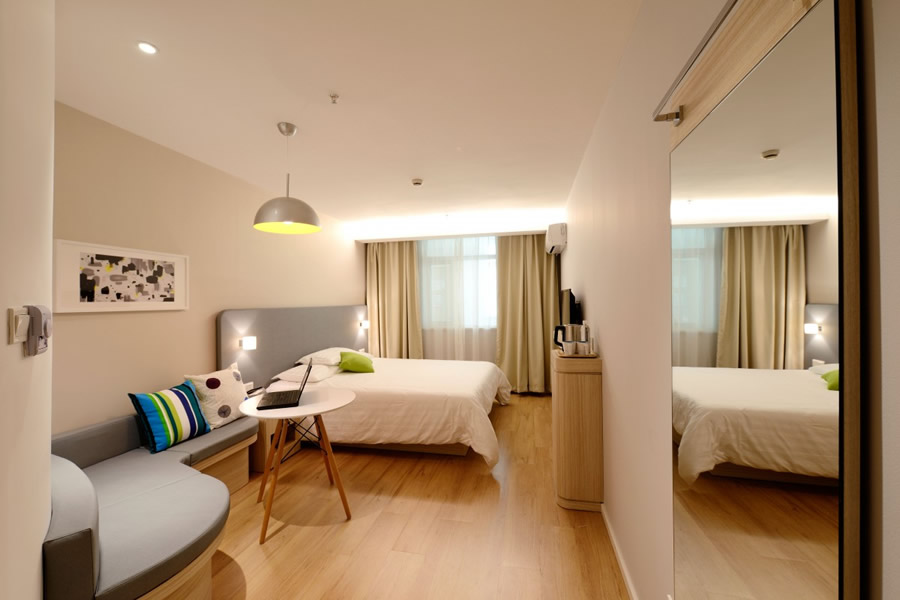 Accommodation in Val d'Europe for Disneyland Paris
We made the decision to stay near to Disneyland Paris rather than the city centre as that was our main reason for going. It is best to decide in advance whether your primary reason for travelling is Disneyland or Paris itself. I would suggest though that if you are visiting Disneyland for two or more days you would probably want to stay near the park simply for the convenience of getting in and out. It takes around an hour to transfer by train from the city centre to the Disneyland Park station called Marne-la-Valee.
We stayed at an Airbnb at Val d'Europe. Val d'Europe is an attractive purpose-built town from which you can easily walk to Disneyland (we walked it more than once when the buses were going to be a longer wait). The buses are frequent (every twenty minutes) but are sometimes full. We found this one evening on the way home. Knowing that you can walk if you have to, is reassuring, although with very small children, may not be an option. The walk takes around fifteen minutes from Val d'Europe, depending on where your accommodation is.
Val d'Europe has its own nicely designed shopping centre, and loads of restaurants of mixed cuisine. Do note though, this is Paris! Prices really are noticeably higher than you'd pay in the UK in both restaurants and even the supermarkets (we saw a punnet of strawberries for €5, to give an example).
Find out more about Disneyland Paris hotels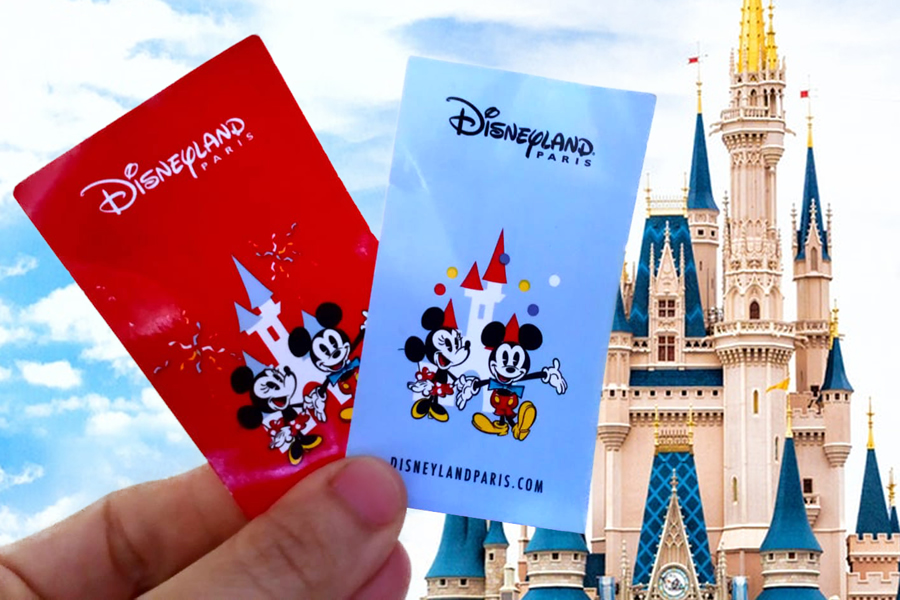 How best to use your Disneyland Paris 2-day tickets
If you have travelled to Disneyland Paris from London with your kids, you will want to make sure things go as smoothly as they can when you get there.
The biggest mistake we made on our trip, was misunderstanding what was written on our tickets. The main point you need to take away with you is that the tickets are valid for one use per day, per park. Don't make the mistake we did and think you can use the same ticket for both parks – you can't. One ticket, one park. The parks have separate gates and separate entrances.
Disneyland Paris rides
On our second day we hadn't quite finished seeing everything in the main park, so we went back in and bought a few items and waited for one of the rides. As it turned out, we never did ride Hyperspace Mountain as there was a technical fault. We then spent another half an hour purchasing a coffee, and decided to call it a wrap and head to the Studio Park. In effect then, we had done nothing at the main park on that second morning except spend some money!
When we got to the Disney Studio though we could not enter. The lady told us our tickets were not valid because we had by now spent over two hours in the main park in addition to the previous day (two hours of not really doing much of course!)
Note: most websites recommend you only need a half-day in the Studio park – and you don't need to 'plan' ahead or consider rides in advance particularly. Two feature fastpass and are ones you'll want to go on: Ratatouille and Twilight Zone Tower of Terror. Only two others are probably worth your time: Crush's Coaster and RC Racer. Check them out and the queues and decide how you feel on the day!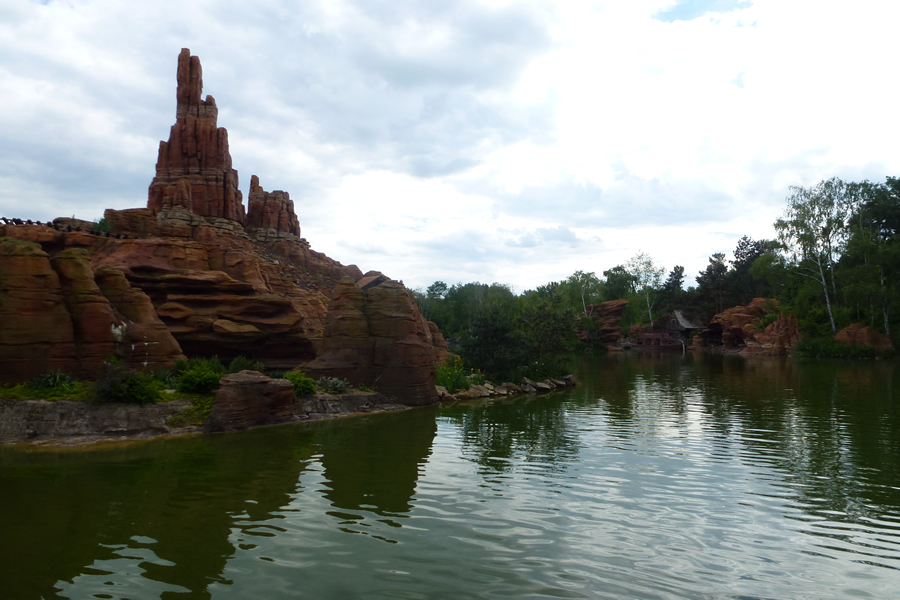 Disneyland Paris fastpass
Does the free fastpass system at Disneyland Paris really work? Well, yes. You need to arrive at your selected ride early; this is where you will book your timeslot – you can't do it anywhere else. Popular rides for this system are Peter Pan or Big Thunder Mountain (the latter can run out of fastpasses by as early as 11am – for the entire day). Peter Pan, is, in my opinion, not worth bothering with at all if time is tight as it is an exceptionally fast ride, that being a visual ride, needs to be slowed right down. I was grateful that we did use the fastpass on it though and didn't have to queue for longer! You will be given a 30-minute timeslot to come back in. Depending on availability, it could be up to six hours ahead.
The Disney website says you can only use one fastpass at the same time. I have read that it is possible to book more than one at once, but essentially you are looking at having a gap of two hours between each use. We used the fastpass three or four times over two days and were grateful to have it. Our worst queue was a full hour for Thunder Mountain but you can wait even longer than this at peak times.
Paid fastpass systems
There are other paid-for fastpass systems but that would depend on your budget. At over £20 per person, per day, this naturally becomes expensive. Not all rides are covered by the fastpass: it mainly applies to the bigger ones such as Big Thunder Mountain, and Star Wars: Hyperspace Mountain.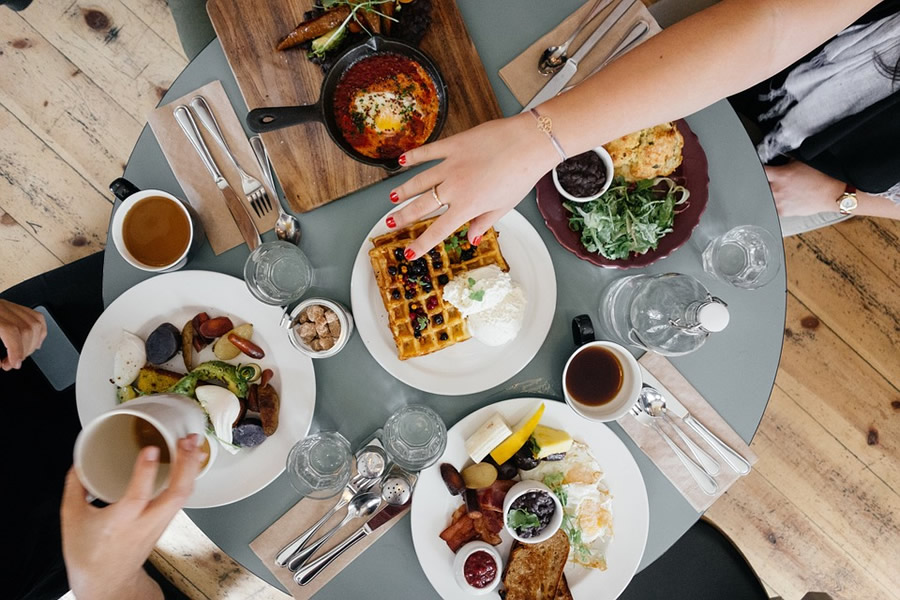 Restaurants at Disneyland Paris
Disneyland Paris has a reputation that proceeds them when it comes to their restaurants. Much has been said on other sites about the often poor quality of food stacked against the high prices. Savvy food hunters will however find one or two exceptions but I am unable to vouch for them personally on this blog. The only restaurant inside the park we went to was Planet Hollywood at the top of Main Street and it was around €70 for a family of four (without wine) for a pretty average burger-type meal.
We were prepared for this situation, so we took a packed lunch with us from our accommodation. We also budgeted for the meals when we chose to have them in the evenings.
One regret is that we did not make it to Captain Jack's; our reasoning for going there much more for the ambience and novelty of eating in a torch-lit pirate-style tavern setting, than the food particularly (though Creole and Seafood cooking does sound appetising!) Walt's is the traditional restaurant of choice, a "Victorian-style tribute to the life and work of Walt Disney" ( Disneyland Paris website). I have read that food here is very good, though service is often thought slow. We had wanted to go for the different themed rooms and experience – but at well over €100 for a meal for four, on this occasion we opted out. Another time I hope!
We made good use of the water fountains dotted around the park; which saved pointless buying of plastic bottled water and meant you only carried what you needed.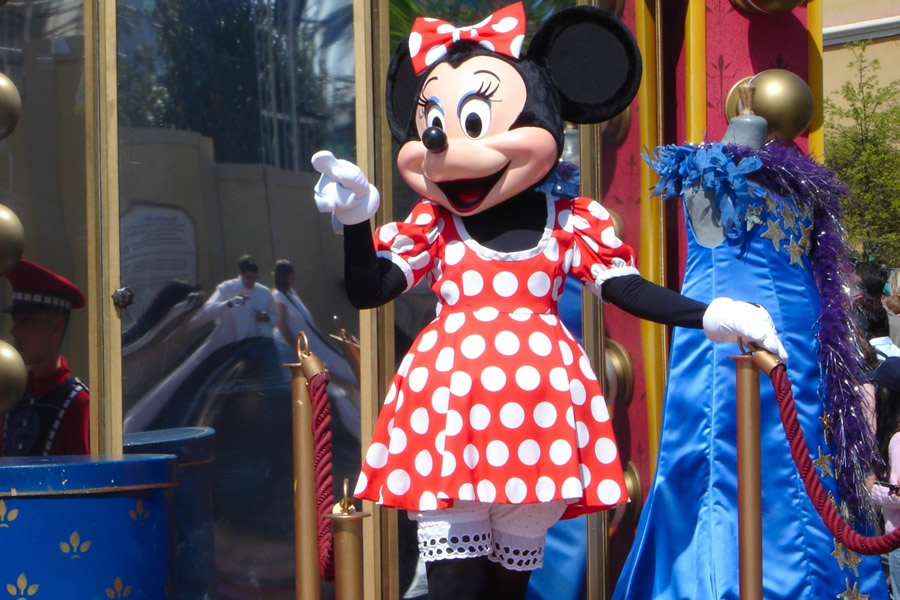 Disneyland Paris character meet and greet
Luckily for us, our girls had out-grown this concept. Queues for even average characters were up to an hour long, and some parents were looking prety weary. Disneyland Paris apparently has a number of rare characters, but we did not see any on this trip. I saw Aladdin and Jasmine and meet and greet Tigger but not much else. Since we were in the May Half Term holidays for the UK, you might have expected more. Perhaps there are more at weekends. If this is important to your kids, you might want to do your research in advance.
Hotel guests get priority meet & greet with shorter lines. I have heard seeing the chracters during Extra Magic Hours at the beginning of the day is a good way to go if staying at a Disney hotel.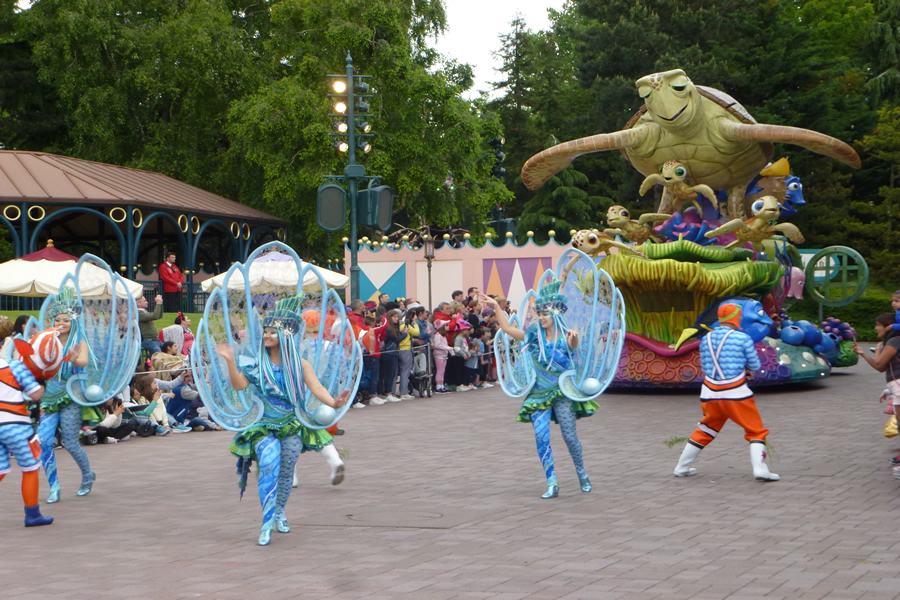 Disney Parade
The Parade is something you'll want to do at least once. It usually takes place at around 5.30pm, but times will change from winter to summer. It only lasts around 20 minutes, but as usual, people get ready up to 40-minutes beforehand. You'll see people lining up along the road. We stood at the parade entrance which is over in Fantasyland just in front of the Pizzeria Bella Notte. It meant we saw all the characters right at the beginning just as they were coming out. If you're there in good time though, wherever you stand along the route you should get a good view.
Disney illuminations at the end of the day…
Of course, being in summer, you pay the price of staying up late (11pm) with small children to see the fireworks. In the winter, it is much earlier – around 9.30 I believe. But you can't not see them. They were probably the highlight for my husband and me. We liked them so much we even stayed up the following night as the girls wanted to, too. But, of course, the first night is always going to be the most special. We stood on the Central Plaza, which is where most people gather, though some people prefer to go further towards Main Street for more space. We had a good view from here, though there seems to be some mixed etiquette as to the rules over whether you should stand up or not!
When I say fireworks – think more 'light show' and you'll have an idea. A spectacular display of Disney themed moving film images is interspersed with perfectly-timed fireworks, set to a soundtrack of powerful and well-known Disney songs. Even the biggest cynic can't help but be moved by it all. I don't know how they do it in the States, but I even loved the French twists, the French films (think Beauty and the Beast and Little Mermaid), sung, as they should be, in French. It was glamorous, chic and spectacular. Tres bien!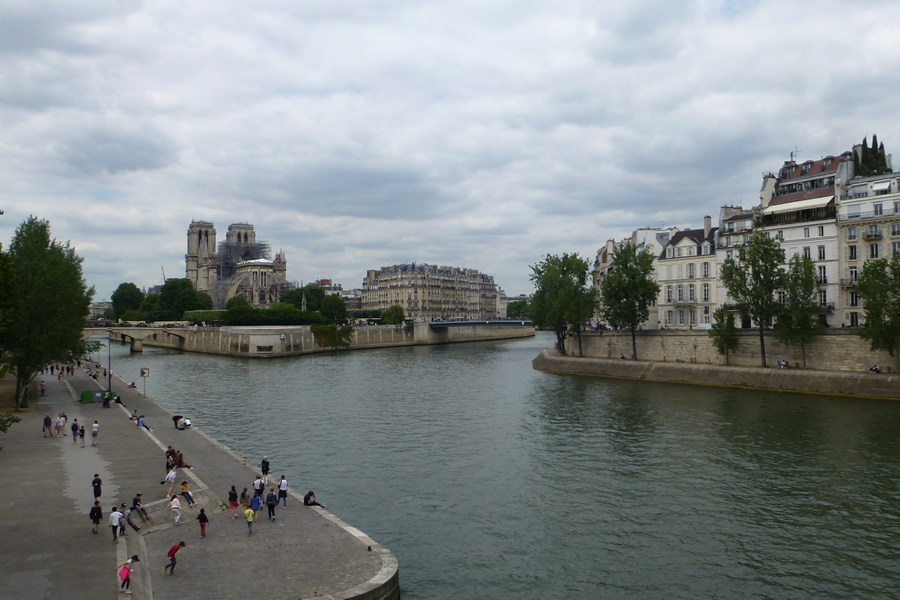 From London to Disneyland Paris and Paris city centre with kids!
If you're all the way over in Paris from London with your children you will most likely want to show them just a little bit of Paris city while you're there. Realistically, this will depend on the ages and interests of your kids; we set the bar fairly low for ours with the intention of coming back when they're a little older and showing them a little more again.
We kept it short and achievable. They really wanted to see the Eiffel Tower due to its emblematic status, so we did. We saved it for the end though; as we were travelling from Disneyland in the east, and the Eiffel Tower is located much further west along the Seine, it just made sense this way.
The weather had turned much hotter than it had in Disneyland and it was sapping our energy levels. In a city where there are inevitably lots of cars and pollution, its not always the nicest to bring kids to, so we decided to do as much walking by the river as possible. I did enjoy walking the streets looking at all the vendors' wares; postcards and old books and quirky tourist items.
We noted the high numbers of tourist electric scooters zapping up and down the city literally everywhere. When we last came to Paris fifteen years ago this was not the case. Of course our kids were desperate to get on one of these but they are too young to go by themselves and the traffic and the pedestrians on the streets meant I didn't feel safe being in charge of one either!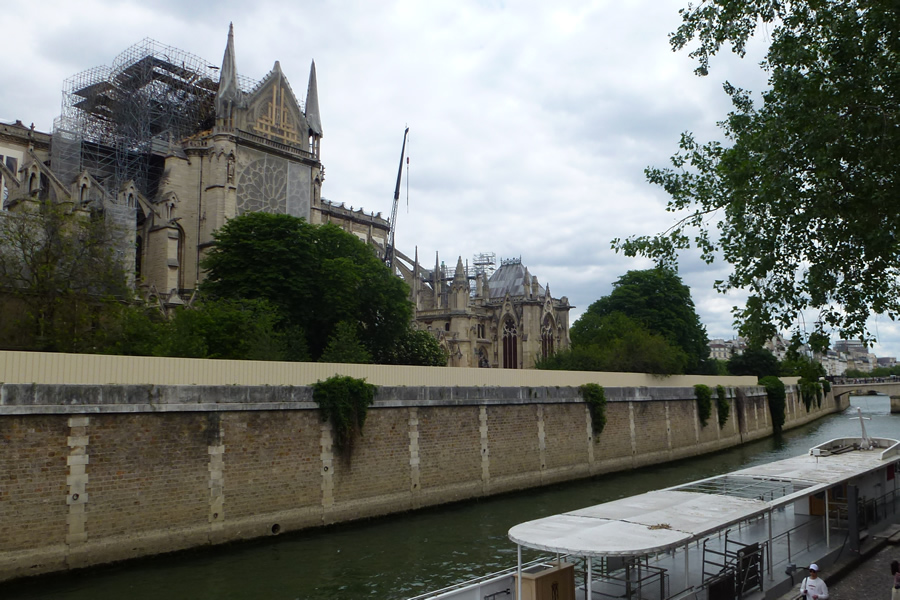 We started at Notre Dame, pointing out the recent damage done by the fire and the scaffolding where work is now being done to rebuild. I took a few photos and we moved on, walking down the Right Bank.
We allowed ourselves to just sit by the water to rest and watched local Parisien families picnic quite haphazardly along the bank too.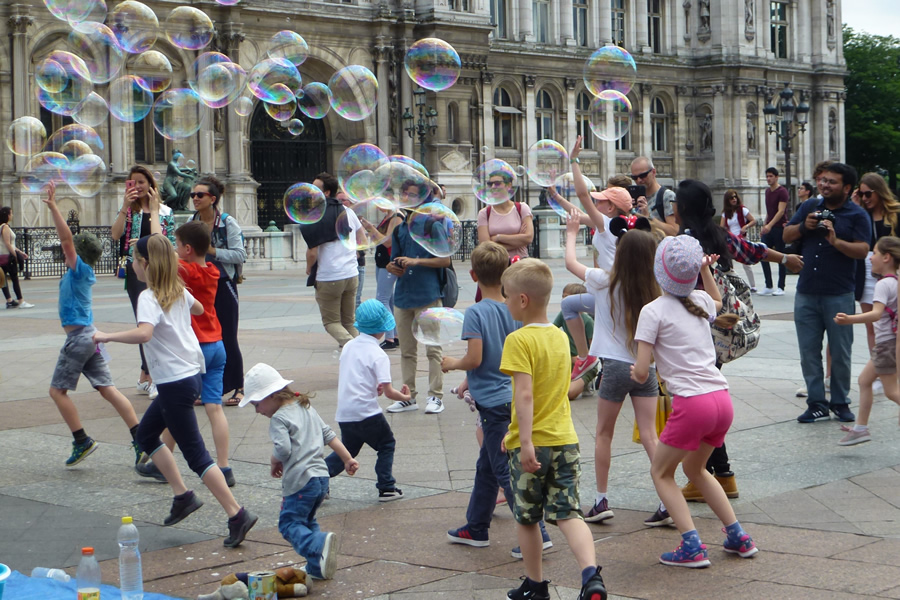 As is often the case, the nice bits were the unexpected bits. We stopped for a time outside the magnificent building of Paris City Hall. Here, street artists create amazing bubbles for the kids, and like a modern day pied-piper attract quite a following! The adults put a few coins in the hat and everyone's happy.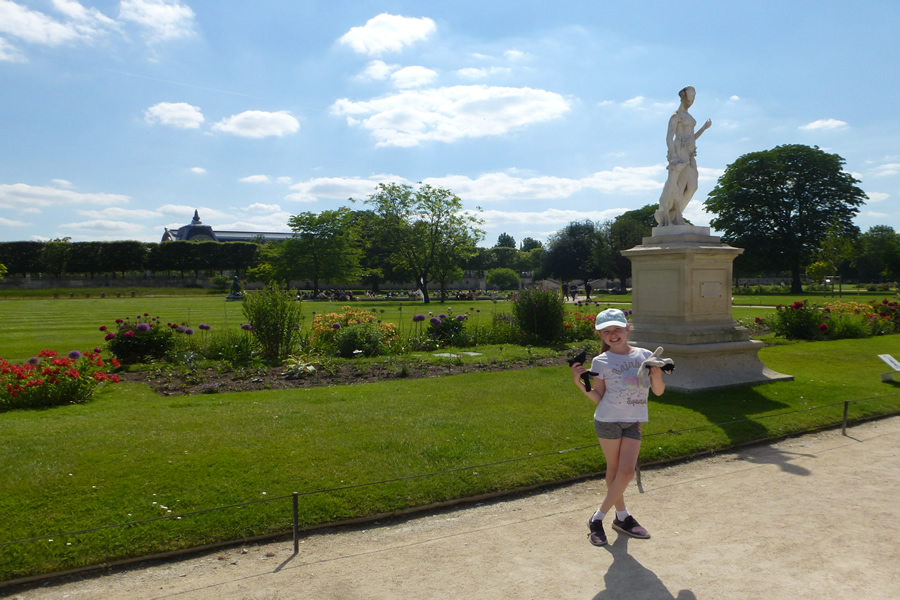 Finally we approached the oasis of the Jardin de Tuileries. Here we showed the girls the iconic pyramid of the Louvre, and the grandiose building itself just behind. They saw the smaller of the two Arc de Triomphe's – the Carrousel, and we got them to try to look all the way through the Jardin, right down the Champs-Elysees to see its companion, the bigger of the two. We took more time to rest in the shade of the Jardin near its pretty fountains before moving on to a metro stop for the Eiffel Tower. It is perfectly achievable to walk this relatively short distance without the need to go underground, but on a very hot day with two kids it is best to make things easier if you can.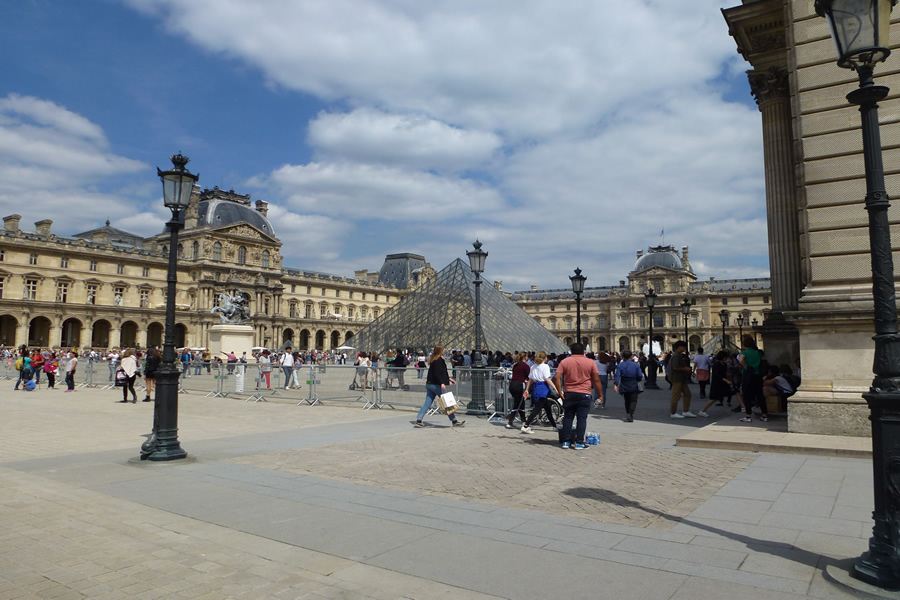 On this day the metro was out of action so we ended up walking much further than intended. It was at times unpleasant with traffic fumes and lethargy kicking in, but we sought out gardens and refuges where we could. Finally we reached the Tower. It was of course, splendid to see, but I did suspect our kids, after such an exersion, might end up being a little underwhelmed. Such was the case I think. To go all that way only to turn around and head straight back again is a mistake.
Some people say they make a point of booking a table at a nice restaurant with views of the tower for the kids as a treat. I think this would be a very good idea. We tried to look for restaurants in vain, but couldn't settle on anything we thought would be a sensible family choice so ended up coming back to our accommodation, which was very late for dinner!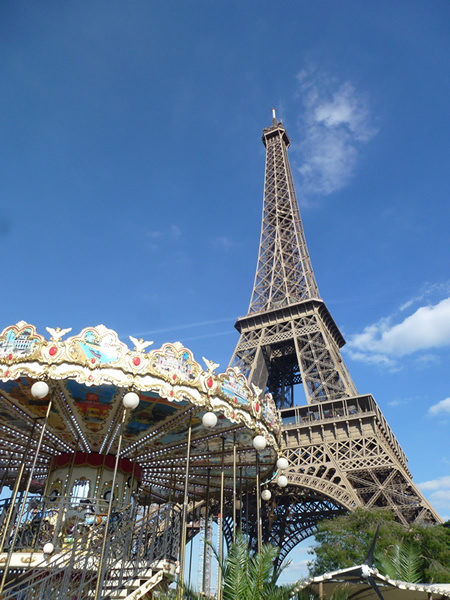 Top tip: check out nice eating places with a view of the Eiffel Tower before you go. That way you will have combined the experience into something truly memorable for your whole family.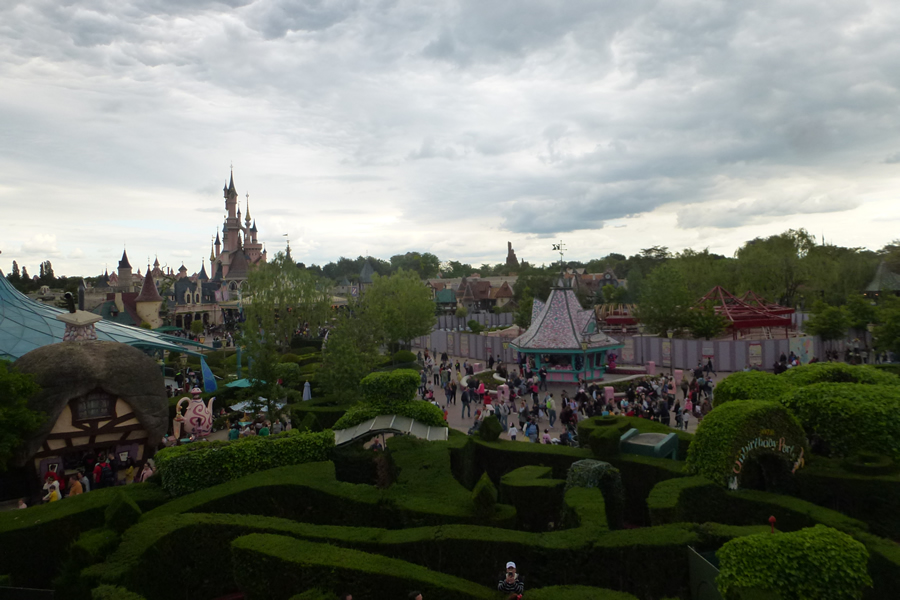 Disneyland Paris from London with kids
Disneyland Paris from London with kids is perfectly achievable, and relatively straightforward, with a little bit of good planning in advance. Taken on its own terms, Disneyland Paris certainly does deliver its own brand of special magic. Some people travel the globe comparing the various experiences at each Disney park; we just took it at face value and enjoyed the rides! Our kids certainly enjoyed themselves and this was really the intention. With the best research intentions possible, you'll never know everything in advance. But if you go with an open mind, and set yourselves a reasonable budget, and two or more days to enjoy it all, you will have a magical holiday like no other.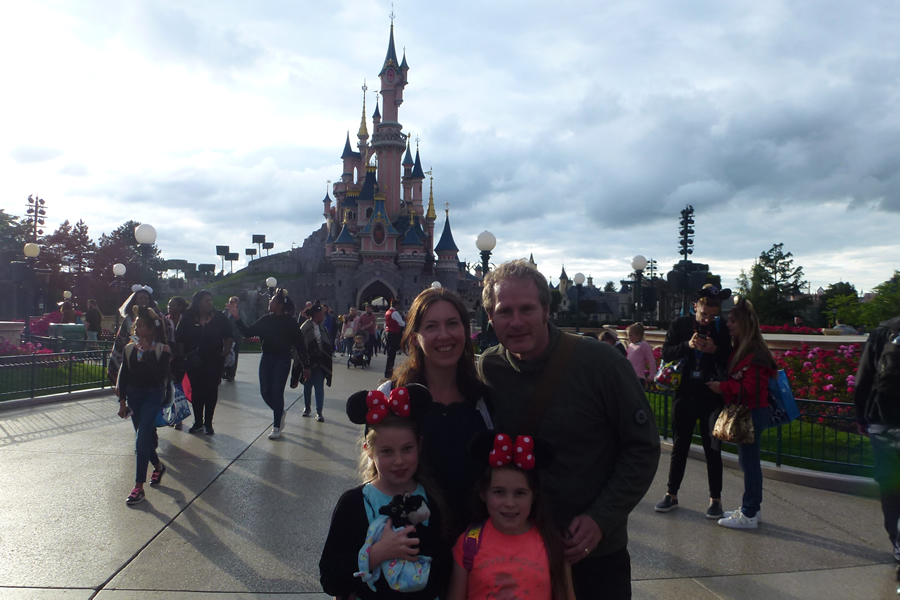 Find out more…
Best way from London to Paris Disneyland
Disneyland Paris by Eurostar
Tickets for Disneyland Paris
Disneyland Paris hotels
Paris day tours from London