Gringotts Bank casts a spell at Harry Potter Tour, London
A visit to Warners Bros. latest and largest Harry Potter expansion, Gringotts Bank.
I have been to the Warner Bros Studio Tour London – The Making of Harry Potter once before, a few years ago for London Toolkit. We used my experience to help build a what you can expect page on our main site.
Warner Bros Studio Tour London – The Making of Harry Potter: what to expect or you can directly buy your tickets from here.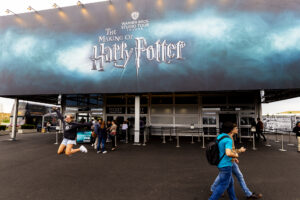 Gringotts Bank expansion
This time, I was visiting to update myself on all the new arrivals but specifically to experience the exciting latest exhibition – the Gringotts Bank expansion – their biggest to date! Since they opened in 2012, Warner Bros. have been steadily growing the Studio with yet more spectacular sets featured in the hugely successful Harry Potter films. The Forbidden Forest opened in 2017, and was new to me too. The Gringotts Bank attraction expansion is 16,500 square foot of gilded, marbled and glittering sets, props, characters and I have to say it, magical special effects!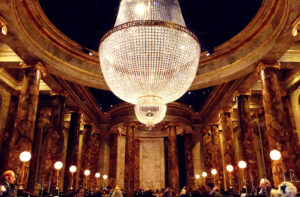 There is enough to see to stay all day
If you are new to the Studio, then you should know that it is a non-guided tour that should take you around four hours to complete – though some dedicated fans have been known to stay all day! The experience, if you are a Harry Potter fan, many will say, is essential. It is popular with both kids and adults and you will frequently see both dressed up in robes, wandering around the Studios absorbed in the ever expanding world of Harry Potter. And it really does seem to be infinite. Every time you go there's something new to see and learn. And when you go, don't be afraid to ask the staff questions – they are all keen Harry Potter fans, some were even extras in the films themselves and are only too happy to share as much Harry Potter detail as you are up for!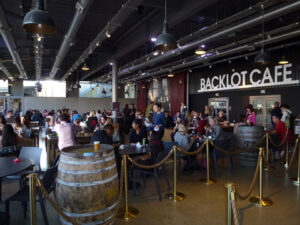 Plenty of Harry Potter cafes to relax in
The format of the Harry Potter Studio tour is that it is in two halves. Halfway through your tour you'll arrive at the famous Backlot Cafe, where you can enjoy a quick Butterbeer and some food. The nice thing about this cafe is the views you get of the next section of the tour: the Knight Bus, Privet Drive, Hogwarts Bridge and Godric's Hollow all make you want to rush through your break. Once fortified, you can journey on and enjoy the outside section before moving to the long-awaited Gringotts Bank and Diagon Alley! Since I last visited they have also added two more cafes – the Chocolate Frog and the Hub, so you are not short of places to grab lunch or a drink or snack.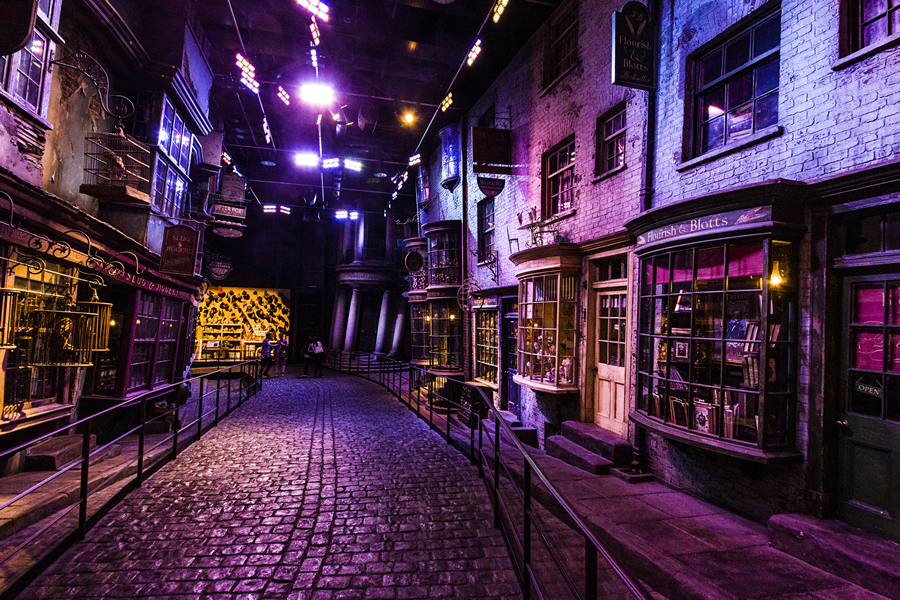 Gringotts Wizarding Bank is spectacular
Gringotts Wizarding Bank is really a 3-in-1 exhibition where you can explore not only the famous Hall with its marble columns, and sparkling chandeliers, but you then go on to explore the Lestrange vault, before finally ending with a breath taking surprise (more on that later!).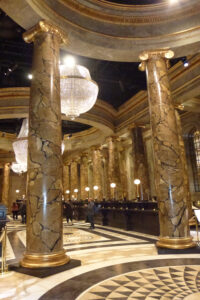 As you first step into the Banking Hall you get a great view down the long, central aisle, with the cantankerous faces of Bogrod, Griphook and all the other Goblins, peering over their spectacles at you, from their high stools. Each desk contains their ledger, golden weighing scales, as well as stacks of Galleons, Sickles and Knuts.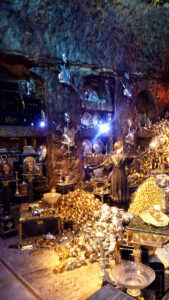 The Lestrange vault is a glittering jewel in the middle of your Gringotts journey. Look out for the Sword of Gryffindor and Helga Hufflepuff's Cup, which turned out to be one of Voldemort's Horcruxes. It's simply an Aladdin's cave of rubberised (but seemingly very real) golden cups, jewels and treasure.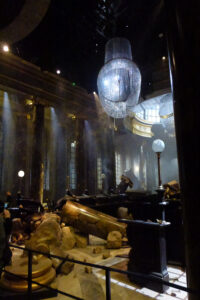 A surprise guest sure to raise the temperature
The final piece of the puzzle in the new Gringotts exhibit showcases the scene from the final film in the series: Harry Potter and the Deathly Hallows Part 2. It's where Harry tries to retrieve one of the Horcruxes from the Lestrange vault, and in doing so becomes involved in an explosive escape with a dragon. In the film, the banking hall is smashed right through. There is something quietly eerie and shiver-making about grandeur seen desecrated and abandoned. The sets team have again worked their magic to recreate this moment from the Harry Potter films; and the special effects team pull one last dragon out of the sorting hat!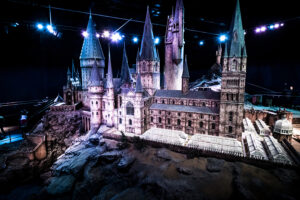 Incredible detail & vast sets
There are so many sets at Warner Bros Studio Tour London – The Making of Harry Potter, it would take a long time to list them all. Popular highlights include The Great Hall, Diagon Alley, Hogwarts Castle, The Forbidden Forest, Platform 9 3/4, The Ministry of Magic, Privet Drive and the Knight Bus. But very often, for me it is the smaller detail, such as incredible prosthetic masks; the tiny props you can see through the windows in the shops in Diagon Alley; the incredible array of sweets available at the Gift Shop at Platform 9 3/4; or the automated knitting in Weasley's Burrow, which really captures your imagination.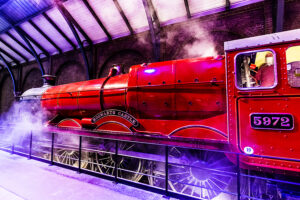 Ride your very own Harry Potter broom
For older and younger fans alike, there are plenty of interactive features; boards to touch and swipe, with extra tantalising Harry Potter facts, opportunities to make props move with your own bit of 'magic'. Plus your chance to 'ride a broomstick' and have your picture taken (this one you pay extra for). While photography is welcomed throughout the tour, there are places where there are exceptions. You are not allowed to take photos in this green-screen area of the Studio, or in the cinema room right at the beginning of your tour.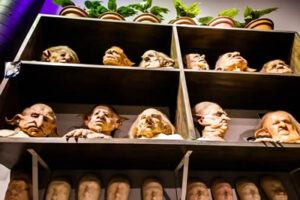 The creature shop
The new addition I really liked was in the Creature Shop, near the end of the tour, where Warwick Davies excels at taking you through the delicate work of making some of the mythical creatures such as Grawp and Buckbeak. You are led from one screen to another, in a humorous and engaging way. It makes you feel more immersed in the creative experience; and the hours of dedicated work it took to bring JK Rowling's creations to life.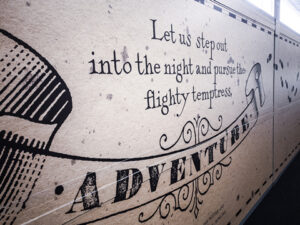 Perfect for young and old alike
Going back a second time was well worth it. And not just to see the Studio's new expansions (though they are absolutely stunning). I was able to look again but in much more detail and saw things that I had missed on the first visit. Simply because there is just so much to see. You really cannot underestimate the scale of the Studios and how much there is to see and do. As a Harry Potter fan, I really enjoyed learning more about Warner Bros.' interpretation of the films I have come to love. The Studio certainly lives up to its expectations. A truly magical day out.
Book your tickets now
Warner Bros. Studio Tours London – The Making of Harry Potter is a very popular attraction. Tickets book out weeks, sometimes months in advance, so it is wise to plan ahead. Use our link to book your tickets now to guarantee you'll get to experience all the magic.
Golden Tours bus and tickets to Warner Bros Studio from London
Find Out More:
Golden Tours – WB Studio – what to expect
Public transport to Warner Bros Sudio Tour London
Harry Potter – the Studio in London – what to expect
Harry Potter film locations in London and Oxford
Hotels in London
London for families