Harry Potter attractions in and around London
Harry Potter attractions in London are numerous
Warner Bros. did much of their filming in central London and it is easy to see many of the Harry Potter film locations as well as the locations that were inspiration for J.K. Rowling while she was writing the Harry Potter series. Outside central London there is, of course, the now highly popular Warner Bros. Studio Tour – The Making of Harry Potter, about an hour away by train or car, in Watford. This guide will give you the best of the best for Harry Potter fans!
1. Warner Bros Studio Tour London – The Making of Harry Potter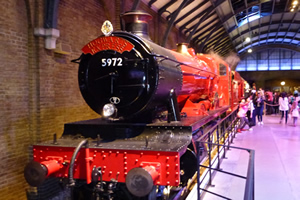 Visit the real sets used in the Harry Potter films and delve deeper into the magical world of Hogwarts! A must see for Harry Potter fans; families will all enjoy this day out which showcases the most fantastical sets as well as props, costumes and all things Harry Potter. Highlights of the Studio include the brand new (for 2019) Gringotts Bank exhibit, including the Lestrange Vault, The Great Hall at Hogwarts, Diagon Alley, the Hogwarts Express and the Forbidden Forest. Not in central London but in Watford, an hour away by coach or train and shuttle.
Family ticket: from £140
Open: 8.30-10pm
Mainline station: Watford Junction
Warner Bros. Studio Tour London – what do I need to know?
Our experience at Gringotts Wizarding Bank new exhibition for 2019
2. Platform 9 ¾ and Harry Potter Shop at Kings Cross Station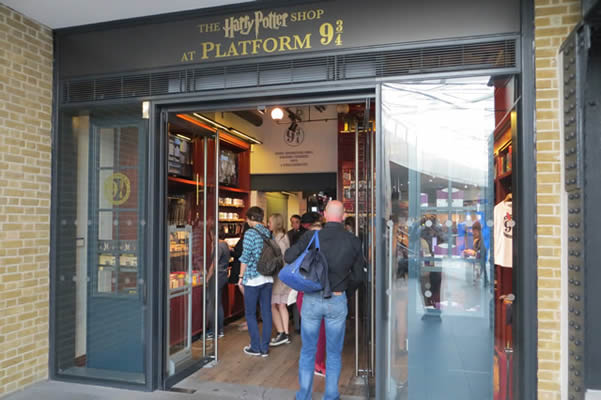 Get down to Kings Cross Station and re-enact your own Harry Potter moment, posing for a photo with a luggage trolley which 'disappears' into the wall!  Yes, it's not actually at the point between platforms 9 and 10 as you might think – but hey – it's no less fun for it! Find the trolley in the main hall area – you won't miss it. There are even staff on hand to offer you  your favourite Hogwarts house scarf!
You can even get yourself some Harry Potter goodies while you're at it. Next door is the Harry Potter shop at Platform 9 ¾ selling you robes, scarves, sweets, bags, mugs, books… all the essentials. Open 8am – 10pm every day except Sunday (9am – 9pm).
3. St Pancras and St. Pancras Hotel
While you're at Kings Cross you won't miss the Neo-Gothic splendour of the magnificent St Pancras Station, opposite. Eagle eyed Harry Potter fans will notice that the exterior shots of 'Kings Cross Station' were actually taken at its more grand neighbour, St. Pancras, which was considered to be architecturally more impressive.
St Pancras Station also shares its building with the St. Pancras Renaissance Hotel London. For serious five star luxury, a night at this hotel would be an indulgent treat not to forget. You can enjoy the pampering spa, fitness center and heated indoor pool, as well as fine dining or British Afternoon Tea. For the best rates, you'll find them at weekends.
St Pancras Renaissance Hotel, London
4. Harry Potter and the Cursed Child – Theatre show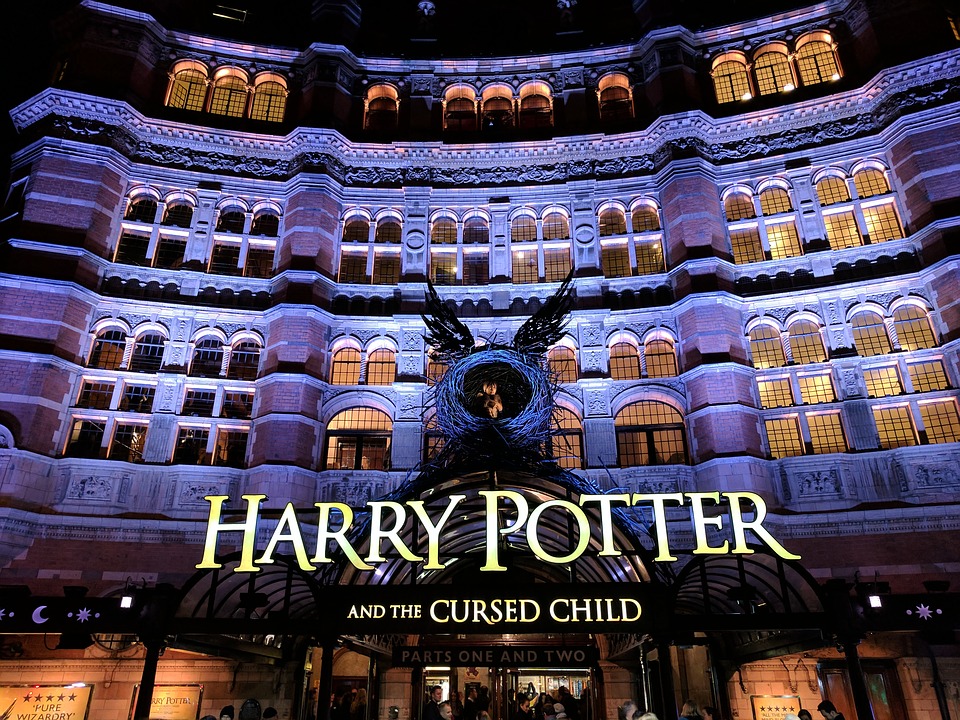 Visit the Palace Theatre in London's famous West End and see this play of two halves. You can choose to either visit on a Wednesday, Saturday and Sunday, where you will see the whole thing back to back, or alternatively  visit on a Thursday for part 1 and the Friday for part 2. Either way, it's just one ticket to cover the whole show.
You'll need to get in there quickly though; the play finishes in London  July 22, 2018.
5. Muggles walking tour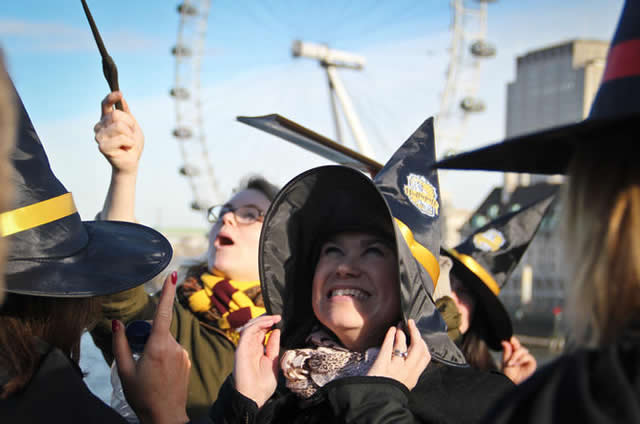 This 2.5 hour walking tour of London is very popular right now. All the guides on the Walking Tour for Muggles in London are dedicated Harry Potter fans who really know their stuff! You can explore Harry Potter's London fairly easily yourself with many free maps that can be downloaded online. However organised walking tours like this one give you all the extra detail you're probably looking for, are thoroughly entertaining, offering quizzes on Harry Potter knowledge and remind you of all your favourite parts of the books and films you love so much…
Harry Potter Walking Tour for Muggles in London – book here!
More information: Harry Potter Walking Tours for Muggles in London
6. Places in London that inspired JK Rowling: Cecil Court and Goodwin's Court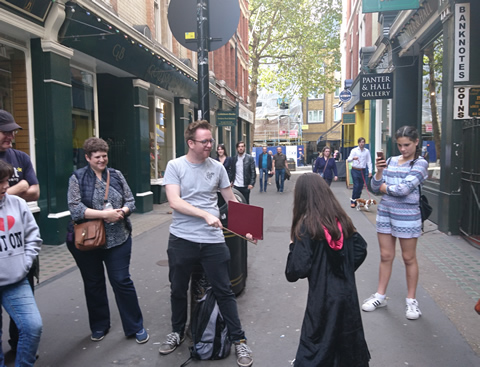 Both Cecil Court and Goodwin's Court did not feature in the Harry Potter films. However they are both very atmospheric places; and are thought to be JK Rowling's inspiration for Diagon Alley and Knockturn Alley respectively. They can both be found  just a couple of minutes' walk from Leicester Square tube.
Cecil Court is a great place for book lovers in its own right,  so naturally, is one of Rowling's favourite streets in London. It is home to individual bookshops with unusual books, including, naturally enough, books on witchcraft and magic. You might even pick up a first edition Harry Potter!
Goodwin's Court is a medieval and later Georgian alley, dating back to 1627. It has oodles of character. If you can, check it out at night when it comes to life with three large original gas lamps.
7. House of MimaLima – in the West End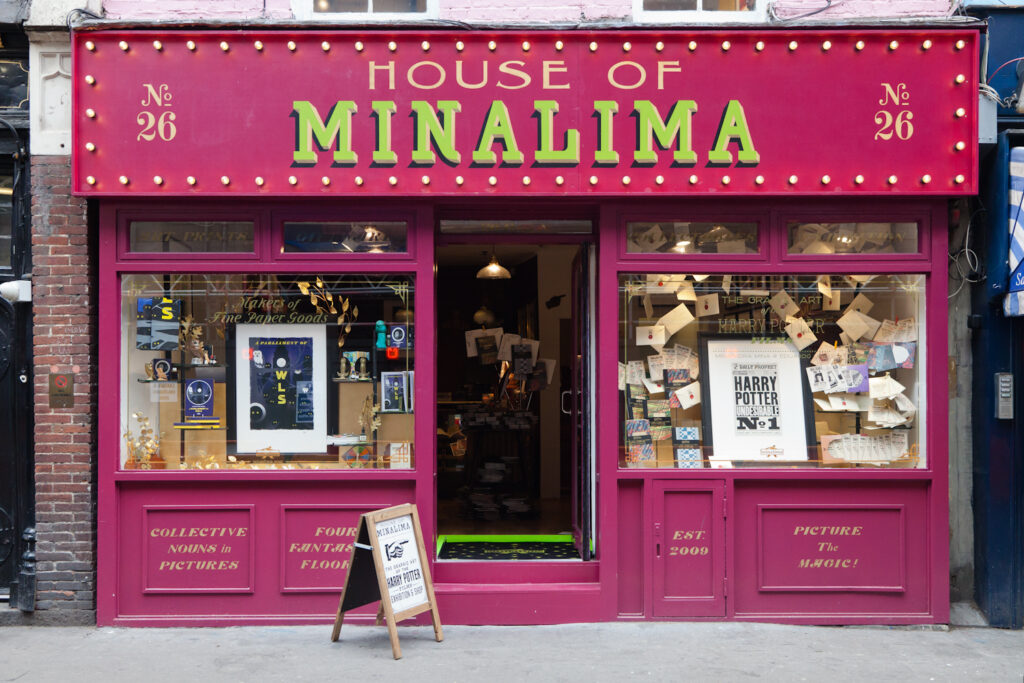 Not to be missed – a great FREE exhibition where you will see the designers Miraphora Mina and Eduardo Lima's work from the Harry Potter films including Fantastic Beasts and Where to Find Them. Get yourself lost in four levels of works from the films including Hogwarts Express ticket, Harry's Hogwarts acceptance letter and the Marauder's Map. There are even original movie props on loan from W.B Studios!
There's a shop too so you can pick up your own limited edition movie art prints as well as books, notebooks, posters, and other souvenirs.
Open: Monday to Sunday 12-7pm
Location: 26 Greek Street.
8. Leadenhall Market as Diagon Alley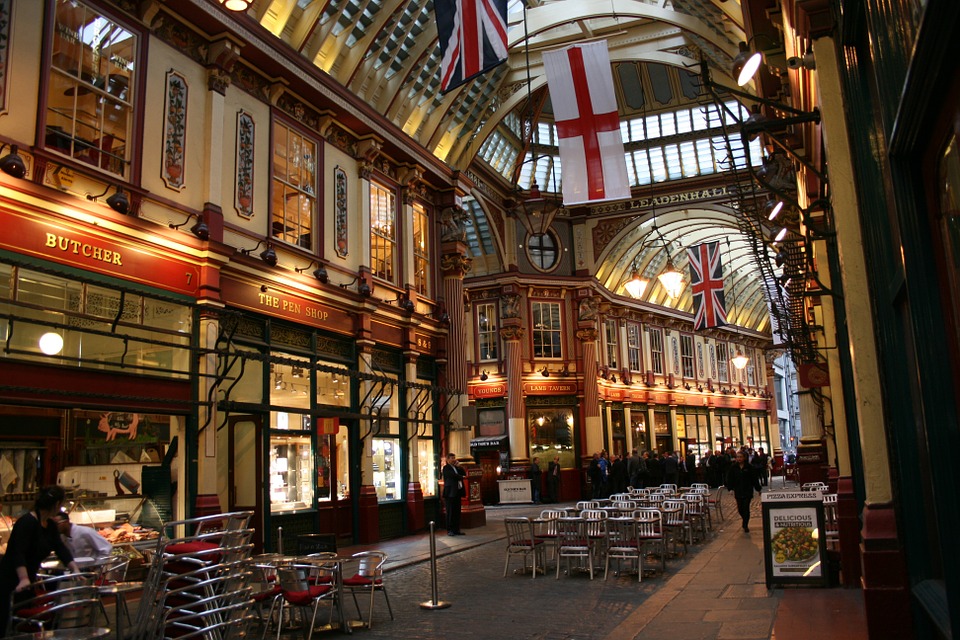 If you've never been to Leadenhall Market before then put this one on your list. Chosen for filming exterior shots of Diagon Alley in Harry Potter and the Philosopher's Stone, it is one of London's oldest and most magnificent Victorian covered markets in the City of London.
 At Bull's Head Passage you can find an opticians that was used as the entrance to the wizard's pub, the Leaky Cauldron.
Tube: Monument
Location:  Gracechurch St, London EC3V 1LT
Find out more…
Warner Bros Studio Tour London – what you will see
Harry Potter attractions in London and Oxford
Harry Potter Walking Tour for Muggles
Harry Potter Walking Tour/ Black Taxi Tour
Harry Potter Bus Tour London
London for kids and families