Top 10 London markets you must visit
There are such a wide variety of markets available that it is easy to find a different style of London market to experience any day of the week. There are plenty of specialist and more general street markets available, so with a little planning, you can be sure to find the right one to explore.
Below is our useful guide to the well-known and up and coming London street markets offering food, flowers, arts and crafts, fashion, textiles, antiques, collectibles and much more.
1. Portobello Market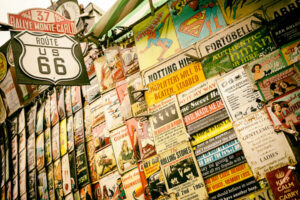 Image courtesy of Paul Hudson
Portobello is one of London's street markets situated on Portobello Road, north of Notting Hill. At the south end of the street you'll find mainly antiques, in the middle you'll smell the fresh fruit and vegetables and to the north end are the bric-a-brac and unusual small collectibles.
Saturday is the best (and busiest) day by far to visit Portobello market. On Saturday the market is huge with over 2000 stalls, selling everything from lace, books, collectibles, clothing and more. Expect to see thousands of people searching for bargains or buying unique one-off pieces. Portobello Road market is a place to immerse yourself in the atmosphere and with a little patience, find yourself a special keepsake or bargain. If you want to avoid the crowds on Saturdays, its best to arrive before 11.30am.
The market is open Monday – Saturday from 8am to 7pm, with traders usually operating from 8.30am to 6pm. In the summer stalls close between 5-6pm and in the winter they close between 4 and 5pm.
If you are after antiques, the main day is Saturday, but there are antiques stores open around the market for most of the week and a few antique traders on Fridays.
In Golborne Road you'll find  fruit and veg and hot food.
You can walk to the market from Notting Hill underground station (just follow the crowds) in about 5-10 minutes. If you're starting at the north end, then Ladbrook Grove tube station is nearby. If you happen to be staying in Bayswater, you can easily walk there.
2. Camden Market & Camden Lock Market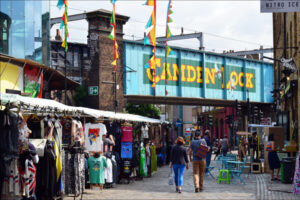 Image courtesy of George Rex
Originally a craft market, Camden Lock has developed into a much bigger and busier London market offering a wide range of goods to buy. Located by the Regent's Canal, the market is a very popular visitor attraction in London. Its streets are filled with a bohemian atmosphere full of music, colour and all manner of quirky artwork, often plastered on buildings. You'll also experience a wide variety of culture, food, drink, and entertainment.
Camden Lock has a long history and is currently undergoing a redevelopment that will change it in many ways. Whether these changes are for the better depends on who you ask in Camden. Originally a cool, trendy drop-in point for many Londoners, Camden market has seen many changes over the years. It is still full of bespoke designers, craftspeople but with a gradual rise of what could be called high street style stores too. It remains to be seen what Camden will become but its history and variety ensure it will remain a great market to visit.
The main market is by Regent's Canal, the words Camden Market are emblazoned over a railway bridge that crosses the main road, so it's impossible to miss. Camden Town is the nearest underground and the number 24 bus stops outside, one of many bus routes, the 24 connects Camden Lock with central London.
Weekends are its busiest times when from Friday to Sunday the market comes alive. You'll find a wide range of goods to consider from antiques to clothes (vintage and new), crafts, accessories, and furnishings. Just about everything you could want but may not need is available at Camden market. Be warned Sundays are usually mega-crowded. Camden Market is open every day from 10 am to late.
3. Borough Market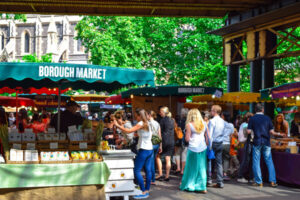 This gourmet's delight boasts a mouth-watering range of speciality fresh food stalls under its Dickensian wrought-iron roof. The accent here is on quality, not cheapness. Stallholders come to trade from all parts of the UK as well as traditional products from Europe being imported and sold. Fresh fruit and vegetables, meat, cheese, bread, and pastries are some of the treats on offer.
Borough Market is London's oldest food market. It was established on the south bank of the Thames when the Romans built the first London Bridge. It has occupied its present site for 250 years and the area as a whole has experienced major regeneration and reinvigoration in recent years. Run as both a wholesale and retail food market it has proved popular with visitors who are looking for authentic fresh produce.
Borough Market is also known for its many film connections including Harry Potter. Bridget Jones' famous one bed flat overlooking the market can be found here and indie Brit flick Lock, Stock and Two Smoking Barrels was filmed here.
There are cooking clubs, demonstrations, bakery classes and much more to experience whilst exploring its warren of passageways.
Borough Market is open Monday to Saturday and closed on public holidays. On Mondays and Tuesdays, a limited market runs from 10am-5pm so expect slightly less choice available. The full market is open Wednesday to Thursday from 10am-5pm, Friday 10am-6pm and Saturday 8am-5pm.
Situated between Borough High Street, Bedale Street, Stoney Street, and Winchester Walk the nearest underground is Borough or London Bridge, both only a 5-min walk away.
4. Old Spitalfields Market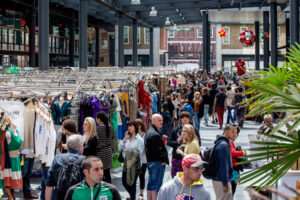 Image courtesy of Spitalfields_E1
Located in the heart of East London off Commercial Street, this London market is one of London's busiest areas on Sundays. You can find hundreds of stalls offering a variety of goods from crafts, design, art and fashion. Additionally, many local artists and sculptors have their studios there, so you are sure to find a great deal of diversity whilst exploring the market.
The busiest times are at the weekends but if you are looking for a piece of history to take home then the Antique market runs on Thursday and draws a community of antique dealers and specialists who showcase their vintage stock.
Old Spitalfields market opens 7 days a week with most shops open between 10am-7pm. You can use Aldgate tube or Liverpool Street station to get to the market, each around a 5-8-min walk away. You might also like to try close by Brick Lane Market for further bargains.
5. Columbia Road Flower Market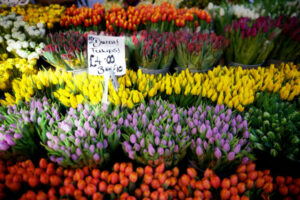 Image courtesy of Aurelien Guichard
You'll love Columbia Road Flower Market for the vibrancy of colour and wonderful smells that permeate the neighbourhood on Sundays. Open from 8am till 3pm be sure to get there early for the freshest flowers but also arriving late on can grab you some bargains as sellers want to move stock, especially cut flowers, but beware of all stock selling out if you plan to arrive later in the day. Located on a historic street in the East End of London, the area springs up like an oasis in the concrete desert with all manner of plants from cut flowers to small bedding plants, to small and large trees. A lot of the sellers grow their own plants, so you can be sure of the quality and often unusual variations on offer.
This London market is great for photography if you want a splash of colour in London life photos. Brick Lane Market and Spitalfields Market are nearby too. The nearest underground is Hoxton.
6. Brick Lane Market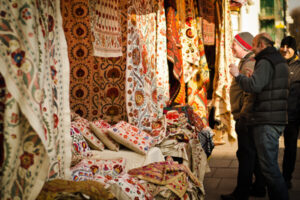 Image courtesy of Garry Knight
The best day to visit Brick Lane market is Sunday when the streets fill with stalls selling second-hand goods. Popular with young Londoners on the lookout for a bargain this market has a lively artistic vibe. Whilst browsing you'll also stumble upon various street performers to entertain you and discover good value places to eat. You can find second-hand furniture, unusual clothes and all sorts of bric-a-brac in this London market. Part of the fun of the market is that you are never sure what you might find so every trip is an exploration.
The market is open between 10am-5pm on Sundays and the nearest tubes are Aldgate East and Liverpool Street. If you still have the energy you can easily move onto the close by Old Spitalfields Market for further bargains.
7. Covent Garden Market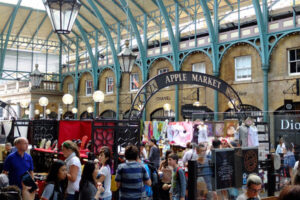 Image courtesy of Tredok
The world-famous Covent Garden Apple market which was originally focused on fruit and vegetables still runs today. From Tuesday through to Sunday the market is filled with hand-made art and design goods, bespoke jewellery, paintings and more. On Mondays, the market hosts antiques and collectibles. Covent Garden is such a beautiful place to relax, shop and explore that a visit to the markets is definitely time well spent.
The nearest tube is Covent Garden, but this tube station can become very busy with only a lift up to the station from the platforms. We recommend you go to Leicester Square tube and walk the few minutes to Covent Garden for a more relaxed travel experience.
8. Alfies Antique Market

Image courtesy of eilidh_wag
Located in Marylebone at 13-15 Church Street sits Alfies Antique Market. As London's weather is notoriously unpredictable the fact this is London's largest indoor market, spread over four floors is a major plus. Specialising in antiques, vintage fashion and 20th-century design, the market is popular with collectors, interior designers and has been known to have the odd celebrity wandering its corridors too. The rooftop restaurant/café is a major draw with many locals coming for breakfast and enjoying the outside area. It is worth mentioning that stall holders are not ever present, so you may have to hunt round to find someone if something catches your eye, but on a rainy day you could do a lot worse than while away a relaxed morning at this market.
The nearest tubes are Marylebone and Edgware Road and it is open from Tuesdays to Saturdays from 10am-6pm.
9. Southbank Centre Market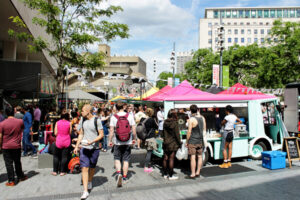 The best thing about Southbank Centre Market is its location right by some of London's major attractions and overlooking the Thames. If you're booked on the London Eye or going to see Big Ben and the Houses of Parliament on the right day, you can visit the market as an added bonus to your trip. There are two markets which focus on food and books. The food market offers fresh produce, fantastic street food, beers, wines and cocktails. There are also sweet treats, coffee and tea available. The Southbank Food Market has become a London food destination in itself. Running every weekend including Fridays, it's open between 12-8pm on Fridays, 11am-8pm on Saturdays, 12-6pm on Sundays and 12-6pm on Mondays (bank holidays only).
Further along the Southbank is the Southbank Centre Book Market, which is open every day. Tucked under Waterloo Bridge on Queens Walk this is a little gem for picking up unique gifts or keepsakes from your time in London. You'll find hundreds of classic books, contemporary titles, comics, maps and prints.
Closest tube is Waterloo with the Southbank being a 5-min stroll from the station but better yet get off Embankment and walk over the Golden Jubilee bridge, a beautifully designed bridge offering you fantastic views across the Thames to the London Eye and Houses of Parliament or on the opposite side down the Thames towards St Pauls.
10. Greenwich Market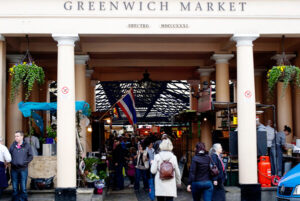 Image courtesy of Masashi Yanagiya
Recently refurbished and extended and open 7 days a week between 10.30am-5pm, this historic London market covers most areas but focuses on food, antiques, arts and crafts and design goods. The market changes its focus daily so there are always different offerings amongst the regulars. Greenwich is a beautiful part of London with many of its own attractions like Cutty Sark, Old Royal Naval College, the O2, various museums and of course the Royal Observatory which allows you to place one foot either side of the meridian line. Greenwich market is an attraction itself, so is well worth visiting when you come to the area.
The Jubilee line runs to North Greenwich from where you can take a short bus journey (188) to the town centre. A more relaxing and interesting way would be to take a river cruise from one of the many piers and enjoy the sights on your way.
Below you'll find an interactive map with the London markets highlighted:
Please do share your experience of the London markets with us at London Toolkit in the comments section.  We'd love to hear from you.  If you've taken a picture of any of the markets or anywhere else in London just use the hashtag #londontoolkit in your social media feed for a chance to be featured.
Find out more:
Guide to London markets
Top 10 London Christmas markets
Shopping in London
Royal Parks of London
Hotel accomodation in London
London tours and attractions
London public transport explained