The best Christmas events in London 2023
What to do in London this Christmas
You are sure to experience an incredible festive time with loads of activities and Christmas events in London. The magic in London at Christmas is everywhere to enjoy, from a few reindeer to millions of fairy lights. Admire beautiful modern buildings like the lit up Shard, decorated historical castles and the biggest Christmas trees. Ice rinks are always a family favourite and of course there is the Christmas shopping!
To help you get into the Christmas spirit here is our 12 Christmas events in London guide, detailing some of the best Christmas attractions in London for everyone to enjoy.
Plus, for even more ideas on what to do this Christmas, visit our webpage: Christmas in London.
Christmas markets * Christmas trees in London * Charles Dickens Museum * Kew Gardens Light Show * Royal Palaces at Christmas * Christmas Festival at Royal Albert Hall * Christmas carols in London's churches & cathedrals * Harry Potter Studio – Hogwarts in the Snow * Winter Wonderland * Shrek the Halls! * Christmas at the London Eye * Peter Pan Cup at Serpentine
1. Christmas markets & shopping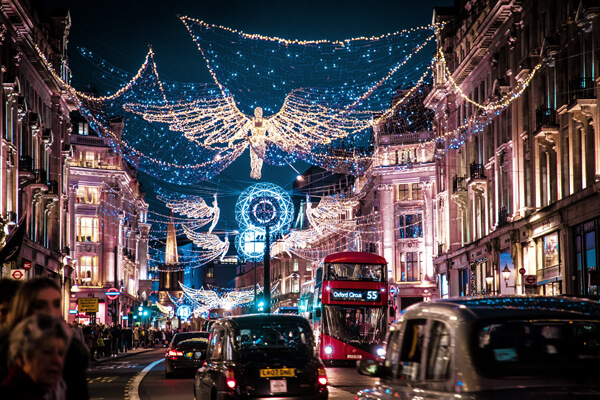 It will always feel better to give than receive but you can enjoy giving even more if you spend your time finding that perfect Christmas gift at one of London's amazing markets or shopping streets.
Christmas Markets
There are so many amazing Christmas markets to choose from that we had to create a whole blog post detailing them. Go visit our Top ten London Christmas markets blog post to find out more details on the best Christmas market shopping in London. From the amazing Bavarian style market at Winter Wonderland in Hyde Park, to Christmas in Leicester Square, the Southbank Centre Winter Market and The Greenwich Christmas Festival, there's a market out there to suit everyone's taste.
Christmas shopping and lights – Oxford Street, Regent Street, Carnaby Street
Two of the most famous shopping streets in the world – Regent Street and Oxford Street – get even better at Christmas with their dazzling Christmas lights creating the perfect Christmas shopping experience.
At times you might have to queue to get inside a shop but at Selfridges on Oxford Street you'll find yourself waiting to see the beautiful and famous Christmas window displays before going inside. It is hard not to find a shop to spark your creative Christmas gift buying in this area, with a huge choice of big store names and boutiques.
This year, for 2023, at Carnaby Street you can witness the 'Carnaby Universe', a solar system of neon lights above Carnaby's brilliant shops.
Harrods at Christmas
Find yourself in Knightsbridge in the evening and you'll be dazzled by the incredible illuminations of one of London's most famous stores, Harrods. The iconic store has a giant Christmas shop, offering up Christmas luxuries to break the bank. Santa's Grotto is a very popular attraction. Even if you don't want to overspend this Christmas, a visit to Harrods and its 300 plus departments is a Christmas experience not to be missed.
2. Christmas Trees in London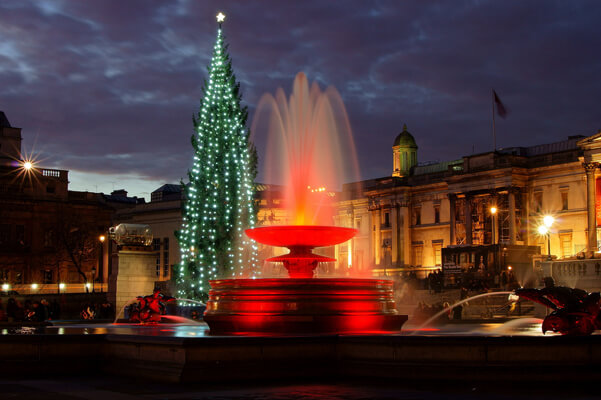 Image courtesy of Peter Trimming
There are plenty of places to go and visit if you'd like to see an impressive and beautifully decorated Christmas tree – for free of course.
The most famous of which is the Trafalgar Square tree. Given by Norway since 1947 as a thank you for Britain's help during the second World War, this world-famous tree stands proudly in Trafalgar Square and is decorated in a Nordic style. Christmas carols are often sung round the tree during the run-up to Christmas Day.
St Pancras Station also puts up a huge Christmas tree which is usually one of the prettiest in London. Every day during December you'll find a choir singing carols by the tree.
There will be a host of other trees in London, part of the fun of December is in finding the best ones. Others of note are in Covent Garden, the Connaught Hotel, Claridge's and by Tower Bridge.
3. Charles Dickens Museum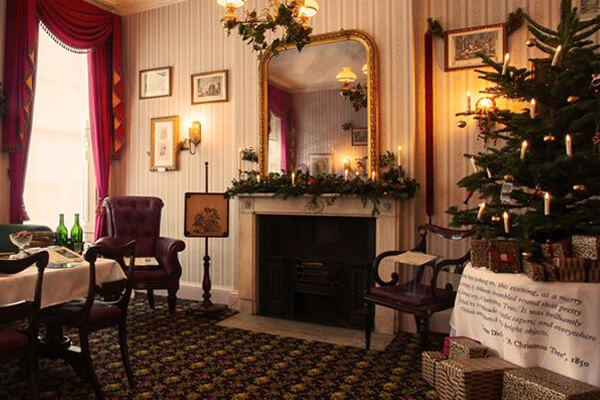 Image courtesy of Dickens Museum
Journey into Christmas past by visiting the Charles Dickens Museum at Christmas.
Special Christmas exhibitions include: Bah! Humbug! Mrs Cratchit's Christmas Tour, and Finding Father Christmas, a special family trail to find Santa.
Enjoy a glimpse into a Victorian Christmas. Bedecking the halls with holy and ivy and hidden surprises around every corner. Home to the Christmas Carol, where else can you visit the holiday spirit(s)?
Open Wednesday – Sunday 10am – 5pm, last entry 4pm. Adult £12.50, children (6-16 years) £7.50 and children under 6 years go free.
4. Kew Gardens Light Show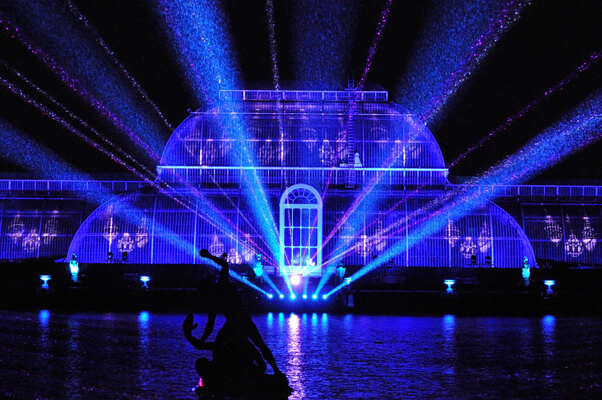 Image courtesy of Mary Shattock
Kew Gardens can take your breath away at any time of the year but when they create their now iconic light show over the Christmas season, things move to another level. Discover glittering tunnels of light, dancing lakeside reflections and trees drenched in jewel-like colour. Be entranced by the flickering flames in the fire garden, wander beneath fantastic illuminations and look for Father Christmas along the way.
Royal Botanic Gardens, Kew, Richmond TW9 3AE. Open selected dates 15 November 2023 to 7 January 2024 between 4.20pm – 10pm. Adults from £22.50, children (4-16 years) from £15 (off-peak and peak tickets available). Discounts available for families and Friends of Kew members.
5. The Royal Palaces at Christmas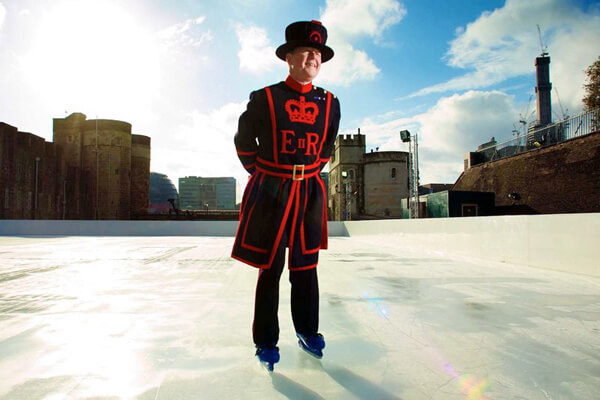 Image courtesy of Tower of London Ice Rink
With three Royal Palaces to choose from at Christmas you will have a hard time picking your favourite.
Hampton Court Palace
Hampton Court ice-rink
The famous ice-rink at Hampton Court Palace is back. Daily from 17 November 2023 -7 January 2024.
Festive fayre
Hampton Court Palace hosts an amazing Festive Fayre between 1-3 and the 8-10 December. At the historic Palace you can sample a huge range of festive food and drink created by artisans and watch live cooking demonstrations. Even join in with the sing along Christmas classics round the bandstand.
Christmas Festivities
Discover Tudor Christmas cookery and hear festive music being played between 1-3 and the 8-10 December.
Hampton Court Palace, East Molesey, Surrey KT8 9AU. Open 10am – 6pm. Adult £26.50, children (5-15 years) £13.10 and members go free. Book Hampton Court Palace tickets here to save up to 10% on single tickets and 33% on bundles.

The Tower of London
Christmas at the Tower
Christmas at the Tower offers a burst of festive joy and Royal Regalia to the iconic Tower of London with magical coronation-themed installations this festive period. 29 November – 3 January 2024.
Choirs@TheTower by MDBrunch
Enjoy a festival of choral singing over two days at the Tower, presented by MDBrunch. 2 – 3 December 2023.
Tower of London, London, EC3N 4AB. Open Tuesday-Saturday 9am – 4:30pm and Sunday-Monday 10am – 4:30pm. Book Tower of London tickets here to save up to 12% on single tickets and 33% on bundles. Adults from £33.60, children (5-15 years) £16.80.
Kensington Palace
The Luna Winter Cinema
What better place to immerse yourself in the big screen with iconic Christmas movies? than in the stunning surroundings of Kensington Palace? Experience iconic films from Elf and Home Alone to Love Actually and The Holiday on the big screen at Kensington Palace. 11 – 15 December 2023. Separate ticket required.
Kensington Palace, Kensington Gardens, London W8 4PX. Open Monday-Sunday 10am – 6pm. Book Kensington Palace tickets here to save up to 11%. Adults from £20, children (up to 15 years) £10.
6. Christmas Festival at Royal Albert Hall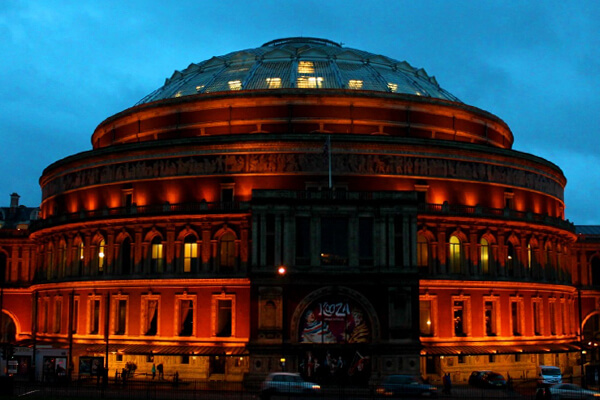 Royal Albert Hall has been celebrating Christmas for 147 years now and always has a wide array of entertainment to enjoy. Jazz, Opera, Big Band, Comedy, Theatre, Christmas carols, ballet and even a Charlie Brown at Christmas show.
7. Christmas carols and services in one of London's churches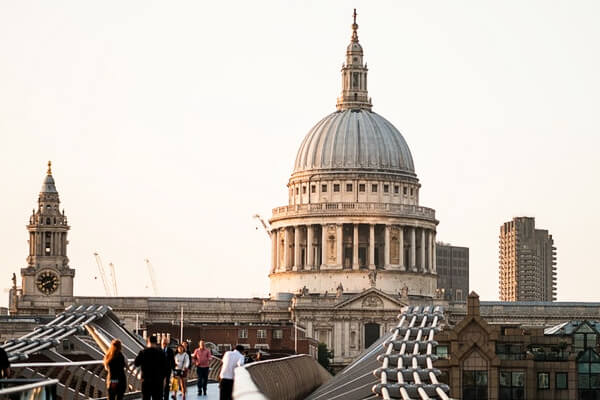 To celebrate the true meaning of Christmas, visit one of London's many churches and cathedrals to partake in the services and sing traditional carols. London is full of incredible churches that are sure to welcome you with open arms.
St Paul's is an icon of London and is extra special to visit at Christmas time. On Christmas Eve from 4-5pm you can attend the traditional service of Lessons and Carols, with music from the St Paul's Cathedral Choir. Tickets are free but need to be booked in advance. See the St Paul's website for details.
All Souls, the top of Regent Street, Oxford Circus is another well-known church you can go to to enjoy 'vibrant carols'. No need to book. 9.30 services particularly welcoming for families with younger children. Services run from 16 – 24 December.
St Martin in the Fields in Trafalgar Square is also another extremely well loved church for carol services, with a "magical selection of concerts on offer", including Carols by Candlelight concerts, and even special Carols for Kids.
8. Warner Bros Studio Tour London – Harry Potter: "Hogwarts in the Snow"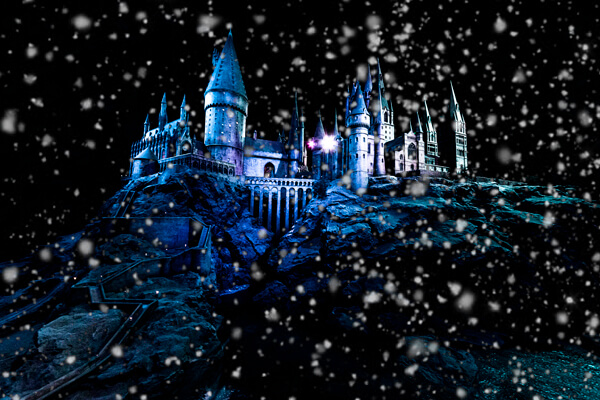 You can experience a magical Christmas at Hogwarts in the Snow by visiting the Harry Potter Studio tour this winter. Hogwarts will show you how they made snow and ice that never melts, the Great Hall will be recreated into the iconic Yule Ball, dripping in silver, icicles and snow. Specific sets of the film will be redressed in Christmas with unique props from the film and even the Hogwarts model will be sprinkled with snow. The kids are sure to love the magic of Christmas alongside the magic of Harry Potter.
Book Harry Potter Studio – Hogwarts in the Snow tickets
9. Ice Skating in London at Christmas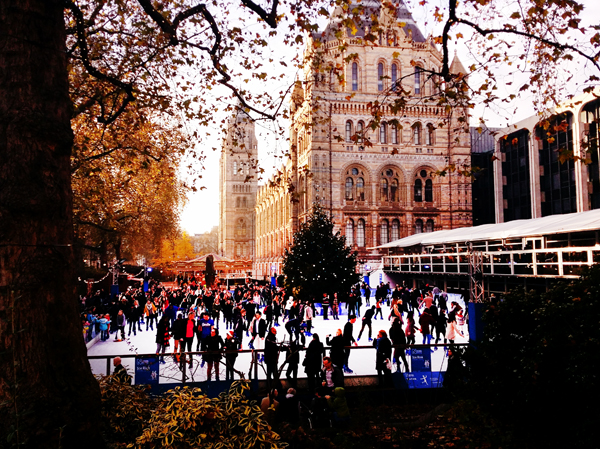 Nothing says Christmas is here more than the appearance of the outdoor ice-skating rinks in London. In recent years London has certainly delivered its fair share of ice rinks for the whole family to enjoy. You'll find a wide range of rinks across the Capital, but some of our favourites include the ice-rink at the Natural History Museum, Somerset House, Canary Wharf, Winterville, Winter Wonderland and Skylight where you can skate up in the stars and delight in views across the London skyline.
10. Winter Wonderland in Hyde Park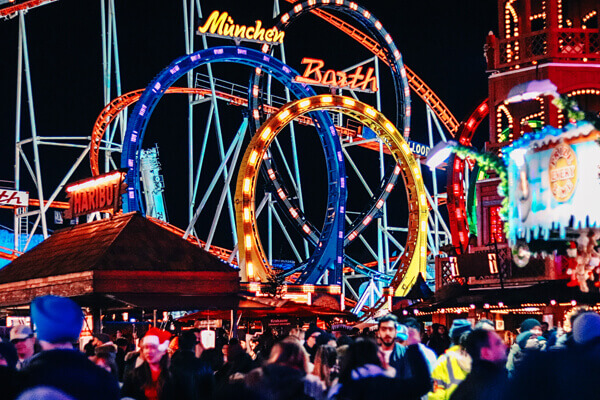 Winter Wonderland is exactly as its name suggests. It would be hard to list every attraction here as there is so much to do. Hyde Park Winter Wonderland offers a variety of attractions, activities, entertainment, food, drinks, and so much more.
Enjoy high adrenaline rides to family-friendly performances, classic festive treats to the newest in London's street food scene, and cosy fire pit bars to mythical ice kingdoms.
Winter Wonderland, Hyde Park. Open from 17 November 2023 until 1 January 2024 between 10am – 10pm, except Christmas Day. Tickets from £5 to enter, (off-peak tickets for free also available). Paid rides and special attractions.
11. Christmas at Shrek's Adventure! London
Shrek the Halls!
You can meet Santa along with Shrek and his Dreamworks friends this Christmas. Journey through 12 fairytale themed live shows where you'll meet Shrek and his friends. Then step into the magical swamp where Santa's grotto awaits. Kids get the chance to meet Shrek Santa and pose for a picture with him to mark the special occasion and are gifted a Christmas card included in the standard ticket price.
Book Christmas at Shrek's Adventure! tickets
Shrek The Halls is on selected dates in December: 2 -3, 9-10 and 16-24.
Shrek's Adventure! London is situated on the South Bank of the River Thames next to the Coca Cola London Eye, opposite the Houses of Parliament. The official postal address is Shrek's Adventure, Riverside Building, County Hall, Westminster Bridge Road, London SE1 7PB. Open every day of the week variable times between 10am and 3pm.
12. Christmas at the London Eye 2023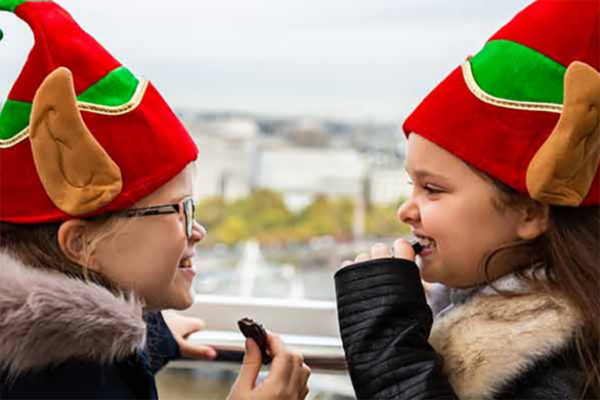 What could be more wintery than enjoying a fantastic London Eye flight over the stunning London skyline, watching the Christmas lights of the city after sunset from above?
Enjoy the famous London Eye light-ups: this year they include Santa Claus, Christmas Trees, Starry Nights and Snowscapes. Included in ticket price.
Plus: The Sky Candy Emporium – for a short time only in Decemeber 2023
This extra-special experience is running between 2 – 10 December at the London Eye. Explore the ultimate confectionary wonderland "The Sky Candy Emporium". Whilst soaring over the capital, indulge in a unique sensory chocolate experience and make your very own Up in the Clouds concoction that fizzes and magically changes colour in front of your eyes. Tickets £60 per person.
Book London Eye tickets including Sky Candy Emporium from £25.50 for normal entry.
The Coca-Cola London Eye is situated on the South Bank of the river Thames, opposite the Houses of Parliament. The ticket office is located inside County Hall, which is the building directly next to the London Eye. It is open weekdays 11am to 6pm, weekends 10.30am – 8.30pm. Closed Christmas Day.
And as we are all on the good list this year, here is a bonus to add to the Christmas events in London list, just for Christmas Day itself:
Peter Pan Cup in Hyde Park, swim in the Serpentine on Christmas Day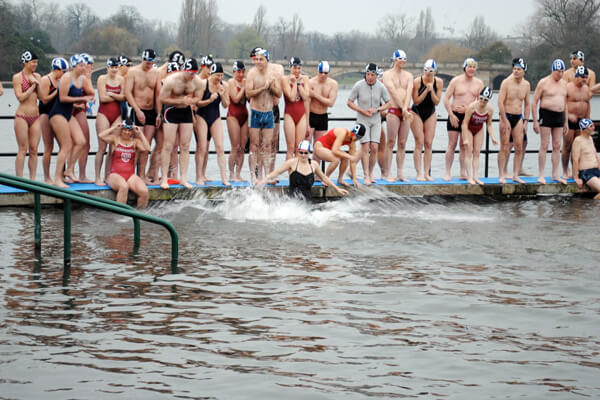 Image courtesy of Serpentine Swimming Club
If you have celebrated Christmas Eve late into the night, then a beautiful morning walk should see you set up for the Christmas day ahead. Why not take that walk in Hyde Park and watch the brave souls swim in the Serpentine for the Peter Pan Cup. Started way back in 1864, the Peter Pan Cup was added in 1904 when J.M Barrie author of Peter Pan donated the trophy. The water will be extremely cold so only qualified swimmers from the Serpentine Swimming Club are allowed in, but you can watch them from 9am and lift their spirits and temperature with some well-earned applause.
Please do share your experience of Christmas events in London with us at London Toolkit in the comments section. We'd love to hear from you. If you've taken any pictures over Christmas just use the hashtag #londontoolkit in your social media feed for a chance to be featured.
Find out more…
Top 10 London Christmas markets
Christmas in London
London for kids and families
Harry Potter attractions in and around London
Best 10 free things to do in London
Top 10 London markets you must visit
Free museums in London
Free art galleries in London
London's theatres
London's Royal Palaces
Shopping in London
London public transport explained
Where to stay in London