Experiencing a private Cotswolds tour
 
Enjoy a private Cotswolds tour
When we were invited by one of our partners, International Friends Travel, to sample a private Cotswolds tour, the whole team jumped at the chance. What could be better than being driven around by an experienced and highly knowledgeable guide, exploring the beauty of the Cotswolds villages in a relaxed format?
The tour started with a pick up from London early in the morning, at the time of our choosing. One of the luxuries of having a private tour is the ability to be picked up at a convenient spot (i.e. your hotel) when you want, rather than making your way to a meeting point at a set time.
The glorious summer we'd been experiencing in England decided to take a day's holiday and we were greeted by a rain filled windscreen on the 2-hour drive to the Cotswolds. This would be a good test day. If this tour is still interesting and enjoyable in typical English weather, then it would be a great tour to take any time of the year – and we weren't disappointed, it was.
Smaller vehicles enjoy easier access to the Cotswolds
The drive into the Cotswolds, though wet, was as comfortable as you could wish. Our people carrier vehicle was spacious, easily fitting eight people, air-conditioned and the seats were falling asleep comfy. For slightly larger groups, International Friends also offer a 16-seat small bus. Depending on the numbers booked on this guided Cotswolds tour, you would either be in the 8 seat people carrier or 16 seat small bus. The real benefit of this style of transportation over the larger coaches was the speed of drop off and collection with less people on board and the ability to navigate the smaller country lanes – something the larger coaches can struggle to do.
An additional benefit was that we could plan our route to see what we wanted to see and not follow a specific itinerary. This is something International Friends would help you with before your trip, so you could tailor it exactly to your needs. You could of course trust your driver and ask them to just show you the highlights. It is up to you. For our part, we left ourselves in the capable hands of David, our driver guide, who was happy to stop along the way to have a look at anything that captured our imagination outside the window.
In the Cotswolds, there is a lot that will capture your attention out of the window. It is such a beautiful area.
About the Cotswolds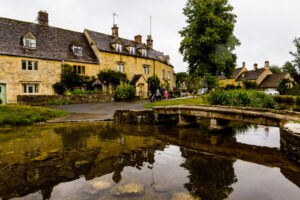 If you can imagine a triangle between Oxford, Bath and Stratford, that would be the Cotswolds. It is some 800 square miles, so you are never going to see it all in a day. Every village has a church, a school and a mill.
Map of the Cotswolds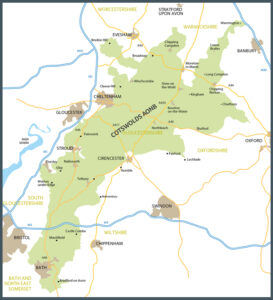 Map courtesy of Cotswolds – Area of Outstanding Natural Beauty official website
In the past, it was really a wool driven economy that ran the Cotswolds. The Cotswold Lion was the breed of sheep brought over by the Romans, whose weavers also fled persecution and arrived in the Cotswolds. This is why there are so many mills in the Cotswolds. Now though the cost of wool has made it such that farmers will actually burn the wool rather than process it, as the cost of processing it is so prohibitive. You will still see sheep filled fields though, but these are bred for food and not for their wool.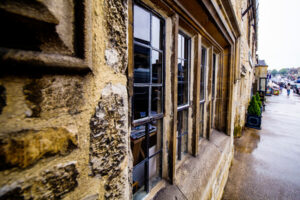 There are so many places to visit in the Cotswolds, so if like us, you sometimes lament the ruins of progress you'll be pleased to hear that the Cotswolds has not become modern in any real sense of the word. The houses are still stone built and though most visitors expect to see thatch cottages lining the roads, the actual true Cotswolds houses use authentic stone tiles for roofing. Each small road is lined with stone walls, though it is easy to see how the lack of wool farming has changed the area. These stone walls are becoming increasingly reclaimed by hedgerows as farmers no longer need to repair them to keep the sheep in all their fields.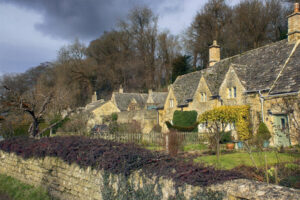 The Cotswolds is an area of outstanding natural beauty. Ask anyone about the Cotswolds and they will tell you how it is such a pretty and quaint area filled with picture postcard villages. It is no wonder it has become such a big attraction, especially for visitors wanting Cotswold day tours from London. This is the England of old and it is easy to imagine how life was in the past as you walk the streets.
Burford
Our private Cotswolds tour started the moment we entered the Cotswolds. Looking out the vehicle window you already get a real sense of the beauty of the area. Our first stop was the picturesque village of Burford. This is famous visually for its high street, that climbs a hill and is flanked on both sides by some beautiful buildings. Burford is a great place to stop for a coffee and to do some shopping. Walking down the side streets you'll find classic Cotswold buildings like its gorgeous church and start to immerse yourself in the beauty of the area. It is a great introduction to what Cotswolds was and what it has become.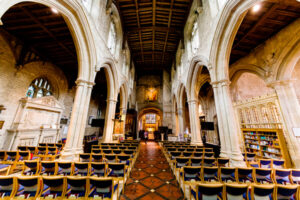 As with most areas of interest these days,the financial gain from tourists has overtaken old ways of living but the Cotswolds understands its heritage and does not feel overly touristy.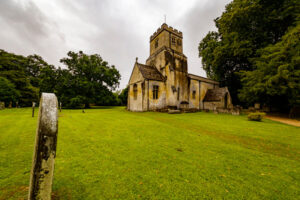 Our driver guide David gave us roughly 20-30 minutes in each village, which allowed us to have a walk around and see the sights. With a small group Cotswolds tour, there was no feeling of real deadlines to be back by either. We were in a small group and could please ourselves, within reason. It would be easy to lose track of time in this scenario, so it is worth knowing the places to visit in the Cotswolds beforehand and have your planned itinerary, so you do not miss out on any Cotswold villages by staying too long in another area. This is where you appreciate having an experienced guide – if he says it's time to go, it's time to go.
Bibury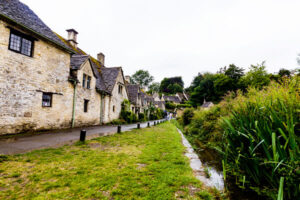 Following the Coln river, we left the beautiful Cotswold village Burford and made our way down the small country lanes towards Bibury, famously coined as the prettiest village in England by William Morris. This is where Arlington Row proudly stands. It is a row of houses so beautiful and so quintessentially English that they adorn the British passport. Here we walked along the river, crossing the small quaint bridges and up into Arlington Row. This is a hotspot for photographers and is a great place to stretch the legs and enjoy some stunning views.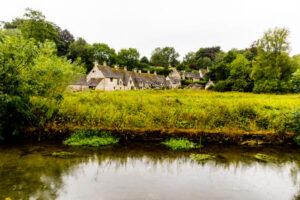 Bourton-on-Water
Next up was Bourton-on-Water. This is one of the most well-known of the Cotswolds villages and according to David, can become very busy. Visitors and locals can fill up every space alongside the river on hot summer days. The shallow river that runs through its heart would also be filled with kids and bathers almost every day.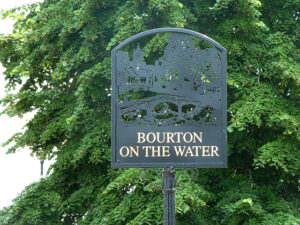 Image courtesy of Ian Stedman
As it was grey and wet today, we did not get to witness this spectacle, but it was easy to see why Bourton-on-Water is such a popular destination on any Cotswolds tour. I likened it to a promenade where people watchers would enjoy a coffee and just relax in the beautiful surroundings. Bourton-on-Water is busier than some of the smaller Cotswold villages so there are more shops to explore, places to eat and it would be easy to lose a few hours here any time of the year.
Historic river football match at Bourton-on-Water
On August bank holiday Monday every year at 4pm, a football match takes place in Bourton-on-Water. This will be unlike any football match you will have ever seen. This typically quirky English event matches players from Bourton Rovers FC first team against their reserve team and takes place in the River Windrush. This is only 6 to 10 inches deep. Goals are set up along the river roughly 50 metres apart and both teams play a professionally referred match in the river itself. This tradition has been going on for over 100 years and brings in crowds of thousands from all over the world. One for the diary.
The Slaughters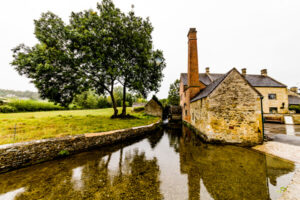 Leaving Bourton-on-Water, we headed along the country lanes towards Upper and Lower Slaughter. These Slaughter's names are derived from 'miry place' and share the same tributary of the River Windrush, the tiny River Eye. This small river winds its way through the very beautiful streets that have been featured in many films over the years. A small village but essential viewing. Walking the street and river only took a few minutes but we still managed to come back to the people carrier a little late, perhaps lost in the ambience of relaxation and looking for even more pictures to take.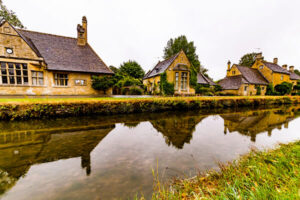 The large coaches are banned from driving into either Upper Slaughter or Lower Slaughter, it is rare to see them here. When they do venture in, they drop off their passengers outside the village and they then walk down, explore and are picked up afterwards. On our private Cotswold tour we were able to drive into the villages and were dropped off by the river (this is a unique advantage of the private tours). This made our stroll around a little more leisurely.
Stow-on-the-Wold
This is arguably the most famous of all Cotswolds towns. It has 2000 residents and is a market town. It is also the highest of the Cotswolds towns standing on Stow Hill at a junction of seven major roads. Stow-on-the-Wold was famous for its annual fairs where a huge amount of sheep, chickens and goats would be walked into town and sold during the wool boom years. It has a large market square which is surrounded by fine antique shops, galleries and gifts and crafts shops.
The town square
In the square, a large town hall stands, almost out of place. This building is Victorian gothic in style, so if you think Adam's Family, you won't be far off. It is a perfect place to stop and pick up a unique memento of your time in the Cotswolds or relax over some food and drink.
We could have stayed here and enjoyed our lunch but David recommended a lovely old English pub and we were glad he did. We spent a lovely couple of hours in a quintessentially Cotswold English pub complete with resident ghost. This old pub, The Mill Inn had just as much history as everything we had visited in the morning. Its beams were made from old ship masts and it just oozed history from every wooden pore. The resident ghost sat in a chair by the fireplace and the pub served classic English pub food. An ancient and famous chicken in a basket was the main menu draw here.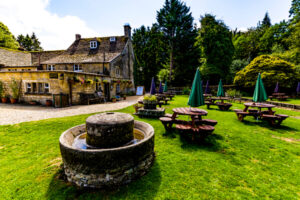 And this is where our taster private Cotswolds tour ended. A wonderful relaxed English pub lunch amongst new friends who had just visited one of the prettiest areas in all of England.
Our private Cotswolds tour from London allowed us a great deal of flexibility. We were able to tailor the tour to what we wanted to see and for how long. The other small group tours to Cotswolds run by International Friends will have different itineraries to the taster private tour we experienced.
This is because we were on the private Cotswolds tour and were able to decide our pick up point and time, agree beforehand a schedule of the day, allowing us to visit all the areas we were interested in. We we also able to choose the level of guide we required. We could of just opted for a knowledgeable driver to drop us off at each village and pick us up after a set time but we opted for a more experienced driver guide to give us that bit more insight into the areas we visited.
One final point worth noting is that the private tours can have a cost comparable to the public tours so you really can experience value for money with this kind of private tour.
At the end of our Cotswold tour we were driven back into London, most of the passengers having a well-earned snooze or checking all the pictures they took.
Would we recommend this tour?
The Cotswolds is a stunningly beautiful place and any tour here will not disappoint. It can get busy, especially in high season but it will never be too crowded to enjoy. As we discovered even on a grey, rainy day it still lives up to expectations.
A private tour to the Cotswolds from London is a great option for small groups of 8 or 16 with its comfort, flexibility and speed of drop off and pick ups making it well worth the investment. Everyone on the tour enjoyed experiencing why the day trip to the Cotswolds from London is so popular. We all want to visit the Cotswolds again, perhaps in the sunshine next time or to even watch the river football match.
Ready to experience Cotswolds?
Enquire about a private Cotswolds tour like the one we had, or you can look at the small group Cotswolds tour and discover the other Cotswolds tours we offer.
Find out more:
Detailed information on the Cotswolds
Discover our Oxford tours
Explore our range of Bath tours
Be swept up in historic Windsor
Short breaks outside London
Day tours outside London