Vintage London red bus tour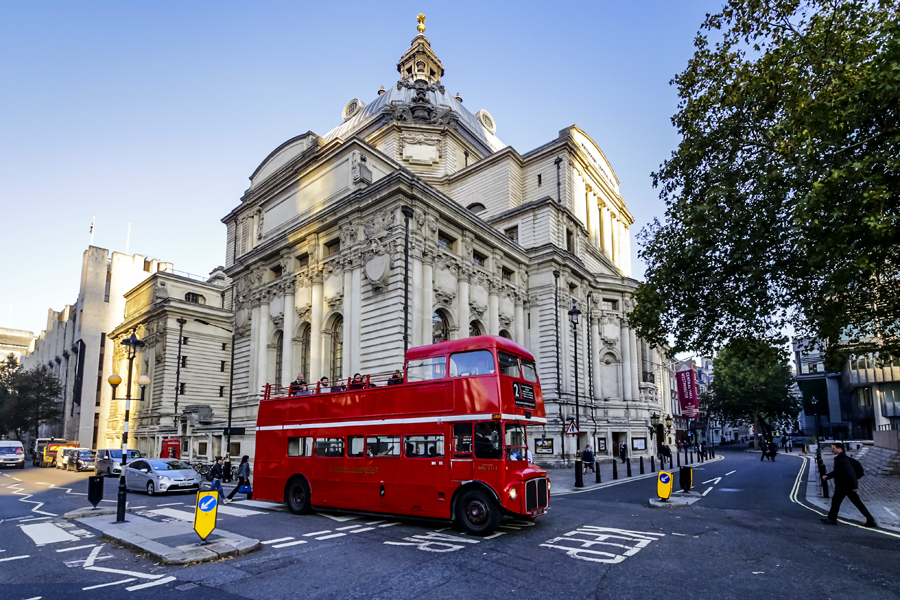 Open top vintage London red bus tour
A vintage London red bus tour already sounds incredibly appealing before you factor in the actual attractions you will get through in your morning or afternoon tour.
After all there are not many more iconic representations of London than the red double decker bus.
Vintage London red bus tour departs from Victoria coach station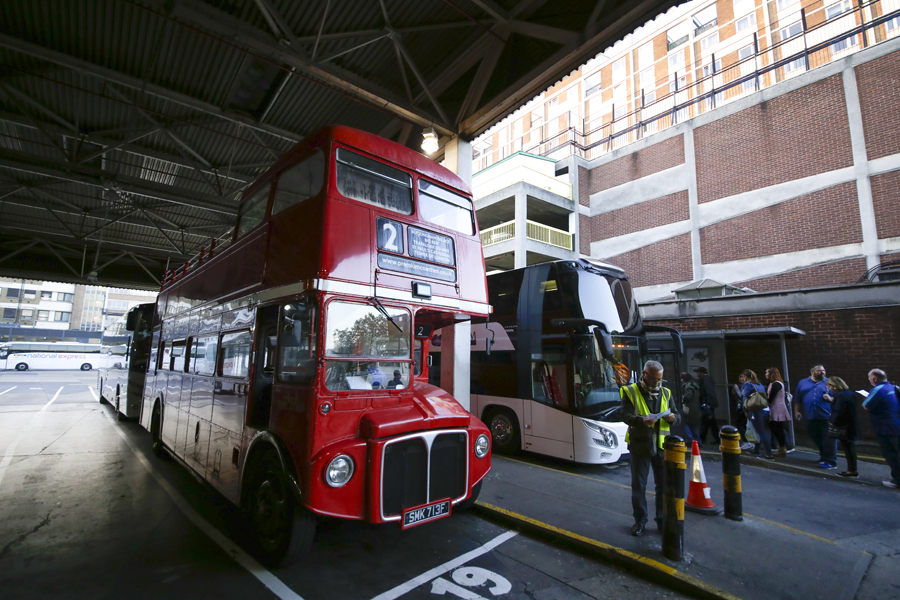 When I arrived at Victoria coach station, it was cold, as is usual for London at 7.30am on an October morning. Finding my platform for departure was easy, although at 7.30am the station is busy, particularly with tourists boarding coaches to Stonehenge, Bath and other destinations around London.
My transport for the day stood out like a beacon from the rows of white luxury coaches, with digital displays foretelling their destination. A vintage red bus glinting in the sunlight, roof open to the elements with the words London on its front. The forecast for the day was actually for sunshine and a balmy warmth, the last day of summer arriving a little late. I was though glad for my extra layers when all of us immediately made our way to the top deck to enjoy the views as we left Victoria coach station.
First stop, Westminster Cathedral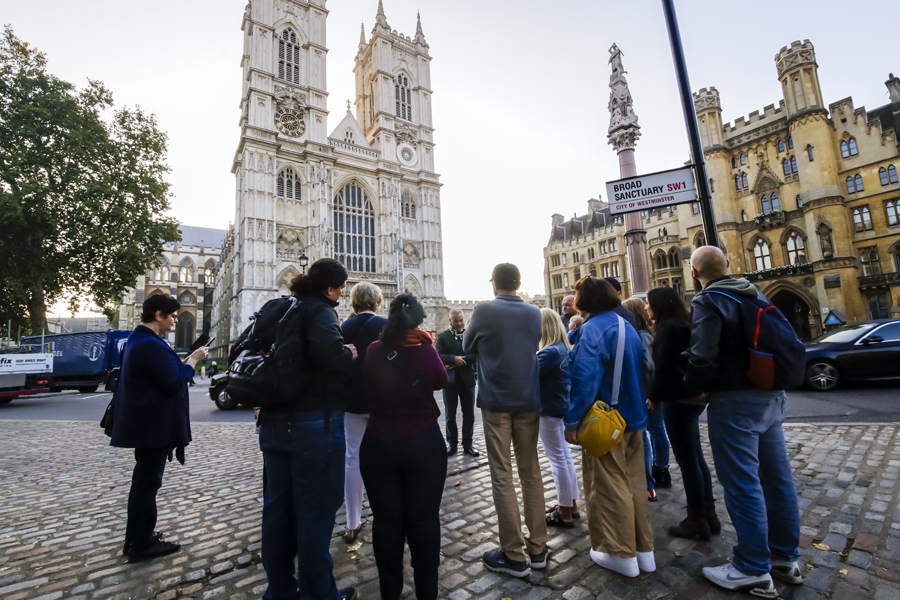 A crystal blue sky greeted us as passers-by turned to look at the iconic bus and a cold early morning wind woke us all up. Our tour guide Gavin immediately started the tour with some humour and points of interest as we left Victoria coach station and headed towards Westminster. Although the rush hour had started in earnest, the roads were relatively quiet, and the bus made its way easily to the first of our stops at Westminster Cathedral.
Here we got to walk across to the beautiful Cathedral and the tour guide told us some of its history and was happy to take pictures of the couples and families so they could get a picture together in front of the Cathedral. This stop was a short one and you do not actually go into the Cathedral, you just get a snippet of history and a nice view from the outside.
Sun rises over the Houses of Parliament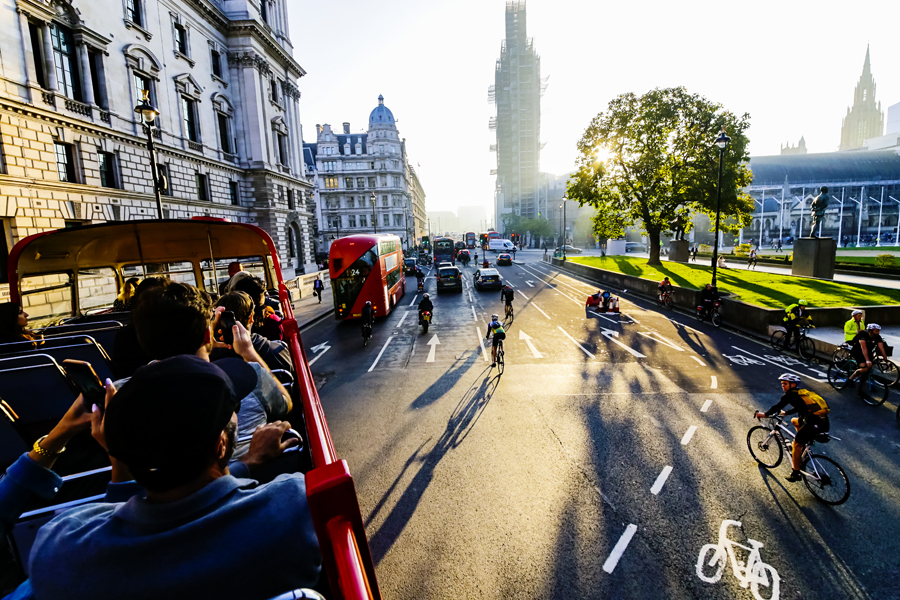 Back on the bus, we headed towards the City of London via Parliament Square. Big Ben is currently shrouded with scaffolding but still looks imposing with the sun rising up across the Thames from behind. Turning away from the Houses of Parliament we headed towards Trafalgar Square and Nelson's Column.
Full 360º views of London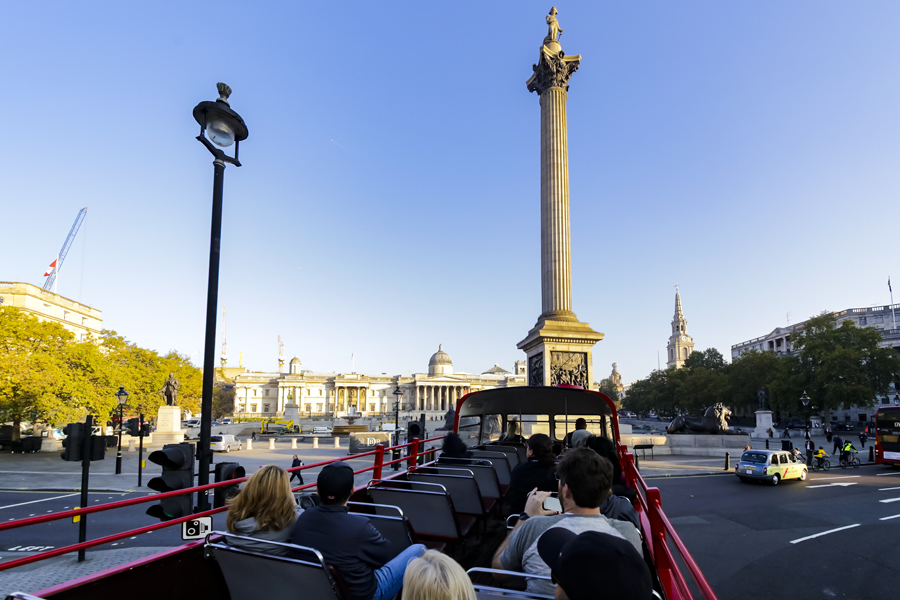 One of the benefits of the open top bus on a nice day were the views. Full 360º views of every attraction were possible with no window frames or glass to distract. If it had been raining, things may not have seemed quite so rosy and downstairs undercover would have no doubt been fuller. The added height from the bus also gave a unique viewpoint to look at attractions and to take photographs that you would never see from walking at street level alone.
Knowledgeable guide on hand throughout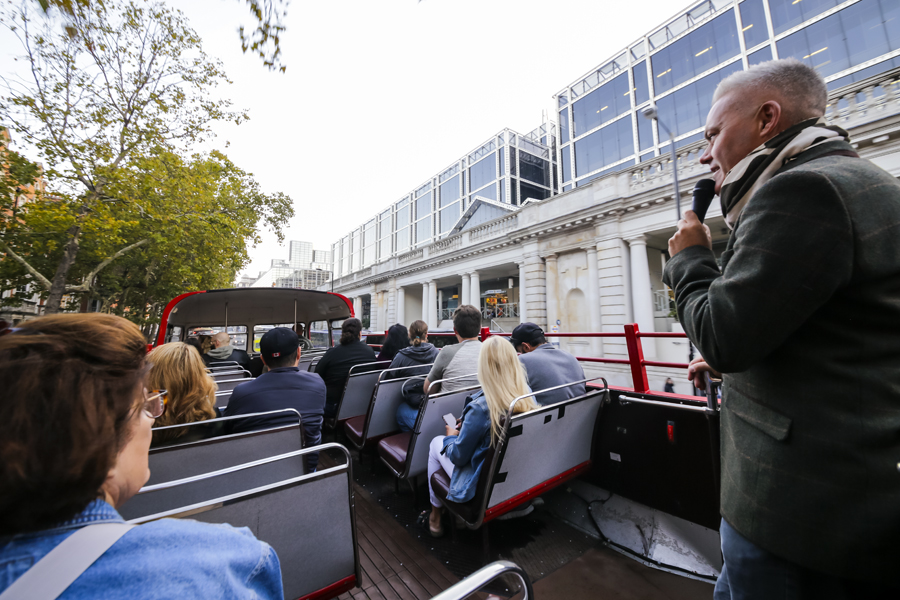 Our knowledgeable guide kept the history tour going throughout with small snippets of information about pretty much everything the bus drove past. Fans of discovering the where and whys of London will be very happy on this tour. Entering the City of London, we started to encounter the commuters, all making their way to work in droves. Iconic buildings loomed above us in the distance and everywhere you looked there was a point of interest. Driving through London could be considered one of the last things you want to do, especially at rush hour but on this vintage London red bus tour it was turning into a real pleasure.
As this London bus tour is more about seeing the sights, rather than exploring them, you sometimes feel you can drive past too quickly. It should be considered more of a teaser tour visually. Seeing St Paul's dome reflecting the sunlight certainly created the mental note to visit properly afterwards.
Flexible stops if traffic is light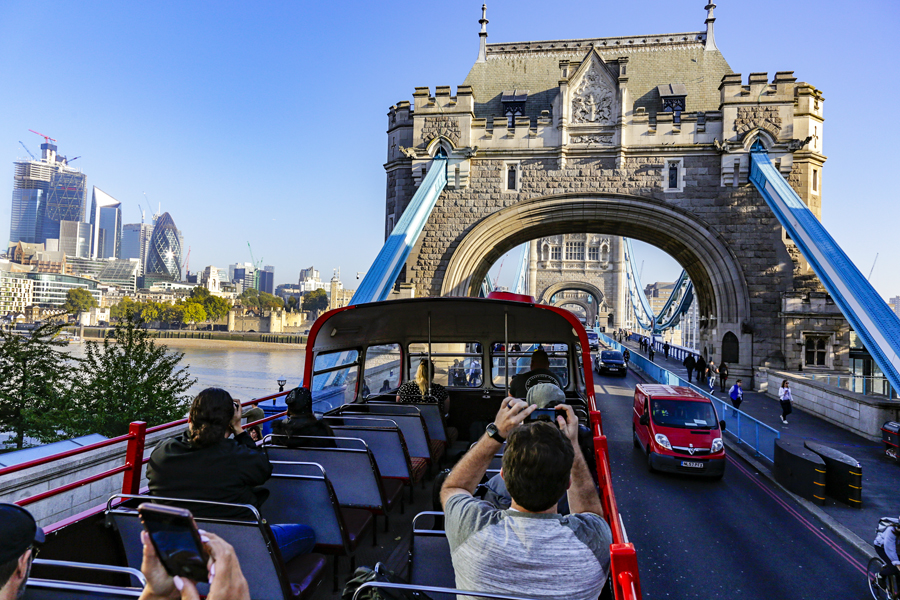 Today our tour was running slightly early, so we did get a bonus stop and got to stretch our legs and walk through the city skyscrapers and towards the River Thames. Here we were greeted by Tower Bridge to our right, the Tower of London opposite and HMS Belfast right in front of us. A real bonus having our guide and driver knowing some shortcuts, so if the opportunity presents itself it seems to be taken.
Changing of the Guard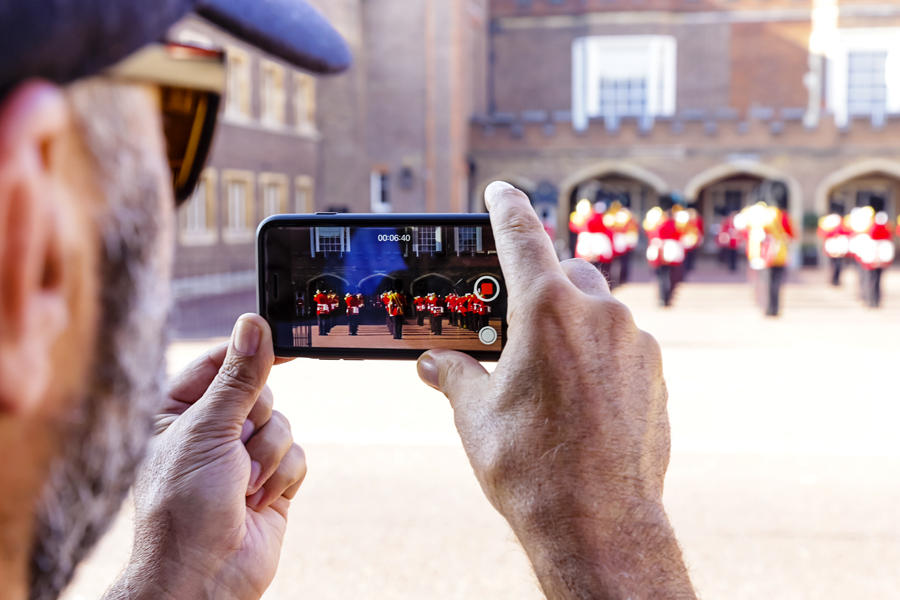 After travelling over Tower Bridge and seeing the Tower of London, the bus made its way back towards the centre of London for its second scheduled stop. This was so we could walk the rest of the way to Buckingham Palace and see the changing of the guards. This is not that short of a walk and although welcome in terms of stretching your legs, if you have trouble walking longer distances you may want to consider an alternative tour. In our group we had an elderly couple who did lag behind a little bit but still managed to get around fine. This is also the designated place for a rest room break.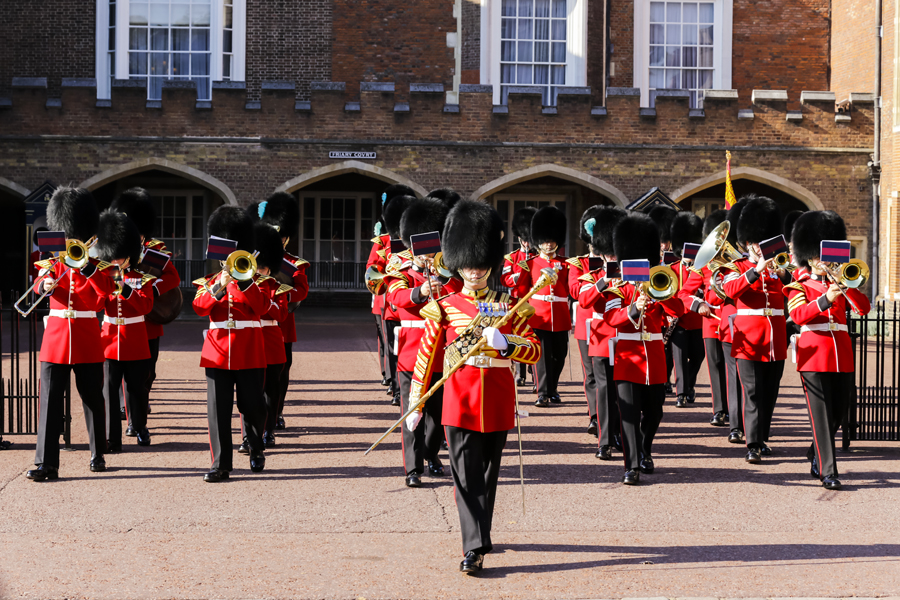 We actually did not go to Buckingham Palace for the changing of the guard where we were told the crowds could be twenty deep, instead we went to the much quieter and more intimate setting of Friary Court (St James's Palace). Front row standing was the order of the day and this is a British spectacle that is not to be missed. A perfect opportunity for some great pictures without the crowds more common at Buckingham Palace. We also got to see and hear the band too.
Beautiful 40-minute River Thames cruise included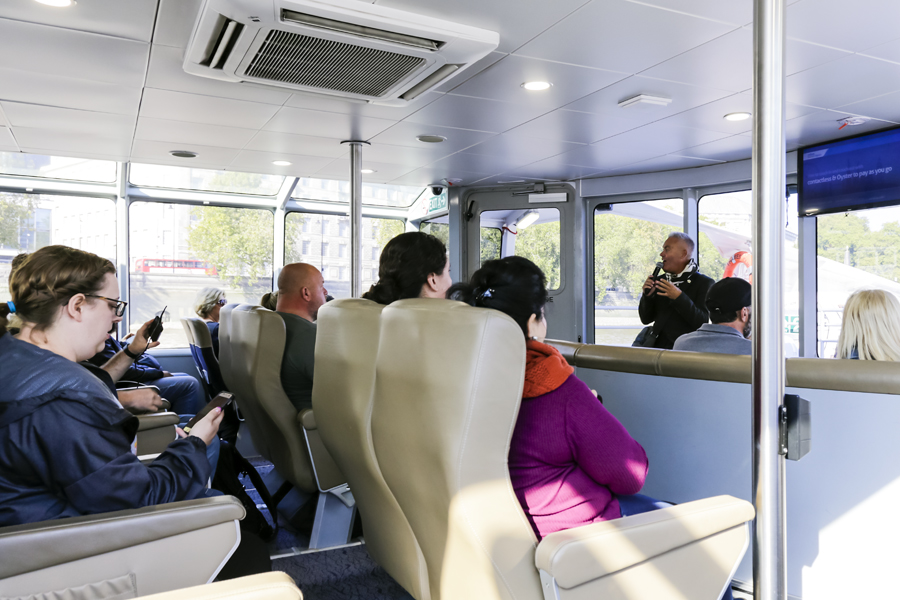 Once the changing of the guard was over, we walked through St James's Park, skirted around Buckingham Palace and got back on the bus in one of the side roads. Our final destination was back to the Embankment and the River Thames where a river cruise boat awaited to give us a roughly 40-minute round trip up to St Paul's Cathedral and back again. This is a great opportunity to see London from the river, my only issue here was it was all undercover. I would have much preferred access to an open deck for pictures, especially as it was such a lovely day, an open deck would match better with the open top nature of the bus tour too.
Once docked, we got back on the vintage London bus and made our way back to London Victoria coach station, where the tour ended.
Vintage London red bus tour conclusion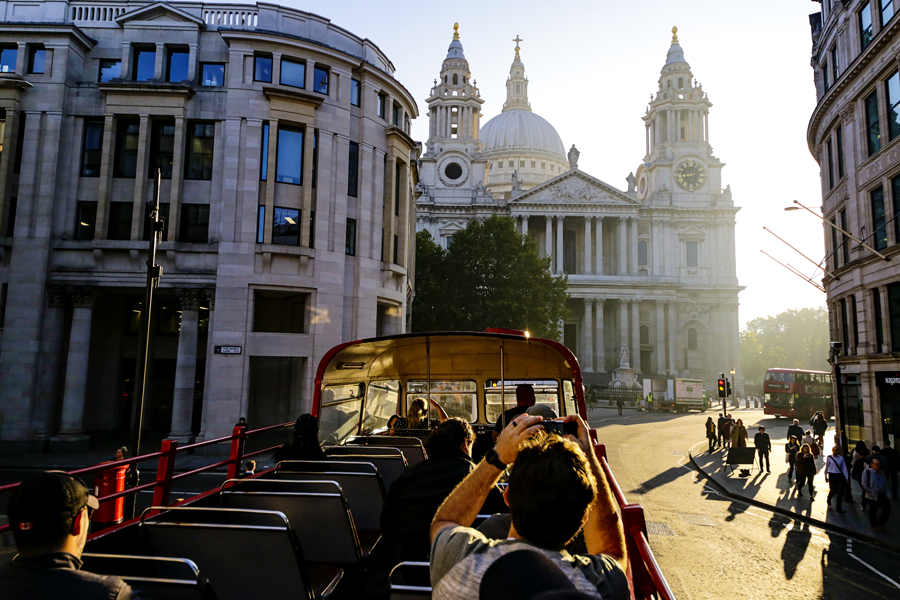 This is a great tour to familiarise yourself with London and learn some very interesting details on the history of its iconic buildings and attractions. The vintage London red bus tour allows you to feel like you a part of London, with people on the streets taking pictures of you as well as you of them.
Loving photography as I do, for me the open top nature of the bus gives you such a different view of the city, one it is difficult to imagine you could get any other way, so this is a highlight for me.
The changing of the guard watched from the quieter location also made me realise this is a tour that knows how to give everyone the best experience it can in the shortest amount of time.
If you like the idea of travelling on an iconic old bus through city streets and past historic buildings and just stopping twice or maybe three times, if you are lucky, to have a brief exploration, then this is a great tour to take. It is the kind of tour that gives you a really good overview, great picture opportunities and helps you decide on the areas of London you want to focus on in detail yourself or on other tours.
Vintage London red bus tour details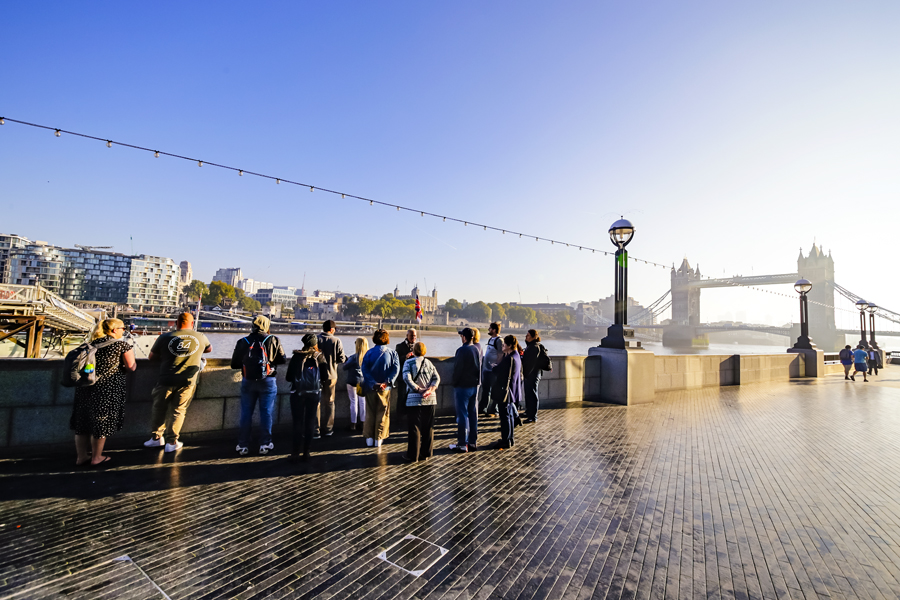 This tour costs £25 for an adult in the winter months and £28 from April 2019. Child prices are £19 & £22 respectively. Senior and student discounts apply and are £23 and £26 respectively.
The morning tour includes the visit to the Changing of the Guard, the afternoon tour does not. If it rains the operator reserves the right to put on a closed top bus instead but do prepare for the possibility of rain as it will run open top most days.
Morning tours currently start at 7.45am from London Victoria coach station, this changes to 8.15am in April 2019. The tour lasts approximately 3.5-4-hrs. Afternoon tours start at 1pm.
You can expect to see views of Big Ben, the Houses of Parliament, Trafalgar Square, St Paul's Cathedral, London Bridge, The Shard, Tower Bridge and the London Eye as well as lots of other smaller points of interest.
The tour ends close to the London Eye where you can alight if you wish or take the bus back to Victoria coach station.
Book vintage London red bus tour now

Full details of vintage London red bus tour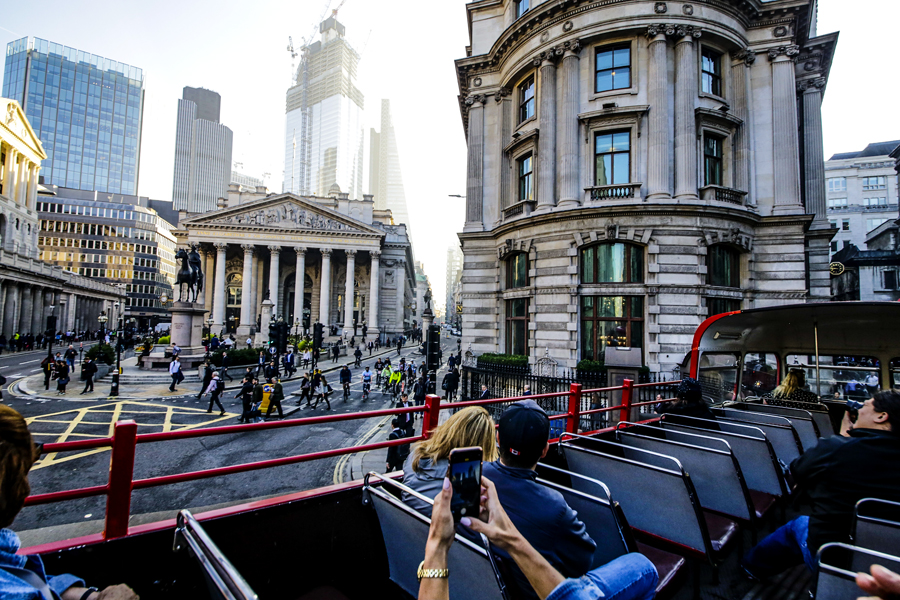 Please do share your experience of London with us at London Toolkit in the comments section. We'd love to hear from you. All images are copyright of London Toolkit.
Find out more…
Vintage London bus tour and VIP London Eye flight combined
London for kids and families
Best 10 free things to do in London
Free museums in London
Free art galleries in London
London's theatres
London's Royal Palaces
Shopping in London
London public transport explained