Stansted Airport Bus by National Express into Central London
24x7 Shuttle, Stansted - London Victoria Service With Fares / Times & Comparison to Alternative Coach Services
The Stansted Airport Bus run by National Express offers a high frequency shuttle service operating 24 hours per day, seven days a week to London Victoria. This is a stopping service making several stops at key London Underground stations Golders Green, Baker Street and Marble Arch.
This Stansted Airport to Central London service runs at least every 30 minutes through the night,3 to 4 times an hour during the day making it the most frequent and truly 24x7 Stansted Airport service.
The National Express Stansted Airport to Central London service is one of three National Express services between Stansted Airport and Central London.
National Express Stansted Airport Services To/From Central London.
Stansted - London Victoria - 24x7 service with stops in the centre of London convenient for many of the main hotel districts. Frequency of 3 or 4 coaches an hour, reducing to 2 an hour in the early hours of the morning.

Stansted - London Liverpool Street - 24x7 service terminating at Liverpool Street Station in the City of London business district, a cheaper alternative to the Stansted Express train. Frequency of 2 coaches an hour.

Stansted - Stratford - 24x7 service terminating at Stratford outside the centre of London, (avoiding potential traffic congestion delays). Choice of Underground lines into London and close to London Docklands. Frequency of 2 coaches an hour.
However, the National Express buses do not have a monopoly on the Stansted - London bus routes. Stansted Citylink offer a similar service to National Express with a London terminus at Kings Cross / St Pancras.
easyBus run two services to the Angel Islington and Baker Street with small buses, lower luggage allowances and a low cost airline approach to ticket prices.
Stansted Airport

Transfers To/From London

Airport Train Service

National Express Airport Buses To

Other London - Stansted Bus

Private Cars & Charter Vans, Coaches

Airport to Airport

Stansted Airport Hotels

Long Term Car Parking

Stansted Airport
London Transfers
Airport Train
National Express Airport Buses To
Other London - Stansted Bus
Private Transfers
Airport To Airport
Stansted Hotels
Car Parking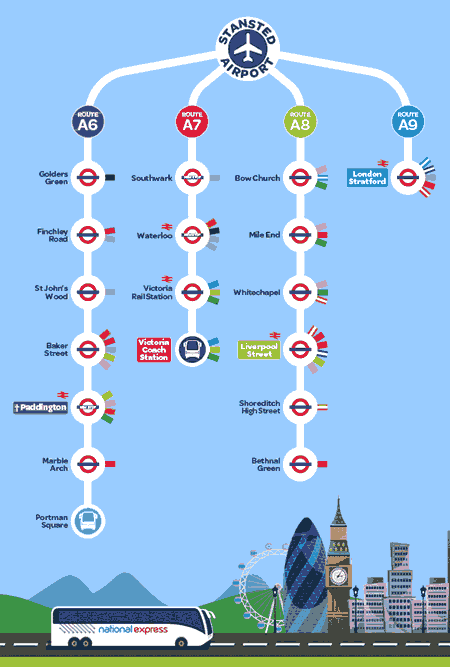 National Express Stansted Airport Bus Stops
National Express Stansted - London Victoria Service
Is this the right airport bus service for you?
The National Express Stansted Airport - London Victoria service is the only Stansted transfer service that goes through many of the major hotel districts in Central London.
The coach runs through Edgeware Road, Baker Street, Marble Arch and ends at Victoria, all major hotel districts. Paddington and Bayswater hotel districts are close by the Marble Arch and Baker Street stops.
If you are staying in one of these areas then the Victoria - Stansted National Express service is the obvious benchmark to compare alternatives against.
For any other transfer option you would need to take the Underground across London to the starting point of an alternative.
The only real negative of this service is that you are more exposed to traffic congestion delays than other airport buses as the bus travels through Central London.
Avoiding The Risk Of Traffic Congestion Delays By Going To Stratford?
A lot of locals minimise the risk of delays through traffic congestion in the centre of London by just taking the bus from Stansted to Stratford.
Stratford is near the end of the motorway/freeway grade road from Stansted just before you enter the urban area of Central London.
By taking a Stratford service and walking straight onto the London Underground at Stratford you can avoid most of the probable traffic bottlenecks in the centre.
National Express Stratford - Stansted Service - Full Details
National Express Victoria Bus Service Operating Hours / Journey Times
The National Express Victoria Bus Service broadly run every 30 minutes through the night and every 15-20 minutes during the day, 7 days a week.
Journey time is scheduled between 80-115 minutes depending on travel time for the entire journey end to end, Victoria to Stansted. The differential in time reflecting estimates of delays through road congestion at the time of day travelling. So do give yourself plenty of contingency, especially going to Stansted airport so you do not miss your flight.
National Express Variable & Fixed Fares
The cheapest tickets are on-line in advance from the National Express web site, (link below). The further you can book in advance the better chance you have of obtaining the lowest fare called a Funfare.
You can also buy tickets on the day at the National Express ticket desks and ticket machines in the coach station at Stansted Airport and Victoria Coach Station, subject to seat availability.
If you book on-line you are also guaranteed a seat on the schedule you select, turning up on the day to buy a ticket you are not.
For on-line reservations there is also a £1 booking fee per booking, (not person).
It is recommended booking a service at least 90 minutes after the arrival time of your flight.
Group Discount (For 3 people or more)
If you're travelling on the National Express Liverpool Street or Stratford services in a group of three or more, you can save 25% on standard fares when booking as a group.
To take advantage of this offer, simply book your seats at least one day in advance.
Ticket Formats
The easiest and cheapest option is to use e-tickets, where you simply print your ticket after purchase.
There are alternatives, m-tickets sent to your mobile incur a small surcharge, the same surcharge for collecting tickets from a ticket office. Tickets can also be mailed to you for a larger surcharge.

What If My Flight Is Late?
Allow 90 minutes from flight arrival time to any airport bus departure.
When you reserve a ticket, you reserve a seat on a specific schedule. So what if your flight is late and you need to change your coach schedule.
You have three options:
If you can contact National Express before the time of departure of your schedule you can get the ticket amended for an administration fee.
Another option is to simply pay a £5 "Flexible Add On" fee at the time of reservation which allows you to:
- Board any available coach 12 hours before or 12 hours after your original departure time.
- Amend your ticket to a new departure date - free of charge.
- Obtain a refund on your ticket, when cancelled up to 24 hours before departure.
This option is not available on the cheapest Funfare fares.
The last option is to purchase a fully flexible fare which is more expensive.
National Express Stansted Luggage Allowance
You can carry two medium-sized suitcases - weighing up to 20kg (44 lbs) each - plus one small piece of hand luggage per person. Drivers loading the baggage do not weigh bags.
Customers will be permitted to pool their individual allowances if they are travelling in a group or as a family, but they must be travelling on the same ticket.
Over this allowance and steep excess luggage charges kick in.
If you need to take extra luggage on your journey, this can be arranged either in advance or on your day of travel when you arrive at the coach station. However buying your extra luggage on-line in advance is much cheaper.
Stansted & London Boarding Points
Finding the buses is very easy and straight forward. In front of Stansted Airport's passenger terminal is a very large bus station. All the London buses are lined up with their own bays. There is a waiting room and somewhere to get a coffee and snacks. When you come out of the customs area, just look up and follow the signs downstairs to the bus station.
The terminus in London is at Victoria Coach Station.
Victoria Coach Station is just a like a busy regional airport. Coaches leave every couple of minutes, there are airport style departure screens and departure gates where you board the coach.
There is a full list of facilities including a useful left luggage office.
From Victoria the bus makes stops at Marble Arch and Baker Street which are much closer to the major hotel districts of Paddington, Bayswater, Lancaster Gate and Oxford Street than other Stansted public transport options. The first stop from Stansted, Holders Green is away from the centre. Some people prefer to get off here and straight onto the Underground if they are travelling at peak times when there may be traffic congestion.
London - Stansted Fare Comparison of Public Transport 2016


Service

Standard Adult Fare

One-Way

Return

£19.00*

£32.00*

£16.00#

£24.00#

£6 - £8 †*

£12 - £15†*

£6 - £8 †*

£12 - £15†*

£5 - £12†

£10 - £18†

£8

£15

* Group fares available for 3 or more passengers

# Promotional fare only available at Stansted Express web site, for 2 people travelling together - may be withdrawn at any time

† Lowest fare on-line only advance purchase Funfare tickets - limited number of tickets, the earlier you book the better the availability. Higher fare is for payment on the day or at short notice on-line.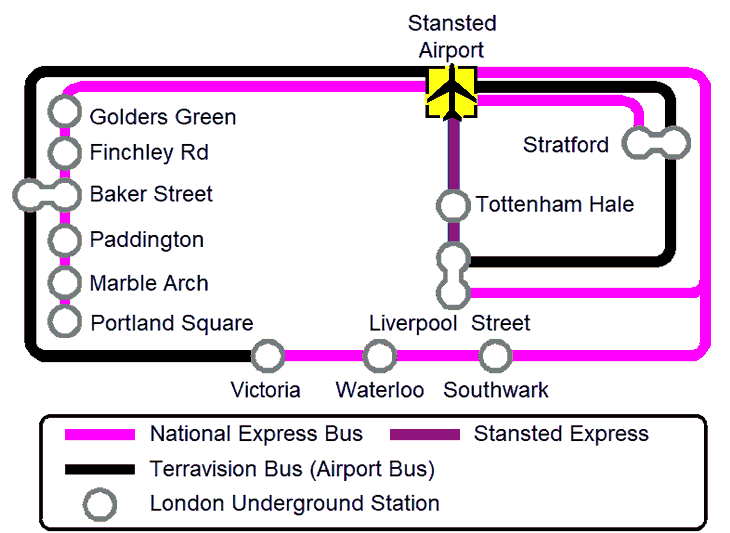 ---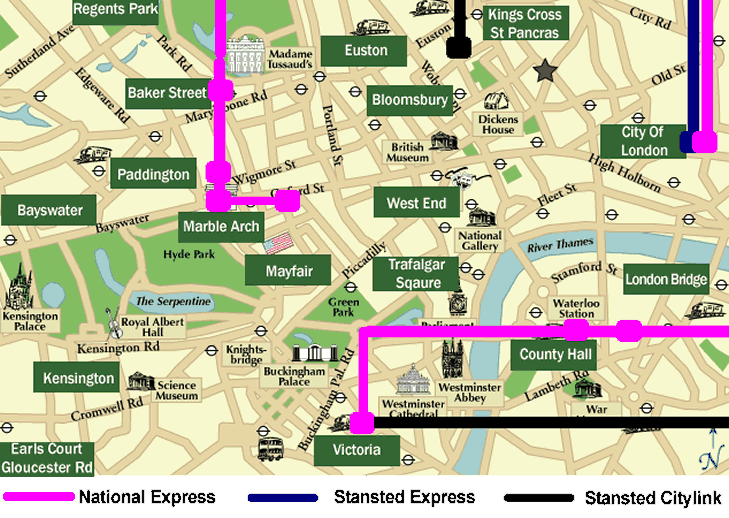 ---