Stansted Airport - Liverpool Street Bus By Terravision
Cheaper Alternative To The London Liverpool Street - Stansted Express Train
Terravision Stansted Airport Bus Boarding Outside Liverpool Street Station
The Terravision Stansted - London Liverpool Street Bus competes directly with the faster but much more expensive Stansted Express train service. National Express also runs a Stansted - Liverpool Street airport bus service but this is slower, more expensive and has more restrictions on luggage and ticketing.
The attraction of the Terravision Liverpool Street - London Stansted bus service is price. The adult return fare being almost half that of the Stansted Express train.
Terravision also operate two other Stansted Airport bus services, one to London Victoria, the other to Stratford.
Have You Booked The Appropriate Stansted - London Airport Shuttle Bus ?
Hotels To The West Of Central London (Where Most Leisure Visitors Stay)
Most leisure visitors spend most of their time and are normally based in a hotel to the west of the centre of London. This area of Central London London is the other side of the centre from Stansted. The area includes Victoria, Kensington and Paddington/Bayswater hotel districts as well as the West End district often thought of as the centre by tourists. The Victoria service is appropriate for these visitors. Victoria is a major transport hub from where you can get quickly to wherever you want to go in London.
Terravision Stansted - Liverpool Street Service
Stansted Airport

Transfers To/From London

Airport Train Service

Terravision Airport Buses To

National Express Airport Buses To

Private Cars & Charter Vans, Coaches

Airport to Airport

Stansted Airport Hotels

Long Term Car Parking

Stansted Airport
London Transfers
Airport Train
Terravision Airport Buses To
National Express Airport Buses To
Private Transfers
Airport To Airport
Stansted Hotels
Car Parking
Liverpool Street is the terminus of the fast but expensive Stansted Express airport train. Liverpool Street is in the heart of the business district of London, what hotels are available tend to be geared towards free spending businessmen on an expense account rather than leisure visitors.
However if you are staying in the Bloomsbury, St Pancras / Kings Cross, Tower of London hotel districts it makes perfect sense to interchange at Liverpool Street for your onward transfer from here.
Avoiding The Risk Of Traffic Congestion Delays By Going To Stratford?
A lot of locals minimise the risk of delays through traffic congestion in the centre of London by just taking the bus from Stansted to Stratford. Stratford is near the end of the motorway/freeway grade road from Stansted just before you enter the urban area of Central London. By taking a Stratford service and walking straight onto the London Underground at Stratford you can avoid most of the probable traffic bottlenecks in the centre.
Public Transport Options Between London & Stansted Airport (Fares At Foot Of Page)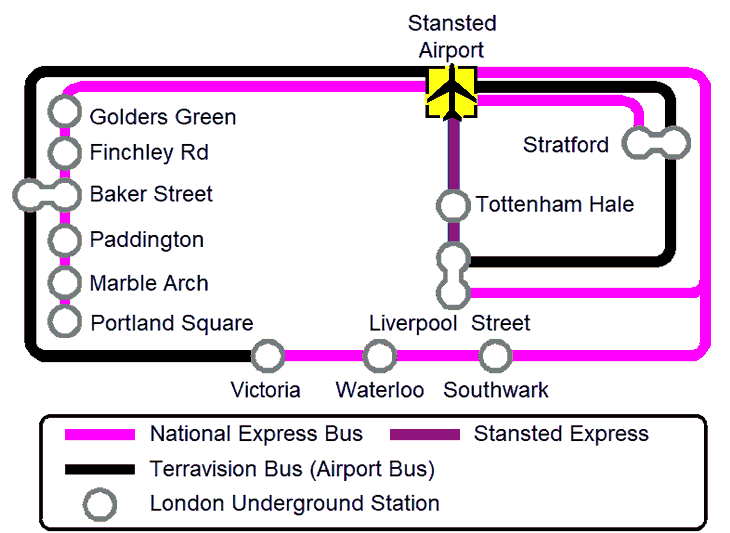 Terravision Liverpool Street Bus Service Operating Hours / Journey Times
The Terravision Liverpool Street Bus Service broadly runs every 30 minutes, 7 days a week. From Stansted Airport departures are broadly between 6 a.m. and 1 a.m., just a 5 hour gap in the very early morning. From Liverpool Street between 3 a.m. and 11:30 p.m.
Journey time is scheduled as 55 minutes but clearly delays through road congestion happen so do give yourself plenty of contingency going to the airport.
Advantages Of Booking On-Line In Advance
You can buy tickets at the Terravision ticket desk in the arrival hall at Stansted Airport or in advance on-line.
There are two main advantages of booking on-line.
First for return tickets you get a discount over purchasing on the day.
Second, if you book on-line you are guaranteed a seat and have priority over if you just turn up on the day. Terravision services use large buses but just like the low cost airlines that mostly fly into Stansted they always seem to be full or near full. (See What if My Flight Is Late underneath)
What If My Flight Is Late?
When you purchase a ticket for a Terravision service it is for a single stated departure time.
It is recommended booking a service at least 60 minutes after the scheduled arrival time of your flight. So what happens if your flight is late and you miss that schedule on your ticket?
If your London Stansted flight arrives early or late, you may use the same ticket at no extra cost to travel on the next available Stansted Airport to Central London bus service subject to seat availability.
Passengers with a ticket for the schedule in question are boarded first and get priority.
Terravision Stansted Luggage Allowance
Terravision Bus Stansted Seat Pitch
There is no specific luggage weight limit or number of bags per person. Most airport passengers are using low cost budget airlines with very strict baggage allowances. Of the three airport bus lines, Terravision is by the far the most relaxed in terms of luggage you can bring along. Clearly if you are abusing this with something outrageous or hazardous there are limits. If in doubt contact Terravision.
Stansted & Liverpool Street Boarding Points
Finding the buses is very easy and straight forward. In front of Stansted Airport's passenger terminal is a very large bus station. All the London buses are lined up with their own bays. There is a waiting room and somewhere to get a coffee and snacks. When you come out of the customs area, just look up and follow the signs downstairs to the bus station.
At Liverpool Street the Terravision Bus boards right outside the train station. There are clear signs and maps locally on the ground at the station so it is easy to find. You take the Bishopgate exit from the station. The bus stop labelled stop G, is immediately outside the exit onto Bishopgate.
Terravision Stansted On-Line Fares


Service

One-Way

Return

Stansted - London Victoria

Adult

£6.00

£12.00

Children (5-12 Years Old)

£3.00

£6.00

Stansted - London Liverpool Street

Adult

£6.00

£12.00

Children (5-12 Years Old)

£3.00

£6.00

Stansted - London Stratford

Adult

£6.00

£12.00

Children (5-12 Years Old)

£3.00

£6.00

Children under 5 travel free

London - Stansted Fare Comparison of Public Transport 2015


Service

Standard Adult Fare*

One-Way

Return

£19.00

£32.00

£16.00#

£24.00#

£6.00

£12.00

£6.00

£12.00

£6.00

£12.00

From £6, £12 Return †

From £10, £17 Return †

From £12, £19 Return †

easyBus - Baker Street

£2-£11

£4-£22

easyBus - Old Street

£2-£11

£4-£22

* Standard adult ticket. Other promotional fares may appear from time to time.

# Promotional fare only available at Stansted Express web site, for 2 people travelling together - may be withdrawn at any time

† On-line only fare.
---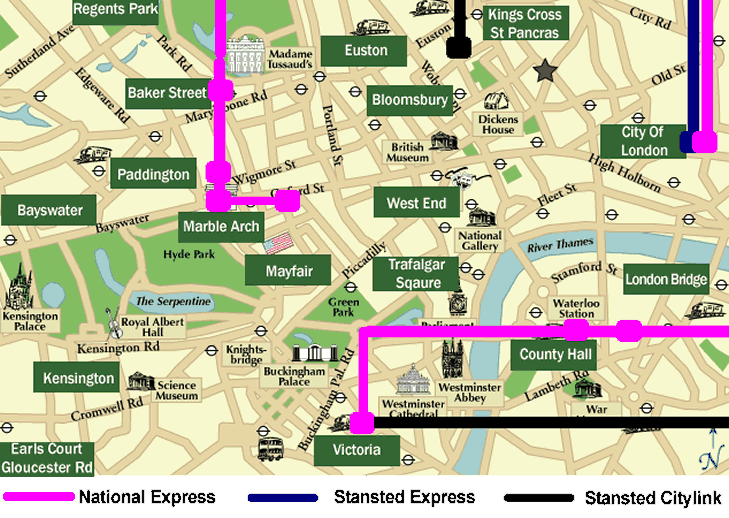 ---
---