Luton Airport Bus Services To / From Central London
Identify The Best Airport Bus Between Luton Airport and Central London For Your Needs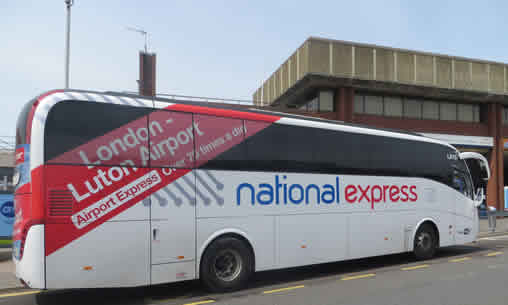 National Express Luton Airport Bus
London Luton Airport is around 35 miles (55 kms) north of Central London. The cheapest airport transfer is by one of three Luton airport bus services run by National Express, Green Line/Terravision and easyBus. There is also a faster, more expensive train alternative.
The National Express service is a 24x7 service with full size buses running every 15-30 minutes with several stops at strategic points in Central London and with the terminus at London Victoria.

The Green Line / Terravision service is almost a mirror image of the National Express service. The only real difference is not of much relevance to most visitors. The Green Line bus makes a different stop on the outskirst of London, Brent Cross instead of Golders Green that the National Express bus stops at.

easyBus is a much smaller bus that shuttles between Luton Airport and Liverpool Street in the City Of London business area 1-2 times an hour.
The Fastest Luton - London Transfer Is By Train, But Is More Expensive Than Airport Bus
The main downside of the Luton airport bus services is that they are relatively slow compared to the train, (60 to 90 minutes) and with London's traffic you are wise to factor in a comfortable contingency in case of traffic delays which are very unpredictable.
The fastest option between Luton Airport and London is the Luton airport train service. With a journey time of 25 minutes and frequencies of up to 6 times an hour its by far the fastest option and also of course doesn't suffer from unforeseen traffic congestion delays in London.
Luton Airport - Central London Train Services - Full Details
Luton Airport

Transfers To/From London

Airport to Airport

Luton Airport Hotels

Long Term Car Parking

Luton Airport
London Transfers
Airport To Airport
Luton Hotels
Car Parking
All 3 airport bus services ply similar routes bar easyBus who service the City Of London business area. The main services of National Express and Green Line stop at several Underground Stations in North London before stops in Central London at Bakers Street and Marble Arch prior to their Victoria terminus.

National Express, easyBus and Green Line all operate 24x7 services although easyBus slacks off frequencies more than the other two in the small hours. Overall frequencies between carriers are similar.

All three bus lines have their own bus stands immediately outside Luton Airport passenger terminal.

National Express is the only service with toilets and free WiFi aboard the bus. National Express and Green Line operate full size 50 seat coaches, easyBus operates small mini-buses.

National Express and easyBus have a very dynamic pricing model and have the very cheapest fares. The earlier you book the cheaper the fare. The time of day you travel will also influence the price you pay.

With National Express and easyBus you book a specific schedule which you are expected to travel on, you are guaranteed a seat on that schedule. If your flight is late and you miss the schedule with National Express you can switch to a later schedule at airports only. A ticket for a new schedule is issued and there is a an admin fee, at the time of writing 5 pounds. With easyBus you may use the same ticket at no extra cost to travel on the next available bus, up to 60 minutes either side of your booked time only. Green Line ticketing is very flexible with freedom to board schedules of your choice subject to seat availability.

Green Line also have the most flexible luggage allowance with no set policy. National Express allow two large bags per person neither of which should weigh more than 20kg and one small piece of hand luggage like a laptop or handbag. easyBus allow one bag max dimensions H+W+L equalling 57 or less inches and weighing 23kg or less plus one hand luggage no more than 5kg

easyBus get very poor customer feedback on travel forums like TripAdvisor
National Express Luton Airport - London Victoria Bus Station Service From £5 One Way
The National Express Victoria Bus Service broadly runs every 30 minutes through the night and every 10-30 minutes from early morning to late evenings, 7 days a week.
Journey time is scheduled as 90 minutes for the entire journey end to end, Victoria to Luton Airport, but clearly delays through road congestion happen so do give yourself plenty of contingency going to the airport.
At Luton Airport the National Express bus stop is immediately in front of you when you come out of the passenger terminal doors. There is normally at least one coach available to board immediately.
The terminus in London is at Victoria Coach Station.
Victoria Coach Station is just a like a busy regional airport. Coaches leave every couple of minutes, there are airport style departure screens and departure gates where you board the coach.
There is a full list of facilities including a useful left luggage office.
From Victoria the bus makes stops at Marble Arch and Baker Street which are much closer to the major hotel districts of Paddington, Bayswater, Lancaster Gate and Oxford Street than other Luton public transport options. The first stop from Luton, Golders Green is away from the centre. Some people prefer to get off here and straight onto the Underground if they are travelling at peak times when there may be traffic congestion.
National Express Stansted Luggage Allowance
You can carry two medium-sized suitcases - weighing up to 20kg (44 lbs) each - plus one small piece of hand luggage per person. Drivers loading the baggage do not weigh bags. Customers will be permitted to pool their individual allowances if they are travelling in a group or as a family, but they must be travelling on the same ticket.
Over this allowance and steep excess luggage charges kick in. Passengers within the luggage allowance get boarded first, those with excess luggage only get boarded if there is sufficient space left in the luggage hold, even if they have purchased a ticket.
Purchasing Tickets
You can buy tickets at the National Express ticket desks in the arrival hall at Luton Airport or Victoria Coach Station or in advance on-line.
The cheapest tickets are on-line purchased in advance.
When you purchase a ticket for a National Express service it is for a single stated departure time. You do not get an individual seat number, but you are guaranteed a seat.
It is recommended booking a service at least 60 minutes after the scheduled arrival time of your flight. So what happens if your flight is late and you miss that schedule on your ticket?
Customers who miss their flights due to their flight being delayed, or wish to travel on an earlier service due to their flight being early, can amend their ticket for travel on a later or earlier service, within 24 hours either side of the original travel time.
A small administration charge will apply for this facility.
This facility only applies at airports. In the reverse direction, when boarding at points that are not airports you are expected to make the schedule you have booked.

---
Green Line / Terravision Luton Airport - London Victoria Bus Service
The Green Line / Terravision Victoria Bus Service broadly also runs a 24 x7 service every 15-30 minutes .
The route is virtually identical between Luton Airport and Victoria to that of National Express. The minor difference is that Green Line first stops at Brent Cross Shopping Centre and National Express stop at Golders Green Underground Station instead.
Purchasing Tickets
Green Line ticketing and luggage is less regulated than National Express. There is no specific maximum luggage limit, at the end of the day it is up to the discretion of the driver.
Just board the first bus with your ticket. Return tickets are valid for 3 months from the outward date.
---
Luton Airport - London Liverpool Street Bus Service By easyBus
easyBus withdrew their head-on competition with National Express and Green Line in late 2014 and now operate an innovative route non-stop service to London Liverpool Street servicing the business area of London.
The buses are scheduled to take 70-90 minutes.
The Liverpool Street - Luton easyBus service runs with 1 to 2 journeys an hour with just a 4 hour gap in the timetable in the very early hours of the morning.
Variable Fares - Getting The Cheapest Tickets
easyBus pricing is very similar to the low cost budget airlines, the further you book in advance the lower the price.
The lowest £2 fares you will normally have to book at least six weeks in advance to get a chance of being offered them.
Please note that £2 fares are not available on all departure times and there is a very limited number of £2 seats. The majority of passengers pay more than £2
As seats are sold the price goes up. If you buy at short notice the fares will often be around £12.
You can buy single tickets on the day from the driver if spare seats are available, the minimum cost will be £10.
The system charges all the passengers in the same booking the same fare. Children (aged 3 and over), students and senior citizens all pay the same fare as adults.
What If My Flight Is Late
easyBus are less flexible than the other bus alternatives above if you do not make the bus schedule you have selected when booking and will have printed on your ticket.
The official policy is that if your flight is late and you miss the schedule on your ticket you can use the ticket on an alternative easyBus schedule within 60 minutes of your booked time if there is a spare seat on the bus available.
Luton Airport Bus Luggage Allowance
One Standard Size Piece - Maximum Weight 23 Kgs
Maximum Dimensions (Height+Width+Length): 158cm (62 Inches) and
One One Hand Luggage Size Piece - Maximum Weight 5 Kgs - Maximum Dimensions : 90cm (35 Inches)
and
One laptop computer
Two small pieces may be carried in place of one standard size piece but their total dimensions must NOT exceed those of the one standard sized piece.
---
Central London - Luton Airport Price Comparison of Public Transport


Service

Standard Adult Fare

One-Way

Return

Bus Service

£7 - £11*

£14 - £18*

£10.00

£17.00

£2 - £11

£4 - £22

Train Service

£12.50~

£25.00~

£15.50

£27.00

£14.50

£25.00

* on-line prices, £1 booking fee per booking (not journey)
~ Off Peak fares (only available at quiet periods typically week ends)
---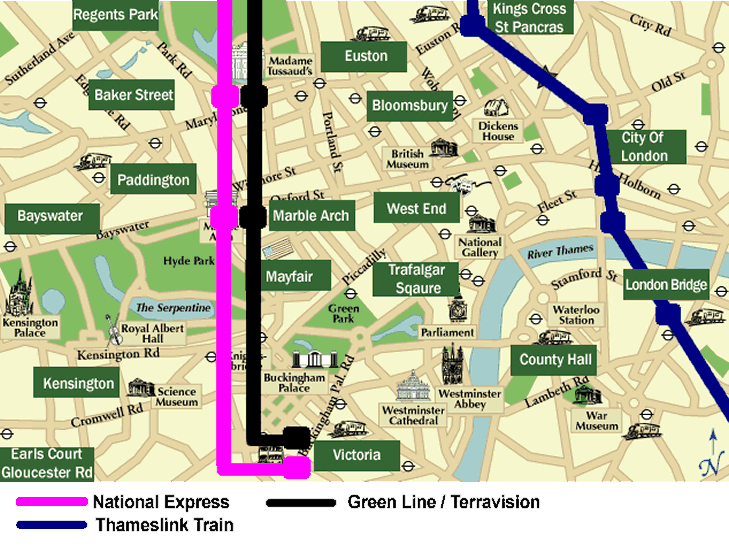 ---