Heathrow Airport Hotel Map
With Hotel Price Guide, Car Parks and Transfer Bus Details
---
Heathrow Hotels
Indicative Pricing
* prices sampled for mid March 2013
Double/twin room 2 people inc taxes
Typical Double Rate *
Hotel Transfer
Car Parking Deals
Comments
Midweek
Weekend

Hotels Walkable To Passenger Terminals (Note: No Hotels Within Walking Distance Of Terminals 1 & 3)

£160

£86

At Terminal 4
Bus To Term 5

Yes

Hotel with walkway to T 4
Own transfer bus to T5

£203

£131

At Terminal 5


Yes

Hotel linked to Terminal 5
Free Train to Terminals 1 & 3

Heathrow Airport Budget Hotels

Heathrow Lodge ~+#

£31

£29

Free Bus

No

En-suite +£3/£6
Singles -£3 to -£5

£34

£34

No

By J14 of M25 motorway
Within sight of T5

£39

£35

Yes

Low cost hotel with
gym and restaurant

£39

£35

No

3 Star at NE corner of airport McDonalds next door.

£36

£36

No

Travelodge for Terminals 1,3,4

£43

£43

Yes

Ultra no frills hotel
Cheapest rooms no windows

£63

£44

Yes

Breakfast Included
especially suitable for T5

£70

£45

Free Local Bus
Terminal 5

No

One of three Premier Inns at Heathrow

£70

£45

Yes

One of three Premier Inns at Heathrow

£79

£45

No

By Junction 3 of M4 Motorway
1 of 3 Heathrow Premier Inns

£65

£49

Taxi £12-£20
Bus £2.40

No

Opposite Feltham Station
No dedicated hotel bus

£69

£51

Yes

Hotel close to T5
with free public bus available

£67

£58

No

By Hatton Cross Underground
Good for T4 + trips to London

£70

£70

Local Bus
£2.40

No

Traditional B&B
Singles from £64

Heathrow Airport 4 & 5 Star Full Service Hotels

£58

£40

Yes

Mystery Hotel Allocated
has Heathrow Hoppa Link

£71

£47

Yes

Pub, Italin restaurant,
small supermarket adjacent

£96

£47

Yes

One of the closest hotels
to Terminal 5.

£91

£49

Yes

Cheapest rates
21 days advance purchase

£72

£52

No

3 Star by Junction 4
(airport junction) of M4

Arora International +#
£93
£52
Free
Local Bus
Yes
4 Star hotel
on airport perimeter

£110

£53

No

Attractive pricing for 4 star
but 3.5 miles from airport

£119

£53

No

Cheapest rates
21 days advance purchase

£83

£54

Yes

Cheapest rates
21 days advance purchase


£146

£72

Yes

5 Star,
One of closest to T1 and 3

£169

£75

Yes

4 Star by J5 of M4
Suites accommodate 6

£140

£77

Yes

Overlooks runway
Nearest hotel to T1, T3

£169

£79

Yes

4 Star on main hotel strip

£152

£80

Yes

Cheapest rates
21 days advance purchase

£141

£89

No

Not at Terminal 5
opened September 2011

£100

£100

No

4 Star Grade Apartments
close to main hotel strip

£179

£103

Yes

Very large 4 Star hotel on
northern perimeter of airport

~ Single Rooms + Triple Rooms # Quad Rooms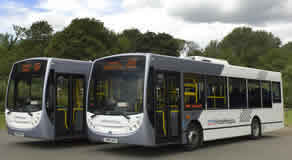 Heathrow Passenger Terminal Transfers :
No complementary hotel shuttle buses run to/from any mainstream Heathrow hotel.
Instead, 'Hoppa Buses', (pictured left) and regulated by the airport authority run on fixed routes, each serving 2 or 3 hotels. Hotels have one bus for Terminals 1 & 3, another for Terminals 4 & 5.
Tickets on-line/ticket booths: £4 one way, £7 return
Tickets from bus driver: £4.50 one way, £8 return
Children under 15 travel free (max 2 children per adult)
Hoppa Bus Tickets & Schedules - More Details
If you have light luggage you can catch public buses from many hotels to the terminals. Hotels along the Bath Road (the northern perimeter road) are best served. Public buses around the airport perimeter are also free. Terminals 1 and 3 in the centre of the airport are better served than Terminals 4 & 5.
More Details of public bus alternatives to Hoppa Bus Heathrow.
---