Dover Ferry Terminals
A Foot Passengers Guide To Using Dover Ferry Terminals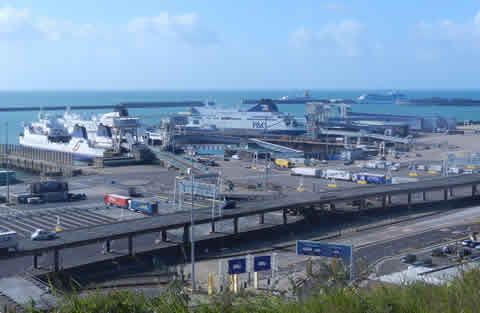 Dover Ferry Port
The Dover Ferry terminals are about 75 miles (120 kms) from Central London. The ferry port is in the Eastern Docks, the cruise ships come in on the other side of the harbour in the Western Docks.
The main function of Dover is as a ferry port connecting the UK and France and it is this trade that dominates the port. P&O is the dominant ferry company on the trunk route to Calais, just 21 miles away. DFDS is another smaller operator that runs to Calais and Dunkirk.
There's a cross channel ferry departure on average every 30 minutes from Dover, when taken across all operator schedules.
P&O sponsor a shuttle bus that runs between the ferry terminal and Dover train station between 7 a.m. and 9 p.m.
Dover Ferry Terminal
Motorists do not need to stop at the ferry terminal if they have a ticket, you can drive direct to the customs gates.
If you are arriving independently you will arrive at the ferry terminal, a modern, spacious affair.
The ferry terminal contains ticket desks for all the ferry companies and a foreign exchange facility and cash point.
The taxi rank is here together with bus stops for the National Express and Eurolines scheduled coach services as well as a shuttle bus to and from Dover Priory railway station.
There is also a coffee shop and a Burger King as well as a place to get newspapers, confectionery, drinks etc.
Dover
For Cruise & Ferry Passengers

Cruise Ship Bus Shuttle

Transport to/From London

Transfer Options Dover From:

Transfer Tours To London & Airports

The Town of Dover
Dover
Cruise Ship Bus
Transport
To/From London
Transfers Options
Compared:
Transfer Tours
To London
Dover
Dover Ferry Terminal to/From London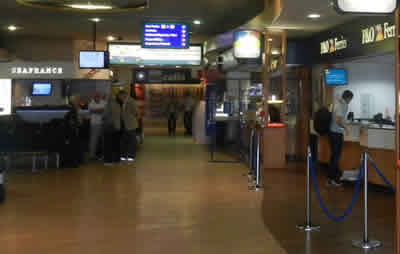 Inside Dover Ferry Terminal
For independent travellers on foot your options getting to and from Dover from London are:
The cheapest option are the National Express scheduled buses. Full size 50 seat coaches with washrooms that depart from London's Victoria Coach Stations. The buses stop at the ferry terminal.

The fastest option are the Dover train services, faster than a taxi. Several trains an hour run along three separate routes between Dover's Priory Station and around 5 major train stations in Central London. The fastest trains by far run between London St Pancras and Dover. You will need a taxi or shuttle bus between Dover Priory Train Station and Dover ferry terminals.

And of course the money no object option is a private car service door to door at a time specified by you. If you have a group there are vans, even coaches available.

Transfers Between Ferry Terminals & London Trains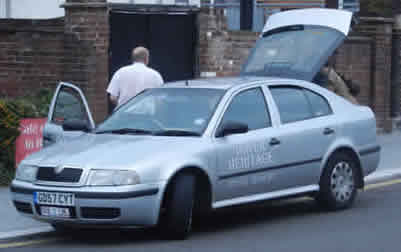 Typical Dover Taxi
Dover Ferry Terminal Bus Shuttle
A shuttle bus plies between Dover Priory Station and Dover Ferry Terminal between 7 a.m. and 9 p.m. The bus is not complementary.
Taxi cabs at Dover come in a wide range of sizes and shapes, the image tight is fairly typical. If you have two cases per person and more than 2 people you may end up with multiple taxi cabs.
Its just a 5 minute drive between the ferry terminal at Dover to/from the railway and bus stations and ferry terminal.
If three or more of you can cram into a taxi, the bus shuttle is no cheaper than a taxi.
All fares within Dover should be on a meter. Indicative fares to and from the cruise terminal are shown on the image.
For longer journeys outside Dover never leap into a taxi without agreeing the price before hand.
Although drivers may offer to accept your Euro or Dollar currency it will almost certainly be at a very, very poor exchange rate. Only do so as a last resort.
The taxi rank at the ferry terminal and Dover priory Stations and the bus shuttle are right outside outside the front doors of the respective terminals.
It is customary to leave a small tip with cab drivers, (assuming they provide a good service).
Eurolines - Dover To Paris & Europe
As the major ferry route between England and the European mainland many of the scheduled coach services between London and European cities stage through Dover. Eurolines are the dominant carrier and you can board the coaches at Dover Ferry Port Terminal before they board the ferry.
Most popular route is to Paris with half a dozen services per day.
Eurolines is an umbrella brand for a network of bus companies across Europe that work together to offer an integrated system. They are associated with National Express in the UK and as a result you can get combined ticketing coupling Eurolines European journeys with National Express services through out England and Wales.
---
---

---