Southampton Cruise Transfers To/From Central London
Details of Independent Travel Between Southampton and Central London by public transport and private vehicle
Its about 80 miles (128 kms) between Southampton to the centre of London.
Between Southampton and Central London there is a wide choice of transport, both public transport and private hire, though note there are no direct shared van shuttle style services available between London and Southampton, though there is a cruise bus that is very similar.
If you do not want to take the expensive transport offered by the cruise line, these are your options:
Southampton
For Cruise & Ferry Passengers

Shared Cruise Bus Shuttles/Tours

Transfer Options Southampton From:

Public Transport To Southampton

Transfers & Tours To Southampton

Public Transport To London

Transfers & Tours To London & Airports

The City of Southampton
Southampton
For Cruise & Ferry
Cruise Ship Bus
Public Transport
To/From London
Transfers
Compared:
Transfers & Tours
To Southampton
Transfer & Tours
To London
Southampton
---
National Express Coaches
The cheapest option by scheduled public transport are coach services by National Express.
The National Express Coaches are much slower and much cheaper than the train services. They are modern air-conditioned buses with washrooms.
Unlike the trains there are true e-tickets available on-line. Significant for people on cruises is the luggage allowance, 2 cases neither of which should weigh more than 20kg (44lbs) before steep surcharges kick in.
The other critical aspect is that you may well spend more on getting to and from the bus station at Southampton and London Victoria than on the journey between Southampton and London. In London the bus terminates at Victoria Coach Station, quite a way from many of the hotel districts, this is the only stop, there are not stops at hotels or other locations.
National Express To/From Southampton - More Details
National Express Coaches Route Maps Southampton - London
---
Train Between Southampton and London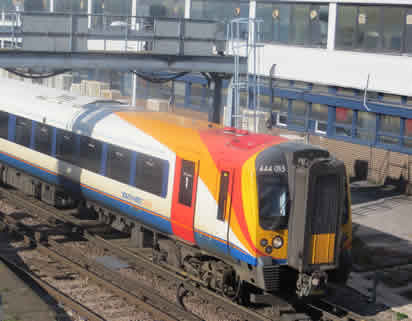 London Train At Southampton
On a good day with a clear road, a vehicle will make London to Southampton in under 2 hours. The trains between London Waterloo and Southampton take between 80 and 100 minutes.
There are no seat reservations on the trains, but unlike the National Express buses the amount of luggage you can carry on board is only limited by your ability to carry it, (don't expect any assistance).
The train station is very near Southampton Coach Station, so just like the National Express coaches you need a taxi between train station and cruise terminals. The terminus in London for the train is London Waterloo on the south side of the River Thames. Again Waterloo can be a long way from many hotels, there is a more exotic non-direct route from Paddington Station in London, which may be much closer to your hotel avoiding a very tedious trek across London with luggage.
Southampton by Train - More Details
Train Route Maps Southampton - London
---
Cruise Bus Shuttles & Tours Between Southampton and London
Offering direct transport between your cruise ship and Central London hotels are dedicated cruise buses servicing individual cruise ships. In the direction to Southampton the bus takes a break at Stonehenge with time for you to visit this world famous monument.
In the Southampton to London direction there is a choice of a direct service and a full day guided tour transfers visiting Salisbury, Stonehenge and Windsor or new in 2015 a Downton Abbey themed tour transfer.
Southampton Cruise Bus Shuttles & Tours - More Details
Southampton Cruise Ship Shuttles & Tour Transfers 2015


Services available all dates when Royal Caribbean, Cunard, Crystal, Oceania, Celebrity and Princess cruise ships are visiting Southampton.
London to Southampton Direction
Cruise Ship With Stop At Stonehenge After pick-up from your London or Heathrow hotel you will be driven in an air conditioned touring bus to your Southampton via a short stop of 90 mins at world famous Stonehenge.
Simply disembark from the coach at Southampton and walk into check-in at your cruise terminal between 13:30 and 14:00, in time for a late lunch!
Southampton To London Direction
London & Heathrow non-stop - 2 non-stop separate services from cruise ship to Heathrow Airport and Central London hotels using 4-16 seater executive cars/minivans to ensure a speedy service.
Salisbury, Stonehenge & Windsor Tour Transfer - Visit 3 world class attractions in one day on your transfer to London or Heathrow. Arrives Heathrow around 5 p.m. and London hotels around 6 p.m.
Downton Abbey Themed Tour Transfer - Visit film locations of the Downton Abbey TV series + Blenheim then to London or Heathrow. Arrives Heathrow around 6 p.m. and London hotels around 7 p.m.
---
Private Transfer Options Between Southampton and London
Of course private cars and larger vehicles are available. You select what time you want to depart. Vehicles all the way from saloon/sedan cars to large coaches are available. Note, with cruise transfers, more often than not it is the amount of luggage that determines the size of vehicle required, not the number of passengers.
With a clear road, London to Southampton is about 2 hours but London's roads are congested. Its quite important you budget adequate contingency time . If the motorway is congested or there is an accident, alternative routes are much, much slower. Nearly all cruise ships have assisted disembarkation between about 7 a.m. and 08:30 a.m. During weekdays, transfers into London and its airports have a high probability of road congestion delays at the tail end of the morning commuter traffic once you approach the Heathrow area and the turn-off for Gatwick.
Going towards Southampton its not so bad, but if you are travelling on a summer Saturday, the road down to Southampton can be at gridlock in the morning as half of London makes for the beaches.
Private Cars and Vans To/From Southampton - More Details
---


---