Luton Airport Train Services to London
Featuring First Capital Connect to / from St Pancras, The City Of London and Gatwick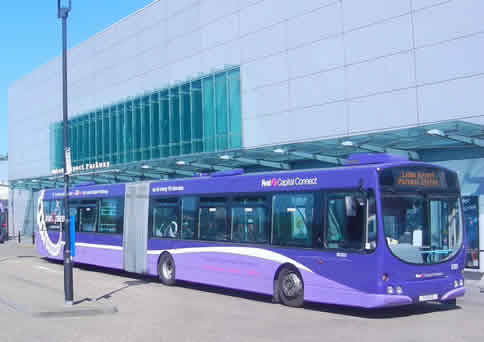 Luton Airport Shuttle Bus
Outside Luton Parkway Station
Luton Airport at the moment has no train station in the airport complex. The nearest train station is about a mile from the Luton Airport passenger terminal, called Luton Parkway Station. Shuttle buses like that pictured right run about every ten minutes between the station and the passenger terminal between 05:00 and midnight.
First Capital Connect trains operate a fast, frequent service direct between central London and Luton Airport Parkway train station, a journey of around 25 minutes from St. Pancras International Station. The trains go beyond St Pancras with several other stations in the centre of London.
The train is despite the bus shuttle still the fastest option to travel between Luton Airport and Central London, the alternative Luton - London bus can be cheaper. The bus also operates a full 24x7 timetable.
At Luton Parkway there are two train operators, (the UK has competition on its railways) into London. First Capital Connect is the main train operator with up to 6 trains an hour that run through the city centre of London stopping at several stations after the first London station, St Pancras, terminal of the Paris Eurostar trains.
Less frequent trains terminate at St Pancras station and do not go onto stations beyond St Pancras.
The first major stop of the trains is St Pancras that shares its Underground station with adjacent Kings Cross Station.
This is a major transport hub and an obvious place to interchange for most travellers. Kings Cross St Pancras is also a major district for cheap hotels in London.
You may find it advantageous to interchange at Farringdon. Here First Capital Connect trains and underground trains share the same platforms, making an easy interchange.
London Bridge is also another major interchange with the Jubilee Line to the West End.
Many trains continue onto Gatwick Airport and then to Brighton, other trains serve Sutton via Wimbledon and Carshalton.
Luton Airport

Transfers To/From London

Airport to Airport

Luton Airport Hotels

Long Term Car Parking
Luton Airport
London Transfers
Airport To Airport
Luton Hotels
Car Parking
Luton Airport Shuttle Bus
The shuttle connecting Luton Parkway station and Luton Airport runs every ten minutes between 05:00 and midnight and also connects with all trains calling at Luton Airport Parkway overnight.
If you have a train ticket to Luton Airport the shuttle is included in the price. If you only have a ticket to Luton Parkway you will have to pay a small supplement.
As you exit the main entrance of the Luton Airport passenger terminal, the bus station is right in front of you. The rail shuttle bus leaves from the first bus stop on the left hand side.
Luton Parkway is just at the bottom of the hill up to Luton Airport so the journey only takes 5 minutes.
Purchasing Train Tickets & Timetables
The complexity of UK rail fares are legendary. For short journeys like Luton to London things tend to be much simpler. There is no need to purchase tickets in advance, there are no seat reservations, though at the moment Visit Britain are offering very good return ticket deal in advance on-line, (see section below).
The three types of tickets are outlined below. At weekends there is a good chance that an off-peak or super off-peak fare will be available, during the week in all probability only the anytime fares. It is rare that an advance purchase ticket is made available on this run, though see the Visit Britain section below
Advance Purchase: Buy in advance, sold in limited numbers and subject to availability. These tickets will have restrictions specified when purchasing.

Off Peak: Buy any time, travel off-peak. The definition of off peak can vary from ticket to ticket. These tickets may require you to travel at specific times of day, days of the week or on a specific route. Where there is more than one Off-Peak fare for a journey, the cheaper fare with more restrictions will be called Super Off-Peak.

Anytime: Buy any time, travel any time. (the standard ticket). Anytime fares are fully flexible tickets, with no time restrictions on when you can travel. You can make the return journey within one month of the outward journey.
At train stations there are manned ticket offices and also ticket machines and at Luton Airport there is a ticket kiosk in the passenger terminal. All major credit cards are taken as well as cash.
For fares and timetables use 'The Trainline' web site where you can also order tickets for delivery to your home address.
Visit Britain Advance Purchase Discounted Tickets
Visit Britain, the official shop for the British Tourist Authority are currently selling attractively priced advance purchase tickets.
Ticket prices certainly catch the eye but you have to factor in a delivery charge which varies according to wherever in the world you reside and have the tickets dispatched too.
Inherent in this facility is that you have to order in good time, in advance of your day of travel. Having your train tickets on arrival does avoid some of the stress if you are not used to using UK railways.
---
Central London - Luton Airport Price Comparison of Public Transport


Service

Standard Adult Fare

One-Way

Return

Bus Service

£5 - £10*

£10 - £20*

£10.00

£15.00

£2 - £12

£4 - £24

Train Service

£10.40~

£21.80~

£15.00

£26.00

£14.00

£18.00

* on-line prices, £1 booking fee per booking (not journey)
~ Off Peak fares only available at quiet periods typically week ends
---
---
---