Luton Airport To / From London by Private Vehicle
Private Transfer Options For Couples, Families & Groups By Car, Van and Charter Bus
Luton Airport

Transfers To/From London

Airport to Airport

Luton Airport Hotels

Long Term Car Parking
Luton Airport
London Transfers
Airport To Airport
Luton Hotels
Car Parking
Luton Airport London is around 35 miles north of Central London.
The familiar London black taxis are not available at Luton as the airport is too far outside London, though some of the local operators use the same vehicles as the London cabs. Local Luton companies populate the taxi rank outside the airport terminal. Other cheaper companies are available but you have to prebook these before travelling.
If there is a group of you, chartering a bus, as small as an 8 seat vehicle or able to seat as many as fifty plus can make financial sense.
By chartering a vehicle you of course avoid the sometimes stressful transfer with public transport at additional cost from the London terminus to your accommodation in London.
Vehicle Options - From 1 passenger to 100!
We have options to cater for all party sizes.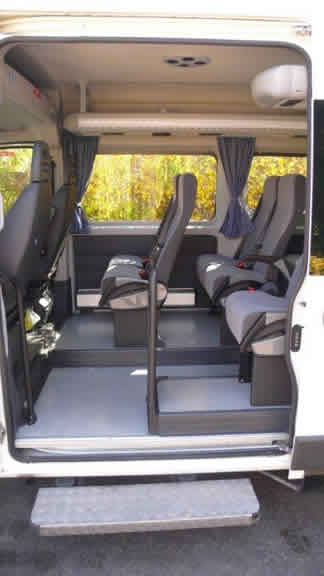 Air-conditioned & Roomy Small Buses
On transfers the amount of luggage can be as critical to the right selection of vehicle as number of passengers, so do pause to reflect on this aspect.
Saloon Cars / Sedans / Estates - For Up To 5 Passengers
Saloon/ Sedan car or MPV/Estate/Station Wagon size vehicle. Will take up to 5 full size adults and around 4 cases with some small hand luggage. Ideal for a family.
All driver waiting time and airport parking included in airport pick-ups - No extra charges if your flight is delayed!
Baby seats or child booster seats supplied on request and are of course free of charge.
At passenger terminals the driver will be waiting for you as you exit the customs and luggage retrieval channel to escort you to the waiting vehicle.
Small Buses - 8 To 16 Seats With Room For Lots Of Luggage
Air conditioned roomy small buses with 8, 12 or 16 seats and lots of luggage room for small groups. These buses are proper purpose built buses, not cramped converted vans.
These small buses are small enough to get in the car parks at airports, big enough to qualify to use the special bus lanes in Central London.
The buses can also carry outsize items, commonly wheelchairs, electric scooters, bicycles and surfboards.
Drivers meet and greet at airports, hotels and ports just like the cars.
Full Size Touring Coaches For Large Groups
If you have a large group then that is not a problem either
The largest coaches are 50 seat coaches but we also have access to vehicles half that size.
With large groups if your average passenger is bringing more than one large case and a small item of hand luggage it might be the luggage capacity of the vehicle rather than the number of passengers that drives the correct size of vehicle required. The point being that estimating the amount of luggage you will be bringing is just as important as knowing how many people in your group.
With large groups just as small groups multi-drop and pick-ups from hotels is routine and if you require sightseeing we can arrange a guide whether it be an orientation tour of London or a niche interest of the group.
Putting Your Own Groups Together / Sharing
We do not put groups together for the purpose of vehicle sharing.
You are welcome to put your own group together. The key point with these charters is that the price is a flat rate for the vehicle, not per person. If somebody pulls out at the last moment the group are still liable for the full cost of the charter.
Luton Airport - London Indicative Prices*


Prices Are Inclusive Of Taxes

Vehicle

Passengers

Large Cases

Price

Booking

Car/Sedan

4

4

£84†

MPV Car

5

4

£105†

8 seat bus

8

20

£180

12 seat bus

12

20

£230

16 seat bus

16

20

£275

Large Coaches

up to 50

up to 70

p.o.a

* Prices indicated are one-way, non-stop with all passengers boarding at a single point and include all taxes.

† Price sampled was for the Marriott Marble Arch.

The above prices are indicative and do not form a final offer. Each enquiry made will receive a personal quotation which on the majority of occasions will be consistent with the prices displayed unless there are atypical aspects.
---
---