Stansted Airport London Travel Information
inc.Transfers To London & Beyond, Hotels, Car Parking & Flights
Stansted Airport is situated 38 miles north of London, a long and very expensive taxi ride with the prospect of road congestion as you near London. There is a wide choice of airport bus and train services into most parts of Central London.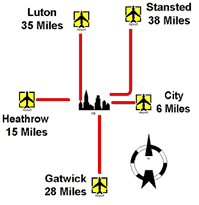 The airport is dominated by low cost budget airlines, Ryanair having the most numerous flights into the airport. The airport is geared to the leisure traveler, apart from the budget airlines the other main use is for UK charter airlines flying the British to the sun.
Nearly all flights are European and UK domestic, there are very few long haul flights apart from charters.
Stansted airport is a one passenger terminal, one runway airport.
The only hotel you can walk to from the passenger terminal is the luxury Radisson Blu, adjacent to the passenger terminal.
Transport into Central London From Stansted Airport
For most people wanting to transfer into Central London its a straight choice between the cheap bus services that run a 24x7 timetable and the faster, more expensive train.
Private taxi's are available but Stansted is a long way outside London and for one or two people is prohibitively expensive for most travelers. For groups, especially on late or early flights, chartering a private bus can make real sense.
The fastest most frequent transport is the Stansted Express train, adedicated airport train. However, its London terminus is Liverpool Street which for leisure visitors is likely to be cross town from their accommodation in London. The bus services go into the main hotel districts but do not do hotel drops.
For more details, click through on the relevant link in the table below.
Inter Airport Transfers Between Stansted and Heathrow, Luton & Gatwick Airports
There are direct transfers available to and from London's three other main airports, Heathrow, Luton and Gatwick by National Express.
National Express Inter Airport Shuttle Buses From Stansted.
Stansted Airport Facilities
Stansted Airport offers the basic airport facilities most travelers will need. There is a choice of foreign exchange, ATM's, restaurants, bars and airport duty free outlets. There is a left luggage facility open 24 hours and two executive lounges. Wifi is available but not complementary.
Stansted Hotels
The only hotel that you can walk to from the passenger terminal at Stansted is the Radisson Blu Stansted Airport.
There are much more economical accommodation options around the airport. Most of the hotels charge for their shuttles, though a few of the family owned Bed and Breakfast options do not.
Stansted Airport Hotels More Details
Stansted Long Term Car Parking
Long term car parking at Stansted is dominated by the on airport Stansted Airport car parks . Despite the lack of real competition rates are not bad value compared with the other London airports. Nearly all hotels in and around Stansted offer Stansted hotel and parking packages that offer great value.
Stansted Long Term Parking
Indicative Pricing


* prices sampled for early March 2013

Days Parking
Terminal Transfers
3
8
15
Paying For Car Parking In Advance On-line

Long Term Car Park Supersaver*

£23*

£65*

£91*

Every 20 mins
Takes around 15 minutes

Long Term Car Park

£28

£73

£109

Every 20 mins
Takes around 15 minutes

Mid Stay Car Park Supersaver*

£26*

£65*

£94*

Every 10 mins
Takes around 10 minutes

Mid Stay Car Park

£31

£76

£118

Every 10 mins
Takes around 10 minutes

Official Valet / Meet & Greet Parking

£62*

£89*

£125*

Meet & Greet
At Stansted Terminal

* Supersaver rate - book one month in advance, no cancellations, amendments or refunds
---
Stansted Hotels With Parking
Indicative Pricing
* prices sampled for mid March 2013
Double/twin room 2 people inc taxes
Mid-Week
Weekend
Comments
3 Days
Parking
8 Days
Parking
15 Day
Parking
3 Days
Parking
8 Days
Parking
15 Day
Parking

£59

£59

£81

£59

£59

£81

Airport Transfers
£4.00 each way

De Salis Hotel +~#

-

£78

£85

-

£78

£85

Airport Transfers
£4.50 each way
£79
£107

£130

£70

£89

£122

Parking Long-Stay
Car Park
£94
£94

£119

£90

£90

£115

Parking at
Mid-Stay Car Park
Hilton Hotel Stansted +
£84
£94
£119
£84
£94
£119
Airport Transfers
£2 each way
£121
£146

£166

£104

£129

£149

Parking Long-Stay
or at hotel
~ Single Rooms + Triple Rooms # Quad Rooms
---