Stansted Express Trains to / from Central London
The fastest most frequent transport between Stansted Airport and Central London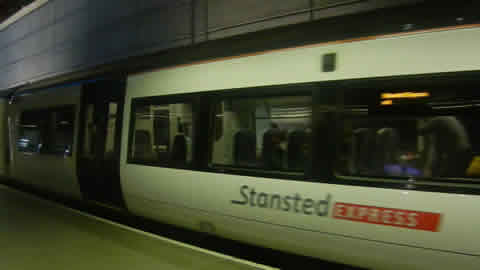 Stansted Express Train
The Stansted Express train is a dedicated airport train service running into London's Liverpool Street Station. The Stansted Express train station is beneath the Terminal at Stansted Airport, simply descend the escalators on coming out of arrivals and you're on the platform.
Stansted Express trains are the fastest way into Central London from Stansted airport, scheduled journey time is 45 minutes. On most journeys the train will make two stops, one at Tottenham Hale. This is an interchange with the London Underground which can save you time.
As the Stansted Express train has no traffic to contend with, it is the most reliable transfer option too between Stansted and London. It is also by far the most expensive option too.
Stansted Express Operating Hours
From Stansted Airport first train is at 05:30. last train: 23:45.
From Liverpool Street first train is 03:40 (Monday Only), 04:10 (Tuesday to Friday) and 04:40 (Saturday & Sunday). The last train is at 23:25
Average journey time between Stansted and Liverpool Street is 47 minutes.
You should bear in mind that the first trains leave Liverpool Street Station well before the first Underground trains start to arrive about 5:30 a.m. and the last train arriving from Stansted arrives after the last Underground train leaves. There is a good network of night buses from Liverpool Street to most area of Central London when the London Underground is closed.
Stansted Airport

Transfers To/From London

Airport Train Service

Terravision Airport Buses To

National Express Airport Buses To

easyBus Airport Buses To

Private Cars & Charter Vans, Coaches

Airport to Airport

Stansted Airport Hotels

Long Term Car Parking
Stansted Airport
London Transfers
Airport Train
Terravision Airport Buses To
National Express Airport Buses To
easyBus
Airport Buses To
Private Transfers
Airport To Airport
Stansted Hotels
Car Parking
There are also many flights that arrive at Stansted well after the last Stansted Express trains leave for London. The alternative airport bus services, especially National Express and Terravision operate a near 24 x 7 service.
Stansted Express Passenger Cabin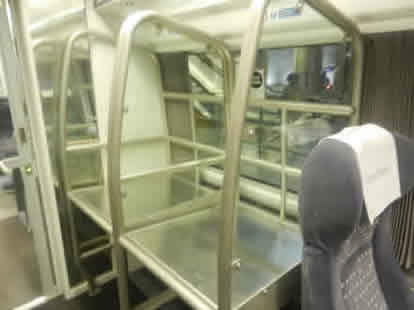 Stansted Express Interior Luggage Rack
Liverpool Street Station
The terminus of the Stansted Express train in London is Liverpool Street Station. The key aspect for visitors, new to London is that Liverpool Street is a long way from where most leisure travellers have their accommodation in London. Liverpool Street Station is in the heart of the City Of London, London's business area. During the week the area is a hive of activity with what hotels there are priced more for international financiers on an expense account than leisure travellers. At the weekend its a ghost town and room rates can be a bargain.
In terms of facilities there is everything you could possibly need both inside and outside the front doors of the station from chemists to fast food to historic pubs. The London Underground is directly underneath the train station. There is a left luggage facility in the station.
Tottenham Hale Station
All trains operating when the Underground is running stop at Tottenham Hale Station, this is about 10 minutes on the train from Liverpool Street towards Stansted Airport. Because Liverpool Street is not the most convenient place in London for many people, a stop is made here so that you have the option to use the Victoria Line of the Underground.
The Victoria Line is one of the newer Underground lines with longer distances between stations than the older lines. For many people its quicker to use Tottenham Hale and the Victoria Line to many of the main hotel districts in London. The fare on the Stansted Express is also slightly cheaper.
The first Underground train from Central London arrives at about 6 a.m. at Tottenham Hale with the last one departing around 11:30 p.m.
Luggage
Luggage on the Stansted Express is only limited by your ability to carry it on the train. There are luggage racks like that pictured right and also for smaller bags overhead shelves.
At Stansted Airport the train station is beneath the passenger terminal accessed directly by lifts and escalators. At Liverpool Street the trains are at ground level.
First Class v Express (Second) Class
The vast majority of passengers and most of the seats provided are express or second class.
A first class ticket gets you more room on the train, perhaps a reclining seat and an at seat trolley service with complimentary tea, coffee or mineral water.
At the airport you get a Fasttrack pass through customs and access to a lounge which includes food and drinks, wi-fi, magazines and newspapers.
At Liverpool Street Station you get access to a First Class Lounge on Platform 10.
Stansted Express Fares 2013

Tickets can be purchased
on-line or at the station.

London Station

Liverpool Street

Tottenham Hale

Express Class - One Way

£23.40

£21.00

Express Class - Return*

£32.80

£30.50

First Class - One Way

£37.50

£33.50

First Class - Return*

£54.10

£51.50

Child Fares (half price of adult fares) apply to 5 - 15 years olds only. Under 5's travel FREE.

* Return travel must be made within 30 days of the outward journey on return tickets
Stansted Express Ticketing & Promotional Fares
There are no seat numbers/reserved seats on the Standard Express, a ticket buy you the right to travel on the train between the points stated on your ticket. Passengers must buy their tickets before boarding the train.
One way tickets are valid only on the date displayed on the ticket. Return tickets are valid for 30 days after the first leg.
4 travel for the price of 2
4 or 3 persons pay for only 2 Adults when travelling together between London Liverpool Street and Stansted Airport. There must be at least 2 paying adults if children (5-15 years) are included in this offer. This is an on-line offer only.
Railcards
You can use Railcard discounts on the Stansted Express
2 for 1 Sightseeing Promotion
Return train tickets on the Stansted Express qualify you for the 2 for 1 admission programme at many of London's most famous attractions.
London - Stansted Comparison of Public Transport


Service

Standard Adult Fare*

One-Way

Return

£23.40

£32.80

£6.00

£11.00

£8.00

£14.00†

£9.00

£15.00†

£5-£8~

£10-£15~

£5.50-£10~

£11-£19~

£2-£10

£4-£20

* Standard adult ticket. Other promotional fares may appear from time to time.

† On-line only fare.

~ On-line only fare, not including £1 booking fee per transaction
---