National Express Stansted - Liverpool Street via Stratford
24 Hour Service, Twice Hourly - Fast Budget Route Into Central London
National Express Stansted Airport Bus Boarding At Liverpool Street
The National Express Stansted to Liverpool Street via Stratford airport bus service is a shorter bus transfer than the other National Express Stansted bus service to London Victoria. This means you have almost certainly a much longer trip to your eventual destination in London than if you used one of the more expensive bus options that go to Victoria.
The bus goes non-stop to Stratford where there is a major London Underground, train and DLR interchange, then onto Liverpool Street Station in the centre of London, where the Stansted Express train terminates.
It should be noted that Terravision a rival operator offers separate a Stansted - Stratford bus and a Stansted - Liverpool Street bus . Its difficult to compare between the two on price as they use different pricing models, Terravision using fixed prices, National Express using volatile on-line pricing that can be cheaper or more expensive than the Terravision on-line discounted price.
National Express Liverpool Street/Stratford Bus Service Operating Hours / Journey Times
The fastest service is 60 minutes, the average journey time, 80 minutes, from Liverpool Street. Fastest service from Stratford is 40 minutes, average journey time 50 minutes.
Frequencies are every 30 minutes in each direction with a couple of hours very early morning when the bus runs hourly. Note that the London Underground is closed very crudely between around midnight and 6 a.m., there are night buses though during this period.
Advantages Of Booking On-Line
You can buy tickets at the National Express ticket desks in the arrival hall at Stansted Airport or Victoria Coach Station or in advance on-line.
There are two main advantages of booking on-line.
Stansted Airport

Transfers To/From London

Airport Train Service

Terravision Airport Buses To

National Express Airport Buses To

Private Cars & Charter Vans, Coaches

Airport to Airport

Stansted Airport Hotels

Long Term Car Parking
Stansted Airport
London Transfers
Airport Train
Terravision Airport Buses To
National Express Airport Buses To
Private Transfers
Airport To Airport
Stansted Hotels
Car Parking
First, on-line, National Express often operate variable on-line pricing with deep discounted advance purchase tickets available. Prices are very volatile, sometimes you may get three different prices for buses leaving within an hour of each other. The earlier you book, the better the chance you have of being offered the cheapest fare.
Second, if you book on-line you are guaranteed a seat, turning up on the day you are not.
What If My Flight Is Late?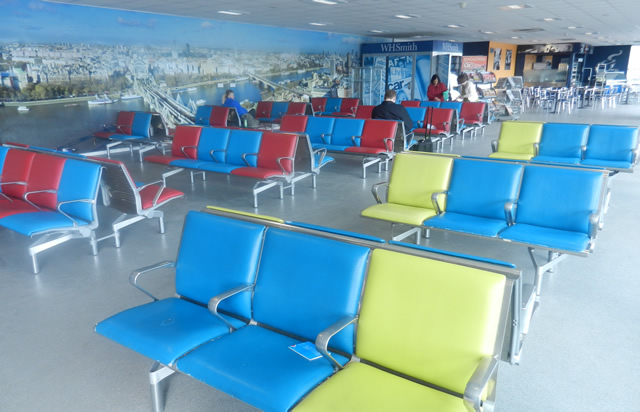 Stansted Airport Bus Station Waiting Room
When you purchase a ticket for a National Express service it is for a single stated departure time. You do not get an individual seat number, but you are guaranteed a seat.
It is recommended booking a service at least 60 minutes after the scheduled arrival time of your flight. So what happens if your flight is late and you miss that schedule on your ticket?
If your London Stansted flight arrives early or late, you may use the same ticket at no extra cost to travel on the next available Stansted Airport to Central London bus service subject to seat availability.
Passengers with a ticket for the schedule in question are boarded first and get priority.
In the reverse direction, when boarding at points that are not airports you are expected to make the schedule you have booked.
National Express Stansted Luggage Allowance
You can carry two medium-sized suitcases - weighing up to 20kg (44 lbs) each - plus one small piece of hand luggage per person. Drivers loading the baggage do not weigh bags. Customers will be permitted to pool their individual allowances if they are travelling in a group or as a family, but they must be travelling on the same ticket.
Over this allowance and steep excess luggage charges kick in. Passengers within the luggage allowance get boarded first, those with excess luggage only get boarded if there is sufficient space left in the luggage hold, even if they have purchased a ticket.
Stansted & Stratford/Liverpool Street Boarding Points
Finding the buses is very easy and straight forward. In front of Stansted Airport's passenger terminal is a very large bus station. All the London buses are lined up with their own bays. There is a waiting room and somewhere to get a coffee and snacks. When you come out of the customs area, just look up and follow the signs downstairs to the bus station.
At Liverpool Street the National Express Bus boards right outside the train station. There are clear signs and maps locally on the ground at the station so it is easy to find. You take the Bishopgate exit from the station. The bus stop labelled stop G, is immediately outside the exit onto Bishopgate and is shared with the Terravision Stansted buses.
At Stratford Underground / Rail Station the bus boards right outside the train station, at a bus stop labelled stop L. There are clear signs and maps locally on the ground at the station so it is easy to find.
National Express Variable & Fixed Fares
On the Stansted Airport buses National Express have historically changed their fare structure quite frequently. Sometimes offering a variable fare structure with discounted on-line fares that are very volatile. There being s a big difference between the cheapest fares and the full price.
At these times you have a greater chance of getting one of the cheapest fares if you reserve tickets either well in advance or are travelling at off-peak times.
At other times fares are a flat fare whatever time or day your journey is.
Use the National Express journey and fare planner (banner link below) to see fares for your dates.

London - Stansted Fare Comparison of Public Transport


Service

Standard Adult Fare*

One-Way

Return

£23.40

£32.80

£12.00#

£24.00#

£6.00

£11.00

£8.00

£14.00†

£9.00

£15.00†

£5.00

£10.00†

£8.00

£14.00†

£10.00

£18.00†

easyBus - Baker Street

£2-£11

£4-£22

* Standard adult ticket. Other promotional fares may appear from time to time.

# Promotional fare only available at Stansted Express web site, may be withdrawn at any time

† On-line only fare.
---
---
---