National Express or Megabus coach services to London
Cheap fares linking most English, Scottish & Welsh cities & towns with London
National Express are the UK's largest scheduled operator of long distance bus services. The network is truly national in England and Wales with most cities and towns of any consequence interconnected. In Scotland the network only covers the main cities but interconnects well with Scottish Citylink, the dominant Scottish operator.
In London, the National Express terminus is Victoria Coach Station, London's only major coach station. National Express also offer services that terminate or visit London's major airports, Heathrow, Gatwick, Stansted and Luton without going into London itself.
The big attraction of coach travel is the low price compared with the main rail alternative that is normally faster but more expensive. Promotional on-line prices can be astounding, its often cheaper to take a coach to the other end of England than just getting to one of London's airports.
National Express the company are a well established quoted global corporate. As well as train operations it is also the leading operator of scheduled inter city bus services in Spain and the second biggest provider of school buses in North America for example.
Coaches are modern with reclining leather seats, headrests, seat-back tables, ample leg room and toilets. Most coaches have air conditioning and power sockets for charging your mobile phone or laptop and selected services are fitted with wi-fi. All coaches are non-smoking.
Victoria Coach Station
Victoria Coach Station is just a like a busy regional airport. Coaches leave every couple of minutes, there are airport style departure screens and departure gates where you board the coach. There is a full list of facilities including a useful left luggage office.
Getting around

Public transport in London

London fares & payments

Deals aimed at visitors

Public transport to/from London

London airport transfers

Cruise port transfers

London tours

Guided tours out of London

Independent touring trom London
London Transport
Public transport
Fares & payment
To/from London
Train
Megabus
Europe trains
Airport transfer
Cruise port transfer
Tours in London
Touring from London
The dominant national operators at Victoria, National Express and Megabus have a stranglehold on services. The European scheduled bus operator Eurolines also has its terminus at London Victoria. The most busy European routes are relatively short distance routes to Paris, Dublin, Amsterdam and Brussels but you can go to the far side of Europe using Euroline services.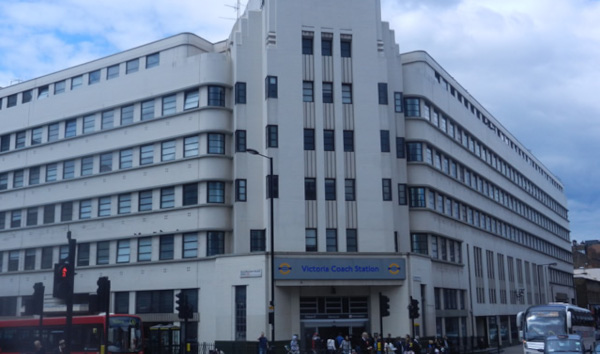 Victoria Coach Station
Victoria Coach Station is quite central, 5 minutes' walk from Buckingham Palace and Victoria Railway and London Underground Station. Victoria is also a major London hotel district with accommodation options for all sectors of the market.
National Express luggage allowance
You can carry two medium-sized suitcases - weighing up to 20kg (44 lbs) each - plus one small piece of hand luggage per person. Drivers loading the baggage do not weigh bags. Customers will be permitted to pool their individual allowances if they are travelling in a group or as a family, but they must be travelling on the same ticket.
Over this allowance and steep excess luggage charges kick in. Passengers within the luggage allowance get boarded first, those with excess luggage only get boarded if there is sufficient space left in the luggage hold, even if they have purchased a ticket.
Things like bikes and other outsize luggage are carried subject to the discretion of the driver and them being properly packed so they do not damage other peoples luggage. (Check the National Express web site, banner link below for a full list of banned items.)
Victoria
Hotels
About District
National Express fare tips
There can be big differences in what people pay for the same journey. It is common for there to be very different fares on-line on the same day for the same journey on different schedules, sometimes only minutes apart from one another.
Broad guideline principles are:
The cheapest tickets are advance purchase on-line e-tickets. The very cheapest fares are called fun fares.

Services that start or finish at a London Airport are more expensive than services that terminate in Central London.

Fares can be very different depending on day of travel and the time of travel. If you have flexibility on your travel dates you will often be rewarded. Tuesday is often the quietest travel day for many routes and consequently cheapest.

A return fare is often only slightly more expensive than a single fare.

If you miss the departure on your ticket it is not valid for a later schedule with the notable exception of services from airports.

Children under 3 travel free. Children 3-15 years can obtain child fares. There are no seniors fares.
When booking on-line you will get your e-ticket immediately by e-mail. The seats on the ticket are reserved so you are assured of a seat, but individual seat number reservations are not allowed.
---
National Express Passes & concessions (full details on National Express website)
The traditional market for scheduled coach travel has always been stereotyped as being dominated by students and seniors reflecting the attraction of being a lower priced but slower alternative to the main alternative, train.
Seniors (60+ years) Card
There are no longer any seniors fares on National Express but they do offer a Seniors Card that for an annual fee guarantees to obtain at least a one third discount from standard fares.
There are no restrictions on peak and off peak travel times nor destinations, airports are included.
There are no restrictions on peak and off peak travel times nor destinations, airports are included
Young Persons (16-26 years = Students ) Card
Very similar to the Seniors Card. If you're aged 16 - 26 or a full-time student then for an annual fee the card guarantees to obtain at least a one third discount from standard fares. There is also a card valid for 3 years.
Family Card (1 Child goes free with an adult)
Again you pay an annual fee for a card. There are two options. One is a 1+1 card where one child goes free when travelling with an adult paying full fare, the other is a 2+2 card when 2 children travel free when travelling with two adults.
Brit Xplorer Pass (Unlimited Travel For 7,14 or 28 days))
Aimed at those touring the UK, the Brit Xplorer pass gives you unlimited rides on National Express services over either 7, 14 or 28 consecutive days. The pass allows you to travel without a reservation. You can make firm reservations including at Heathrow and Gatwick Airports for an additional reservation fee.
---
Megabus
Megabus are the main (only) national competitor to National Express as far as coach services within the UK are concerned. Megabus only started long distance services in 2003. Megabus operate similar vehicles to National Express but their network is not as extensive as National Express operating only on the busiest routes in direct competition with National Express.
The UK network stretches from the Highlands of Scotland to south-west England, connecting some of the UK's most popular destinations, including London, Birmingham, Manchester, Liverpool, Leeds, Edinburgh, Glasgow and Cardiff.
You can usually book Megabus tickets up to 6 weeks in advance and from time to time earlier. National Express tend to have ticket availability much further forward.
Megabus - full details of services offered
---
Eurolines
If you want to go further afield to Europe, Eurolines are a one stop solution that covers most of the key cities in Europe from London.
Most popular routes are probably the relatively short trips to Paris, Amsterdam or Dublin, normally the cheapest way of making this journey. But the Eurolines network interconnects 29 European countries so you can go much, much further.
Eurolines is an umbrella brand for a network of bus companies across Europe that work together to offer an integrated system. They are associated with National Express in the UK and as a result you can get combined ticketing coupling Eurolines European journeys with National Express services through out England and Wales.
London to Amsterdam and Paris are the busiest routes and these services have free wi-fi available too. Some services use the ferry, others use the tunnel to get to Europe.
---
---