Highclere Castle (Downton Abbey) Day Tour From London
Small Group Tour With Visiting Downton Abbey Film Locations Plus a Visit to Highclere Castle Itself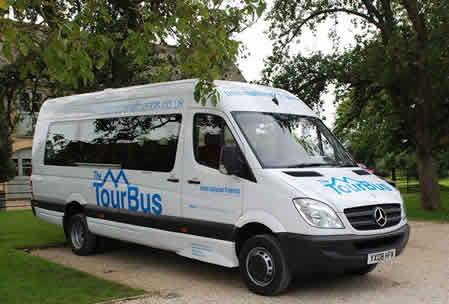 Small Group Tour Bus
Downton Abbey (Highclere) Tours - An Explanation Of The Lack Of Tour Availability For 2014
The Downton Abbey TV series has taken the worldwide TV audience by storm, triggering an explosion of interest in overseas visitors wanting to visit Highclere Castle. Highclere Castle is only about a 90 minute journey from London.
Demand far exceeds supply and tour companies have found it hard to get the volumes of tickets required to support regular day tours from Central London. In 2013 tours that were available sold out within days.
For 2014 it is hoped the availability of tickets will be more widespread. We have obtained an initial allocation of tickets that will support four tours in April and May 2014.
Highclere Castle state that tickets for the summer dates in 2014 wont be available until February 2014. We are hoping to make further dates for small group day trips available once tickets are released.
At this moment we are taking bookings for the dates we have tickets for in April and May 2014 and are also taking registrations of interest for other dates. If you register we shall advise you as soon as we receive further allocations of tickets and more tours become available.
Downton Abbey Filming Locations and afternoon visit to Highclere Castle Tour Highlights:
- Private visit to Yew Tree Farm (Cogges)
- Visit to Downton Village (Bampton)
- Entry to Highclere Castle, gardens and grounds
- Luxury air conditioned 18 seat purpose built touring bus
- Lecture standard tour guide
Tours From London

Touring From London

Tours Visiting

London Hop On Sightseeing Buses

London Tours
Tour From London
Tours Visiting
London Tours
- Guaranteed departures, no minimum numbers
Days Of Operation & Duration:
Tuesdays : 15, 22 April and 6, 27 May
Pickups in London between 7:20 a.m. and 8:00 a.m. March to October, one hour later in the winter months.
The tour returns to London by around 6:30 p.m.
Tour Itinerary:
Leaving London behind we drive direct to the Oxfordshire Cotswolds to see key filming sites of Downton Abbey.
Our first stop is a visit to Yew Tree Farm (Cogges). After a tea/coffee break in the delightfully refurbished rustic cow shed Cogges Cafe, we take a tour and learn of the relationship between the tenant farmers and landowners.
After the tour we take the short drive to Bampton, a beautiful Oxfordshire Cotswolds village. The village of Bampton has been used extensively in all series for Downton Village filming.
Bampton Library was used for Downton Cottage Hospital and Doctors surgery; St.Mary's Church became Downton Church and Church Square; Churchgate House was used for exterior shots for the Crawley family home; and we walk along the street which has been used for shops, the post office and the Grantham Arms.
We then drive south to the Grantham Family home, Highclere Castle. On arrival at Highclere Castle there will be time to enjoy the beautiful gardens. There will be time for lunch, or a snack in the Tearooms where you can enjoy light lunches or afternoon teas made in the Castle kitchens, before we enter Highclere castle for an afternoon visit.
Tickets are valid to enter the Castle from 13:30pm-15:30pm, and we plan to arrive at the Castle by 12:15/12:30pm to allow time to enjoy the grounds and lunch.
The International Friends Small Group Tour Difference
International Friends are London's premier small group day tour operator offering daily small group scheduled day tours every day of the year.
On this tour you will be travelling with no more than 18 other people - guaranteed! Our purpose-built minibuses have large windows, good air circulation and clear PA systems so that your professional guide can escort you comfortably through our wonderful countryside.
The small group size means you are not subjected to long hotel pick-up journeys around London and as a small group the guide can offer a more personalised guiding service. So don't hang back, ask your questions and you'll be helping the guide tune their commentaries to the interest of the group on board that day, every group is different!
Another advantage of a small bus is we can go places the big tours cannot and wherever possible we'll head off down a country lane to to show some hidden gem.
Prices & Tour Reservations
Prices displayed on the banner link are the current prices for this tour. Major credit and debit cards are accepted. You will be emailed a confirmation with a booking reference after reservation. The booking reference and the name of the person ordering is all that you need to quote when joining the tour, there are no paper tickets.
On the tour detail page from the link below, there is a date drop-down at the top right of the page, which depicts which dates still have availability. By selecting your required date you start the reservation process. One we list a date for operation it is guaranteed to run, there are no minimum numbers.
Departure Details
The tour makes several pick-ups at key strategic locations through major hotel districts in London
Summer (March to October) pick up points (add one hour to times between November & February).
7:20 a.m. - Outside Premier Inn, Knaresborough Place, Earls Court (nearest Underground Earls Court)

7:30 a.m. - Outside main entrance to Zara Fashion, 79 Brompton Road, SW3 1DB. (next to Harrods, nearest Underground Knightsbridge )

7:40 a.m. - Outside Cumberland Hotel, Marble Arch (nearest Underground Marble Arch)

7:50 a.m. - International Students House Car Park, 229 Great Portland Street, W1W 5PN (nearest Underground Great Portland Street / Regents Park)

8:00 a.m. - Great Russell Street, outside British Museum main entrance (nearest Underground Russell Square)
If you require assistance on finding the most convenient joining point please use the "Contact Us" menu option at the top of the page and we will answer you personally in short order.
---
Windsor, Stonehenge, Bath, Oxford & Downton Abbey Filming Locations Tour
This brand new tour combines four must see England destinations with a tour of Downton Abbey filming locations and a night in the stunning Oxfordshire Cotswolds.
- Tour of Downton Abbey filming locations including Yew Tree Farm, Downton Church, Downton Surgery, Downton Village, Shilton and Swinbrook.
- Guided tour of Oxford
- Visit and entry to Stonehenge
- Visit and entry to Windsor Castle
- Guided tour of Bath and entry to Roman Baths
- Luxury air conditioned 16 seat purpose built touring bus
- One night 3* hotel bed and breakfast accommodation in the Oxfordshire Cotswolds
- Lecture standard tour guide
- Guaranteed departures, no minimum numbers, maximum of 16 in group
Days Of Operation & Duration:
Every Tuesday and Thursday starting March 2014
---
---
---

---