Canterbury Tours From London
A Guided Day Tour That Operates From London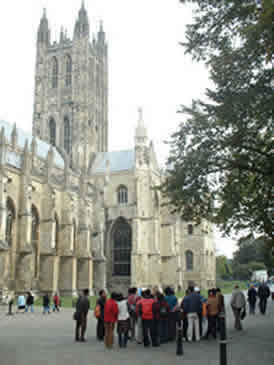 Canterbury Cathedral
The ancient city of Canterbury has been the centre of Christian worship for almost 1,700 years. Its greatest treasure is the cathedral, infamous as the setting for the brutal murder of Thomas Beckett in 1170. When Henry II snapped "Who will rid me of this turbulent priest?", four of his knights rode to the Cathedral and sliced Becketts head off.
Canterbury became the centre of one of the most important medieval pilgrimages in Europe.
In terms of tours from London that go to Canterbury, there really is only one itinerary that is offered throughout the year. This twins Canterbury with a visit to Leeds Castle. Leeds Castle is normally done in the morning, a lunch stop then made at Dover, then the afternoon at Canterbury.
Its quite easy to get to Canterbury independently by National Express Bus bus from Victoria Coach Station in London or there is a choice of rail routes from the capital.
Leeds Castle, Dover, Greenwich and Canterbury Tour
The Leeds Castle, Dover, Canterbury and Greenwich day tour is a very varied tour with a lot packed into a busy day.
First stop is Leeds Castle where we are allowed access before Leeds Castle is opened to the public with our own private tour!. Leeds Castle although not the biggest castle in England is surely the prettiest with a fascinating history that stretches to modern times.
Its then onto Dover where a lunch stop is taken and the famous white cliffs admired. From Dover its a short trip to Canterbury, the centre of Christian worship since it began in England. We explore the famous Cathedral and get glimpses of the medieval centre of of the city.
Last but not least we travel to Greenwich, famous for the meridian line but with a great naval and scientific heritage. We leave the touring coach for good here as after a short walking tour we take a river boat from Greenwich right into the heart of London taking around an hour. On the boat you take in many historic sights along the river, even travelling under Tower Bridge. The tour ends at Westminster Pier, right next to Big Ben.
Tours From London

Tours From London

Tours Visiting

London Hop On Sightseeing Buses

London Tours
Tours From London
Tours Visiting
London Tours

---
Most Popular Tours From London 2013


With Adult Fares Stated & Links To Tour Detail Pages
Visiting Stonehenge and/or Bath and/or Windsor
Stonehenge & Bath (without admission to Roman Baths) - £45
Stonehenge & Bath (with admission to Roman Baths) - £55
Windsor, Bath, Lacock & Stonehenge (Max 35 people) - £89
Stonehenge Summer Solstice 2013 June 20/21
Stonehenge Special Access Tours
Visiting Cotswolds and/or Oxford and/or Stratford and/or Warwick
Visiting Canterbury, Leeds Castle & Dover
Small Group Tours (Maximum 16 people)
2 & 3 Day Weekend Breaks Plus Day Trips To Paris
Day Trip To Paris - from £149
3 Day Paris - from £229
3 Day Edinburgh & Scotland - £219
3 Day Amsterdam - from £229
---