Private Tours From London
Design your own day tour, go where you want, stay as long as you want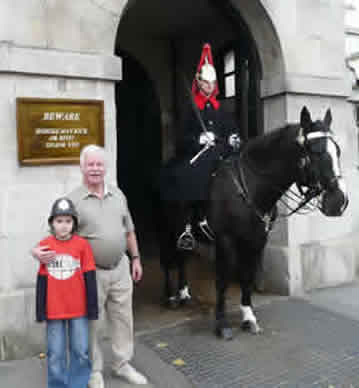 Harry Norman (Driver/Guide For Car Tours)and Friend
At Horseguards London
Private, Personalised High Quality Tours From A Car Tour To A Full Size Touring Coach
At the London Toolkit we are very close to a lot of private tour providers from one man bands specialising in a niche to the large day tour operators,
We do not directly provide a custom tour, our role is to listen to your needs, discuss a realistic itinerary and then put you in touch with an appropriate provider for your need.
The most common types of private tours and tour transfers we are called upon to assist with:
Customised day tours for couples and families in and around London

Transfer tours to and from London's cruise ports.

Transport with or without guide to places not otherwise available on a tour like Stonehenge Special Access and Highclere Castle

Day tours and transfer tours for large groups

Sightseeing tours between long stopovers between flights or between airports

Multi-day tours of the United Kingdom
Private Car Tours
Those offering car tours tend to be very small operators, many are just individuals. Typical is Harry Norman of London Tours pictured right an ex London taxi cab driver with all the wit and talk of a London cabbie.
Between about May and September anyone that is any good will be normally booked out solid some way in advance and may only take on full day tours.
At other times you will find them more flexible. There is no standard private car tour, each customer is given a personalised quote. An indicative figure for an MPV size car on a day tour would be around £400 for the services of a driver/guide and vehicle. Admissions to attractions would be added to this sum.
Small Groups of 6 to 16
Once you have a vehicle that can seat more than 8 people that triggers a complete new class of vehicles and operating companies. The small car operators are heavily regulated, but once you go into this category a whole new level of legislation is brought in addressing safety and financial stability. Driving hours are strictly regulated for example and electronic tachometers are installed in all the buses to enforce this.
Indeed its quite common for initial itineraries put forward by people to be inoperable because of these driving hour limitations.
Tours From London

Tours From London

Tours Visiting

London Hop On Sightseeing Buses

London Tours
Tours From London
Tours Visiting
London Tours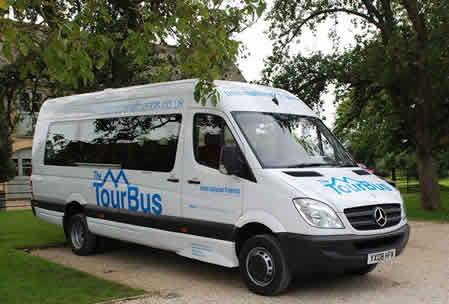 Small Group 16 Seat Tour Bus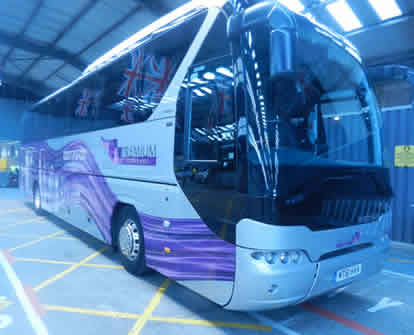 Large 50 Seat Tour Bus
In this small group category we only use experienced drivers and driver guides that are full time professionals that perform tours also for the scheduled tours. You will find that in general a driver guide in this type of vehicle is superior to a typical guide in a large tour bus.
Most day tours start between about 7 a.m. and 8:30 a.m. and finish around 6 p.m., although those times are partly driven by the opening times of the places people want to go. If you want to start at 3:30 a.m. for an early morning Stonehenge Special Access, so be it!
Like the car tours every private tour is customised, but as an indication a 16 seat Mercedes bus like that pictured with driver/guide would probably be somewhere between £550 and £800 for a day tour.
If you are looking at bringing luggage for a transfer tour bear in mind the luggage capacity of these buses are only about 16 large cases. Luggage trailers can be hired for a supplement.
Large Groups of more than 16
Once you go above 16 seats there is another jump in class of vehicle.
Now you are talking about full size touring buses from anything from 24 seats to 50 seats. For these you will have a dedicated driver and a separate guide. The guide is hired separate to the driver, they do not operate as teams. Many large groups provide their own guides, especially if a tour needs to be performed in a language other than English.
Bear in mind that many of the historical places people want to go in England were built for the horse not big motor coaches and such coaches may have to park a little way away from the attraction you are visiting.
The cost of things like coach parking will be built into your personal quotation.
Again with regards pricing every requirement is individual, but clearly is going to be more expensive than the 16 seat bus category.
Tour Planning
Some people have a tight specification of exactly what they want, others just have a broad idea of what they like and want to see and let us plan something that meets that need. We are comfortable with either type of request.
Below is a crude map of travel times between the some of the main places of interest outside London. You may want to put your own itinerary together and run it past us for comment.
Tours are customised for each individual group. Go where you want to go at a pace you want.
---
---