Heathrow Hotel Bath Road
4 Star Hotel On Airport Perimeter Road. Rooms From Around £98 Per Night (Cheapest Rooms Weekends & Holidays)
The Heathrow Hotel is a large 350 bedroom 4 star hotel on the northern perimeter road of Heathrow Airport. The hotel is set apart from other airport hotels and there is little in the immediate vicinity. However if you want to get away from the hotel there are pubs and restaurants within 5-10 minutes walk.
The Heathrow Hotel Bath Road was formerly called the Arora International Hotel Heathrow Airport.
The Heathrow Hotel is linked to the passenger terminals by dedicated Hoppa Bus shuttles. Also, immediately outside the Heathrow Hotel are bus stops with frequent local buses that will transport you to the Central Bus Station (for Terminals 2 and 3) and Terminal 5 free of charge.
If you are using Terminal 4 you can use the Heathrow Express train from beneath Terminal 3 for the 5 minute journey. The train is free also.
Heathrow Hotel Details
Number of Rooms :350
Rooms Available : Double/Twin Rooms.
Heathrow Hotel Room Facilities :
All rooms at the Heathrow Hotel have a fridge, triple glazing, air conditioning, a granite bathroom with a shower and a bath, a queen-size bed, satellite TV, a hairdryer, an iron and an ironing board, a trouser press, tea and coffee, a phone with voicemail and a safe. Feather and foam pillows and hypoallergenic bedding are available.
Heathrow Airport

Transfers To/From London

Airport To Airport Transfers

Cruise Port Transfers

Transfers To The Rest Of The UK

Airport Hotels

Day Rooms & Lounges

Heathrow Hotel Transport

Heathrow Hotel Districts

Long Term Car Parking

Layovers & Sightseeing

Heathrow Airport
London Transfers
Airport To Airport
Cruise Transfers
Transfers Rest Of UK
Heathrow Hotels
Hotel Transport
Hotel Districts
Car Parking
Layovers & Sightseeing
Internet - WiFi is available in all areas and is free of charge. There is an option to upgrade to a super faster connection at an additional cost.
Room Service - Room service is available 24 hours a day.
Heathrow Hotel Public Facilities :
A beauty salon, a hairdresser's, a shoe shop, a restaurant, a bar, a convenience store, a laundry, a dry cleaner's, a gift shop and seven meeting rooms. The beauty salon is open from 9am to 5pm five days a week. The hotel has a gym, which is open 24 hours a day.
There is a 24-hour concierge, and reception is open 24 hours a day.
The restaurant is open for breakfast and dinner. A bar menu, cocktails and other drinks are available in the bar which has a pool table and a wide screen TV showing Sky Sports.
Car Parking - Last advised as £12 per night for residents.
Long term parking packages are available at extremely attractive rates.
Heathrow Hotel Transfers To/From Passenger Terminals:
There are 4 passenger terminals at Heathrow numbered 2,3,4 and 5. The hotels at Heathrow are not allowed to run their own airport shuttle vehicles between the airport and the hotels.
Hoppa Buses - are regulated by the airport authority and run on fixed routes, each serving 2 or 3 Heathrow airport hotels. Hotels have one bus for Terminals 2 & 3, another for Terminals 4 & 5.

Free Local Buses To Passenger Terminals
Public buses (routes U3, 75 and 76) run from in front of the hotel to Heathrow central bus station about every 15 minutes. From Heathrow the Heathrow Hotel is on your right side of the bus, a bus stop is directly opposite. You can take the free Heathrow Express trains between Terminals 4 and Central (between Terminals 2 and 3).
FREE public buses also run from in front of the hotel to Terminal 5, route 423.
More Details of public bus alternatives to Hoppa Bus Heathrow.
---
Heathrow Hotel Prices & Reservations
Advance Purchase Rates Plus Flexible Room Rates For All Rooms
No Deposit, Pay At Hotel, Cancel Without Penalty
Both flexible and cheaper advanced purchase rates made are normally available at the Heathrow Hotel.
Flexible rates allow cancellations up to 14:00 on the date of arrival without penalty but may vary on certain rates, so check. With flexible rates there is no deposit, you pay at the hotel.

Vicinity Around Heathrow Hotel:
There are some pubs within a 10 minute stroll, also a McDonalds, a Chinese and Indian restaurant.
Its possible to visit Windsor using local buses. Windsor Castle is in the heart of Windsor with bus stops outside. You can get the the 75/76 buses to Slough from where you can get other buses over to the other side of the River Thames and Windsor. An alternative route giving you scope to visit Runnymede where the Magna carta was signed involves getting the 77 bus between Windsor and Terminal 5 at Heathrow. From Terminal 5, the 423 bus will bring you back (free) to the Sheraton.
A detailed guide to the Bath Road locality around the Heathrow Hotel.

---
Indicative Heathrow Hotel Room Rates


Sampled prices at Heathrow for early October 2015

Hotels Walkable To Terminals (Note: No Hotels Within Walking Distance Of Terminals 2 & 3)

Hotel & Link To Detail Page

Mid-Week

Week-End

£145

£125

£183

£167

Heathrow Airport Budget / 3 Star Hotels

Hotel & Link To Detail Page

Mid-Week

Week-End

Heathrow Lodge ~+#

£32

£32

£60

£43

£68

£44

£67

£48

£67

£48

£56

£56

£67

£62

£75

£75

£104

£76

£95

£78

£87

£89

£87

£97

Heathrow Airport 4 & 5 Star Full Service Hotels

Hotel & Link To Detail Page

Mid-week

Week-End

£139

£65

£98

£71

£125

£76

£94

£78

£119

£78

£126

£88

£124

£93

£131

£94

£145

£96

£105

£98

£90

£110

£111

£111

£94

£114

£110

£117

£179

£119

£162

£138

£107

£142

£179

£161

Heathrow Serviced Apartments & Studio Apartments

Hotel & Link To Detail Page

Mid-week

Week-End

£99

£89

£91

£91

~ Single Rooms + Triple Rooms # Quad Rooms
---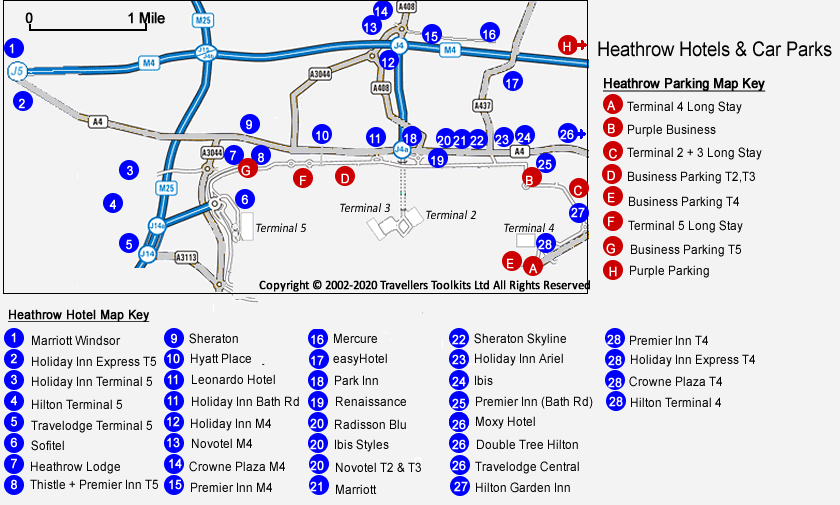 ---
---



---