Private Tour Transfers To/From Southampton Cruises
Customise your own itinerary or use one of our professional guided coach tours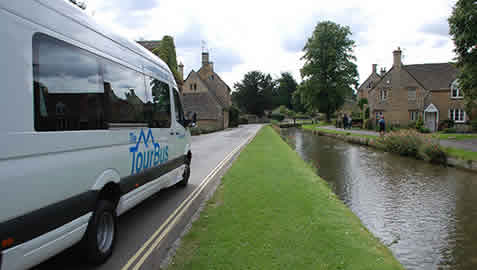 Get Off The Beaten Tourist Track By Car or Van
Tour Transfer & Stopovers Between Southampton & London
By far the majority of cruises disembark by about 08:30 at the Southampton Cruise Terminals. So why not make your transfer to London or departure airport a tour to remember, rather than a couple of hours along the motorway.
We can supply a vehicle with driver or driver/guide to show you places like Stonehenge as well as the English Countryside, perhaps taking lunch in a typical English village pub. The vehicle can securely store your luggage and deliver you to your London hotel or airport.
Of course you can tour going in the opposite direction before you board your cruise too.
In addition to the classic tourist places, we can take you off the tourist track and show you the real England, of thatched cottages, Norman churches, country pubs and cream teas.
Along the way we'll explain the history, show you ancient places not in the guide books and tell you about the English themselves.
Its very cost effective if you can put a group together and hire a small bus, perhaps using the roll call of your cruise on Cruise Critic or similar board, but we're equally at home providing custom tours for couples or at the other extreme large groups.
Note: The quality driver/guides that we use are normally booked up solid several weeks ahead during the peak season of June to September. If you require a custom tour within this period please contact us well in advance to avoid disappointment otherwise you might be dependent on late cancellations for an offer.
Southampton
For Cruise & Ferry Passengers

Shared Cruise Bus Shuttles/Tours

All Transfer Options To/From Southampton

Public Transport To/From Southampton

Private Transfers & Tour Transfers

The City of Southampton
Southampton
For Cruise & Ferry
Cruise Ship Bus
Transfers
Compared:
Public Transport
To/From London
Private Transfers
& Tour Transfers
Southampton
Fully Guided Tour Transfers From A Few Hours To A Day
There are so many wonderful places to visit not so far off the route between Southampton and London. Combining the transfer between Southampton and London with world class sightseeing transforms a monotonous blast down the motorway/freeway into an experience you will remember all your life.
Our professional driver/guides are proud to showcase this region of England. You can choose from classic traditional sightseeing of places like Stonehenge, Salisbury or Winchester Cathedral, 'Georgian' Bath or pursue a theme where it be literary, English gardens or a pub crawl.
Our free tour planning service take great pleasure in assisting you to formulate an itinerary that fits your own individual requirements. We have a variety of guides with their own specialities and area of interest and will assign one that is right for your tour profile.
Below is a crude map of travel times between the main places of interest. You may want to put your own itinerary together and run it past us for comment.
Tours are customised for each individual group. Go where you want to go at a pace you want.
Custom Tour Ideas
Private Custom Version Of Our Public Tours
You could use our popular public tours as a template on which to customise your own private tour. You have total freedom to manipulate these time proven itineraries to your own personal preferences or just follow the established itinerary but with your own private vehicle.
Below are links to pages outlining the itineraries:
Salisbury, Stonehenge & Windsor - Visits these 3 world class attractions in one day on your transfer to London or Heathrow. Arrives Heathrow around 5 p.m. and London hotels around 6 p.m.
Downton Abbey Themed Tour Transfer - Visit film locations of the Downton Abbey TV series + Blenheim then to London or Heathrow. Arrives Heathrow around 6 p.m. and London hotels around 7 p.m.
Popular Private Itineraries
The popular private itineraries linked below are written up with day tours starting and finishing in London, but can easily be adapted to starting or ending in Southampton.
Pubs, English Villages & Countryside - England is famous for its picturesque landscapes and green countryside, and also of course its pubs. Its all within easy distance of the big city. We'll get you off the tourist trail into small villages and along country lanes with some of the finest countryside and villages to be found where the tour groups do not go.
Pubs, English Villages & Countryside Example Itineraries - Full Details
Stonehenge and Bath - Depart Southampton and arrive Stonehenge before most of the tour buses arrive at Stonehenge. Spend the afternoon in Bath where however long you stay never seems to be enough and perhaps include a nice lunch in a countryside pub in between.
Stonehenge and Bath Example Itineraries - Full Details
The Vehicles - A Range Of Options Suitable For Parties From 1 Person to 60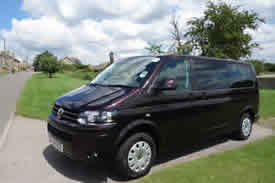 Executive MPV MiniVan
Cars And MiniVan Options For Up to 1 to 7 People
We use a variety of cars and small vans suited to touring from small MPV style cars to 7 seat Volkswagen minivans like that pictured right.
The largest vehicles can carry approximately 8 large cases between 10-23 kg plus hand luggage.
Small Touring Buses For Up to 16 People
For small groups of up to 16 we use the same 16 seat touring vehicles and driver/guides that perform our popular public small group tours from London.
For driver only charters we also have cheaper 8 seat vehicles. These are designed for work with cruise ship transfers and are 12 seat vehicles with seats taken out to create a larger luggage hold, (up to 20 suitcases).
Touring Coaches For Up to 60 People
If your group is larger than 16 people then you need a standard touring coach. There are various sizes of touring coach from 18 seats to 60 seats, although price differentials between them are surprisingly small.
The standard 50/52 seat coaches can take around 65 large suitcases in their luggage holds..
Indicative Pricing For Transfer Tours Of Around 9 Hours
Prices stated below are inclusive of all taxes and fees. Admission charges to attractions are not included, nor the cost of any food or drink.
Prices are indicative and for a day of around 9 hours, shorter or longer durations are available. Tours are priced individually for each enquiry.
With Guide
1-4 people in touring car - from £400 - limited availability
1-7 people in luxury 7 seater mini-van - £699
8-16 people in luxury 16 seater mini-coach - £899
17+ people in luxury full size touring coach from 18 to 60 seats - £950
Every enquiry is priced individually and a formal proposal including price is made.
For indicative purposes, a full guided day tour with professional guide of 9-10 hours from London will be around £700 for the small van to £1,000 for the standard 50 seat touring coach. There are smaller cars with driver/guides but they have very limited availability and at peak times are booked out many months ahead.
Prices includes all fees except for food/drink and admissions to attractions which can be quoted for separately.
Without a guide the fees can typically drop by around £100.
Half Day Transfers With 2 Hour Stopover At Stonehenge or Windsor
Both Stonehenge and Windsor Castle are world class attractions that are only a small detour when travelling between London, its airports and the cruise terminals at Southampton.
This option is particularly popular in the London to Southampton direction where most people want to be at check-in at the cruise terminal by 2 p.m.
Half Day Cruise Transfers With 2 Hour Stopover At Stonehenge or Windsor - Full Details
Private Southampton - London Via Stonehenge or Windsor Prices*


Indicative prices with up to 2 hours at Stonehenge or Windsor In A Private Vehicle

Vehicle

Capacity

To/From London

Passengers

†Large Cases

London

Heathrow

Gatwick

Car/Sedan

4

2

£279

£279

£279

MPV

4

4

£314

£314

£309

Mini Van

8

8

£359

£359

£379

8 seat bus

8

20

£390

£360

£390

12 seat bus

12

25

£475

£450

£475

16 seat bus

16

25

£555

£520

£555

Large Coaches

up to 50

up to 70

p.o.a

p.o.a

p.o.a

† Weight 10kg//22lbs to 23kg/51lbs - if you have larger cases please detail using the enquiry form below.

* The above prices are indicative and do not form a final offer. Each enquiry made will receive a personal quotation which on the majority of occasions will be consistent with the prices displayed unless there are atypical aspects.
Tour Planning & Formal Quotations
Some people have a tight specification of exactly what they want, others just have a broad idea of what they like and want to see and let us plan something that meets that need. We are comfortable with either type of request.
Tours are customised for each individual group. Go where you want to go at a pace you decide. Use the form below to outline your requirements and start a dialogue.
---
---
---