Ibis Hotels In Central London
A List And Comparison Of All Ibis Hotels In Central London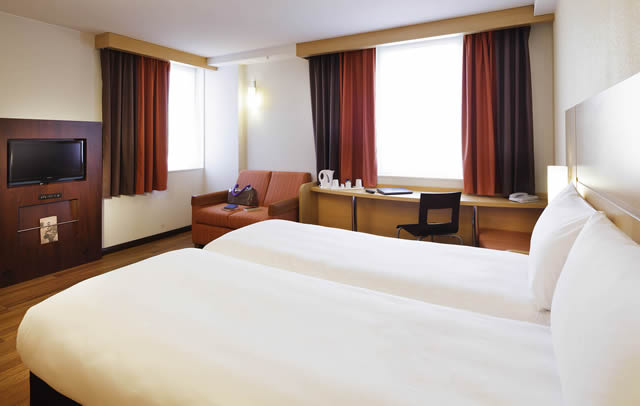 Typical Compact Ibis Room
Ibis Hotels in London offer "no frills" budget rooms. Ibis have many hotels in the centre of London and also more in the suburbs and at London's airports. Ibis are part of the French Accor chain that also own Mercure, Novotel and Sofitel, also well represented in London that offer more facilities and services and are generally more expensive than the budget Ibis brand.
Budget Hotels
In London
Budget Chains
In 2012, Accor the owner of Ibis consolidated its budget brands around the best known brand, Ibis. The ETAP brand the most basic and cheapest was re branded Ibis Budget. Rooms are ensuite with shower, TV and free Wi-Fi and can accommodate at a pinch 3. An all you can eat breakfast buffet is available.
The All Seasons brand is now known as Ibis Styles. In the Ibis hierarchy these are positioned slightly above the main Ibis brand with an attempt to bring some style and space into the core functional Ibis room and hotel. There is normally a full restaurant and the hotel rate is fully inclusive of breakfast. Ibis Styles hotels are more suitable to families.
The core Ibis brand is the most numerous at the moment in London and sits between Ibis Budget and Ibis Style in terms of cost and space. Modern compact bedrooms, breakfast and a restaurant if you need it.
None of the Ibis hotels are in the very centre of London, few budget hotels are.
The most central Ibis hotels are at Euston and Blackfriars Bridge on the edge of the centre of London in very good districts as a base to explore London that unusually for London has softer room rates at the weekend.
London Hotel Accommodation

Types Of Hotels

Central London Hotel Districts

Major Hotel Chains In London

Novotel
Park Plaza

London's Airport Hotels

Hotel
Accommodation
Hotel Grades
Hotel Disricts
Hotel Chains
The Ibis Kensington hotel is further out at Earls Court, Kensington well within the Central London hotel districts. This hotel is particularly convenient for those arriving at Heathrow or Gatwick Airports. The easyBus airport van starts from outside the Ibis Kensington and goes non-stop to Gatwick Airport. West Brompton Underground Station is less than 5 minutes walk from the hotel and as well as getting you into the centre quickly, is convenient for Heathrow Airport.
In 2012, Ibis opened a new hotel in Shepherds Bush. This is also pretty central, close to one of London's largest shopping centres and close to the Underground. For those using Gatwick and Heathrow airports, again there are convenient cheap public transport based airport transfer options.
At the moment the only Ibis Budget hotel near the centre is the Ibis Budget Whitechapel, just outside the city centre in the East End close to the City of London, the business district of London.
ibis Hotels In Central London
Ibis London Docklands Canary Wharf
Doubles From £64 Room
Just metres from lively Canary Wharf and Blackwall Station and 10 mins walk from Canary Wharf Underground Station. Sound-proofed bedrooms have air-cooling systems and flat-screen TVs and work desks. The cafe-style restaurant serves a varied evening menu Monday to Thursday and a wide selection of snacks over the weekend.
Rooms: Double/Twin & Triple Rooms
Underground/DLR: Blackwall - 100m
Ibis Earls Court Kensington - 3 Star Hotel
Doubles From £67 Room
Large 500 room tower just a couple of minutes walk from West Brompton Underground. Earls Court restaurants and facilities 5 mins walk.
Restaurant and a pub serving snacks 24 hours a day. Pubs all around.
Free Wi-Fi, 24-Hour Front Desk, Elevators.
Rooms: Double/Twin & Triple Rooms
Underground: West Brompton - 100m (Map Ref: 2)
Ibis The City
Doubles From £86 Room
Just 20m from the entrance to Aldgate East underground and 650m from Liverpool Street station. Business district so rates cheaper at weekend.
348 modern guest rooms has satellite TV and tea and coffee making facilities. L' estaminet Restaurant offers bistro-style meals, or you can relax in the bar.
Rooms: Double/Twin & Triple Rooms
Underground: Aldgate East - 50m (Map Ref: 20)
Ibis Shepherds Bush - 3 Star Hotel
Doubles From £92 Room
5-minute walk from Shepherd's Bush Tube Station featuring an on-site restaurant and bar and free Wi-Fi is available throughout the hotel. Rooms come equipped with an en suite bathroom, a flat-screen TV and tea and coffee making facilities. all you can eat buffet breakfast is available each morning.
Rooms: Double/Twin Rooms
Underground: Shepherds Bush - 400m
Ibis Blackfriars - 3 Star Hotel
Doubles From £92 Room
Free Wi-Fi throughout, a 24 hour reception and a 24 hour meal and drinks menu. 5 minutes walk from Southwark Underground and Waterloo Station.
En suite bathroom, flat-screen TV and an iPod dock. All rooms have city views and come with ironing facilities and free toiletries.
Rooms: Double/Twin & Triple Rooms
Underground: Southwark - 200m (Map Ref: 5)
Ibis Euston - 3 Star Hotel
Doubles From £105 Room
Just around the side of Euston Station and 800m from St Pancras and the Eurostar trains and also the British Library.
Each of the 380 modern guest rooms with satellite TV and free WiFi. La Table Rouge restaurant serves French cuisine and the bar is open for coffee or cocktails.

Rooms: Double/Twin Rooms
Underground: Euston - 100m (Map Ref: 22)
Ibis Budget Hotel In Central London
Ibis Budget Whitechapel
Doubles From £75 Room
Just outside the centre of London in Whitechapel, home of Jack the Ripper in the East End of London. Cheap accommodation provided by a trusted chain. En-suite shower and flat-screen TV. Free wifi throughout. 24/7 reception. 24/7 sweet/savoury snacks/drinks. Good value all you can eat breakfast buffet.
Rooms: Double/Twin & Triple Rooms
Underground: Whitechapel - 400m
Ibis Styles Hotel In Central London
Ibis Styles London Excel
Doubles From £60 Room
Opposite the ExCel Exhibition Centre and adjacent to the Custom House DLR Station. Each bedroom has an en suite power shower, a satellite TV and tea/coffee making facilities. The apartments feature a lounge area with a large LCD TV and a dining area with table and chairs. They also have a modern kitchen with a refrigerator and a microwave.
Rooms: Double/Twin Rooms & Studio Apartments
Underground: Custom House - 50m
Ibis Styles Kensington - 3 Star Hotel
Doubles From £100 Room
Just a 3-minute walk from Earl's Court Underground Station and shops, pubs and restauarants are widespread within the area. A TV, tea and coffee facilities and a hairdryer are provided in each room. All rooms also have a private bathroom and WiFi is available in all areas and is free of charge. 24-Hour Front Desk, contemporary bar area.
Rooms: Single, Double/Twin Rooms
Underground: Earls Court - 200m (Map Ref: 24)
Ibis Styles Southwark Rose
Doubles From £115 Room
The London Eye, Tower Bridge and the Tower of London are less than a mile away. All of the rooms have a laptop-size safe, electric blackout blinds and a flat-screen TV with satellite channels and offers free Wi-Fi and air-conditioned rooms. restaurant and bar offer high-quality cuisine and a range of drinks, including cocktails.
Rooms: Double/Twin & Family Rooms
Underground: London Bridge - 400m (Map Ref: 9)
Ibis Hotels In London Suburbs Close To Underground Station
Ibis London Excel Docklands
Doubles From £51 Room
With views over Royal Victoria Dock, ibis London Excel-Docklands is less than a minute walk from the ExCeL exhibition centre and the Emirates Air Line cable car system that leads to the O2 Arena. It features a bar, a restaurant, a 24-hour front desk and free Wi-Fi access. Restaurant and bar. There is also a snack service.
Rooms: Double/Twin & Triple Rooms
Underground: Custom House - 300m
Ibis Wembley
Doubles From £67 Room
Adjacent to Wembley Stadium and within easy walking distance of Wembley Park and Wembley Central underground stations. All rooms have tea/coffee facilities, a work desk, and a TV with satellite channels. Restaurant offering a varied menu for evening dining. The bar features a large-screen TV, and snacks and drinks are available 24-hours.
Rooms: Double/Twin & Triple Rooms
Underground: Wembley Central - 500m
Ibis Stratford
Doubles From £90 Room
5-minute walk from The Stratford Shopping Centre. Canary Wharf is a 10-minute drive away, and central London is 20 minutes away by tube. Bedrooms each have a flat-screen TV with on-demand movies. All rooms feature an air-cooling system, and a private bathroom with a hairdryer. All-you-can-eat breakfast each morning.
Rooms: Double/Twin Rooms
Underground: Stratford - 500m
---

---