Marriott Hotels in Central London
13 Marriott Hotels Listed & Compared in Central London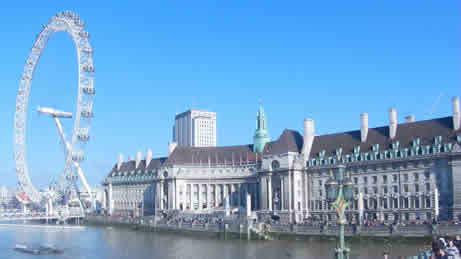 Marriott County Hall Next To London Eye
Marriott hotels in London offer some of the best quality chain hotels in Central London. At this moment in time Marriott have 13 hotels in the central area, including six five star hotels in fabulous positions.
Several of the Marriott hotels have very good family accommodation. Although the high prices deter many leisure families, in the quieter periods of the year, special promotional pricing aimed at families on weekend breaks offer good value.
Marriott are especially popular with North Americans who seem to favour the familiarity of Marriott product that perhaps more than any other chain reflects the preferences of North American visitors.
For the leisure visitor the Marriott County Hall offers arguably the best location in London. Sited in County Hall, a historic building that formerly housed London's local government. It is situated at the south end of Westminster Bridge with Big Ben and the Houses of Parliament on the opposite bank and the London Eye adjacent. 10 Downing Street, Westminster Abbey and Whitehall are on the opposite side of the bridge and beyond that you can stroll through St James Park to Buckingham Palace or perhaps up Whitehall to the theatre district.
London Hotel Accommodation

Types Of Hotels

Central London Hotel Districts

Major Hotel Chains In London

Novotel
Park Plaza

London's Airport Hotels

Hotel
Accommodation
Hotel Grades
Hotel Disricts
Hotel Chains
Around Marble Arch / Mayfair are a cluster of Marriott Hotels, the most expensive Marriott's in London, many are 5 star. Confusingly the Marriott Marble Arch is further away from Marble Arch than several Marriott hotels, the Marriott Park Lane being the Marriott sited on Marble Arch itself.
To the north of the centre of London is the Marriott Regents Park and Marriott Maida Vale, although a little outside the centre of London both have very attractive rates at the weekends and are particularly good for families. Both have easy and quick Underground links to the sights.
Another Marriott, a little outside the centre, but in a major hotel district is the Marriott Kensington. The Marriott Kensington is particularly convenient for those using Heathrow Airport.
Marriott Hotels In Central London
Marriott Maida Vale - 4 Star Hotel
Doubles From £118 Room
15-minute Tube journey from Kilburn Park station, which is 5 minutes' walk from the hotel. Guests can relax in the sauna and steam rooms at a local health club, which is 150 metres away. The Marriott's guests also have free use of the swimming pool and modern gym. Satellite TV, tea and coffee are featured in every luxurious room.
Rooms: Double, Quad & 3 Bedroom Suite For 6 Rooms
Underground: Kilburn Park - 500m
Marriott Kensington - 4 Star Hotel
Doubles From £140 Room
Spacious rooms just a short walk from Knightsbridge's shops and museums and Earl's Court Tube Station. There is a restaurant and fitness centre. Rooms include a satellite TV, minibar, seating area and a private bathroom. Guests have the use of a well-equipped gym. Double rooms or American style with two double beds.
Rooms: Double & Quad Rooms
Underground: Earls Court - 400m (Map Ref: 23)
Marriott Regents Park - 4 Star Hotel
Doubles From £143 Room
Close to Edgware Road with 2 underground's, lots of restaurants for all budget plus 02 entertainment centre and supermarket. Rooms Feature satellite TV with pay movies, air conditioning and a minibar. Modern gym, sauna and solarium. Health and beauty treatments are provided in the Spa. Cheapest rates at weekend.
Rooms: Double/Twin & Quad Rooms
Underground: Swiss Cottage - 250m (Map Ref: 4)
Threadneedles Hotel (Autograph Collection) - 5 Star Hotel
Doubles From £152 Room
In the centre of London's financial district, this 5-star Victorian boutique hotel features a stained glass dome dating back to 1856, and offers a bar, a restaurant, free Wi-Fi and 24-hour room service. With views of the city, bedrooms include an iPod docking station and plasma TV, bathrobes and slippers, free luxury toiletries, free water and free newspaper.
Rooms: Double/Twin & Triple Rooms
Underground: Bank - 250m Hotel Map Ref: 7
Marriott West India Quay - 5 Star Hotel
Doubles From £169 Room
In the vibrant Canary Wharf area, this 5-star landmark hotel has luxury rooms and a state-of-the-art fitness suite. Each spacious room at Marriott West India Quay has a satellite TV with pay per view movies, luxurious beds and a comfortable seating area. There is 24-hour room service. Shops, DLR and Underground Stations are all close by.
Rooms: Double/Twin Rooms
Underground/DLR: West India Quay - 200m
Marriott Marble Arch Hotel - 4 Star Hotel
Doubles From £207 Room
Within walking distance to Hyde Park, Oxford Street, West End Theatres and some of the city's finest restaurants. Close to Paddington Station.
Air conditioned rooms with minibar, tea/coffee maker, laptop size safe.
Fitness Centre. Executive rooms with free breakfast and snacks all day.
Rooms: Rooms Accommodating Up To 4 Adults
Underground: Marble Arch - 600m (Map Ref: 27)
Renaissance Hotel St Pancras - 5 Star Hotel
Doubles From £209 Room
Newly reopened in 2011 the former Midland Grand Hotel has been revived to its best. Walk right info St Pancras Station from the hotel.
All the services of a 5 star hotel, including suites as well as standard rooms with personalised butler service and private club.
Rooms: Double/Twin Rooms & 2/3 Bedroom Suites
Underground: Kings Cross / St Pancras - 50m (Map Ref: 29)
St Ermin's Hotel (Autograph Collection) - 4 Star Hotel
Doubles From £212 Room
Next to St. James' Park and Tube Station in London's Buckingham Palace area. Crisp bed linens, stylish furniture and marble bathrooms are all features of the hotel's rooms. LED TV entertainment system and a radio with Ipod docking stations. Restaurant, Bar, 24-hour front desk, Non-smoking throughout, Air conditioning.
Rooms: Double/Twin Rooms
Underground: St James's - 50m
Marriott Grosvenor Square - 5 Star Hotel
Doubles From £237 Room
Situated in fashionable Mayfair, seconds from Park Lane and the shops of Oxford Street. Built as a stately town house, the stylish, modern rooms feature a 32-inch flat-screen TV and luxury bedding. There are large work desks, and marble bathrooms with fluffy robes. Michelin-starred maze restaurant from celebrated chef Gordon Ramsay.
Rooms: Double/Twin & Quad Rooms
Underground: Bond Street - 300m Hotel Map Ref: 5
Marriott Grosvenor House - 5 Star Hotel
Doubles From £287 Room
Frequented by royalty, celebrities and business leaders since its opening in 1929 facing Hyde Park and backing onto the exclusive Mayfair district. Stylish champagne bar. The JW Steakhouse offers a classic American experience with tender grilled cuts of beef and fresh seafood. Park Lane Market serves light meals and classic American candy.
Rooms: Double/Twin Rooms
Underground: Marble Arch - 400m
Marriott County Hall - 5 Star Hotel
Doubles From £293 Room
With fantastic views of Big Ben and the River Thames, this historic 5-star Marriott hotel boasts a swimming pool and relaxing spa. Rooms offer a marble bathroom, slippers, and an LCD TV with satellite channels. Guests can relax in luxury bedding. Modern gym with fitness classes and personal trainers plus sauna and whirlpool.
Rooms: Double/Twin & Quad Rooms
Underground: Waterloo - 500m (Map Ref: 3)
Marriott Park Lane - 5 Star Hotel
Doubles From £359 Room
On the corner of Oxford Street and Park Lane, overlooking Hyde Park at Marble Arch. (Confusingly the Marriott Marble Arch is further away from Marble Arch). Well-equipped fitness centre and a 12-metre heated swimming pool. With the atmosphere of an intimate boutique hotel you will find air conditioned rooms with laptop safes and work desks.
Rooms: Double/Twin & Quad Rooms
Underground: Marble Arch - 50m (Map Ref: 25)
Marriott Grand Residences
Suites From £369 Room
In the heart of Mayfair 49 impeccably appointed one- and two-bedroom London residences designed for the ultimate getaway. Owners of this fractional ownership property have the option to rent their interest on a nightly basis through Marriott, which creates the opportunity for you to enjoy these extraordinary residences in London
Rooms: 1 & 2 Bedroom suites with separate dining room/sitting room, kitchen
Underground: Marble Arch - 250m
---

---