Private Tour Transfers To/From Southampton Cruises
Customise your own itinerary or use one of our professional guided coach tours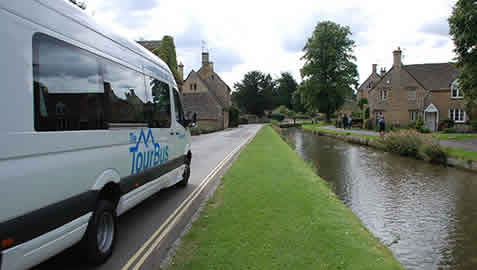 Get Off The Beaten Tourist Track By Car or Van
Tour Transfer & Stopovers Between Southampton & London
By far the majority of cruises disembark by about 08:30 at the Southampton Cruise Terminals. So why not make your transfer to London or departure airport a tour to remember, rather than a couple of hours along the motorway.
We can supply a vehicle with driver or driver/guide to show you places like Stonehenge as well as the English Countryside, perhaps taking lunch in a typical English village pub. The vehicle can securely store your luggage and deliver you to your London hotel or airport.
Of course you can tour going in the opposite direction before you board your cruise too.
In addition to the classic tourist places, we can take you off the tourist track and show you the real England, of thatched cottages, Norman churches, country pubs and cream teas.
Along the way we'll explain the history, show you ancient places not in the guide books and tell you about the English themselves.
Its very cost effective if you can put a group together and hire a small bus, perhaps using the roll call of your cruise on Cruise Critic or similar board, but we're equally at home providing custom tours for couples or at the other extreme large groups.
Fully Guided Tour Transfers From A Few Hours To A Day
There are so many wonderful places to visit not so far off the route between Southampton and London. Combining the transfer between Southampton and London with world class sightseeing transforms a monotonous blast down the motorway/freeway into an experience you will remember all your life.
Southampton
For Cruise & Ferry Passengers

Cruise Ship Bus Shuttle

Transport to/From London

Transfer Options Southampton From:

Transfer Tours To Southampton

Transfer Tours To London & Airports

The City of Southampton
Southampton
Cruise Ship Bus
Transport
To/From London
Transfers
Compared:
Transfer Tours
To London
Southampton
Our professional driver/guides are proud to showcase this region of England. You can choose from classic traditional sightseeing of places like Stonehenge, Salisbury or Winchester Cathedral, 'Georgian' Bath or pursue a theme where it be literary, English gardens or a pub crawl.
Our free tour planning service take great pleasure in assisting you to formulate an itinerary that fits your own individual requirements. We have a variety of guides with their own specialities and area of interest and will assign one that is right for your tour profile.
Below is a crude map of travel times between the main places of interest. You may want to put your own itinerary together and run it past us for comment.
Tours are customised for each individual group. Go where you want to go at a pace you want.
An Alternative Tour - Pubs & Countryside
We're only too glad to put together itineraries that include the tourist hotspots like Stonehenge, Bath and Windsor but one of the most popular requests we get is to get off the tourist track and explore the English Countryside, visit a pub or three, indulge in a cream tea at a tea shop or visit the those worthwhile attractions the tour groups do not get to. Well within range of Southampton to London is some of the loveliest countryside in England.
Below is a a typical itinerary of such a countryside and pubs tour.
Southampton to Stonehenge via Salisbury
Leaving Southampton, after about 30 minutes, we're at Salisbury - a medieval wool city with its icon, Salisbury Cathedral, dominating the skyline on the approaches to the city.
For England, Salisbury is a new city, only started in the 13th Century when the Cathedral was built. About the same time as the Magna Carta was being signed, a copy of which is on view in the Chapter House of the Cathedral.
You can choose to stop here and visit the Cathedral but this would mean dropping a stop later in the tour detailed here. For the purposes of this itinerary we just perform a drive by.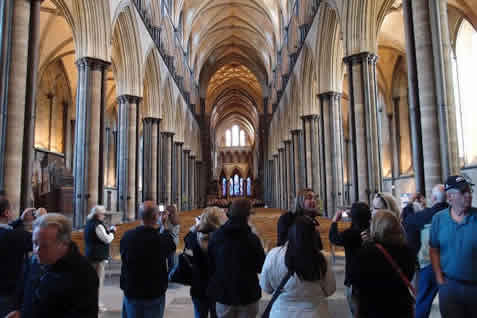 Salisbury Cathedral
Leaving Salisbury we can pay a short visit to Old Sarum (Sarum is the old English word for Salisbury) on the hill top above the current city of Salisbury. Originally an old Iron Age Hill Fort inhabited not that long after the Neolithic's at Stonehenge.
Depending on the time of year and time, we may drop into Old Sarum if its open.
After Old Sarum, we descend into the Woodford Valley and follow the river past sleepy villages with limestone walls, thatched cottages, riverside pubs, Norman churches - a taster of the English countryside, very different to London. At the end of the valley is Stonehenge.
Stonehenge
Stonehenge certainly can be a mystical place. In 2014 the new visitor centre opens at Stonehenge transforming a visit from the previously very basic experience to something much more contemporary and rewarding. We have been advised to expect that a visit to Stonehenge in future will be at minimum 90 minutes.
Our driver/guide though will help you get the most of your visit with further insights and guiding, maximising the Stonehenge experience.
Note: In 2014 a new discovery centre opened at Stonehenge. It now means you should allow 2 hours to visit Stonehenge and you have to book tickets ahead.
Stonehenge To Lacock
Its around an hours journey to Lacock, our lunch stop. Its a scenically rich 60 minutes as well. We first cross Salisbury Plain going straight through a British Army Tank Range before descending through more picturesque villages.
We venture for some part along single track roads, truly into the countryside. Photo opportunities abound.
Perhaps we'll see a narrowboat using the canal locks that climb Caen Hill on the 2-3 hour ascent or descent.
We'll stop and watch the spectacle or talk you through how the locks operate.
5 minutes later nearly everyone gets off to picture our favourite thatched cottage and few can resist the scenic view over Lacock our lunch destination.
Lacock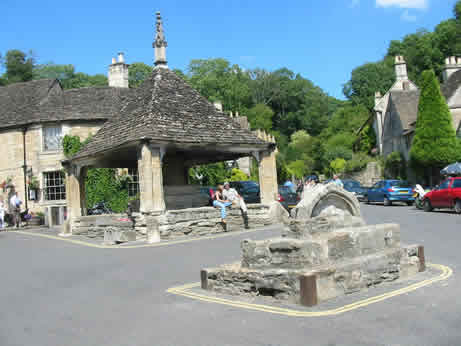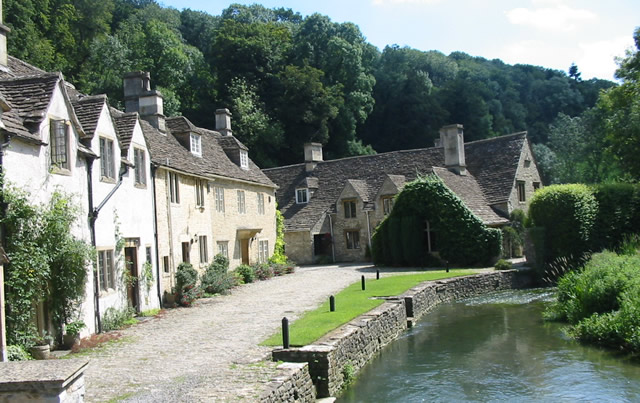 Castle Coombe
Lacock is an old wool town where all the buildings in the village are more than 200 years old. It is not a museum piece, but a living working village with school, post office, church, tithe barn, bakery and several pubs.
You will have seen a lot of sheep today. In medieval times the wool industry was the industry in the region and most of the medieval timber houses you will see were funded from the wool trade.
Because of the nature of Lacock, a lot of period films have shot here ranging from Jane Austen to in recent times Harry Potter. Our driver/guide will take you on a walking tour of the village.
Adjacent to the village is Lacock Abbey, one of the few abbeys to survive the Reformation in Tudor times.
Most people take lunch in the George Inn, a 13th century Inn, the oldest in England complete with stocks and medieval fireplace with dog wheel, a highlight of the day for many.
The first photography was also experimented with in the very room you eat. Prices are local and the food home cooked, so you'll get an authentic pub experience.
Castle Coombe
Just 30 minutes from Lacock is the small Cotswold village of Castle Coombe, a hidden gem.
Our approach to Castle Coombe is memorable along a single track road, descending into the Coombe and the village.
Set in a deep river valley the village (an old wool town) has tea rooms, interesting church, picturesque houses and river running through the village with very good walking in the district to other villages. This will give you a taster of the more famous and commercialised Cotswold villages further north.
Finally To London
All too soon its time to get to London. The fast/motorway to London is just a few miles away and its a smooth ride so we normally find half the vehicle enjoying a well earned nap before London.
Private Tours To/From Southampton Cruises

Indicative Pricing

Vehicle

People

Large Cases

Price*

Car/Sedan (Half Day)

1-3

3

£300

Car/Sedan (Full Day)

1-3

3

£350

MPV (Half day)

1-5

6

£375

MPV (Full day)

1-5

6

£425

10 seat bus half day (driver only)

6-16

20

£600

10 seat bus full day (driver/guide)

6-16

20

£700-£800

16 seat bus half day (driver only)

6-16

20

£650

16 seat bus full day (driver/guide)

6-16

20

£750-£850

Large Coaches with guide

up to 50

up to 70

p.o.a

* Prices are indicative only and include all taxes and costs to d with vehicle and driver, but not admissions to attractions.

The above prices are indicative and do not form a final offer. Each enquiry made will receive a personal quotation which on the majority of occasions will be consistent with the prices displayed unless there are atypical aspects.
---
---