Southampton Hotels Near Cruise Terminals, Bus & Train Stations
A Comparison Of The Main Hotels Available In Southampton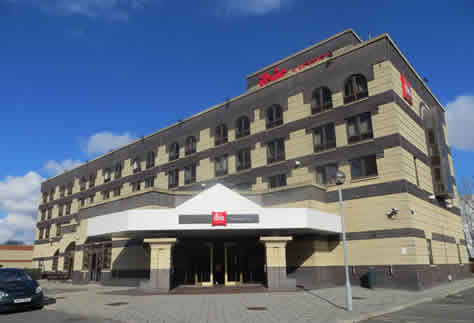 Ibis Hotel Southampton
Overview Of Hotel Choice In Southampton
There is a wide choice of Southampton hotels in the city centre, all close to the cruise ship terminals of which there are currently four, and the main bus and train stations and the shopping areas. The hotel choice is dominated by chain hotel brands aimed across the budget spectrum.
You could walk between any of the two hotels listed here in about 10 minutes or less. The only hotels you would even think about walking to any cruise terminal towing luggage are from the Ibis, Ibis Budget, Novotel and Holiday Inn hotels for the City Cruise Terminal only. The first three hotels listed are also the closest hotels to the coach and train station too with frequent services to London and its major airports.
Southampton is a regional shopping and entertainment centre and all of these facilities are within a short walk of any hotel. These range from sheds with DIY and electricals through a to a large supermarket, ASDA (Walmart). There is a screen complex, casino, museums and an old town with museums. For a major port city this is a very civilised to stay.
A Broad Comparison Of Southampton Hotels
Nearly all the hotels here are recent build, purpose built chain hotels that are pretty standard and should hold no surprises.
The only hotel that offers something different from the usual formula with something with character and uniqueness you may remember in a few years time is the Ennios Boutique Hotel in the heart of the old city of Southampton, with the original city walls all around it.
Southampton
For Cruise & Ferry Passengers

Shared Cruise Bus Shuttles/Tours

Transfer Options Southampton From:

Public Transport To Southampton

Transfers & Tours To Southampton

Public Transport To London

Transfers & Tours To London & Airports

The City of Southampton
Southampton
For Cruise & Ferry
Cruise Ship Bus
Public Transport
To/From London
Transfers
Compared:
Transfers & Tours
To Southampton
Transfer & Tours
To London
Southampton
The Mercure Dolphin hotel arguably also has character, in old coaching inn style but much further downmarket and centrally located in the heart of the shopping area that could do with a facelift.
Hotels You Can Walk To With Luggage From The Cruise Terminals
With luggage the only cruise terminal you can walk to with ease is the City Cruise Terminal. The Ibis, Ibis Budget, Novotel and Holiday Inn hotels are within 5-10 minutes walk. The Holiday Inn is next to a dock gate that is only open when a cruise ship is in port.
If you are really determined the Mayflower Terminal could be walked to in 15 minutes from the same hotels.
Hotels You Can Walk To With Luggage From The Coach and Train Stations
With luggage, the Ibis, Ibis Budget and Novotel hotels are within 5 walk of both the National Express bus station and the train station. The Premier Inn West Quay is a little further but also well within reach.
What Are The Best Hotels In Southampton ?
There is no universal best hotel for everybody, each has its own market. Nearly all are chain hotels in recent build hotels with the standard offering for the class of hotel. Only the Ennios offers something unique and something different.
If your definition of best is cheapest then that normally goes to the Ibis Budget, a no frills hotel with small rooms. The Ibis next door gives you more room for a small premium to its sister hotel.
If you want a decent hotel but don't want to pay for frills you never use the Premier Inn is probably your benchmark.
For a full service hotel then choose between the Novotel, Holiday Inn and Grand Harbour.
Waterfront Hotels
Ibis Budget
Budget Grade $
Consistently the cheapest rooms in Southampton. A new no frills budget hotel. If you just want a bed in a modern, clean hotel at lowest cost and somewhere safe for your luggage, this may be for you. There is a McDonalds next door and a large retail park on your doorstep. Shower, toilet, and satellite TV. Charge for parking.

Rooms: Double/Twin & Triple Rooms
Position: (Map Ref: 3)
Ibis Southampton
Budget Grade $$
Next door to the Ibis Budget, the next step up in the Accor groups portfolio of hotel brands. More space, a little more style than the Ibis Budget. Faces the dock gates for the Mayflower and City Cruise terminals, some people walk to these cruise terminals from the Ibis. A McDonald's is next door and plenty of other restaurants are nearby.
Rooms: Double/Twin Rooms
Position: (Map Ref: 2)
Premier Inn West Quay
Budget Grade $$
Opened in 2012 the Premier Inn has quickly built up an excellent reputation. Part of the UK's largest budget hotel chain offering good quality and solid value without the frills
Next to the main shopping mall and walkable with luggage to/from the coach and train stations. Traditional pub restaurant offering hearty meals all day.
Rooms: Double/Twin & Quad Rooms
Position: (Map Ref: 4)
Novotel Southampton
Budget Grade $$$
Classic 4 star full service hotel with restaurant, large lounges, bars and indoor pool.
The spacious rooms at Novotel Southampton feature a private bathroom and a large work area. TVs include pay-per-view movies and internet access. Rooms also include a laptop safe, a hairdryer, and tea/coffee facilities. Rooms can accommodate children.
Rooms: Double/Twin & Family Rooms
Position: (Map Ref: 1)
Holiday Inn Southampton
Budget Grade $$$
Full service 4 star waterfront hotel next to park. On cruise days a dock gate next to the hotel is opened for access to the City Cruise Terminal which is walkable.
Health Club has a fully equipped gym, indoor swimming pool and jacuzzi. Restaurant bars and lounge areas. Air-conditioned throughout.
Rooms: Double/Twin & Triple Rooms
Position: (Map Ref: 5)
Grand Harbour Hotel Southampton
Budget Grade $$$$
On the waterfront, traditional, 4-star rooms have free internet access, a work desk and a cosy seating area. With a stunning glass atrium and impressive spa, the luxury hotel has a brasserie restaurant, lively bar and views of the Southampton waterfront and is next to the interesting old town of Southampton.
Rooms: Double/Twin Rooms
Position: (Map Ref: 8)
Ennios Boutique Hotel Southampton
Budget Grade $$$$
Ennios is an Italian restaurant with boutique bedrooms that offer luxurious comfort. There are only 10 bedrooms which have unique views and features, including free Wi-Fi, a wide-screen TV, Egyptian cotton bedding and L'Occitane toiletries.
A converted warehouse facing the old waterfront an alternative to the chain hotels.
Rooms: Double Rooms
Position: (Map Ref: 6)
Southampton City Centre Hotels
Southampton Park Hotel
Budget Grade $$
City centre hotel quite close to the train station and opposite large park, the hotel has a fully equipped gym, steam room and sauna.
Guests can relax with a drink or enjoy a light lunch in the contemporary bar and lounge which has a wooden-panelled feature wall. Tea and coffee facilities are provided in each room.
Rooms: Single, Double & Twin Rooms
Position: (Map Ref: 11)
Mercure Dolphin Hotel Southampton
Budget Grade $$
Situated on Southampton's main shopping street, the historic old town, museums, parks and city walls are right on your doorstep. The hotel is famous for hosting Jane Austen's 18th birthday party in 1793. All bedrooms are non-smoking and have WiFi access, TV with satellite channels, safe, tea and coffee making facilities .
Rooms: Double & Triple Rooms
Position: (Map Ref: 7)
Jury's Inn Southampton
Budget Grade $$$
The largest hotel, a modern tower, 5 minutes stroll across a park opposite to the main shopping and commercial area. On the main road from London as you enter the city centre of Southampton. Large air conditioned rooms include those for families. As well as a value for money restaurant there is a coffee bar and bar available.
Rooms: Single, Double/Twin & Triple Rooms
Position: (Map Ref: 10)
---
---


---